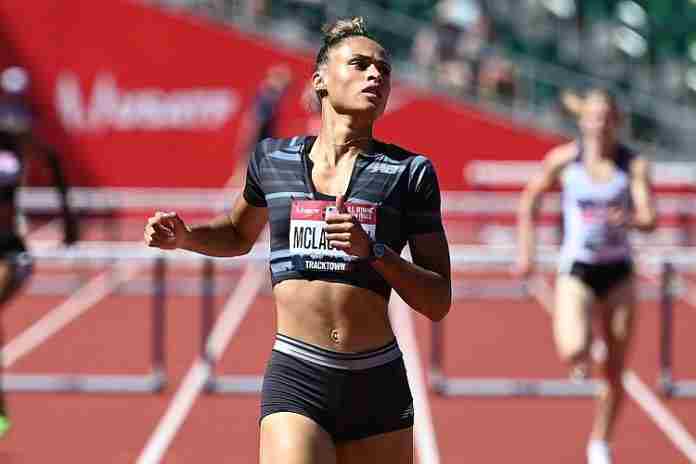 ★ The Sports Examiner: Surveying, monitoring and explaining the key competitive, economic and political forces shaping elite sport and the Olympic Movement. This site is free to view, with donations gratefully accepted to support our operating costs.
Comments? Click here. ★
★ Get The Sports Examiner's session-by-session Worlds e-mails; sign up here! ★
≡ WORLD ATHLETICS CHAMPIONSHIPS ≡
Session 12 ~ Friday, 20 July 2022
The track & field intelligentsia would say that the most likely world-record breakers at the 2022 World Athletics Championships were American Sydney McLaughlin in the women's 400 m hurdles and Mondo Duplantis of Sweden in the men's vault. Both are the existing world-record holders and both were in action on Friday evening at Hayward Field.
Duplantis was only in qualifying, but McLaughlin etched her place in history more deeply with one of the greatest runs in history. The details:
● Women/400 m hurdles ● The race was in the middle of the track, with Olympic bronze medalist Femke Bol (NED) in lane four, world-record holder and Olympic champ McLaughlin in five and defending champ Dalilah Muhammad (USA) in six.
Off the gun, McLaughlin was off like never before and made up the stagger on Muhammad – herself always a brilliant starter – on the back straight and was moving away. McLaughlin was in a place no other women's 400 m hurdler has ever been, and continued to gain ground on the field right through the tape, stopping the clock in a world record 50.68!
She didn't set the world record, she obliterated it with an improvement of 0.73 in a single race! McLaughlin herself could hardly believe it, sitting on the track and shaking her head at what she had done. At 22, she now owns five of the top six times in history. And in the past two seasons, she has set world records of 51.90 and 51.46 in 2021 and 51.41 and now 50.68.
Behind her, Muhammad was a clear second coming into the straight, but Bol came on over the turn and ran away on the straight for the silver in 52.27 and Muhammad third in 53.13. The U.S. was 4-5 with Shamier Little and Britton Wilson, in 53.76 and 54.02.
McLaughlin's coach, the legendary Bobby Kersee, has said that she will soon move to the 400 m, where the world record is an other-worldly 47.60 by East German Marita Koch from 1985. If anyone can challenge that mark, she can.
● Men/400 m ● Favored Michael Norman of the U.S., who called his Tokyo fifth a "slap in the face," lined up in lane four, with 2012 Olympic champ Kirani James (GRN) behind him in three and Britain's Matthew Hudson-Smith ahead in lane five.
Norman started well, moving up on Hudson-Smith on the back straight, but with James moving smartly behind him. On the far turn, Norman moved smoothly, but was close with James – who was slightly in front – and Hudson-Smith coming into the final straight.
But Norman had the speed he needed on the home straight, moving ahead of James, with Hudson-Smith not quite able to keep up and challenged by world-record holder Wayde van Kiekerk (RSA). Pumping his arms hard, Norman held off James and won his first global title, 44.29-44.48. Hudson-Smith took the bronze in 44.66, and Champion Allison of the U.S. passed van Kiekerk late to finish fourth in 44.77 (to 44.97).
The win gives the U.S. men the World titles at 100, 200 and 400 m in 2022, a far cry from the results in Tokyo last year, when the U.S. men didn't win an individual event on the track.
● Women/400 m ● Olympic champ Shaunae Miller-Uibo (BAH) had all of her challengers in front of her from lane three, but it hardly mattered as she flew around the turn and made stagger after stagger, forging a clear lead through 200 m. There was no let-up on the turn, but Sada Williams (BAR) was running brilliantly in lane seven and came across 300 m just slightly behind Miller-Uibo.
On the final straight, Williams was pushing, but Olympic silver winner Marileidy Paulino (DOM) made her usual late charge and ended up second, 49.11-49.60. Williams was third in a national record 49.75.
Miller-Uibo's time was the fastest in the world for 2022 and she finally won a Worlds gold in the event to go along with her silvers in 2017 and 2019. She also completes the indoor-outdoor double after winning the World Indoor Championships gold at 400 m in March.
● Women/Javelin ● Defending champion Kelsey-Lee Barber (AUS) broke open the event with her third-round 66.91 m (219-6) and everyone had to chase her. Olympic champ Shiying Liu (CHN) reached 63.25 m (207-6) in round four and moved to second, but that did not last.
The sixth round got crazy. Japan's Haruka Kitaguchi – the leader in qualifying – armed a strong throw to her best throw of the day, and into second place at 63.27 m (207-7), pushing Liu to third. Then came American Kara Winger – in her final competitive season and sixth Worlds – who was standing fifth and got ahold of her final throw, sailing out to a stunning 64.05 m (210-1) and into second place!
Barber had only one big throw, but one was all she needed. She defended her title and moved up from a disappointing Olympic bronze in Tokyo.
● Women/35 km Walk ● The 20 km Walk medalists were Kimberly Garcia Leon of Peru, Poland's Katarzyna Zdzieblo and China's Shijie Qieyang. Same in the 35 km, held Friday morning in cool, 60 F conditions on a 1 km course outside Oregon's Autzen Stadium.
But the race developed differently, with Garcia Leon and Zdzieblo walking together in the lead from the second km. They had a 5-second lead on Qieyang by 5 km, seven seconds by 13 km and 28 seconds by the 10 km split.
Garcia Leon pushed into the lead for good after halfway, building an 11-second edge by 20 km. The Pole got closer by 25 km, but Garcia Leon's lead was 21 seconds by 30 km and she strode home in 2:39:16, equaling the no. 2 mark in the world for 2022. Zdzieblo finished in 2:40:03, a lifetime best.
Behind the two leaders, Qieyang, 31, was unchallenged for third. She had nearly a minute's lead over the rest of the field by 15 km and finished in an Asian Record 2:40:37, winning her fourth World Championships medal to go along with her 2012 London 20 km gold. Greece's Antigoni Ntrismpioti was fourth in a national record 2:41:58.
Maria Michta-Coffey was the top American, finishing 22nd in a lifetime best of 2:58:51, followed by Stephanie Casey in 24th (3:00:54 lifetime best) and Miranda Melville (29th: 3:05:31).
● Women/800 m semis ● Kenya's national champion, Mary Moraa, went to the lead and was in front of a bunched field through 400 m in 59.00 and then pushed hard on the backstraight to gap the field. American (and World Indoor Champion) Ajee Wilson moved into second at 600 m and stuck close to Moraa into the straight, out of traffic. Those two had more speed than the rest, with Moraa winning at 1:59.65 and Wilson at 1:59.97 as the automatic qualifiers.
Australia's Catriona Bisset, advanced to the semis after being pushed down in her heat, took off on the first lap and led at the bell in 57.37. She was caught on the back straight by Olympic silver medalist Keely Hodgkinson (GBR), who led around the turn and into the straight, being chased by Jamaica's Natoya Goule and American Raevyn Rogers. Those three separated from the rest and finished in that order in 1:58.51-1:58.73-1:58.77; Rogers qualified for the final on time.
Semi three had Ethiopia's Diribe Welteji go to the lead and pass 400 m in the quickest time yet, in 57.09. Olympic champ Athing Mu of the U.S. was an easy second and those two broke away on the backstretch and extended their lead all the way to the finish. Mu had the most speed on the run-in and won in 1:58.12 to 1:58.16. Defending champ Halimah Nakaayi (UGA) faded to eighth and did not advance.
● Women/4×100 m heats ● In heat one, Jamaica ran a second team of Briana Williams, Natalliah Whyte, Remona Burchell and Kemba Nelson, starting on the outside in lane eight and starting well, with a sizable lead on the back straight. But Britain's Ashleigh Nelson stormed the turn to pass first to anchor Daryll Neita, who outclassed Nelson on the run-in to win in a world-leading 41.99 to 42.37.
The U.S. fielded a very good team of U.S. champ Melissa Jefferson, Aleia Hobbs, Jenna Prandini and TeeTee Terry in lane two, starting in heat two, and Jefferson was out like a shot. The pass to Hobbs was good and she stormed down the straight and handed to Prandini, who blew the race completely open on the turn. The pass to Terry was smooth and the time was another world leader: 41.56, equal-seventh-fastest in U.S. history. Spain was second at 42.61. Impressive.
● Men/4×100 m heats ● Question no. 1 was "Did the U.S. get the stick around the track?"
Yes!
The team of Christian Coleman, Noah Lyles, Elijah Hall and Marvin Bracy started in lane seven in heat one, with Lyles replacing the injured Fred Kerley on the second leg. Coleman got his usual excellent start and got the stick to Lyles on the backstraight, who forged a solid lead. The pass to Hall was solid and he opened a big lead and Bracy finished in a world-leading 37.87.
Heat two had Canada and Jamaica as favorites in lanes seven and eight, but France's Ryan Zeze passed to anchor Jimmy Vicaut in the lead and Vicaut held off Canada's Tokyo 200 m champ Andre De Grasse, 38.09 to 38.10. South Africa edged Jamaica, 38.31-38.33 for third, but the Jamaicans qualified on time.
● Men/Pole Vault qualifying ● The auto-qualifying height was 5.80 m (19-0 1/4), a mark cleared by 14 men this season, but it only took 5.75 m (18-10 1/4) to separate the top 12. The stars were all included: Sweden's Mondo Duplantis, Olympic silver winner Chris Nilsen of the U.S., London 2012 winner Renaud Lavillenie (FRA), Rio 2016 champ Thiago Braz (BRA), NCAA champ Sondre Guttormsen (NOR) and E.J. Obiena of the Philippines. The final is Sunday.
American Luke Winder cleared 5.65 m (18-6 1/2) and finished 17th; Andrew Irwin did not clear a height.
¶
American decathlete Garrett Scantling claimed a world-leading mark of 8,867 in winning the U.S. Nationals in May, moving to no. 7 on the all-time list. But he was left off the team for the World Championships and now we know why, per the U.S. Anti-Doping Agency:
"USADA announced today that Garrett Scantling, of Jacksonville, Fla., an athlete in the sport of track and field, has accepted a provisional suspension, effective July 21, 2022, following notification of possible Whereabouts and Tampering Anti-Doping Rule Violations. The potential Tampering violation stems from Scantling's conduct during an investigation into his third potential Whereabouts Failure."
Scantling, 29, could face a years-long suspension. The Worlds decathlon begins Saturday and the U.S. will field Nationals runner-up Kyle Garland (8,720), Zach Ziemek (8,573) and Steve Bastien (8,135); Garland and Ziemek stand 3-4 on the 2022 world list.
¶
Errata: Last night's post stated that the U.S. sweep in the men's 200 m was the first in Worlds history. No. SpainSports' Phil Minshull notes that the U.S. went 1-2-3-4 back in 2005, with Justin Gatlin, Wallace Spearmon, John Capel and Tyson Gay. So the 1-2-3 sweep in Eugene was the first since 2005. Thanks, Phil!
¶
With a couple of days left and 15 finals remaining, the U.S. medal count has reached 26 (9-7-10), ahead of Ethiopia (8: 3-4-1) and Jamaica (2-3-1) and Kenya (1-3-2) with six. On the placing table, scoring 1-8 for a better representation of team strength, the U.S. leads Ethiopia, 256-82.
The all-time medals record at a World goes back to the chemically-enhanced East German team of 1987, which won 31. The best U.S. performance came in 2017 in London, at 30. Both those marks are in jeopardy.
¶
You can receive our exclusive TSX Report by e-mail by clicking here. You can also refer a friend by clicking here, and can donate here to keep this site going.
For our updated, 620-event International Sports Calendar for 2022 and beyond, by date and by sport, click here!