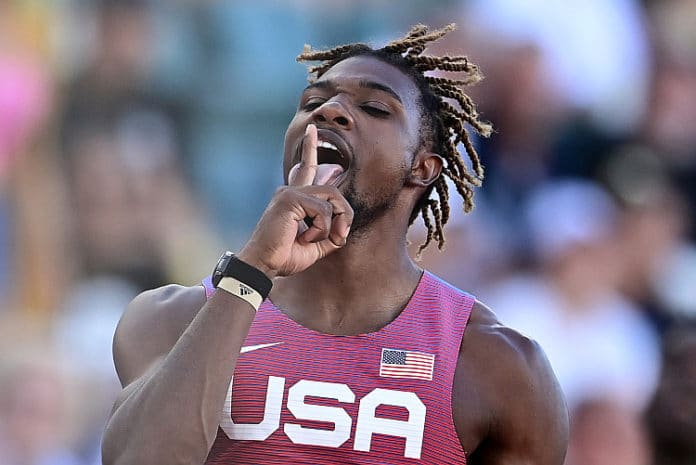 ★ The Sports Examiner: Surveying, monitoring and explaining the key competitive, economic and political forces shaping elite sport and the Olympic Movement. This site is free to view, with donations gratefully accepted to support our operating costs.
Comments? Click here. ★
★ Get The Sports Examiner's session-by-session Worlds e-mails; sign up here! ★
≡ WORLD ATHLETICS CHAMPIONSHIPS ≡
Session 11 ~ Thursday, 21 July 2022
/Updated/A more comfortable setting on Thursday at the World Athletics Championships in Eugene, with temperatures at 82 F at the start of the session, but plenty of hot running to come. And the 200 m finals were just as sensational as advertised. Better than that, they were historic.
Consider this: the 21.45 win by Jamaica's Shericka Jackson and Noah Lyles' 19.31 victory are the no. 2 and no. 4 performances in 200 m history, for women and men. Here's what happened:
● Men/200 m ● The long-awaited rematch between defending champ Lyles and teen star  (and world leader) Erriyon Knighton started with Knighton in lane three and Lyles in six, with Olympic silver winner (and fellow American) Kenny Bednarek in four.
Off the gun, it was Lyles – the guy who always needed to run better turns – who stormed the curve and stunningly led into the straight and was gone. He was never challenged and ran hard through the tape and stopped the clock at a fabulous 19.31 (wind +0.4 m/s), an American Record and the no. 4 time in history. Lyles displaced, 26 years later, Michael Johnson's Atlanta 1996 then-world record of 19.32 as the American Record in winning the gold medal.
And Johnson watched it all unfold in front of him, as a commentator in Eugene for the BBC!
Knighton did not run the turn as he did in the rounds, and Bednarek came into the straight in second and held on as Knighton closed, 19.77-19.80 for a U.S. sweep, the first in the event since the 2005 World Championships, when the U.S. went 1-2-3-4. The U.S. has now swept the 100 and 200 at the 2022 Worlds!
Liberia's Joseph Fahnbulleh, the NCAA champ for Florida, was fourth with his usual late rush in 19.84. The top six all broke 20 seconds.
● Women/200 m ● World leader and favorite Shericka Jackson started in lane four, ahead of defending champ Dina Asher-Smith (GBR) in three. But off the gun, it was Jamaican icon Shelly-Ann Fraser-Pryce – in six – who zoomed to the lead and was in front through the turn.
But Jackson flew down the straight, overtook Fraser-Pryce and ran away with the race in the second-fastest time in history in 21.45 (+0.6; changed from the initial 21.46); only Florence Griffith-Joyner's world record of 21.34 from 1988 is faster. Wow.
Fraser-Pryce was a clear second in 21.81 (0.02 off her best ever) and Asher-Smith was strong down the straight for third in 22.02, with Niger's Aminatou Seyni fourth (22.12). Americans Abby Steiner and Tamara Clark were fifth and sixth in 22.26 and 22.32. Double Olympic champ Elaine Thompson-Herah was seventh in 22.39.
● Women/800 m heats ● Ethiopia's Diribe Welteji, 20, ran away from the pack and had a 5 m lead at the bell and was really never challenged on the way to a 1:58.83 win. Britain's Jemma Reekie came on during the far turn and was second in 1:59.09. In heat two, six were in contention at the 600 m mark of heat two and then Catriona Bisset (AUS) had her heel clipped by Anita Horvat (SLO) on the turn and fell; Britain's Olympic silver winner Kelly Hodgkinson rolled ahead and won easily in 2:00.88, with Horvat second. Bisset was advanced to the semis on a protest.
Olympic champ Athing Mu of the U.S. led heat three at the bell in 60.38, just ahead of 2019 World Champion Halimah Nakaayi (UGA). Mu nursed a small lead right through to the finish, winning in 2:01.30 with Nakaayi second (2:01.41). World Indoor Champion Ajee Wilson (USA) took the lead in the fourth heat, passing 400 m in 58.95, but fell to third on the final turn behind Renelle Lamote (FRA) and Freweyni Hailu (ETH), but that was good enough to advance, 2:00.71-2:00.93-2:01.02.
The crowd cheered Oregon icon Raevyn Rogers at the start of heat five, but it was Habitam Alemu (ETH) who came through in 60.73. The pack remained tight through 600 m, with Alemu and Prudence Sekgodiso (RSA) at the front and Rogers in fifth coming off the turn. Then came Rogers' patented charge down the straight and she won at the tape in 2:01.36, with Alemu at 2:01.37. Kenya's Mary Moraa rocketed out from the start in heat six, but was back with the pack by the 400 m, with Natoya Goule (JAM) leading at 58.97. Goule moved hard at 600 m and led into the turn, winning cleanly in 2:00.06 with Moraa second (2:00.42).
● Men/800 m semis ● The first heat was tight through 400 m (52.92) and then the sprinting started. Kenyan Wyclife Kinyamal took the lead with 200 m to go, with Australia's Peter Bol close and they were 1-2 into the final straight. But Olympic champ Emmanuel Korir (KEN) flew over the last 60 m and got to the line first in 1:45.38 to 1:45.49 for Kinyamal and 1:45.58 for Bol, who qualified for the final on time.
Swede Andreas Kramer led through 400 m in semi two, but Kenyan Noah Kibet took charge down the backstraight, but there were seven in contention round the far turn. On the home straight, it was Djamel Sedjati (ALG) charged down the final straight and won going away in 1:45.44, with France's Gabriel Tual also sprinting into second (1:45.53); Kibet faded to eighth in 1:47.15.
Kenyan Emmanuel Wanyonyi led the third semi at 400 m (52.07), with Canada's Marco Arop moving up to second at 500 m and then pushing hard at 600 m, moving smartly ahead of the field. He led into the straight and looked like the winner, but Algeria's Slimane Moula sprinted to the line and won in 1:44.89, with Arop in 1:45.12. Wanyonyi was third in 1:45.42 and advanced as well.
● Men/5,000 m heats ● The first heat had Olympic champ Joshua Cheptegei, Olympic 10,000 m winner Selemon Barega (ETH) and American Grant Fisher, among others, with five to qualify automatically. From a slow pace, Barega went to the front at 1,200 m and started to quicken the race. At 3,000 m, it was Fisher in the lead at 8:18.47, but with a modest pace and 15 of the 21 starters still in contention. The lead group was down to nine by 4,200 m, with Barega and teammate Telahun Bekele in front and Fisher close. The sprinting started at the bell with Cheptegei moving up and turned into a mass finish of eight men for five auto-qualifying spots in the final 100 m. Uganda's Oscar Chelimo won with a dash to the line in 13:24.24, with Fisher getting second with his own surge in 13:24.44. Barega and Cheptegei were 3-4 and then American Abdi Nur got in for fifth at 13:24.48.
Guatemala's Luis Grijalva broke away at 2,000 m, while American Woody Kincaid fell at the back of the pack, then resumed contact within a lap. Grijalva was up by three seconds at with five laps to go and while his lead collapsed, he strung out the race, with Kenyan Daniel Ebenyo coming up to challenge. Ebenyo led with three laps left, with teammate Jacob Kirop and Canada's Moh Ahmed close in a breakaway pack of six that were sure qualifiers. At the bell, Kirop led and in the final 200 m, it was Norway's Jakob Ingebrigtsen trailing Kirop down the straight and waving to the crowd for more cheers. Kirop won in 13:13.30, with Ingebrigtsen in 13:13.92 and Grijalva third – also waving – in 13:14.04. Kincaid could not hang with the lead pack and was a non-qualifying 11th in 13:25.02.
● Men/Triple Jump qualifying ● Olympic champ Pedro Pablo Picardo (POR) jumped 17.16 m (56-3 3/4) in the first round, exceeding the auto-qualifying distance of 17.05 m (55-11 1/4) and going home. Four others reached the required distance: Olympic bronze medalist Hugues Zango (BUR) 17.15 m (56-3 1/4), Emanuel Ihemeje (ITA) 17.13 m (56-2 1/2), Tokyo silver winner Yaming Zhu (CHN) at 17.08 m (56-0 1/2) and Lazaro Martinez (CUB) 17.06 m (55-11 3/4).
Four Americans were in the field, with Donald Scott reaching 16.84 m (55-3) for eighth and advancing to the final. World and Olympic medalist Will Claye got out to 16.70 m (54-9 1/2) and made the final in 10th. Chris Benard was 16th at 16.53 m (54-2 3/4), while defending champ Christian Taylor, still coming back from injury, jumped 16.48 m (54-1) and was 18th.
● Men/Javelin qualifying ● The auto-qualifying distance was 83.50 m (273-11) and Olympic champ Neeraj Chopra (IND) bombed away on the opening throw at 88.39 m (290-0), with Czech star Jakub Vadlejch reaching 85.23 m (279-7) on his first try to secure places in the final. American Curtis Thompson reached 81.73 m (268-1) and ended up eighth and advanced.
World leader Anderson Peters (GRN) exploded with an 89.91 m (294-11) bomb on his first try in Group B, best of the day. German Julian Weber also got an auto-qualifier at 87.28 m (286-4).
Americans Tim Glover and Ethan Dabbs managed 75.68 m (248-3) and 72.81 m (238-10), finishing 24th and 27th.
¶
With the men's 200 m sweep, the U.S. now has 22 medals (7-6-9) to eight for Ethiopia (3-4-1) and six each for Jamaica (2-3-1) and Kenya (1-3-2). On the placing table, scoring eight places, the U.S. now leads, 213-82 over Ethiopia, with Kenya at 63 and Jamaica up to 59.
¶
You can receive our exclusive TSX Report by e-mail by clicking here. You can also refer a friend by clicking here, and can donate here to keep this site going.
For our updated, 620-event International Sports Calendar for 2022 and beyond, by date and by sport, click here!