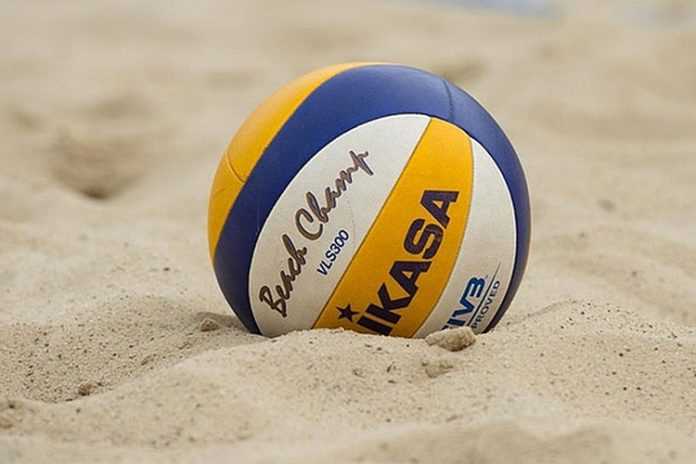 ≡ TSX DAILY ~ 28 August 2019 ≡
| 1. |  LANE ONE: World Champion asks "Why does a popular Olympic sport struggle?" 
In last week's edition of the "Player's Own Voice" feature on CBC.com, World Beach Volleyball Champion Melissa Paredes-Humana  (pictured above) expressed her deep concern over the future of her sport.
Her doubts surfaced last December when a major annual tournament in Ft. Lauderdale, Florida was canceled, and along with it a substantial possible payday. She asked herself, "Is this what professional sports come to? Is it even a professional sport if we can't make a living from it?  Do I need to pick up a part-time job again?"
Her piece was titled "Why does a popular Olympic sport struggle?" and is about her own sport, but it's really asking a larger question about the paradox between the lean day-to-day popularity of many sports and the athletes trying to make a living at them, and the energetic showcase for these sports once every four years during the Olympic Games.
The reality: the Olympic Games is popular, not necessarily the sports that are in it.
If you look at the 28 sports that form the core of the summer Olympic program, there are just six that can really be said to allow North American athletes to make a consistent living, at least for a few years: basketball, boxing, cycling, football, golf and tennis. Equestrian is a maybe, for those at the elite level. The other 22 are either strictly for amateurs – like canoe and rowing, along others – or pay enough, here and there, to work in combination with sponsorship to sustain a professional career for those who are world-class.
Sure, there are super-elites like Usain Bolt and Katie Ledecky who can command more money from sponsors, but for the vast majority of "Olympic" athletes, their opportunities are nowhere close to those of the last player on an NBA roster, where the annual minimum salary is $898,310 for a league rookie.
Why is this? There are multiple factors, but the key fact is that the popularity of the Olympic Games is not dependent on the sports within it, but became of its semi-religious overtones and long history.
For Humana-Paredes and others in similar situations, the question is not why their sport isn't doing as well as they would like when it does well at the Olympic Games, but simply why isn't their sport more popular?
Once the athletes, supporters and sponsors of any sport begin to solve that problem, their sport will expand regardless of its Olympic status. And that's what those sports which don't need to be in the Games to be successful have already mastered. Read the full story here.
| 2. | ATHLETICS: Fabulous match-up ahead on Thursday in Zurich for first Diamond League final
The IAAF Diamond League is coming to a close, with two "finals" meets on Thursday (29th) in Zurich (SUI) and on 6 September in Brussels (BEL). The meets have the highest paydays of the Diamond League season: $50,000-20,000-10,000-6,000-5,000-4,000-3,000-2,000 for the top eight places, in each event in both meets.
The winners also receive a wild-card entry into the World Championships, which may or may not have an impact on them, but may have on entries for their country, especially for the U.S.
But the best part is seeing some of the top match-ups in the sport, and true previews of the 2019 World Championships in Doha (QAT) coming a month later:
● Men/100 m: No Christian Coleman, but reigning World Champion Justin Gatlin (pictured) vs. new U.S. star Noah Lyles;
● Men/400 m hurdles: Reigning World Champion Karsten Warholm(NOR) vs. Rai Benjamin of the U.S. in their first meeting of the year;
● Men/Pole Vault: Reigning World Champion Sam Kendricks vs. Sweden's Mondo Duplantis, Poland's Piotr Lisek and more;
● Women/200 m: Shaunae Miller-Uibo (BAH), who hasn't lost at this distance since 2017, vs. Jamaica's 2016 Olympic champ Elaine Thompson and 2018 European Champion Dina Asher-Smith (GBR);
● Women/400 m hurdles: World-record setter Dalilah Muhammad vs. U.S. stars Sydney McLaughlin, Ashley Spencer and Shamier Little.
There are 16 events in all; check out a full preview (and a bonus preview of the women's vault in the Zurich Hauptbahnhof) here.
The IAAF Athletics Integrity Unit issued a Provisional Suspension of Belarus middle-distance runner Marina Arzamasova, the 2015 World Champion at 800 m. Now 31, she finished seventh at the Rio Olympic Games and had been competing this season with a modest best of 2:02.51 from mid-July.
The sanction was issued on 22 August for the presence of a prohibited substance (Ligandrol), but more information on the date of the test was not available on the AIU site.
As if the AIU didn't have enough to do already, it's worth noting that the state of Oregon began allowing sports betting on Tuesday (27th). The only sportsbook to open so far is the Chinook Winds Casino in Lincoln City, a town on the Oregon coast, about halfway between Portland and Eugene.
Operated by the Confederated Tribes of Siletz, the facility offers 227 hotel rooms and is about 2 1/4 hours north of Eugene by car.
Why does this matter? Because the 2020 U.S. Olympic Track & Field Trials and the 2021 IAAF World Championships will be in Eugene. Wanna bet they'll be taking bets on some events in both meets?
| 3. | CYCLING: American Kate Courtney looking for second world XCO title; Jakobsen wins La Vuelta sprint
The UCI Mountain Bike World Championships are starting on Wednesday in the Quebec resort of Mont-Sainte-Anne, with a full schedule of elite, U-23 and Junior events. Of interest to Olympic fans is the Cross Country Olympic races with past Worlds gold medalists the favorites.
Among the men, Switzerland's amazing Nino Schurter will be seeking his eighth World Championships gold and fifth in a row. His job is a lot easier since Dutch star Mathieu van der Poel will ride in the World Road Race Championships next month instead of in Mountain Bike.
Kate Courtney of the U.S. (pictured) was a surprise when she won the 2018 world title, but she's one of the two favorites among the women. Swiss Jolanda Neff won in 2017 and has come on strongly in the latter half of the season. Former World Champion Annika Langvad (DEN) and Sweden's 2016 Olympic champ Jenny Rissveds should not be counted out.
In the Downhill, France's two-time defending champ Loic Bruni is the clear men's favorite, with Australian Tracey Hannah trying to move up from the three bronze medals she won in 2015-16-17. More details here.
Stage four of La Vuelta a Espana ended in another wild sprint, with Ireland's Sam Bennett in position for a second straight win. However, Dutch youngster Fabio Jakobsen got to the line first, finishing the 175.5 km course from Cullera to El Puig in 4:04:16. It's his sixth career World Tour race victory, but first in a Grand Tour. Colombia's Fernando Gaviria was third.
The overall race situation did not change, with Ireland's Nico Roche still in front by two seconds over Nairo Quintana (COL). However, Wednesday's stage five is more challenging, finishing on an uphill climb to the observatory at Javalambre at the end of a 170.7 km ride.
| 4. | FOOTBALL: Record crowd expected for Thursday's women's Victory Tour match vs. Portugal
The U.S. Women's National Team "Victory Tour" continues on Thursday at Lincoln Financial Field in Philadelphia, with more than 45,000 expected for a match vs. Portugal. That's the most tickets ever sold for a USWNT friendly that was not part of a doubleheader.
The American women are 7-0 all-time vs. Portugal, but won by just 1-0 last December in a match held just outside of Lisbon. It's the first of two against the Portuguese, who did not make it to the 2019 World Cup.
Thursday's game will be shown at 7 p.m. Eastern on FS1; the second game of the set will be on 3 September in St. Paul, Minnesota (8 p.m. Eastern on ESPN2). More here.
| 5. | JUDO: Shohei Ono wins third world title while Canada's Deguchi surprises defending champ Yoshida at 57 kg
The third day of the World Judo Championships in Tokyo ended with Japanese judoka in the finals once again, but only one won … sort of.
In the men's 73 kg class, Japan's Shohei Ono extended his winning streak to 28 straight international matches and won his third World Championships gold medal. Previously the title winner in 2013 and 2015, and the Olympic Champion in 2016, he won in 2019 in a Rio rematch with Azerbaijan's Rustam Orujov via ippon.
The women's 57 kg division ended up with a unique final in that Japan's defending champion Tsukasa Yoshida met former Japanese fighter Christa Deguchi, now of Canada in the final. The two are familiar opponents, splitting their two matches last year. Deguchi still lives and trains in Japan, but switched allegiance to that of her father.
More details in the excellent IJF report here.
| 6. | TRIATHLON: American Katie Zaferes looking for first ITU World Series title in Lausanne
The final leg of the 2019 ITU World Series come Saturday in Lausanne (SUI), with France's Vincent Luis and Katie Zaferes  (pictured) of the U.S. both looking for their first-ever seasonal titles.
Both have meaningful leads going into the final race. Luis, the 2018 runner-up, leads three-time defending champion Mario Mola (ESP) by 4,180-3,793 and Zaferes has a commanding 4,925-4,170 lead over Britain's Jessica Learmonth.
The ITU calculates that Luis will clinch the title, regardless of what anyone else does, by finishing in the top five, and Zaferes finishing in the top 12.
The course is the standard Olympic distance – 1.5 km swim, 40 km bike and 10 km run – but with a nasty rise in the middle of the bike course.
If she wins, Zaferes will have progressed from third in the series in 2017 to second last year to the top of the podium over just three seasons. Fellow American Taylor Spivey has a chance to land on the seasonal podium as well, standing fourth behind Learmonth and British teammate Georgia Taylor-Brown (the women who were disqualified for finishing in a tie at the Tokyo test event!). More here.
| 7. | SWIMMING: First glimmer of hope for Int'l Swimming League: a European TV deal
There hasn't been much news lately from the start-up International Swimming League, with its first meets coming up in October. The swimmers, teams and sites have been announced, but not much else until Monday.
A two-year agreement with Eurosport was revealed, essentially handing worldwide rights to the first two years of ISL meets to the company, with the exception of Australia and the U.S. ISL's agreement will allow it to sub-license its rights to other countries outside Europe.
It's a key step for ISL, which has seven meets on its schedule from October through December, with four in the U.S. and one each in Italy, Hungary and Great Britain.
It will be interesting to see what happens with the U.S. rights, which would normally be expected to go to NBC. However, Eurosport is owned by the U.S. media conglomerate Discovery, and could put the events on its own U.S. channels if it desired to do so … for an additional fee, of course. No terms were disclosed about the Eurosport agreement.
Australia's 2016 Olympic 100 m Freestyle champion Kyle Chalmers had a third – and he hopes, final – heart surgery on Monday to treat a condition that first surfaced at age 12.
Now 21, his history of supraventricular tachycardia has plagued him with a rapid heartbeat, shortness of breath and possible fainting.
Chalmers has been through this before, having an operation in 2017 for the same problem, but recovering in time to win five medals at the 2018 Commonwealth Games. He won four medals at the recent FINA World Aquatics Championships (1-2-1), with an individual silver in the 100 m Freestyle and three relay medals.