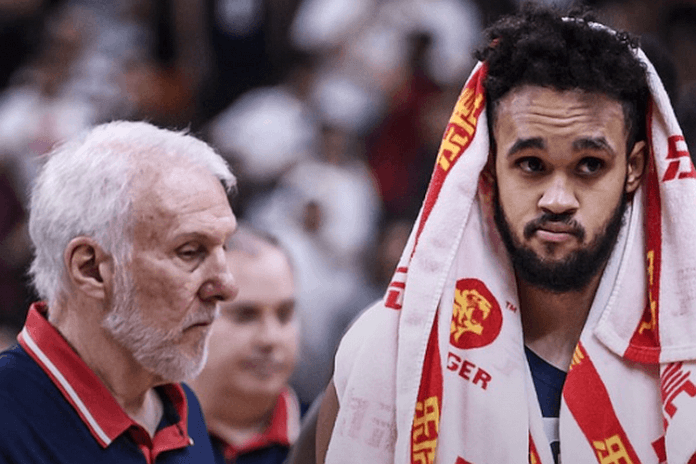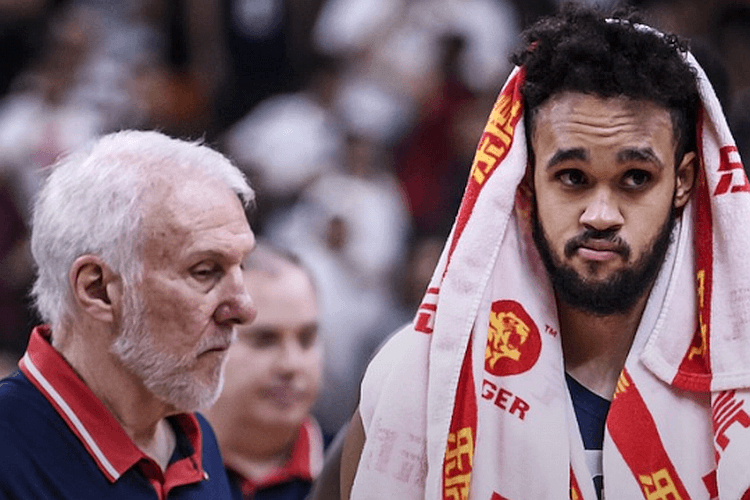 ≡ TSX DAILY ~ 13 September 2019 ≡
| 1. |  LANE ONE: How the U.S. failure at the 2019 World Cup could be the start of Olympic success in 2020
Very few Americans watched the U.S. men's team at the 2019 FIBA World Cup thanks to the time-zone differences to China. But over the last two days, the word has seeped out that it didn't go too well.
In fact, it was a failure; the worst finish by a U.S. men's World Cup team in history.
After losing to France in the quarterfinals on Wednesday in Dongguan, the U.S. had to come back and play Serbia in the semifinals of the 5th-place bracket on Thursday. That started badly, with the Serbs ahead by 32-7 after the first quarter!
The U.S. pushed back and was down just 44-40 at half and 71-68 at the end of three quarters. But the Serbs held on, thanks especially to 28 points from guard Bogdan Bogdanovic and managed an 84-79 victory. The U.S. will play for seventh place against Poland in Beijing on Saturday. More on this game here.
While the semifinals will take place on Friday, with Argentina playing France and Australia facing Spain, the question is now being asked: What happened, why, and what has to change before the next international tournament, at the 2020 Olympic Games in Tokyo?
Happily, the person most responsible for changing things is already on it: Jerry Colangelo, the former Phoenix Suns and Arizona Diamondbacks owner, is the managing director of USA Basketball's men's national program and has already started considering how to construct a better team for 2020.
In comments to the Associated Press in China, he noted that only four of the 35 players in the original World Cup player pool for USA Basketball actually made it to the World Cup. There were plenty of defections, but there were also other issues:
● The tournament was – for commercial reasons – moved by FIBA from two years prior to the Olympic Games to one year prior. That means that players would be playing internationally for two summers in a row, too much for some players.
● The World Cup is not the Olympic Games. Where the top American stars have played in the Olympics, only one of the 12 Americans on the All-NBA first/second/third teams from last season were on the World Cup team. The three non-Americans – Greece's Giannis Antetokounmpo, Serbia's Nikola Jokic and French center Rudy Gobert – all played for their countries.
● All good things come to an end. The U.S. had won 24 straight World Cup games heading into the quarterfinal vs. France and 58 in a row in international tournaments with NBA players since a loss at the 2006 World Cup. Winning the World Cup maybe didn't seem so important.
But that's the point. This is not new and the circumstances in 2019 echo the issues of the 2006 World Cup, when the U.S. team – under Duke coach Mike Krzyzewski – lost in the semifinals and had to settle for the bronze medal. The situation had to change and it did, with the U.S. rebounding to win the 2008-12-16 Olympic Games and the 2010-14 World Cups.
Instead of hanging on to what it had, the 2020 U.S. men's team will be out to take the trophy away from whichever of the semifinalists wins the World Cup. That's a major difference.
Many more people in the U.S. will be interested, and watch for the scheduling of U.S. games in 2020 in Tokyo to be in a more convenient time slot for Americans to watch. In fact, the big winners out of the U.S. losses in China will be NBC, which will benefit from mightily-increased interest.
This wasn't a good week for U.S. men's basketball. But there will be better ones to come.
| 2. | CYCLING: Roglic rebounds in La Vuelta stage 17 and closes in on victory
A Slovenian rider has never won La Vuelta a Espana, or any of cycling Grand Tours for that matter. But that's close to changing after a determined ride by 29-year-old Primoz Roglic in the 17th stage of the 2019 Vuelta a Espana.
Thursday's brutal stage featured four major climbs and major breaks developed on the third ascent, then Colombian Sergio Higuita – in his first year on the World Tour – attacked on the downhill, with about 57 km remaining in the 178.2 km route.
There was no catching him, but a group of the leading contenders – including Roglic, Pole Rafal Majka, Colombian Miguel Angel Lopez and Spain's Alejandro Valverde – were trying. Even with a rise to the finish over the final 4 km, Higuita scored his first professional win and in a Grand Tour!
Roglic, Valverde, Majka and Lopez finished 15-17 seconds behind and maintained their positions from the start of the day. But Colombian Nairo Quintana, who had rocketed back into contention in Wednesday, found himself losing more than a minute to Roglic in finishing eighth.
The standings show Roglic with a lead of 2:50 over Valverde, 3:31 over Quintana and 4:17 over Lopez. The race is his to lose, and he knows it.
There are still two competitive stages before the flat ride into Madrid on Sunday. Roglic will be attacked continuously on Friday's mostly-downhill 165.2 km ride from Avila to Toledo and then on Saturday's mean climbing stage to the Plataforma de Gredos. Said Valverde, "There are two hard days left. We can still win it or lose it."
There is more cycling coming this weekend, with the two annual men's races in Canada, the Grand Prix Cycliste de Quebec (Friday) and the Grand Prix Cycliste de Montreal (Sunday). The fields are excellent, including sprinters like Peter Sagan (SVK) and one-day stars like Belgium's Greg van Avermaet and Julian Alaphilippe (FRA) plus Britain's Adam Yates and Geraint Thomas and many more.
The Women's World Tour is also in Spain for the two-day Madrid Challenge by La Vuelta. The seasonal World Cup title is up for grabs, but it's not clear whether the top Dutch stars, including points leader Annemiek van Vleuten, will contest this event or are content to prepare for the World Road Race Championships coming in 10 days. More here.
| 3. | SKATEBOARDING: Park World Championships offers six Tokyo qualifying spots in Sao Paolo
Considering that sports have been trying to get into the Olympic Games for decades, it's amazing how young the international skateboard scene is. The 2019 World Park Championships are starting in Sao Paolo (BRA), and it's only the fourth edition of the event!
But this will be a hotly-contested event, with the top three in both the men's and women's classes to earn qualifying spots for Tokyo 2020. A crowd of 160 riders from 32 countries has entered, including stars from 33-year-old  Shaun White of the U.S. – yes, the 2018 Olympic gold medalist in Snowboard Halfpipe – to 11-year-old British sensation Sky Brown (pictured).
Reigning World Champion Pedro Barrios will be riding on home soil, against last year's silver winner Heimana Reynolds of the U.S. and bronze medalist Keegan Palmer of Australia.
Japan's 1-2 punch of Sakura Yosozumi (World Champion) and Kisa Nakamura (2018 silver) will be trying to overcome current world rankings leader Misugu Okamoto, who has won the first two events on tour so far this season. More here.
| 4. | GYMNASTICS: Uzbekistan's amazing Chusovitina still going strong at 44!
There is another FIG Artistic World Challenge Cup on tap this weekend, an apparatus-only program at the Accorhotels Arena in Paris (FRA). The field is good, but not great and includes World Champions Tin Srbic (CRO: 2017 High Bar) and Greek Eleftherios Petrounias (3-time Rings World Champion; pictured).
The third World Champion in the field is the most amazing: 44-year-old Oksana Chusovitina, still competing at a world-class level for Uzbekistan. She owns three World Championships golds, two from way back in 1991 (Floor and Team) when she was competing for the USSR and one from 2003 in Vault. She has 11 Worlds medals competing for the Soviet Union, Commonwealth of Independent States, Unified Team, Germany and now Uzbekistan.
She's hardly doing this just for fun. In 2018, she won the Asian Games silver medal in Vault. More here.
| 5. | DOPING: New concept of testing close to completion and could change the game
The London Telegraph reported on Wednesday that a new test for doping that charts genetic sequencing is in the "final stages of development" and could detect blood doping that took place up to several months prior.
The work is being done by University of Brighton professor Yannis Pitsiladis, a professor of sports science and genetics. The story notes that "His method involves identifying changes to the body's genetic signature as a result of the two forms of blood doping: a transfusion or the use of a banned product that increases the production of red-blood cells, the most popular of which among sportsmen and women is erythropoietin (EPO)."
The current Athlete Biological Passport (ABP) program, introduced in 2002, is the best current test, but the sequencing concept would be a radical improvement.
| 6. | U.S. OLYMPIC ASSEMBLY: Changes are already underway, and will continue
The annual U.S. Olympic and Paralympic Assembly opened in Colorado Springs, Colorado with speeches from the USOPC leaders: Chair Susanne Lyons and Chief Executive Sarah Hirshland.
Lyons spoke plainly about the current, difficult environment:
"Larry Nassar and his crimes against young women was a catalyst that shed a light on some serious issues within the Olympic and Paralympic community and at the USOPC. Abuse has occurred in almost every sport and a lot needed to be done to create better protections for athletes. But those issues also caused us to examine other things like how coaches train, how much emphasis is placed on winning, and how to balance athlete health and well-being with the pursuit of excellence. 
"We needed to take a hard look at USOPC oversight of the NGBs and at how the voices of athletes were being heard on issues that affect them. All of this, and the resulting scrutiny from survivors, the media, Congress and activists has led to a great amount of turmoil at the USOPC and in many of the NGBs. It has been a tough time, but certainly not nearly as difficult as the journey so many victims and survivors have been on."
Chief Executive Hirshland spoke movingly not only about the need for change, but that it is also happening right now. Referring to her first year in office:
"We learned that despite Team USA performing better than ever, and our considerable resources being deployed on behalf of athletes on a larger scale than ever before, and with more sophistication than ever before – we learned that trust and confidence in the USOPC is low among many of those voices.
"We heard athletes describe our community as 'us vs. them.' We heard member sport organizations ask for more help and expect more accountability.
"In fact, in total, we heard nearly 200 suggestions and ideas to improve. That input has been invaluable in shaping the work we have done for the past year, and in setting our future direction.
"We heard that we need to create an athletes-first culture, that we should do more for the safety and well-being of our athletes and that we should put stricter and clearer measures in place to ensure we are all more accountable in how we serve our athletes.
"And of the 200 or so recommendations, we have acted on, or have imminent plans to act on, nearly 90 percent of them with only a handful we're still working through and evaluating the best approach."
Her short summary of the future looks like this:
"Our four priorities – and where you'll see us invest and make substantive change in the coming years  – are focused around how we create a better experience for our athletes, on and off the field of play; how we improve the effectiveness of all the organizations that serve our athletes; how we establish an athletes-first culture; and ultimately begin preparing for the awesome, transformational opportunity represented by hosting the Games in LA in 2028.
"This will mean instituting things like a whistleblower resource, improved medical benefits, a detailed annual report to Congress, and a new compliance and certification model with NGBs."
The USOPC Board will consider a hefty set of amendments to its Bylaws which will institute a series of changes referred to by Hirshland; the Assembly continues through Saturday.