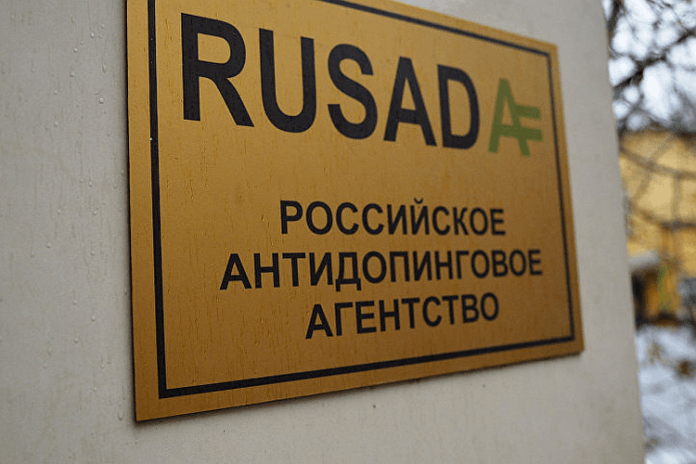 ≡ TSX DAILY ~ 26 September 2019 ≡
| 1. |  LEADING OFF: While Russia may be suspended, anti-doping agencies come to the aid of RUSADA 
A very strange narrative is forming as the World Anti-Doping Agency looks into whether the historical lab data retrieved from the Moscow Laboratory that was at the center of the Russian doping scandal from 2011-15 was manipulated to continue the cover-up of athletes who were doping.
The head of the Russian Olympic Committee, Stanislav Pozdnyakov, issued a statement full of concern:
"Judging by the fact that the WADA Executive Committee has already initiated fast-track consideration of RUSADA's status issue based on the Compliance Committee's report, the situation is very serious.
"In a short time of three weeks, our organizations overseeing submissions of the database need to either conclusively disprove the accusations of any machinations on the Russian side or undertake thorough measures to identify persons involved in this case. Otherwise, along with the problem of RUSADA's status and ramifications for our sports arising from that, the Russian national team's prospects of taking part in the 2020 Olympic Games in Tokyo will be jeopardized."
The seriousness was underlined by a comment from the International Olympic Committee to the Russian news agency TASS on Monday as to whether Russia could be prevented from competing as a national team at the Tokyo Games next year:
"According to the new WADA rules, effective as of April 2018, this process is conducted by the World Anti-Doping Agency (WADA) and the IOC fully respects this procedure."
Translation: WADA will have the authority, under the new rules for World Anti-Doping Code signatories, to ban Russia from the Tokyo Games, subject to an appeal to the Court of Arbitration for Sport.
Yet, at the same time, the head of the 67-member Institute of National Anti-Doping Organizations (iNADO) – usually a hawk on sanctions vs. Russia – issued a statement which condemns the possible data manipulation, but praises the current version of the Russian Anti-Doping Agency, including:
"'WADA's correct and only legal recourse in the light of further Russian defiance of sporting rules and principles is to declare the National Anti-Doping Organisation non-compliant even though there is no evidence that RUSADA itself is in any way involved.
"'RUSADA has, since its reformation following the corrupt activities of previous officials, proven to be an eager and valued participant in international anti-doping work.' said iNADO CEO, Graeme Steel.
"'While a declaration of non-compliance is necessary under the rules, of all Russian organisations, RUSADA has been the one leading the way to effect positive change in the country'" said Steel."
Pretty amazing, but this is consistent with the comments from WADA officials about the changes made in RUSADA under the direction of Yury Ganus (pictured). Steel added, "we will continue to support RUSADA" in its efforts to effect "positive change within Russia."
This bodes well for the future, whenever the Russian doping saga is finally concluded, but it's hardly solace to Russian athletes. High jumper Mariya Lasitskene, the reigning World Champion, posted a notice on her Instagram account reported by TASS as:
"In case RUSADA is suspended again, we will leave beyond the Russian borders to hold training sessions abroad in order to be available for international doping officers."
Her stance harkens back to 2016, when the only Russian track & field athlete allowed to compete in Rio de Janeiro was long jumper Darya Klishina, who trained in the U.S. (Florida) and was therefore tested by the U.S. Anti-Doping Agency.
Added Lasitskene, "I am not going to skip the second Olympic Games in a row due to some particular people, who are unable to honestly fulfill their work obligations."
| 2. | ATHLETICS: Coe unanimously re-elected; Willie Banks elected to IAAF Council from the U.S.
It was a productive day for the International Association of Athletics Federations (IAAF), with 203 members convening in Doha (QAT) for the IAAF Congress and electing new officers.
There was no surprise in the re-election of Sebastian Coe for president; he received all 203 votes in support of a second term.
There were changes in the IAAF Council, including the election of U.S. candidate Willie Banks (pictured), the former world-record holder in the triple jump who has had significant sports management experience that can be of value to the group.
The elected members included:
Vice Presidents:
● Ximena Restrepo (COL)
● Sergey Bubka (UKR) ~ re-elected
● Geoffrey Gardner (NFI) ~ already a Council member
● Nawaf Bin Mohammed Al Saud (KSA) ~ already a Council member
Members:
● Hiroshi Yokokawa (JPN) ~ re-elected
● Antti Pihlakoski (FIN) ~ re-elected
● Anna Riccardi (ITA) ~ re-elected
● Nan Wang (CHN)
● Adille Sumariwalla (IND) ~ re-elected
● Nawal El Moutawakel (MAR) ~ re-elected
● Abby Hoffman (CAN) ~ re-elected
● Sylvia Barlag (NED) ~ re-elected
● Alberto Juantorena (CUB) ~ re-elected (previously a Vice President)
● Willie Banks (USA)
● Raul Chapado (ESP)
● Dobromir Karamarinov (BUL)
● Beatrice Ayikoru (UGA)
Two Council members who stood for re-election were unsuccessful; France's Bernard Ansalem and Ahmad El Kamali (UAE), who was disqualified by the Athletics Integrity Unit.
There were further developments on the doping and sponsorships fronts announced at the Congress:
● The Congress voted by 164-30 to continue the suspension of the Russian Athletics Federation in view of the continuing issues noted by the IAAF's Russia Task Force.
● The Chinese conglomerate Wanda Group signed on as a 10-year sponsor of the IAAF Diamond League from 2020-29, the first presenting sponsor of the circuit since Samsung ended its sponsorship after the 2012 season. As part of the deal, Wanda subsidiary Infront will market the Diamond League media rights for five years from 2025-29, replacing IMG, which is the marketer through 2024.
The agreement includes the creation of a new IAAF event to be held annually in China, with the details to be announced later.
The Congress will conclude on Thursday.
Check out our World Championships preview on the men's field events here.
| 3. | CYCLING: Dennis repeats as World Time Trial champ in Yorkshire
The UCI World Road Championships continued in England, with a masterful performance by defending champion Rohan Dennis of Australia to win his second consecutive Individual Time Trial.
A hot early pace was set on the 54.0 km course from Northhallerton to Harrowgate by Italian Filippo Ganna at 1:07:00.35 that was not bettered until the 43rd of 57 riders finished, Belgium's 19-year-old Remco Evenepoel, who took the lead at 1:06:14.28.
Four-time champion Tony Martin (GER) started strongly, but faded to nine overall as the 50th rider to go. Slovenian Primoz Roglic, a terror at the time trials in the Giro d'Italia and Vuelta a Espana, managed only a 12th-place finish.
Dennis, riding last as the reigning champ, had to deal with rain that started falling during his ride, but was undaunted. He was first at each checkpoint and steamed home in 1:05:05.35 to win by almost 69 seconds.
He hadn't been seen since abandoning the Tour de France in July, but he was more than ready.
"I didn't go without a lot of preparation: a lot of time at home, a lot of work on my head to get myself mentally prepared for today. 
"I knew what pace I went out with last year, so I just stuck on that and got into my rhythm. I knew I was 20 seconds up at the first check and I knew I had more to give, that I wasn't going to die on the climbs.  It was absolutely perfect today." Complete results are here.
| 4. | WEIGHTLIFTING: Solis moves up to win 81 kg at Worlds; U.S.'s Arthur wins bronze
It was a good day for the Western Hemisphere at the World Weightlifting Championships in Pattaya (THA), with Colombia's Leydi Solis winning a second world title and American Jenny Arthur claiming her first-ever Worlds medal.
Solis was the Olympic silver medalist at 69 kg (~152 lbs.) in 2008 and the World Champion at that weight in 2017. But with the adoption of the new weight classes, she moved up to 81 kg (~179 lbs.) and won the Clean & Jerk and the overall total for a second career Worlds gold.
Arthur (pictured), 25, was a 2016 Olympian and finished sixth in the women's 75 kg division. She finished seventh in the Snatch, but then made her heaviest lift of 139 kg (~306 lbs.) for runner-up honors in the Clean & Jerk and third overall at 245 kg combined (~540 lbs.).
Defending champ Lidia Valentin of Spain lifted a combined 246 kg (~542 lbs.) for the silver medal, and Solis lifted 247 kg (~545 lbs.) to win.
Arthur missed on her heaviest Snatch lift of 110 kg (~243 lbs.); if she had done it, she would have won the event! Solis and Valentin also missed their heaviest lifts in Snatch.
European champ Yauheni Tsikhantsou of Belarus finished second in the Snatch and Clean & Jerk and that was enough to give him the gold medal at 102 kg by 398 kg (~877 lbs.) to 397 kg (~875 lbs.) over Korea's Yun-Seong Jin.
The Worlds continue through Friday; look for results here.
| 5. | JUDO: Sad news of the passing of U.S. judoka Jack Hatton
American Jack Hatton, a three-time member of the U.S. team for the World Judo Championships, has passed away at age 24, according to an announcement from USA Judo.
No cause of death or other details were provided; Hatton was teaching judo in Greenfield, New York. He competed at 81 kg and had his best year in 2019, winning a bronze medal in the Pan American Championships and placing fifth at the Montreal Grand Prix.
His top international performance was a silver medal in the Antalya (TUR) Grand Prix in 2018.
The USA Judo post added, "Jack made an indelible mark on all who had the pleasure of knowing him, and he will not be forgotten. We grieve with the entire USA Judo and international judo community during this tough time. USA Judo is in the process of providing grief counseling services for those in need and will share information on services for Jack as they become available."
| 6. | FOOTBALL: UEFA President tells members not to play Iran or Saudi Arabia
The issue of admitting women as spectators into men's matches expanded on Wednesday as European Football Association (UEFA) chief Aleksander Ceferin (SLO) suggested to the 55 members that they refrain from playing matches against Iran or Saudi Arabia:
"We know that two countries do not allow men and women to watch matches together, we can not punish anyone, but that does not mean we have to be quiet, so our advice to 55 federations and all clubs to ensure that their teams do not play in these countries or against teams from these countries where the basic rights of women are not respected."
The AIPS report on the UEFA conference noted that FIFA President Gianni Infantino (SUI) has sent an inquiry delegation to Iran to look into the arrangements planned for the 10 October Asian World Cup qualifying match in Tehran vs. Cambodia. Infantino has been clear that women must be admitted as spectators to such matches.
| 7. | COMMONWEALTH GAMES: NOC chief of India says CWG is a waste
The Commonwealth Games will be in Birmingham, England in the summer of 2022, with India protesting the exclusion of shooting, at which it won 16 medals at the 2018 Games in Australia.
However, beyond talking about a "possible boycott" of the event over shooting, Indian Olympic Association chief Narinder Batra is now calling the entire program a waste. In an interview with the Indian Express newspaper, he said
"These Games have no standard. For me, these are a waste of time and money. We win 70 medals, 100 medals at the Commonwealth Games while at the Olympics, we get stuck at two (medals).
"That means the level of competition isn't high at CWG. It's not a ranking tournament either. So why waste time? We should rather go to better competitions and prepare for the Olympics."
India hosted the 2010 Commonwealth Games in New Delhi; the organization of that event went well over budget and was widely panned.