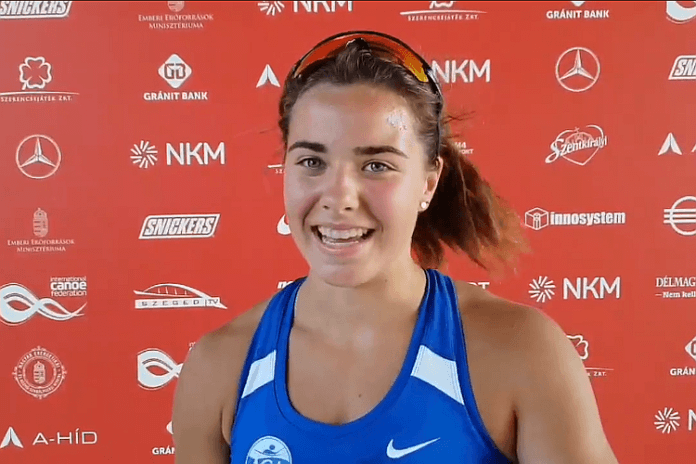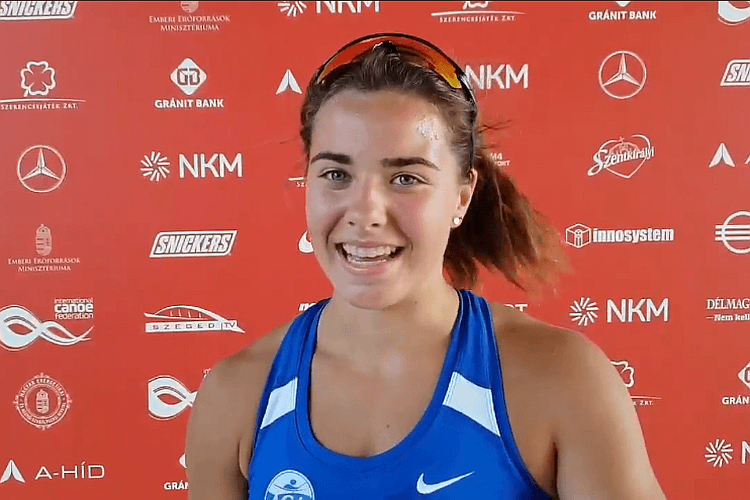 ≡ TSX DAILY ~ 27 August 2019 ≡
| 1. |  CANOEING: Nevin Harrison's journey from junior competitions to World Champion in one year! 
One of the most amazing stories of the weekend was the stunning victory of 17-year-old American canoeist Nevin Harrison of the U.S. (pictured above) in the C-1 200 m race at the ICF World Championships in Szeged, Hungary.
She's a 17-year-old from Seattle, Washington, who started a GoFundMe page last November, introducing herself as:
"My name is Nevin Harrison. I'm 16 years old and chasing my dream to  compete in the 2020 Olympic Games in flatwater sprint canoe. This will be the first year that women will be competing in this event, and it would be an incredible experience and honor to represent the United States in Tokyo. I've been paddling for close to 5 years and have dedicated my whole life to being the best that I can be in this sport."
Harrison's international experience was really only at the ICF's Olympic Hopes Regatta, held the last two years at Racice (CZE: 2017) and Poznan (POL: 2018). Then, just before the 2019 ICF Sprint Worlds, Canadian superstar Laurence Vincent-Lapointe, the six-time World Champion in the C-1 200 m, was suspended for doping (which she believes was due to contaminated food).
All of that opened the door for Harrison, who was only third in her heat (46.11) and second in her semi (45.08), but won the final in 49.30, ahead of 2018 silver medalist Olesia Romasenko (RUS: 49.74) and 2018 bronze medalist Alena Nazdrova (BLR: 49.99).
And what happened to the three paddlers who won their heats and semis? In the final, Canada's Katie Vincent (5th: 50.12), Pole Dorota Borowska (6th: 50.14) and China's Luqi Zhang (8th: 50.65) all were awful.
Harrison's winning time was the slowest of any of the eight races in the event. So let's recognize that's she's NOT the Olympic favorite right now, but she is in the mix.
She was giddy and disbelieving at the same time after the race and spoke in the mixed zone with the ICF video interviewer. Highlights:
"I had only had ever been to the Olympic Hopes Regatta, which is kind of like a step down from Junior Worlds. My coaches didn't think I was ready; I probably wasn't ready, but I got gold medals the last two years in the C-1 200 and 500. It was tough competition, but nothing like this and it's really crazy. It's a huge step for me to come to a senior event, and wow!
"I was going into that final thinking, 'man, I'm just happy to be here,' like, well, but I never, ever thought a medal was possible, especially gold. My teammates believed me, but I was still not quite convinced that it could happen.
"It has not hit me; I would probably be crying right now if it had."
Asked about winning an Olympic quota place for the U.S. and being in position to go to Tokyo, she added:
"Oh my gosh, it's been my dream since [I was] a little kid to make the Olympics. Since I was little, I watched [Canada's world champions] Laurence [Vincent-Lapointe] and Katie [Vincent], and I want to be just like them, and wooo!"
She also talked about how she started in the sport:
"I actually, originally ran track. I love track, I wanted to do it in college, but I had a hip injury and I couldn't run any more, so I switched over to more canoeing. I got into it because I did some sailing camp at a lake and I saw it – woah, that's so cool, I want to try – and ever since then I just fell in love with it."
Parting words?
"Oh my gosh, thank you everyone for helping me get here. It's such a dream."
| 2. | BASKETBALL: U.S. men's World Cup team sails past Canada, 84-68
After the exhibition loss to Australia before 52,079 at Marvel Stadium in Melbourne, Monday's final pre-World Cup exhibition against Canada was relatively tame for the U.S. men and resulted in an 84-68 win.
Playing in Sydney in front of 15,155 at Qudos Bank Arena, the American squad jumped out to a 20-9 lead in the first quarter and was never headed. A Canadian run near the end of the first half was reversed with an 11-1 run to close out the second period with a 46-31 lead. The margin was as large as 24 points before the U.S. relaxed near the end of the game.
Jaylen Brown (pictured) led the U.S. with 19 points off the bench, followed by Kemba Walker and Donovan Mitchell with 12 each. The U.S. defense was much improved, holding Canada to 32% shooting and out-rebounding them, 55-37.
The U.S. heads to China now for the FIBA World Cup as two-time defending champions, but still with questions to answer. Their opener will be on 1 September in Shanghai (CHN) against the Czech Republic. More here.
| 3. | CYCLING: Stage win for Ireland's Bennett at La Vuelta; countryman Roche still in front
Irish eyes were smiling in Spain, as sprinter Sam Bennett won the third stage of the Vuelta a Espana with a perfectly-timed sprint to the finish, winning ahead of Edward Theuns (BEL) and Luka Mezgec (SLO) in 4:25:02 for the 188.0 km route that finished in Alicante. It was Bennett's first-ever stage win at La Vuelta and his fourth career Grand Tour stage victory.
There were no changes in the overall leaders in the race, with Ireland's Nico Roche continuing to lead over Nairo Quintana (COL) by two seconds. The fourth stage from Cullera to El Puig is also hilly; the next major test comes on Wednesday with a mountain finish at Mas de la Costa.
| 4. | JUDO: Good day for Japan, but only one Abe won gold
Host Japan won both the men's 66 kg and women's 52 kg classes at the IJF World Championships in Tokyo, with the brother-and-sister Abes – Uta and Hifumi – both getting medals.
Uta Abe won her second consecutive world title in just 30 seconds, throwing Olympic bronze medalist Natalia Kuziutina (RUS) for ippon (pictured) to the roar of the home crowd. She's now won 42 matches in a row and is undefeated since 2016.
Her brother, Hifumi, came in as the two-time defending World Champion at 66 kg, but had to face countryman Joshiro Maruyama in the semifinals. The bout went to extra time and Maruyama was the first to score, winning the match. That left Abe to fight for bronze (which he won), while Maruyama went on the face Korea's Lim-Hwan Kim for the title. It was a clear win for Maruyama, with two scores in the final minute and he took his first World Championships gold.
With a bronze medal in the women's 52 kg class from Ai Shishime, Japan scored four medals on the second day, with competition continuing through the week. The IJF report is here.
| 5. | ROWING: World Championships underway at Linz-Ottensheim with Tokyo quotas on the line
The 2019 World Rowing Championships have started on the Kafue River and Rowing Center at Linz-Ottensheim in Austria, with most of the quota allocations for Tokyo 2020 reserved for the top finishers.
There are sure to be surprises as this Worlds has a lack of heavy favorites, either from the prior two World Championships or this year's World Cups. In fact, of the 14 events that will be on the Olympic program next year, only three had the same Worlds winner in 2017 and 2018. That would be Australia in the men's Fours, Germany in the men's Eights and Romania in the women's Lightweight Double Sculls.
The U.S. is the defending World Champion in the women's Fours and Eights; more of our preview here.
| 6. | SHOOTING: Shotgun World Cup ends in Lahti with wins for Italy and China
The final Shotgun World Cup of 2019 was completed last Friday in Finland with the Skeet events. Italy's Luigi Lodde, 39, won the men's event in a shoot-off with Eric Delaunay of France.
China's Worlds silver medalist Meng Wei won the women's title over U.S. shooters Caitlin Connor (silver) and Amber English (bronze).
| 7. | SWIMMING: U.S. tops World Junior Championships medal count in Budapest
The seventh FINA World Junior Championships were held in Hungary last week, with the U.S. earning 37 total medals and 18 golds in the 42 events.
American multi-medalists included Luca Urlando (pictured), who won the 200 m Free and 200 m Fly, plus three more golds on relays. Carson Foster won the 200 m Medley and two more relays golds for a total of three.
Sprinter Gretchen Walsh won the 50- and 100 m Frees and four relay golds (wow!), while Torri Huske won the 50-100 m Flys and three relay golds, and a silver in the 100 m Free.
However, the outstanding performance of the meet was likely the three individual golds by Australian distance swimmer Lani Pallister, who won the 400-800-1,500 Freestyles, all in meet-record times … and was second in the 200 m Free, plus two more silvers on relays for a total of six medals (same as Walsh).
A total of eight World Junior Records were set; Russia finished second in the medal table with 22 (7-11-4) with Australia tallying 13 (4-5-4). The meet was for boys from 15-18 years old and for girls from 14-17; complete results are here.
| 8. | PAN AMERICAN GAMES: Final statistics from Lima and the performance of the Games identified
PanAm Sports released some final statistics on the 2019 Pan American Games in Lima, Peru, which PanAm Sports President Neven Ilic (CHI) called "the best Pan American Games in history." Such as:
● A record total of 6,508 athletes from the 41 countries in the hemisphere;
● 3,028 medals were distributed, including 419 gold, 419 silver and 523 bronze;
● The biggest medal winner was American rhythmic gymnast Evita Griskenas, who won four events and a bronze for a total of five;
● Some 68 Pan American Games records were set, across eight disciplines, including 16 in Archery, 15 in Shooting, 14 in Weightlifting, 13 in Athletics, seven in Swimming and three in Cycling;
● The outstanding performance of the Games was identified as American Brady Ellison  (pictured) and his ranking-round world record of 702 points in Archery, the sole world mark achieved at the Games.
The organizing committee received more than 100,000 volunteer applications, with 12,000 eventually selected; Lima left an impressive record for Santiago de Chile to match in 2023.