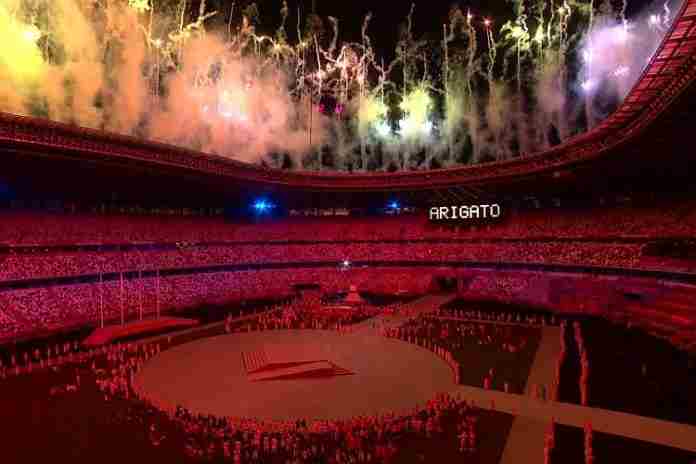 (★ Friends: So very grateful to say that with a special gift, 49 donors have now covered 86% of our current server & support bill. If you enjoyed this coverage, please donate here. You are the reason this site continues. Thank you. ★)
= TOKYO 2020 =
From Lane One
"In these difficult times, you give the world the most precious of gifts: hope.
"For the first time since the pandemic began, the entire world came together. Sport returned to centre stage. Billions of people around the globe were united by emotion, sharing moments of joy and inspiration. This gives us hope. This gives us faith in the future.
"The Olympic Games Tokyo 2020 are the Olympic Games of hope, solidarity and peace."
The historic Games of the XXXII Olympiad closed in Tokyo on Sunday evening about 10:19 p.m., after a festive Closing Ceremony in an empty Olympic Stadium. Instead of the usual mob of athletes on the field, there were a few hundred. But the emotion of the Games remained.
The Games was wonderful because sport is wonderful and, for a few moments at a time, transcends our differences.
International Olympic Committee President Thomas Bach (GER) spoke with conviction in thanking the people most responsible for making the Games take place:
"Yes, these were unprecedented Olympic Games. It took us, the IOC and our Japanese partners and friends, an equally unprecedented effort to make them happen.
"This is why I would like to thank the Japanese authorities at all levels, in particular Prime Minister Suga Yoshihide and Governor Koike Yuriko, for their steadfast commitment. Thank you for staying with us on the side of the athletes, who were longing so much for these Olympic Games.
"Our deep gratitude and appreciation go to the Organising Committee. Nobody has ever organised postponed Olympic Games before. Thank you to its President, my dear fellow Olympian, Hashimoto Seiko, and to all the dedicated people in the Organising Committee for your great partnership and wonderful friendship. …
"We did it, together!"
There is a lot to analyze about the Tokyo Games, but that they happened at all is remarkable and will be its signature for decades. The ceremony included a promotional video for the upcoming Paralympics, which will face its own challenges after its big brother has exited the stage.
¶
With all 339 events now concluded, the medal table is now complete, with the U.S. surging on the final two days to lead both the total medal count and by gold medals won:
1. 113: United States (39-41-33)
2. 88: China (38-32-18)
3. 71: Russian Olympic Committee (20-28-23)
4. 65: Great Britain (22-21-22)
5. 58: Japan (27-14-17)
6. 46: Australia (17-7-22)
7. 40: Italy (10-10-20)
8. 37: Germany (10-11-16)
9. 36: Netherlands (10-12-14)
10. 33: France (10-12-11)
11. 24: Canada (7-6-11)
12. 21: Brazil (7-6-8)
An Olympic-record total of 93 countries have won at least one medal, surpassing the 86 for the 2016 Games in Rio.
For comparison, the U.S. won 121 medals (46-37-38) in Rio in 2016, followed by China (70: 26-18-26) and Great Britain (67: 27-23-17). This was the fifth Games in a row – and 11th time ever – in which the U.S. had won 100 or more medals in a single Games.
The Russian Olympic Committee, still under sanctions from the World Anti-Doping Agency, had a remarkably good Games. Consider that in London 2012 – the last time it fielded a full team – it won 68 net medals (20-20-28) … after subtracting 14 medals later stripped for doping violations (82 gross at the time of the Games).
¶
Our exclusive TSX team scoring uses the familiar U.S. collegiate track & field system of 10-8-6-5-4-3-2-1 for eight places to give a much better view of the relative achievements of the teams. The number of scoring places is the same as the number of diplomas given out by the International Olympic Committee, and gives extra weight to the gold and silver medalists, but also recognizing that third and fourth are very close (and shared in some combat sports):
After all 339 events and 13,221 points, the leaders:
1. 1,291.0 ~ United States
2. 939.7 ~ China
3. 785.5 ~ Russian Olympic Committee
4. 728.5 ~ Great Britain
5. 701.5 ~ Japan
6. 540.0 ~ Australia
7. 505.5 ~ Germany
8. 497.0 ~ Italy
9. 460.0 ~ France
10. 447.0 ~ Netherlands
11. 336.5 ~ Canada
12. 287.0 ~ Korea
13. 270.0 ~ Hungary
14. 251.0 ~ Spain
15. 240.0 ~ Brazil
16. 221.5 ~ Ukraine
17. 215.0 ~ New Zealand
18. 202.5 ~ Poland
19. 167.0 ~ Switzerland
20. 152.0 ~ Turkey
21. 145.2 ~ Cuba
22. 144.5 ~ Sweden
23. 141.5 ~ Denmark
24. 124.0 ~ Chinese Taipei
25. 123.0 ~ Belgium
The leading African country was Kenya at 117.5, placing 27th, after the Czech Republic (119.0). Much more analysis to come on what these scores tell us.
For comparison, the Rio totals (over 306 events) were led by the U.S. with 1,280.6, followed by China (824.5), Great Britain (759.0), Russia (602.5), Germany (550.0), France (513.0) and Australia (448.0).
¶
NBC's announced primetime coverage ratings from Friday of 12.5 million, lowest of the Games. As specific numbers were not given for the first weekend, the available information shows:
● 23 July (Fri): 8.2 million for the Opening Ceremony
● 24 July (Sat): 15.3 million
● 25 July (Sun): 19.2 million
● 26 July (Mon): 16.8 million
● 27 July (Tue): 16.2 million
● 28 July (Wed): 15.0 million
● 29 July (Thu): 19.5 million
● 30 July (Fri): 15.2 million
● 31 July (Sat): not reported
● 01 Aug. (Sun): not reported
● 02 Aug. (Mon): 15.8 million
● 03 Aug: (Tue): 17.4 million
● 04 Aug: (Wed): 14.6 million
● 05 Aug: (Thu): 13.3 million
● 06 Aug: (Fri): 12.5 million
These numbers are for the "total audience" for primetime programming across NBC-NBCSN-CNBC-USA Network, but far behind the Rio 2016 numbers, in a better time zone. NBC says more than 105 million Americans have watched some part of the Games so far.
The average is around 15.7 million, which can be compared to 27.5 million per night in Rio in 2016. Once the figures are in for the weekend, the discussion of what all this means can start.
¶
One of the early perspectives on the lessons of the Tokyo Games came from 2016 women's long jump champion Tianna Bartoletta of the U.S. She tweeted (lightly edited):
"If this Olympics hasn't taught us to 1) bet on yourself (from Allyson to Fred Kerley) 2) attempt seemingly crazy [—-] (a la H[a]ssan) 3) see whatever it is we're doing ALL THE WAY through the finish line…
"YOU WEREN'T PAYING ATTENTION."
Quite true.
~ Rich Perelman
= RESULTS: SUNDAY, 8 AUGUST =
● Athletics: Men's Marathon
What was expected to be a difficult and challenging ordeal turned into a testimonial to the greatest marathoner in history, Kenya's Eliud Kipchoge. He came in with a clear plan, was supremely fit and destroyed a quality field in punishing conditions to win his second straight Olympic marathon.
The focus of a fairly large group of fans along the streets of Sapporo, a worldwide television audience and the entire field of 106 starters, Kipchoge ran easily, at the front, from the start. The race began in 79-degree (F) heat, with 80% humidity and stayed that way for almost the entire time.
He was near the front of a pack of 31 runners that passed the halfway mark in 1:05:15 and as he kept chugging along, the lead group kept shrinking. He passed 25 km in 1:17:24, running 15:37 for the 5 km segment since 20 km.
But then he upped the ante. At about 28 km, he moved to his left and invited other runners to take the lead and share the work. There were no takers and that told Kipchoge what he needed to know.
He ran 15:07 between 25 and 30 km and now the pack had shrunk to 11. A few seconds later, the hammer came down.
Kipchoge surged away from the field, roaring to a 30-second lead by 32 km (20 miles) and timing a sensational 14:28 between 30-35 km to clinch his victory. In his wake, the pack behind him broke apart and the medal contenders became apparent.
American Galen Rupp, the Rio bronze medalist, had been right with Kipchoge for the first 30 km, but was quickly broken after that and faded to 10th.
The silver and bronze medals were going to be won by two of these four: Kenyan star Lawrence Cherono, Bashir Abdi of Belgium (born in Somalia), Abdi Nageeye (NED; born in Somalia) or Spain's Ayad Lamdassem (born in Morocco).
In the last kilometer, Cherono tried to push the pace, but could not break the other three. Lamdassem fell back, but Cherono led the last three into the finishing straightaway, but with 150 m to go, Nageeye waved to Abdi to come with him and pass Cherono and – after some hesitation – he did and they finished 2-3 with the Belgian at 2:09:58 and Abdi at 2:10:00.
Kipchoge had already finished in 2:08:38, running 14:56 for the 5 km from 35-40 km and then running solo to the line. He waved to the crowd and finished with a huge smile, as if back from a long training run.
The conditions at the finish at 9:10 in the morning were 82 degrees and 72% humidity.
Cherono was fourth (2:10:02) and Lamdassem fifth (2:10:16). Rupp finished eighth in 2:11:41; his teammates finished 29th (Jake Riley: 2:16:26) and 41st (Abdi Abdirahman: 2:18:27).
They did better than a lot of well-known starters who did not fare well in the heat. Ethiopia's Lelisa Desisa, Sisay Lemma and Shura Kitata all dropped out.
Kipchoge joins the legendary Abebe Bikila (ETH) in 1960-64 and the controversial Waldemar Cierpinski (GDR: 1976-80) as the only two-time Olympic marathon winners. Kipchoge's time of 2:08:38 is even more remarkable considering the conditions; his winning time in Rio in 2016 was slower: 2:08:44.
He has now won 13 of his 15 career marathons. Simply amazing.
● Basketball: Women
The U.S. women's basketball team left no doubt about its status as one of the great juggernauts in Olympic history, winning not only its seventh straight Olympic title, but extending its winning streak in Olympic play to 55 with a decisive 90-75 win in Saitama.
The American women opened a 23-14 lead at the quarter and 50-39 at the half. Center Brittney Griner was unstoppable, scoring 30 points in all on 14-18 shooting from the field and 2-2 from the foul line, an Olympic scoring record for a gold-medal match. But she was not alone.
A'Ja Wilson scored 19 points and Breanna Stewart contributed 14 points and a game-high 14 rebounds. The U.S. shot 53.4% from the field and held the Japanese to just 36.4%. Center Maki Takada led Japan with 17 points.
In the medal round, the U.S. defeated Australia, 79-55, thrashed Serbia by 79-59 and finally a 90-75 win against Japan in the gold-medal game. That's an average winning margin of 21.3 points per game in the elimination round.
The U.S. led all teams in scoring at 87.5 points per game, shot a tournament-best 52.1% from the floor and
Belgium's Emma Meesseman led all scorers with a 27.3 points-per-game average, with Wilson of the U.S. third (20.0) and Griner fifth (17.3).
Coach Dawn Staley, herself an Olympic gold medalist in 1996-2000-2004 now has coached an Olympic-champion team.
And the U.S. has two players – Sue Bird and Diana Taurasi – who are five-time gold-medal winners, a first in basketball.
France defeated Serbia, 91-76 in the bronze-medal game.
● Boxing: Men's 63 kg-+91 kg
Cuba won its fourth boxing gold in Tokyo as two-time World Champion Andy Cruz defeated Keyshawn Davis of the U.S. by a 4:1 decision in the gold-medal final.
Cruz ran the table in the Lightweight division, winning his four bouts by 5:0, 4:1, 5:0 and 4:1.
It was Cuba's first win in this class since 2004, and the first U.S. medal since 1996.
Semifinalists Hovhannes Bachkov (ARM) and Harry Garside (AUS) will share the bronze.
¶
The 2019 World Champion in the +91 kg Super Heavy division, Bakhodir Jalolov (UZB) is now a professional fighter and lives and trains mostly in the U.S. He's 8-0 in his pro career and continued his dominance with a 5:0 decision over U.S. amateur Richard Torrez.
Jalolov won his Tokyo fights by 5:0, 5:0, referee-stops-contest for injury in the semis, and 5:0. He's the first Uzbek medal winner in this class since 2000.
Torrez won the first U.S. medal in this class since 1988 with Riddick Bowe, who lost to Canada's Lennox Lewis in Seoul.
Britain's Frazer Clarke and Kamshybek Kunkabayev (KAZ) shared the bronze.
● Boxing: Women's 60 kg-75 kg
Ireland's Kellie Harrington, the 2018 World Champion, dominated the final against Brazil's 2019 World Champion, Beatriz Ferreira, winning a 5:0 decision.
Harrington won her first two bouts by 5:0 and then got by Thai Sudaporn Seesondee by 3:2 to make it to the final on her way to the gold medal.
Semifinalists Mika Potkonen (FIN) and Seesondee won the bronzes.
¶
The women's 75 kg Middleweight class was won in style by 2019 World Champion Lauren Price (GBR), who won a unanimous (5:0) decision over China's Qian Li, the 2018 World Champion.
The decision was unusually one-sided, with four judges scoring the bout 30-27 for Price; one had it at 29-28.
Dutch fighter Nouchka Fontijn and Zemfira Magomedalieva of Russia were the bronze medalists.
● Cycling: Track/Men's Keirin
Britain's Jason Kenny repeated as the Olympic Champion in the Keirin, confirming his status as one of the finest track cyclists in Olympic history.
Now 33, Kenny won the race by just 0.763 seconds over Malaysia's Rio bronze medalist Azizulhasni Awang (MAS), and 0.773 ahead of Australian Sprint winner Harrie Lavreysen.
Kenny now has nine Olympic medals on the track: seven golds in the Sprint (2), Team Sprint (3) and Keirin (2) from 2008-2021. Impressive.
● Cycling: Track/Women's Sprint-Omnium
The women's Sprint final surprisingly came down to Canada's Kelsey Mitchell, fourth at the 2020 World Championships Olena Starikova of Ukraine, fifth at the 2019 Worlds.
Mitchell took the gold by sweeping the first two races, winning by 0.061 and 0.064 seconds. It was Canada's first medal in this event since Lori-Ann Muenzer won in Athens in 2004. Starikova won Ukraine's first medal in the event since 2000.
Hong Kong's sprint star Wai Sze Lee won the bronze over 2020 World Champion Emma Hinze (GER).
In the Omnium, the top seven from the 2020 Worlds were all back, but it was American Jennifer Valente – the 2019 Worlds bronze medalist – who was in top form. She won the Scratch Race, was third in the Tempo Race and fourth in the Elimination Race to hold the lead with 110 points going into the final, 80-lap Points Race.
She was trailed by Japan's Yumi Kajihara (108) and Anita Stenberg (NOR: 94), the dangerous Amalie Dideriksen (DEN: 92) and the legendary Kirsten Wild (NED: 90).
Britain's Laura Kenny won the race, but Valente was close behind and more importantly, picked up points at three of the eight in-race sprints, giving her a 124 total. That was enough to hold off Kajihara (110), with Wild moving up from fifth to third with five scores (108). Dideriksen stayed in fourth and Stenberg was fifth.
This was only the third time for the Omnium in the Games, and the U.S. has now medaled in all three, with silvers for Sarah Hammer in London and Rio, but gold for Valente in Tokyo.
● Gymnastics: Rhythmic/Group All-Around
A stunning result as Bulgaria won both routines, in 5 Balls and 3 Hoops + 2 Clubs, to win its first Olympic title in Rhythmic, 92.100-90.700 over five-time defending champ Russia.
The Bulgarians had been medalists in this event three times before, including a Rio bronze. But very few expected this result, with Russia having won the last three world titles as well. But Bulgaria had been Worlds medalists – silver-bronze-bronze in 2017-19 – and they made the most of their opportunity in Tokyo.
Italy won the bronze medal at 87.700.
● Handball: Women
France lost to Russia, 22-19, in the Rio final in 2016 and returned the favor in Tokyo with a 30-25 victory for its first Olympic title.
The two had played in the group stage, with Russia winning by 28-27. This time, the French got ahead early, taking a 15-13 lead at halftime. Allison Pineau and Pauletta Foppa both scored seven goals for the winners; Polina Vedekhina had seven for the ROC.
Norway defeated Sweden, 36-19 for the bronze, their fourth straight Games with a medal. Norway's Nora Mork ended up as the top scorer in the tournament with 52.
● Volleyball: Women
U.S. women's teams had won five medals in this event, but never the gold, losing in the final in 1984 and twice to Brazil in 2008 and 2012.
In their third Olympic final, the American women broke through in a decisive way, claiming the Olympic title with a tight, 25-21, 25-20, 25-14 win in an hour and 22 minutes.
Outside hitters Michelle Bartsch-Hackley and Jordan Larson were the keys in the first set, scoring eight and six points, respectively. Opposite Andrea Drews, one of the top U.S. threats in the tournament, then took over with seven points in set two and six in set three. Her play was a key in place of Jordan Thompson, who was lost to injury during the group stage.
Drews ended with 15 points to 14 for Bartsch-Hackley and 12 for Larson (who was named Most Valuable Player).
The U.S. women had already beaten Brazil twice on the way to the FIVB Women's Nations League title in June, but this was much sweeter. Volleyball legend Karch Kiraly – himself an Olympic gold medalist from 1984 and 1988, and on the beach in 1996 – now has coached a team to an Olympic title as well.
Serbia swept South Korea, 3-0, for the bronze medal.
● Water Polo: Men
Serbia defended its 2016 Rio title with a 13-10 win over Greece, taking charge early and then holding on.
The Serbs took a 6-3 lead at the quarter, only to see Greece close to 8-7 at half. With the game at 10-9 entering the final quarter, the Serbs scored three times and close down the Greek offense to end the game at 13-10. Greece scored on only 10-31 shots compared to 13-29 for Serbia.
It's the fifth straight Games with a medal for the Serbs, who also won in Athens in 2004. It's the first-ever men's water polo medal for Greece.
Perennial power Hungary used a 4-0 second half to outlast Spain, 9-5, for the bronze.
= INTEL REPORT =
The famed British track & field magazine and Web site Athletics Weekly tweeted about the amazing finish of Dutch star Sifan Hassan in the women's 10,000 m:
"Sifan Hassan's last 100m in the 10,000m was 13.6.
"To put that into context, Faith Kipyegon's last 100m in the 1500m was 15.4 and Athing Mu's in the 800m was 14.0.
"Sifan Hassan's last 100m in her 10,000m was also faster than Jakob Ingebrigtsen's last 100m in his 1500m.
"Hassan: 13.6. Ingebrigtsen: 13.7." Incredible.
¶
The UIPM, the international federation for modern pentathlon, issued a statement on Saturday which read in part:
"The UIPM Executive Board (EB) has given a black card to the Germany team coach Kim Raisner, disqualifying her from the remainder of the Tokyo 2020 Olympic Games.
"The EB reviewed video footage that showed Ms Raisner appearing to strike the horse Saint Boy, ridden by Annika Schleu (GER), with her fist during the Riding discipline of the Women's Modern Pentathlon competition."
The German federation said that the horse had been upset by the prior rider – Russian Gulnaz Gubaydullina – and Schleu was unable to control it, leading to her withdrawal from the riding event. She finished 31st overall; with a reasonable riding score, she would have contended for a medal.
¶
The IOC announced that it had received a report from the Chinese Olympic Committee concerning the wearing of pins picturing former Communist Party leader Mao by Team Sprint winners Shanju Bao and Tianshi Zong. The Chinese indicated they had spoken to the women and promised that the incident would not be repeated by any other member of the team.
IOC Communications Director Christian Klaue (GER) indicated that the matter was considered closed.
¶
The Games-related Covid positives report by the Tokyo 2020 organizers showed 26 on Sunday, with 16 among contracted personnel resident in Japan. There were also five media, but no athletes.
The infection total stands at 430, of which 207 (55%) are contractors, 109 are "Games-concerned personnel" (25%), 29 are athletes, 25 media and 31 are Tokyo 2020 staff and volunteers.
The testing report by stakeholder group through 6 August:
● Athletes and team officials: 33 positives in 277,339 tests (0.01%).
● Media/Tokyo 2020 staff: 105 positives in 347,025 tests (0.03%).
The number of people coming to the Games through airports increased to 200+ on 6 August, for the final weekend. The infection rate among all Games-related personnel coming to Japan is at 0.09%.
The U.S. Olympic & Paralympic Committee reported no positives among 654 U.S. personnel in Tokyo on 7 August.
Prior results: 1 in 1,038 athletes and officials on 24 July; 0 of 1,144 on 25 July, 0 of 1,172 delegates on 26 July, 0 of 1,175 on 27 July, 0 of 1,214 for 28 July, 1 in 1,174 on 29 July, 0 of 1,174 on 30 July and 0 for 1,148 on 31 July. In August: 0 of 1,088 for 1 August, 0 of 1,010 on 2 August, 0 of 863 on 3 August, 0 for 748 on 4 August, 0 for 726 on 5 August, and 0 for 728 on 6 August.
You can receive our exclusive TSX Report by e-mail by clicking here. You can also refer a friend by clicking here, and can donate here to keep this site going.
For our 649-event International Sports Calendar for 2021 and beyond, by date and by sport, click here!