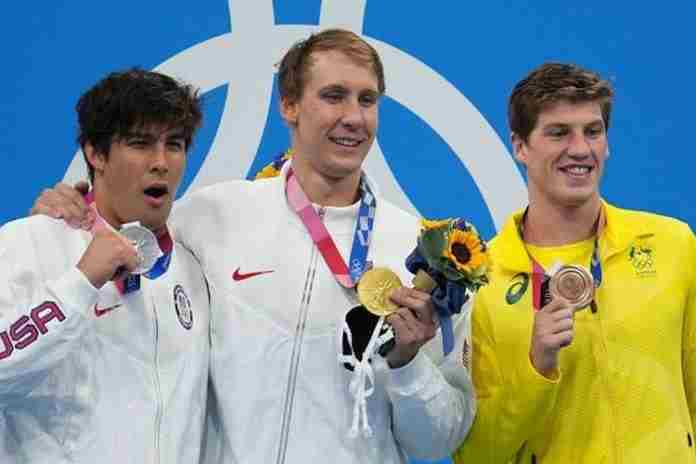 (★ Friends: So grateful for the 39 donors who have covered 53% of our current bill for tech support. If you would like to join in, please donate here. Your help is so very much appreciated. Thank you. ★)
= TOKYO 2020 =
From Lane One
The Olympic Games is not supposed to be a contest between nations, but everyone checks out the medal standings anyway. After two days of medal events:
1. China, 11 (6-1-4)
2. United States, 10 (4-2-4)
3. Russian Olympic Committee, 7 (1-4-2)
4. Japan, 6 (5-1-0)
5. Italy (1-1-3) and Korea (2-0-3), 5
However, this is hardly a real comparison of team strength, so we have a fairer TSX scoring system that uses the top eight places – the number in the finals of many events – using the time-honored U.S. scoring of 10-8-6-5-4-3-2-1. So after two days and 29 of 339 events:
1. China, 102
2. United States, 96
3. Japan, 82.5
4. Russian Olympic Committee, 66.5
5. Korea, 62.5
6. Italy, 62
7. France, 49.5
8. Hungary, 41
9. Netherlands, 33.5
10. Great Britain, 27.5
We'll keep this updated as we go along.
¶
Hot weather is a factor in Tokyo as expected. This week is expected to have more of the same:
● 26th/Monday: high of 92 F, low of 73 F: cloudy
● 27th/Tuesday: 81 F ~ 76 F: rainy
● 28th/Wednesday: 88 F ~ 77 F: cloudy
● 29th/Thursday: 89 F ~ 77 F: cloudy
● 30th/Friday: 90 F ~ 77 F: thunderstorms!
The weather will cool slightly for the second week, but thunderstorms are projected through the rest of the Games, with continuing worry over the impact of typhoon conditions in the Pacific. It might be just as well that spectators were not allowed for these Games!
¶
NBC's ratings for the Opening Ceremony were way down from prior years, not a surprise given that the event took place about 12 hours earlier than its primetime window.
Reports indicated that the total NBC audience for the show – across all platforms – was about 17.0 million, down from 26.5 million for Rio in 2016 or 40.7 million for London in 2012.
No reports yet on during-the-day cable audiences, which make up a lot of the NBC coverage on NBCSN, CNBC, USA Network and others. Stay tuned.
~ Rich Perelman
● Archery: Women's Team
The trio of San An, Min-Hee Jang and Chae-Young Kang had no trouble keeping Korea's record perfect in this event: it has been held nine times and Korea has won nine golds. They stomped Italy, 6-0, then Germany in the semifinals by 5-1 and then Russia – Ksenia Perova, Elena Osipova and Svetlana Gomboeva (remember her, the one who feinted from the heat on Friday?) – in the final by 6-0. That's 17 ends to one.
Germany took the bronze, defeating Belarus, 5-1. The U.S. was eliminated, 6-0, by Russia in the quarterfinals.
● Cycling: Women's Road Race
Complete shocker, as Austria's unheralded Anna Kiesenhofer took advantage of an early breakaway and won by 1:15 over a stunned peloton.
Kiesenhofer, 30, had never won anything bigger than her national championships, but was part of an early attack that the major contenders simply ignored. But over the 137 km loop course to the Fuji International Raceway, she not only maintained a healthy lead, she broke free of Omer Shapira (ISR) and Anna Plitcha (POL) with 41 km remaining and rode alone to the finish!
The peloton finally got going and Dutch star Annemiek van Vleuten got up for second, closing hard in the last 4 km, but still only for silver. Elisa Longo Borghini (ITA) took the bronze (+1:29) with Lotte Kopecky (BEL: +1:39) fourth. American Coryn Rivera was seventh and defending champ Anna van der Breggen (NED) was 15th. Shapira and Plitcha ended up 24th and 27th.
This is why races take place in person and not on paper; Kisenhofer's win literally came out of nowhere.
● Diving: Women's 3 m Synchro
Yawn. As expected. China began its run at diving gold with a dominating 326.40 to 300.78 win by Tingmao Shi and Han Wang over Canada's Jennifer Abel and Melissa Citrini-Beaulieu, repeating the 1-2 finish from the 2019 World Championships.
There's no doubting the brilliance of the Chinese; their divers have now won this event five times in a row. Germans Lena Hentschel and Tina Punzel were third, but well back at 284.97. Americans Krysta Palmer and Alison Gibson finished eighth (263.49).
● Fencing: Men's Epee
Crazy things happen in the Olympics, so why shouldn't France's 24-year-old Romain Cannone, who finished 30th at the 2019 World Championships, beat 2019 World Champion Gergely Siklosi in the final, 15-10?
This was no fluke. Cannone opened with a 15-12 win over 2012 Olympic Champion Ruben Limardo (VEN), then won 15-11 in his second-round match, 15-12 over 2019 Worlds silver medalist Sergey Bida (RUS) and then 15-10 over Ukraine's Igor Reizlin, the 2019 Worlds bronze medalist … before he got to Siklosi. Sacre bleu!
Reizlin won the bronze-medal match vs. Andrea Santarelli (ITA), 15-12.
● Fencing: Women's Foil
Russian Inna Deriglazova, the Rio gold medalist and World Champion in 2015-17-19, was cruising. She won her first four bouts by 15-8, 15-10, 15-7 and then 15-10 vs. 2018 World Champion Alice Volpi of Italy. On to the final.
On the other side of the bracket, American Lee Keifer – a Notre Dame star at a school famous for fencing – was moving toward another showdown with Deriglazova. She moved through the rounds, winning 15-4, then 15-13 against Canada's Eleanor Harvey, 15-11 in the quarters and then 15-6 against Russian Larisa Korobeynikova to get the Deriglazova.
No chance, right? Deriglazova had won 10 of their 14 meetings, dating back to 2008 and the last four in a row.
But Kiefer ended the first period up, 8-7, then went up 9-7 and 12-9 and had an upset in sight. But Deriglazova won three straight points to even the match, but then Kiefer won two straight points, gave up one and got one more for a sensational, 15-13 upset.
It was the U.S.'s first-ever medal in women's foil and Keifer is only the second American woman to win an Olympic fencing gold; teammate Mariel Zagunis did it twice in Sabre. Yowsah!
Korobeynikova out-dueled Volpi, 15-14, for the bronze.
● Judo: Women's 52 kg
This was going to be a big day for the Abe family as Uta and older brother Hifumi were both fighting. And Uta held up her end.
The 2019 World Champion, Uta stormed to the gold medal, winning her first two bouts in 2:03 (ippon) and 4:00 (waza-ari), before a tough match vs. Rio silver winner Odette Giuffrida (ITA, by waza-ari) that took 7:11.
The final against France's Amandine Buchard, the 2018 Worlds bronze medalist, went to overtime and 27 seconds into the extra period, Abe managed a full throw (ippon) to win the Olympic title.
Giuffrida and Britain's Chelsie Giles won the bronze medals.
● Judo: Men's 66 kg
A great day for the Abe family!
Japan's Hifumi Abe was the 2017-18 World Champion and the clear favorite and he was undeterred from winning the gold with a waza-ari after four minutes against Georgia's Vazha Margvelashvili in the final.
Abe never let the matches go too long: he won by ippon (5:27), waza-ari (4:00) and ippon in 2:25 in the semifinals before winning the final. His total mat time on the way to winning was only 15:52, less than four minutes per bout.
Brazil's Daniel Cargnin and Korea's Baul An – the Rio silver medalist – won the bronzes.
● Shooting: Women's 10 m Air Pistol
This battle came down to the final round, as Rio silver medalist Vitalina Batsarashkina (RUS) moved up to the top of the podium, shooting 10.5 and 10.4 on her last two shots to edge Antoaneta Kostadinova (BUL), winner of last June's ISSF World Cup.
The Bulgarian had a 230.4-229.9 lead going into the final shot, but scored only 9.0 vs. 10.4 for Batsarashkina and that was the difference. The Russian's total of 240.3 was an Olympic Record; Kostidinova finished at 239.4. China's Ranxin Jiang was third at 218.0.
● Shooting: Men's 10 m Air Rifle
American gold for Bill Shaner, who showed he was a contender by winning the ISSF World Cup in Croatia in June. He led throughout the final and had a 231.3-229.8 edge over China's Lihao Sheng going into the last round. Sheng scored 10.3 and 10.8, but Shaner's 10.1 and 10.2 were enough for a 251.6-250.9 victory. It's an Olympic Record for Shaner and the first-ever medal for the U.S. in this event, introduced in Los Angeles in 1984.
China's Hoaran Yang won the bronze (229.4); American Lucas Kozeniesky finished sixth.
● Skateboarding: Men's Street
The sport made its debut in Tokyo with a historic win for Japan's Yuto Horigome, the 2021 World Champion. He produced desultory first and second runs, but executed four brilliant in five tries to score 9.03, 9.35, 9.50 and 9.30 for a 37.18 total to win by more than a point.
Brazil's 2015 World Champion Kelvin Hoefler had the second and third-best runs of the day at 8.98 and 8.84, so his tricks score of 8.99 and 9.34 gave him 36.15 for second.
This was a difficult competition, in which only American Jagger Eaton managed to score about 9.00 (9.05) on a run and 21 of 40 trick attempts ended with scores of 0.00. Eaton scored 8.20 and 9.05 on his runs and had trick scores of 8.70 and 9.40 – second best of the day – to clinch third at 35.35. American star Nyjah Huston, the six-time World Champion, had a rough first run of 7.90 but rebounded to score 9.11 on his second. But after a 9.09 on his first trick, the remainder scored 0.00 and he finished seventh at 26.10.
● Swimming: Men's 400 m Freestyle
Australia's Jake McLoughlin, no. 2 on the world list, led the race from the start in lane two and he and Ahmed Hafnaoui (TUN) – in lane 8 – separated from the field by the 150 m mark and the question was whether anyone could catch them.
McLoughlin turned first at 350 m by 0.31 and had the lead almost to the end, but Hafnaoui – who was the final qualifier, making it in by 0.14 – came on with a stout kick and a perfect stretch to touch first in 3:43.36, moving him to third on the world list for 2021. He said afterwards, "I just put my head in the water. I just can't believe it."
Behind those two was a free-for-all over the last two laps, with Felix Auboeck (AUT) third, American Keiran Smith fourth and Germany's qualifying leader Henning Muhlleitner fifth, all within a half-second. But Smith had the best finish and grabbed the bronze in a lifetime best of 3:43.94, ahead of Auboeck and Muhlleitner, tied for fourth in 3:44.07. American Jake Mitchell was eighth in 3:45.39.
● Swimming: Men's 400 m Medley
American Chase Kalisz, the 2017 World Champion in this event, was supposed to take over on the third stroke – the Breaststroke – but he charged to the lead during the second (backstroke) leg, and finally turned second to Lewis Clareburt (NZL) by just 0.34. Then he did take over on the Breast leg, pushing out to a huge lead of 2.47 seconds over Clareburt heading into the Freestyle finish.
Kalisz's lead was 1.82 seconds flipping onto the final lap and he won in 4:09.42, actually slower than Brendon Smith (AUS) in the qualifying heats (4:09.27). Smith looked like he was going to be second, but American Jay Litherland sprinted home best and moved from fourth to second in the final 25 m and claimed the silver medal in 4:10.28, beating Smith by 0.10. Clareburt faded to seventh (4:11.22).
Kalisz was the Rio silver medalist, and is moving up to the top of the podium. He said afterwards that this victory was the goal he had pointed for for his entire career. He was brilliant; the U.S. has now won a medal in this event in nine straight Games.
● Swimming: Women's 400 m Medley
Hungary's Katinka Hosszu was the defending champion and American teen Emma Weyant had the fastest time in the world in 2021, but Japan's Yui Ohashi, sixth on the world list, took charge in mid-race and was never headed.
Hosszu and American Hali Flickinger traded leads on the Butterfly leg, but Ohashi zoomed to the lead on the Backstroke leg and expanded her edge on the Breaststroke to almost two body lengths. She gave back a little to Weyant, who moved to second on the Breast leg and then pushed hard to finish second, 4:32.08 (world leader for Ohashi) to 4:32.76 (lifetime best for Weyant).
Behind them was a duel between Hosszu and Flickinger in lanes one and two. Hosszu's slight edge on the Freestyle leg dissipated in the final 50 m, as Flickinger grabbed third in 4:34.90. Spain's Mireia Belmonte for fourth (4:35.13) with Hosszu fading to fifth (4:35.98).
It was the fifth Games in a row in which the U.S. has won at least one medal in this event.
● Swimming: Women's 4×100 m Freestyle
Australia came here to break the world record and a brilliant leg by Emma McKeon on the third stage led to a strong anchor by Cate Campbell and, indeed, a world record of 3:29.69, the first women's team to ever break 3:30. It's their third straight gold in this event and Cate Campbell has been on all three.
Behind them was a taught race for second, with Sweden, the U.S. and Canada all in the mix. Third leg Natalie Hinds got the U.S. into the mix – possibly for second – when anchors Simone Manuel and Penny Oleksiak (CAN) – the co-100 m Free champs n Rio – took over. Manuel and Oleksiak went back and fourth, but the Canadian swam 52.26 to 52.96 for Manuel and grabbed the silver at the touch.
The U.S. has won a medal in all nine Games held from 1984 on, but has finished 2-2-3-2-3 in the last five. But with the bronze, the American swim team won six medals in its first finals session.
● Taekwondo: Women's 57 kg
Where did this come from? American 18-year-old Anastasija Zolotic rolled through four matches and won the Olympic title from Russian Tatiana Minina in a battle of two relative unknowns in this weight class.
Zolotic won her bouts by 11-4, 17-9, then 28-5 in her semi against Chia-Ling Lo (TPE) and then 25-17 in the final. Zolotic had a 12-10 lead after the first period, but was up only 14-13 going into the final period. But she scored four quick points for an 18-13 lead and cruised to the gold medal.
Lo won her bronze medal match; Turkey's Hatice Ilgun was the other bronze medalist.
● Taekwondo: Men's 68 kg
Britain's 2019 World Champion Bradly Sinden was moving smartly towards the gold medal, winning high-scoring bouts by 53-8, 39-19 and 33-25 in the semi against China's Shuai Zhao.
But he ran into a problem in the final and was upset by Uzbek Ulugbek Rashitov, 34-29. The challenger essentially won the fight in the first round with a 13-8 lead and then held on for the final two; Rashitov won the wild third round by 16-15.
Zhao won a bronze medal over 2017 World Champion Dae-Hoon Lee, and Hakan Recber (TUR) won the second bronze.
● Weightlifting: Men's 61 kg
China's Fabin Li set an Olympic Record of 313 kg on the way to a dominant win, adding an Olympic gold to his 2019 World Championship. Along the way, he set an Olympic Record of 172 kg – making the lift while standing on one leg! – in the Clean & Jerk.
Indonesia's Eko Yuli Irawan won the Rio silver medal and repeated in Tokyo (302 kg), with Igor Son (KAZ) emerging to take the bronze at 294 kg, just ahead of Japan's Yoichi Itokazu (292 kg).
● Weightlifting: Men's 67 kg
Five straight wins for China in this weight class as Lijun Chen, the 2019 World Champion and the world-record holder, lifted a combined 332 kg to win a tight battle with Colombia's Luis Javier Mosqueda.
Chen managed only his opening Snatch weight of 145 kg and Mosqueda lifted 151 kg. But Chen made his first two Clean & Jerk lifts of 175 kg and then an Olympic Record 187 kg and that was enough. Mosqueda made his final lift of 180 kg, but fell a kilo short.
Mirko Zanni (ITA) was a surprise third, lifting 322 kg to 321 for Myeongmok Han of Korea.
Elsewhere:
● Gymnastics: The women's team qualifying saw Russia top the U.S., 171.629 to 170.562, with China third at 166.863. This is not good news for the Americans, although Simone Biles had the top All-Around score at 57.731, followed by Rebeca Andrade (BRA: 57.399) and Sunisa Lee of the U.S. (57.166). Jade Carey was ninth, MyKayla Skinner was 11th and Grace McCallum, 13th.
Biles and Lee went 1-2 in the Vault qualifications; two-time World Champion Nina Derwael (BEL) led the Uneven Bars with Lee second and Biles ninth (both qualified for the finals); China's Chenchen Guan led the Beam, with Lee third and Biles seventh (both qualified), and Vanessa Ferrari (ITA) had the top score on Floor, just ahead of Biles and Carey.
Everybody got to the next round who was supposed to, but this was hardly an encouraging start for a squad which has big expectations.
● Team: Basketball
Any aura of invincibility for the U.S. men's team was shattered on Sunday as France defeated the Americans in their opener, 83-76. The U.S. had a 22-15 lead at the quarter and a 45-37 lead at half, but it disappeared when France ran off a 25-11 third quarter and outscored the U.S. by 21-20 in the fourth.
The U.S. shot just 36% from the field to France's 47%, and was out-rebounded, 42-36. Evan Fournier (Boston Celtics) led France with 28 points and Rudy Gobert (Utah Jazz) had 14 and nine rebounds.
Jrue Holiday, fresh from the NBA Finals for Milwaukee, had 18 points, Bam Adebayo had 12 (and 10 rebounds), Damian Lillard had 11 and Kevin Durant, 10, for the U.S., which was 10-32 from the three-point line.
The loss ended a 25-game Olympic win streak, which dates back to the bronze-medal game of the 2004 Games in Athens. The U.S. plays Iran on the 28th and the Czech Republic on the 31st; wins in those two games will move the U.S. to the quarterfinals. But nothing is sure now.
In the other Group A game, the Czechs beat Iran, 84-78; Australia paddled Nigeria, 84-65, and Italy beat Germany, 92-82 in Group B.
● Team: Beach Volleyball
We're in pool play and the top-seeded American duo of April Ross and Alix Klineman won their opener against Chen Xue and Xinxin Wang (CHN) by 21-17, 21-19 in 44 minutes. April and Alix play on Monday against Liliana and Elsa from Spain.
In the men's division, Jake Gibb and replacement Tri Bourne won their opener in straight sets, 21-18, 21-19 over Italy's Enrico Rossi and Adrian Carambula. They play next in Tuesday against the Swiss team of Adrian Heidrich and Mirco Gerson.
(Errata: There was an error in yesterday's post about the loss by Americans Nick Lucena and Phil Dalhausser. This did not eliminate them; they continue in Pool D on the 27th.)
● Team: Softball
More great pitching, as Monica Abbott shut down Australia for seven innings and Tarni Stepto did the same to the U.S. The game went to the eighth and the U.S. gave up its first run of the tournament, as Belinda White scored on a walk to Jade Wall.
Down 1-0, the U.S. got an Aubree Mundo double to open the inning, then a single by Haylie McCleney and after a sacrifice bunt, Amanda Chidester singled to left, driving in two and giving the Americans a 2-1 walk-off win. The red-clad U.S. team streamed onto the field to mob Chidester. And next is undefeated Japan on Monday.
● Team: Volleyball
The U.S. men opened with a powerful 25-19, 25-18, 25-22 sweep of France, expected to be one of the better teams in the tournament. Wow! Taylor Sander led the U.S. with 15 points, converting 12-19 kill shots; Matt Anderson had 13 points on 13-20 kill attempts.
The U.S. women, a solid medal favorite, ran past Argentina, 25-20, 25-19, 25-20 in its opener in Pool B. Jordan Thompson had 20 points for the U.S., including 18-23 kills.
● Tennis: A shocker for Wimbledon champ Ash Barty (AUS), who lost in her first-round match to 48th-ranked Sara Sorribes, 6-4, 6-3 is was eliminated. No. 2-ranked Naomi Osaka won her opener easily, 6-1, 6-4 over Saisai Zheng (CHN).
= PREVIEWS: MONDAY, 26 JULY =
(21 events across 14 sports)
● Archery: Men's Team
Koreans have been dominant in this event, winning four of the last five golds, including in Rio in 2016. With Je-Deok Kim, 2012 Olympic champ Jin-Hyek Oh and two-time World Champion Woo-Jin Kim ranking 1-3-4 in the Ranking Round last Friday, they are the favorites, no doubt.
But China won the 2019 world title in this event and had the nos. 7-11-13 scorers in the Ranking Round with India second and the Koreans third. The Netherlands also looks powerful from nos. 6-8-14 in the Ranking Round. The U.S. is certainly capable, with World Champion Brady Ellison ranking second on Friday, but Jack Williams (29th) and Jacob Wukie (47th) are going to have to be better.
● Canoe-Kayak: Men's Canoe Slalom
The nature of this event makes it hard to predict and the big names often catch a bad wave. But going in, Rio silver winner Matej Benus (SVK) and Japan's bronze medalist Takuya Haneda both return, as does Ander Elosegi, the 2019 Worlds silver medalist.
But decorated veterans like Germany's Sideris Tasiadis (London 2012 silver) and 2017 World Champion Benjamin Savsek (SLO) are not to be discounted. Benus (33) and Tasiadis (31) went 2-3 at the 2021 European Championships and could be ready to hear their anthem.
● Cycling: Men's Mountain Bike Cross Country
If the Games were held in 2020, surely the favorite would be the Rio 2016 winner and eight-time World Champion Nino Schurter (SUI). But this is 2021, and teammate Mathias Flueckiger, now 32, the 2019 silver medalist and the winner of two World Cup stops this season.
Both will have stiff challenges from the French entry of Jordan Sarrou – the 2020 World Champion – and Victor Koretzky, 10th in Rio, but also a winner on the World Cup circuit this season. Also in the mix: Czech Ondrej Cink, a two-time 2021 World Cup silver medalist, Britain's Tom Pidcock, the 2020 Worlds silver medalist and the much-feared Mathieu van der Poel (NED), who is a brilliant rider on the roads (Tour de France stage winner in 2021) and in the mountains.
● Diving: Men's 10 m Synchro
Let's see, who are the Chinese entries? Yuan Cao and Aisen Chen, the reigning World Champions. Cao won the London 2012 Olympic gold with a different partner in this event and Chen won in Rio, also with a different partner. They are the overwhelming favorites.
Britain's Tom Daley and Matty Lee were Worlds bronze medalists in 2019 and will challenge for medals again, along with Russian silver winners Aleksandr Bondar and Viktor Minibaev. Ukraine's Oleh Serbin and Oleksii Sereda, fourth at the 2019 Worlds, are the best contenders for breaking up that top three.
● Fencing: Men's Foil
Italy has the defending Olympic champ in Daniele Garozzo, 2018 World Champion Alessio Foconi and as its third entry, 37-year-old Andrea Cassara, in his fifth Olympics, having finished 3-6-5-16 in 2004-08-12-16. One of them surely will be on the podium.
There are challengers, especially 2019 World Champion Enzo Lefort (FRA) and silver medalist Marcus Mapstead (GBR) and 2018 Worlds bronze medalist Carlos Llavador (ESP). This is the U.S.'s strong event, with 2016 silver medalist Alexander Massialas back, as well as two-time Worlds bronze medalist Gerek Meinhardt and Nick Itkin, a 2019-20 World Cup stop winner. All three are medal capable.
● Fencing: Women's Sabre
The popular 2008 and 2012 Olympic gold medalist, Mariel Zagunis of the U.S., is back for her fourth Games and could figure in the medals if everything breaks right for her. She won a World Cup event in the 2019-20 season, but has not been a steady presence on the podium.
The London and Rio silver and bronze-medal winners Sofiya Velikaya (RUS) and Olga Kharlan (UKR) are back; Kharlan has won the 2013-14-17-19 world titles and is a medal favorite; Velikaya won in 2011 and 2015. Velikaya's teammate Sofia Pozdniakova won the 2018 world title and is also a major contender.
The 2019 Worlds bronze winner Theodora Goudoura (GRE) and American Eliza Stone – a 2018 Worlds bronze medalist – are in the picture along with Italy's Irene Vecchi, Hungary's Anna Marton and the entire French team of Cecilia Berder, Manon Brunet and Charlotte Lembach.
● Gymnastics: Men's Team
Make no mistake, the Japanese team – winners in Rio four years ago – expects to win this. They led the qualifying at 262.251, led by All-Around leader Daiki Hashimoto (88.531) followed by Takeru Kitazono, Kazuma Kaya and Wataru Tanigawa.
But they will get an argument from China – second at the 2019 Worlds – which was 3-4-12 and had one performer do only two of the apparatus. And reigning World Champion Russia had nos. 2-6-10-29 in the prelims, led by veteran stars Nikita Nagornyy, Artur Dalaloyan and David Belyavskiy.
The U.S. was 11-14-19-21 with Brody Malone, Sam Mikulak, Yul Moldauer and Shane Wiskus and is a medal contender. But it will have to bridge Friday's gap, after scoring 256.761 to Japan's 262.251, China's 262.061 and Russia's 261.945. Britain, Germany and Brazil all figure to be long-shot contenders for a medal as well.
● Judo: Women's 57 kg
Perhaps a battle of world champions? Canada's Jessica Klimkait won the 2021 world title and could face the 2018 winner, Japan's Tsukasa Yoshida, also the 2019 silver medalist. They start as favorites, but 2021 bronze winners Nora Gjakova (KOS) and Theresa Stoll (GER) are contenders, along with 2019 Worlds silver medalist Julia Kowalczyk (POL) and 2018 bronze winner Sumiya Dorjsuren (MGL).
Also worth watching: Georgia's Eteri Liparteliani, a World Cup medalist in two of the last three seasons.
● Judo: Men's 73 kg
Three of the four Rio medal winners are back: winner Shohei Ono (JPN), finalist Rustam Orujov (AZE) and bronze medalist Lasha Shavdatuashvili (GEO).
Shavdatuashvili figures as the favorite, having won the 2021 world title in June, downing Swede Tommy Macias in the final, with Turk Bilal Ciloglu winning a bronze.
Ono won the 2019 world title over Orujov, who also won silver in the 2017 Worlds. Throw in 2018 World Champion Chang-Rim An (KOR) and two-time 2021 Grand Slam winner Tsogbaatar Tsend-Ochir (MGL) and the tournament will be a barn-burner from the quarterfinals on.
● Shooting: Men's Skeet
Beijing and London gold medalist Vince Hancock of the U.S. is back again and is a favorite after winning the 2018 World Championship as well. He is motivated by his 15th-place finish in Rio in 2016.
But he's no shoo-in, with 2016 winner Gabriele Rossetti (ITA) back, as is bronze medalist Abdullah Al-Rashidi, who shot for the Refugee Olympic Team them, but for Kuwait now. The 2018 Worlds silver winner Erik Watndal (NOR) is also
More: the ISSF held four World Cups in Skeet this year, with winners Jesper Hansen (DEN), Azmy Mehelba (EGY) and Tammaro Cassandro (ITA) in Tokyo; Hancock was second to Mehelba in the event in Italy in May.
In the first-day qualifying, France's Eric Delaunay and Hancock both shot 75/75, with Cassandro and Czech Jacob Tomecek at 74.
● Shooting: Women's Skeet
Defending champion Diana Bacosi (ITA) is back, with silver winner and teammate Chiara Cainero (the 2008 Olympic champ) and 2012 silver medalist Danka Bartekova (SVK).
World Championships 2018 bronze winner Amber English leads the U.S. hopes, along with Austen Smith, who won the May ISSF World Cup in Italy. Bartekova won one World Cup and was third in another. Kazakhstan's Zoya Kravchenko and Russia's Natalia Vinogradova also figure as medal contenders.
American Kim Rhode, who had won medals in six consecutive Olympic Games in shooting – including three in Skeet – was edged off the team by English and Smith.
In Sunday's qualifying, Bacosi and China's Meng Wei both shot 75/75, followed by Smith (73); English was seventh at 72.
● Skateboarding: Women's Street
The men's event showed the course as challenging, especially for favorites, but Japan's Aori Nishimura – the 2018 and 2021 World Champion – will try to give the host country a gold-medal sweep. Perhaps more, too, with 2021 Worlds silver medalist Momiji Nishiya also in the field.
Their primary competitors will come from Brazil, from four-time Worlds medalist (and 2015 champion) Leticia Bufoni, 2019 World Champion Pamela Rosa and two-time Worlds medal winner Rayssa Leal.
The U.S. has contenders, too, with 2017 Worlds bronze winner Mariah Duran, 2016 Worlds bronze winner Alexis Sablone and 2015 Worlds bronze medalist Alana Smith.
● Swimming: Women's 400 m Freestyle
One of the highlights of the Games could be the showdown between 2016 Olympic champ Katie Ledecky and Australia's 2019 World Champion Ariarne Titmus.
Titmus's 2019 win was over an ill Ledecky, but the Australian, now 20, is a different level. She is the 2021 world leader at 3:56.90 at the Australian Trials in June, with Ledecky at 3:59.25. No one else has broken 4:00 this year (and only three all-time), with China's Bingjie Li (CHN) at 4:02.96, and Russia's Anna Egorova and Australia Tamsin Cook sixth on the world list at 4:04.10.
In the qualifying, Ledecky led at 4:00.45, followed by Li (4:01.57) and Titmus (4:01.66). American Paige Madden qualified seventh with a lifetime best of 4:03.98.
Ledecky is the world-record holder at 3:56.46 and has 14 of the 17 performances of all time. But Titmus is second all-time at 3:56.90 and comes in as the favorite. Ledecky, 24, owns Rio golds in the 200-400-800 m and the 800 m from 2012 and has a stunning program of swims in the 200-400-800-1,500 m Freestyles as well as at least one relay. But this race is the most eagerly-awaited of all.
● Swimming: Women's 100 m Butterfly
Semifinals were held on Monday morning, with China's Yufei Zhang winning semi two at 55.89, ahead of 2016 Olympic champ Sarah Sjostrom (SWE) in 56.40 and Canadian Maggie MacNeil (56.56). France's Marie Wattel won the first semi in 56.16, ahead of Aussie Emma McKeon (56.33) and American teen Torri Huske (56.51).
Huske is still the world leader (55.66), with Zhang second (55.73) on the 2021 list, but Sjostrom appears ready to be heard from in the final.
● Swimming: Men's 100 m Breaststroke
The only question should be by how much Adam Peaty (GBR), the world-record holder (56.88) and defending Olympic champion, will win by.
The one serious challenger appears to be Arno Kamminga (NED), who won the first semifinal in 58.19, with Nicolo Martinenghi (ITA) second in 58.28. But Peaty won his heat in 57.56 and then the semi in 57.63, with Zibei Yan (CHN) second in 58.72 and American Michael Andrew finding some way to touch third in the final stroke in 58.99. American Andrew Wilson was fifth in 59.18 and made it into the final as the final qualifier.
Does Peaty have a world record in him? Can Andrew approach his Trials best of 58.14? If he does, he could get a medal. The U.S. has taken a medal in this event in six of the last seven Games.
● Swimming: Men's 4×100 m Freestyle
This event has been held 12 times since first appearing at the 1964 Tokyo Games. The U.S. won the first seven editions, but only two of the last five, in 2008 and 2016. France was second in the iconic 2008 final, featuring Jason Lezak's stunning anchor leg for the U.S., then won in 2012 and was second in 2016. Australia won bronzes in 2008 and 2016.
In the qualifying racing, Italy won heat one in 3:10.29 over France (3:12.85) and the U.S. – Brooks Curry, Blake Pieroni, Bowen Becker and Zach Apple – won heat two, 3:11.33-3:11.39 over Australia.
● Table Tennis: Mixed Doubles
Very little doubt that this event would see the Chinese pair of Shiwen Liu and Xin Xu in the final, possibly against Japan's Jun Mizutani and Mima Ito in this first-ever edition of this event.
That's the way has played out, in this event with an early start. Liu and Xu are the defending World Champions in this event from 2019. Taipei's I-Ching Chen and Yun Ju Lin will play France's Emmanuel Lebesson and Jia Nan Yuan for the bronze medal.
● Taekwondo: Women's 67 kg
The medal winners from the 2019 World Championships are all here: China's Mengyu Zhang, silver winner Nur Tatar (TUR) and bronze medalists Milena Titoneli (BRA) and Farida Azizova (AZE). Tatar won a silver in London and a bronze in Rio and the other Rio bronze medalist (and 2017 World Champion at 62 kg) Ruth Gbagbi (CIV) is also here.
But they will get a stiff test from American Paige McPherson, a London 2012 bronze medalist and a two-time World Championships medalist. Another contender: Britain's three-time European Champion Lauren Williams.
● Taekwondo: Men's 80 kg
The list of contenders starts with the defending Olympic Champion in Cheick Salla Cisse (CIV) and Azerbaijan's Milad Beigi, a Rio bronze medalist but also the World Champion in 2017 and 2019.
They will be challenged by 2019 Worlds bronze winner Moises Hernandez (DOM) and 2017 World 74 kg Champion Maksim Khramtcov, also the 2021 European Champion at this weight and actually the top seed in the World Taekwondo rankings.
● Triathlon: Men
Two-time gold medalist Alistair Brownlee (GBR) is absent, but his brother, two-time medalist Jonathan Brownlee is in the field, along with 2012 silver winner Javier Gomez Noya (ESP).
But almost every one of the World Triathlon Series annual medalists since 2009 is in the field: 2012 champion Brownlee, five-time winner Gomez Noya, three-time winner Mario Moya (ESP) and the winner of the last two world titles, France's Vincent Luis.
Other Worlds medal winners who figure to contend for any medal in Tokyo include Australian Jacob Birtwhistle (third in 2018), Norway's Kristian Blummenfelt (third in 2017), Spain's Fernando Alarza (third in 2016) and France's Leo Bergere, the bronze medalist in 2020.
Somewhat under the radar, but highly capable, is the newest British star, Alex Yee.
● Weightlifting: Women's 55 kg
China's Qiuyun Liao won the 2019 World Championship, with 2016 Olympic silver medalist Hidilyn Diaz (PHI) third and both are back in Tokyo. Liao, the world-record holder at 227 kg, is a big favorite and should win without much trouble.
But the fight for the other medals will likely involve Zulfiya Chinshanlo (KAZ), fourth in 2019, Uzbek Muattar Nabieva (fifth) and Mexico's Ana Gabriela Lopez (sixth). Another contender might be Korea's Eunji Ham.
Also, the U.S. and Japan will face off in Softball, with a rematch likely in the gold-medal game regardless of the outcome. Thus far, both are 4-0, but where the U.S. has won its games by a combined score of 7-1, Japan has outscored its opponents by 17-3!
= INTEL REPORT =
Through 25 July, the Tokyo 2020 report on Covid positives is up to 132, with the number of reported infections down from 19 to 16 to 10 over the three days of the Games. Of these, 73 are residents of Japan and 59 are not; the leading group continues to be contractors (66), followed by "Games-concerned personnel" including coaches and officials (40), then athletes (13), news media (9) and Tokyo 2020 staff and volunteers (4).
The Tokyo 2020 folks are getting more clever as time goes on and released a new report by stakeholder group that shows the testing and incidence totals by group:
● Athletes and team officials: 14 positives out of 73,729 tests through 23 July (0.02%)
● Media/Tokyo 2020 staff: 23 positives out of 95,366 tests through 23 July (0.02%).
There are another 66 positives from outside groups not being tested by Tokyo 2020 and 24 caught at the airport for a total of 127 through 23 July.
In addition, the U.S. Olympic & Paralympic Committee is now publishing positives, with one positive reported among the 1,038 athletes and officials in Tokyo as of 24 July. That's pretty good.
The Tokyo Metropolitan Government reported 1,763 new infections on Sunday; for comparison, Los Angeles County – with about a third the population of the Tokyo metro area – reported 2,600 new cases on Sunday (24th).
¶
The virus has struck the golf competition with stars Jon Rahm (ESP) and Bryson DeChambeau both withdrawing from the tournament due to Covid-19.
¶
Veteran observers of the Games always note that restrictions loosen as the event goes on. So too for the mask requirement on the podium. The International Olympic Committee said Sunday that athletes on the medal stand can doff the masks for 30 seconds in order to be photographed.
¶
More on the virus, as Kyodo News reported that Emperor Naruhito opened the Games on Friday with the traditional wording:
"I declare open the games of Tokyo celebrating the 32nd Olympiad of the modern era."
That was according to the official translation from Japanese provided by the Imperial Household Agency. But the agency noted that his Japanese wording did not contain "iwai." which is usually used for "celebrating." This was the wording used by Emperor Hirohito at the 1964 Games.
Naruhito instead said "kinensuru," considered to be more as in "commemorating."
¶
Since the IOC owns the Olympic Games, you might think that it could invite or not invite whomever it wants.
But after denying accreditation to Russian Maxim Agapitov, a member of the International Weightlifting Federation board – due to a past doping violation – Agapitov took the matter to the Court of Arbitration for Sport. The decision:
"The Panel found that the evidence submitted by the parties was sufficient to demonstrate that Mr Agapitov did meet the criteria established by the IOC to receive an accreditation (in the sport of weightlifting) in relation to the Olympic Games Tokyo 2020, despite an anti-doping rule violation (ADRV) committed in 1994, at the time of his athlete's career. The Panel considered that the criteria in case of any ADRV committed at any time in an athlete's life was clearly disproportionate."
Badge him.
You can receive our exclusive TSX Report by e-mail by clicking here. You can also refer a friend by clicking here, and can donate here to keep this site going.
For our 649-event International Sports Calendar for 2021 and beyond, by date and by sport, click here!