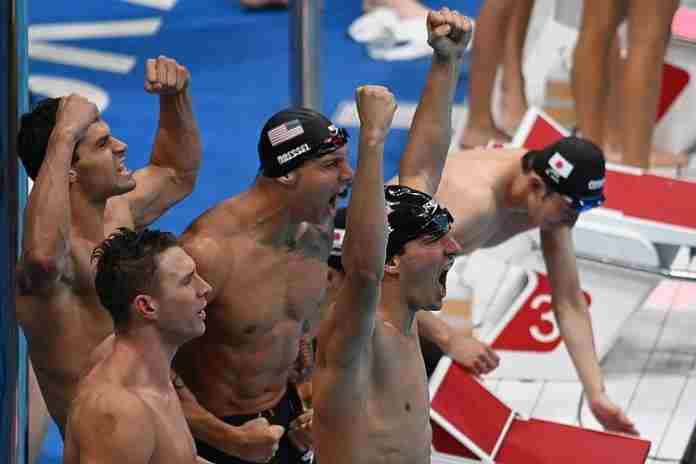 (★ Friends: Very grateful to say that 46 donors have now covered 67% of our current server & support bill. If you like this coverage, please donate here. Your enthusiasm is what motivates this site. Thank you. ★)
= TOKYO 2020 =
From Lane One
The raging argument about sport and politics has bubbled up in Tokyo, this time over Belarusian sprinter Krystsina Tsimanouskaya.
Fourth in her heat of the women's 100 m in 11.47, she did not advance to the semifinals. She is scheduled to run in the heats of the 200 m this week, but Reuters reported that she was ordered to pack and fly back to Belarus on Sunday.
She said she had been removed from the team due "to the fact that I spoke on my Instagram about the negligence of our coaches." She complained that she had been added to run in the 4×400 m relay without her knowledge: "I spoke about this publicly. The head coach came over to me and said there had been an order from above to remove me."
Tsimanouskaya went to the airport but refused to get on any flight, instead asking for help from the Japanese police. The International Olympic Committee got involved quickly and tweeted:
"The IOC and Tokyo 2020 have spoken to Krystsina Tsymanouskaya [sic] directly tonight. She is with the authorities at Haneda airport and is currently accompanied by a staff member of Tokyo 2020. She has told us that she feels safe. /1
"The IOC and Tokyo 2020 will continue their conversations with Krystsina Tsymanouskaya and the authorities to determine the next steps in the upcoming days. /2″
The Belarusian Sport Solidarity Foundation, set up to help athletes during the political turmoil in Belarus, said it has reached out and received an offer of assistance from Poland and that Tsimanouskaya could be asking for asylum in Germany or Austria on Monday.
All of this is a reflection of the public protests against Belarus President Alexander Lukashenko, who was continued in office in a controversial election in 2020. Protests sprang up almost immediately and have continued. Belarusian athletes who have spoken up have been arrested and some jailed.
This is hardly the first time this has happened at an international sports event, but in the cauldron of the Olympic Games, it draws extra attention not only to her and to what is happening in Belarus – whose sports officials have been sanctioned by the IOC for interference – but also to the responsibility of organizers and federations in dealing with issues far beyond who wins medals.
¶
We're past halfway, with 179 of 339 events (53%) completed in Tokyo. The current medals leaders:
1. 59: United States (20-23-16)
2. 51: China (24-14-13)
3. 44: Russian Olympic Committee (12-19-13)
4. 32: Great Britain (10-10-12)
5. 31: Japan (17-5-9) and Australia (14-3-14)
So far, 76 countries have won at least one medal, compared to 86 for the entire 2016 Games in Rio.
Our exclusive TSX team scoring uses the familiar collegiate system of 10-8-6-5-4-3-2-1 per event to give a much better view of the relative achievements of the teams:
1. 730.0 United States
2. 558.0 China
3. 485.0 Russian Olympic Committee
4. 395.5 Japan
5. 387.5 Great Britain
6. 338.5 Australia
7. 327.5 Italy
8. 285.0 France
9. 237.5 Germany
10.236.0 Netherlands
11. 205.5 Korea
12. 189.0 Canada
All credit to the Japanese athletes, competing better than ever before at an Olympic Games. Wow!
¶
NBC announced that more than 105 million Americans have watched some part of the Tokyo Games, a little less than a third of the country. Friday's ratings were steady:
● 23 July (Fri): 8.2 million for the Opening Ceremony
● 24 July (Sat): 15.3 million
● 25 July (Sun): 19.2 million
● 26 July (Mon): 16.8 million
● 27 July (Tue): 16.2 million
● 28 July (Wed): 15.0 million
● 29 July (Thu): 19.5 million
● 30 July (Fri): 15.2 million
These numbers are for the "total audience" for primetime programming across NBC-NBCSN-CNBC-USA Network, but far behind the Rio 2016 numbers, in a better time zone. The 2020 Games average audience is now about 16.7 million per night, down from 27.5 million per night for Rio in 2016.
~ Rich Perelman
= RESULTS: SUNDAY, 1 AUGUST =
● Athletics: Men's 100 m-High Jump
One of the crazier days in this sport started with the semifinals in the men's 100 m, where world leader Trayvon Bromell of the U.S. was eliminated by 1/1000th of a second. He finished third in the second semi to Nigeria's Enoch Adegoke, with each timing 10.00, but Adegoke's extended time was 9.995 and Bromell's was 9.996. Incredible.
American Fred Kerley won semi one in 9.96, Britain's Zharnel Hughes won semi two in 9.98 and then a sensational third semi saw China's Bigntian Su run an Asian Record 9.83 to win over American Ronnie Baker (9.83), Italy's Lamont Marcell Jacobs (9.84 European Record) and South Africa's Akani Simbine (9.90), all of whom moved on to the final.
Hughes never got to run the final as he was disqualified for a false start. On the re-start, Kerley had the best reaction time, but the race was fairly even for the first 40 m. Kerley started to move well, then Adegoke shot into the air in lane eight, then collapsed with an injury.
Kerley continued strong, but Jacobs was coming steadily to his left in lane three and Canada's Andre De Grasse was moving well on the opposite side of the track in lane nine. Jacobs had the most strength in the last 10 m and won in a stunning 9.80, another European Record, with Kerley – a 400 m runner at the start of the season – second in 9.84 (lifetime best) and De Grasse getting third in a lifetime best of 9.89. Simbine was fourth and Baker was fifth.
Jacobs is the son of an Italian mother and American father, born in El Paso, Texas. When his father, a U.S. Army member, was transferred to Korea, mother and son moved to Italy and have stayed ever since. Jacobs becomes the first European men's 100 m champ since Britain's Linford Christie in 1992, and the first Italian 100 m medalist! (Thanks to reader Tom Casacky for this correction!)
Kerley's silver extends the U.S. medal streak in the event to six.
¶
Qatar's Mutaz Essa Barshim has been moving up all his Olympic life. The bronze-medal winner in London and the silver medalist in Rio, he came in as the 2019 World Champion and, if healthy, no less than a medal favorite for Tokyo.
The real jumping started at 2.35 m (7-8 1/2), with seven men still in. American JuVaughn Harrison passed the height (!) and Russian Mikhail Arimenko missed twice, then decided to try for 2.37 m (7-9 1/4). In the meantime, Barshim, Italy's Gianmarco Tamberi, Maksim Nedasekau (BLR), Sanghyeok Woo (KOR) and Brandon Starc (AUS) all cleared 2.35 m.
Now the bar went to 2.37 m, and Harrison missed once. Akimenko missed for a third time and was out. Barshim, Tamberi and Nedasekau all made 2.37 m on their first tries, putting the pressure on Woo, Starc and Harrison.
All three realized that there were no medals to be had at 2.37 m and asked to jump at 2.39 m (7-10), the next height. All missed twice and were eliminated, finishing 4-5-7 (Akimenko was sixth).
Barshim, Tamberi and Nedasekau all missed three times at 2.39 m, with Nedasekau third due to an earlier miss. Barshim and Tamberi decided to stay tied and shared the gold. This completed Barshim's medal set, while Tamberi, with such great expectations through the years, finally got his golden moment and Italy's first-ever win in the event.
Italy: Olympic champions in the men's 100 m and high jump, on the same day!
● Athletics: Women's Triple Jump-Shot Put
The women's triple jump winner is a foregone conclusion: world-record holder Yulimar Rojas of Venezuela.
Coming into the Games, she was the world indoor record holder. Now she's the World Record Holder.
She ended the competition with her first jump of 15.41 m (50-6 3/4), the equal-third-best jump of all time. Jumping only for fun now, she also got out to 15.25 m (50-0 1/2) in round four and then had one more try in the sixth round to end the day. With only a 0.7 m/s wind at her back, she exploded to 15.67 m (51-5), blowing up the existing record of Inessa Kravets (UKR) – 15.50 m (50-10 1/4) – from 1995. It gives Rojas five of the top seven jumps of all time, at age 25.
Behind her, Portugal's Patricia Mamona was making some history of her own. The sixth placer in Rio, she came in with a best of 14.66 m (48-1 1/4), but boomed out to 14.91 m (48-11) on her first try, then 15.01 m (49-3) on her fourth and then 14.97 m (49-1 1/2) in the sixth round. She's the 25th female jumper in history to reach the 15 m mark and her reward was an unexpected silver medal.
Spain's Ana Peleteiro out-dueled Jamaica's Shanieka Rickets for the bronze, 14.87 m (48-9 1/2) to 14.84 m (48-8 1/4) in perhaps the best women's TJ competition in history. American Keturah Orji finished seventh at 14.59 m (47-10 1/2).
¶
The women's shot final had two-time champion Valerie Adams (NZL) and two-time medalist Lijiao Gong contending for the medals, and both ended up on the podium.
In fact, the event was decided in the first round. Throwing first, American Raven Saunders – in gold and purple hair – got off a big first throw of 19.65 m (64-5 3/4) that looked like a medal-winner right from the start!
Adams, throwing third, got a nice opener at 18.62 m (61-1 1/4), but Gong got busy as the fifth thrower. The world leader in 2021, she powered out to 19.95 m (65-5 1/2) and it appeared that two of the medals were already decided. In fact, they were.
Portugal's Auriol Dongmo was third after the first round at 19.29 m (63-3 1/2), but Adams moved up to third in round two at 19.49 m (63-11 1/2) and improved to 19.62 m (64-4 1/2) in round three. After Saunders fouled a long throw in round two, Gong improved to 19.98 m (65-6 3/4) in round three. American Jessica Ramsey, also a potential medalist, could not find the right balance and fouled all three of her throws and was eliminated.
Dongmo kept knocking on Adams' door, reaching 19.57 m (64-2 1/2), but couldn't do better and finished fourth. Saunders kept chasing and got out to 19.79 m (64-11 1/4) but Gong hammered her fifth throw, to 20.53 m (67-4 1/4).
Saunders had another big throw in the final round, but couldn't stay in, finishing with the silver. Gong, already the winner, got her final throw out to 20.58 m (67-6 1/4) and the ultimate winning mark, the furthest in the world this year.
● Badminton: Women's Singles
China regained the top spot in women's Singles as Yufei Chen managed a tight, 21-18, 19-21, 21-18 win in 1:21 over Chinese Taipei's Tzu-Ying Tai for the gold medal.
Chinese players had won four straight titles until Rio, when they went without a medal. Chen moved up from winning two bronzes in the World Championships in 2017 and 2019 to gold medalist. Tai won Taipei's first-ever medal in this event.
India's V. Sindhu Pusarla won the bronze, defeating Bing Jiao He (CHN), 21-13, 21-15, in 53 minutes for a second straight Olympic medal, after a silver in Rio.
● Cycling: Men's & Women's BMX Freestyle
This first-time event included some surprises. The men's final saw Australia's two-time World Champion Logan Martin put enormous pressure on his competitors with a 93.30 score on the final run of the first round. The gold was essentially his at that points.
Venezuela's Daniel Dhers – the 2019 Pan American Games champ – had been the leader at 90.10 and was not intimidated. His second-round run scored 92.05 and won him the silver. Britain's Declan Brooks had an excellent 89.40 in the first round and improved to 90.80 in the second, enough to hold off Kenneth Tencio Esquivel, the 2018 Worlds silver medalist (90.50) for the bronze.
Americans Justin Dowell and Nick Bruce had a tough day, finishing eighth and ninth.
¶
American Hannah Roberts was the favorite in the women's Park Freestyle, as the 2017-19-21 World Champion and starting last in the order, put down a sensational 96.10 score at the end of the first round that looked like the winning run.
But Britain's Charlotte Worthington, a two-time Worlds bronze winner, was equal to the challenge and midway through the second round, produced a gorgeous run that stunned the judges and resulted in a 97.50 score and the lead.
Roberts had a chance to respond as the last to go, but came up short on an all-out attempt for gold and scored just 28.40.
Swiss Nikita Ducarroz was third in the qualifying and scored an upset of her own, with her first-round 89.20 enough to hold off 2018 World Champion Perris Benegas of the U.S. (88.50) for the bronze.
● Diving: Women's 3m Springboard
No surprise at the results, with China going 1-2 with 2016 Olympic Champion Tingmao Shi repeating at 383.50 points, way ahead of the field. She has the top score on all five dives in the finals.
Teammate Han Wang scored 348.75 for second, scoring second on three dives and third on two more. However, she was pressed by American Krysta Palmer, who finished 2-4-3 on her final three dives and ended up close, scoring 343.75 for the bronze medal. Pretty impressive for the 37th-place finisher in the 2017 World Championships and who did not make the U.S. team for the 2019 Worlds.
It's the first medal in this event for the U.S. since Kelly McCormack's bronze in 1988. Fellow American Hailey Hernandez ended up ninth.
● Fencing: Men's Team Foil
A powerful performance for France, which squashed Egypt, 45-34, out-lasted Japan, 45-42 and then stomped Russia, 45-28 to win the gold. The 2019 Worlds silver medal winners, Enzo Lefort, Julien Mertine and Maxime Pauty were not to be denied; it's France's sixth Olympic gold in this event, but the first since 2000.
It was the first Russian medal in the event ever; the USSR had won the event in 1988.
The U.S. team, Rio bronze medalists, repeated that performance with a 45-31 win over Japan with Alexander Massialas, Gerek Meinhardt and Race Imboden competing; Nick Itkin fenced in an earlier round. The U.S. won seven of the nine matches in the final and tied in the other two.
● Golf: Men
The men's tournament saw the first-round leaders shoot 63s on the Kasumigaseki Country Club course: Austria's Sepp Straka in round one and then American Xavier Schauffele in round 2. The latter's 131 (-11) gave him a one-stroke lead over Carlos Ortiz (MEX: -10) and two over Hideki Matsuyama of Japan (-9).
Schauffele maintained his one-stroke advantage through round three with a 68, but with Matsuyama looking over his shoulder at -13 (67), with Paul Casey (GBR) and Ortiz at -12 (201).
In the wild final round, Schauffele won with 67, to end at 266 (-18). But he had to scramble to hold off a sensational final-day 61 (-10) from Rory Sabbatini (SVK), who moved up 15 places to win the silver medal at 267 (-17)! Schauffele needed a birdie on 17 to assure he would not be in a playoff.
There was a massive tie for third, with seven golfers moving into a playoff for the bronze medal. C.T. Pan (TPE) ended up on the podium, eventually winning out over Collin Morikawa (USA) on the fourth extra hole. Six shared fourth place at 269 (-15).
● Gymnastics: Men's Floor Exercise-Pommel Horse
Israel's Artem Dolgopyat, born in the Ukraine but who moved to Israel at 12, led the qualifying in the Floor Exercise and won the gold at 14.933, despite a 0.1 penalty. That was the same score as Spain's Rayderley Zapata, but Dolgopyat had the higher difficulty score and was awarded the gold on that basis.
It's Israel's first-ever gold in Olympic gymnastics and the country's second-ever gold after Gal Fridman won the men's Sailboard event in 2004. Dolgopyat now owns an Olympic gold to go with his silver medals in the 2017 and 2019 Worlds and the 2020 European title.
China's Ruoteng Xiao scored 14.766 for third; American Yul Moldauer was sixth at 13.533.
On the Pommel Horse, Britain's Max Whitlock came in as the defending champion from Rio, and looking for a third medal after winning a home bronze in 2012 in London. He got it, winning cleanly at 15.583, well ahead of runner-up Chih Kai Lee (TPE: 15.400) and Japan's Kazuma Kaya (14.900).
Whitlock now has two Olympic golds to go with being a three-time World Champion.
American Alec Yoder finished sixth at 14.566.
● Gymnastics: Women's Vault-Uneven Bars
The U.S. did not have Simone Biles in either event, but came away with two more medals.
In the Vault, Brazil's Rebeca Andrade got the gold medal that eluded her in the All-Around, scoring 15.166 and 15.000 to end at 15.083, the only final score over 15 points.
Biles' replacement, MyKayla Skinner, who was fourth in the qualifying, scored 15.033 on her first try and then 14.900 on the second for a 14.916 average and the silver medal.
Korea's Seojeong Yeo, eighth at the 2019 World Championships, moved up to third, scoring 14.733; she scored 15.333 on her first vault – best of the night – but only 14.133 on her second.
American Jade Carey was eighth at 12.416.
In the Uneven Bars, Belgium's Nina Derawel came in as a two-time World Champion in this event and won decisively at 15.200.
Russia's Anastasiia Iliankova had been third in the qualifying and produced a 14.833 to grab the silver, while American Suni Lee – second in qualifying – was third at 14.500.
For Derwael, it's a sweet second Games, after she finished 12th in this event in Rio.
● Sailing: Men's Laser-Women's Laser Radial
Australia's Matt Wearn sailed away with the third straight gold medal for his country in the men's Laser class, following Tom Slingsby and Tom Burton. He ended with 53 net points after a second in the medal race and was a dominant winner with seven top-5 finishes in 11 races.
Tonci Stipanovic (CRO) – the Rio silver medalist – managed to get silver again with a fourth-place finish in the medal race, passing Norway's Hermann Tomasgaard, 82 to 85 on net points. Tomasgaard was seventh in the medal race and lost six points on the final day.
The 2018 World Champion, Pavlos Kontides (CYP: 88), finished fourth. American Charlie Buckingham was 13th.
¶
Denmark's Anne-Marie Rindom added an Olympic gold to her medal collection in the women's Laser Radial class, to go with her 2016 Olympic and 2018 Worlds bronze medals. She only finished seventh in the medal race and that closed her final margin to 78-81 over Swede Josefin Olsson, who won the medal race and moved up from sixth to second on the final day.
Dutch star Marit Bouwmeester, the gold and silver medalist in the last two Games, added a bronze with 83 points after finishing sixth in the medal race. Belgian Emma Plasschaert, the 2018 World Champion, was forth at 87.
American Paige Railey finished 37th.
● Swimming: Men's 50 m Free-1,500 m Free-4×100 m Medley
Caeleb Dressel was going for a third individual gold and got his patented super start and came up with the lead once again. With French giant Florent Manaudou to his right, Dressel pulled furiously and moved away from his rivals and touched the wall in an Olympic Record of 21.07, the no. 6 performance of all time.
Manaudou won the silver, meaning he has finished 1-2-2 in this event in the last three Games, in 21.55, followed by Brazil's Bruno Fratus (21.57). American Michael Andrew, at 21.60, was just off the podium.
Manaudou's silver is all the more impressive given that he retired after 2016, but returned in 2019 to participate in the International Swimming League, and now he's won a third Olympic 50 m Free medal.
¶
The men's 1,500 m Free final turned into a four-man race by midway, with Germany's 2019 World Champion Florian Wellbrock leading Rio Olympic champ Gregorio Paltrinieri (ITA), Bobby Finke of the U.S. – the 800 m Free winner – and Ukraine's European Champion Mykhallo Romanchuk.
By 1,200 m, Wellbrock, Romanchuk and Finke had about a second on Paltrinieri and Wellbrock had 0.61 on the other two with two laps left. Finke was second by the turn and then cut in overdrive to win going away in 14:39.65, the no. 2 performance of 2021.
That was a lifetime best by more than six seconds, and he is now the no. 10 performer of all time. It was the first U.S. win in this event since Mike O'Brien back in Los Angeles in 1984. At just 21, Finke may well be competing in Los Angeles in 2028!
Romanchuk won the silver in 14:40.66, followed by Wellbrock (14:40.91) and Paltrinieri (14:45.01).
¶
The U.S. had won the men's 4×100 m Medley 14 times in the 15 times it has been contested at the Games; only at the 1980 Games did the American fail to win … as it did not attend. But Great Britain was the favorite this time and the U.S. barely got into the final and swam in lane one!
But there was world-record holder Ryan Murphy on the Backstroke, giving the U.S. the lead by 0.21 over Italy (52.32) with Britain's Luke Greenbank seventh. Then Adam Peaty took over for Britain and started closing on Michael Andrew of the U.S.
Peaty swam 56.53 to Andrew's 58.49, and Britain had a 1:50.16-1:50.80 lead. But Caleb Dressel was into the water for the U.S. and took a 0.07-second lead on James Guy at the turn and then built up the lead to 0.60 after a 49.03 leg, the fastest relay split of all time!
The question was whether Zach Apple, who anchored the U.S. so brilliantly in the 4×100 m Freestyle, could hang on against Duncan Scott. He built the lead to 1.15 after the first lap and came home strong to bring the U.S. a 15th win in this event in a world-record 3:26.78.
Apple split 46.95 to Guy's 47.08 and the U.S. won by 0.73 as Britain had the no. 3 performance ever at 3:27.51.
The victory capped a brilliant Games for Dressel, with five golds – three individual and two on relays – and a fifth-place finish on the U.S. Mixed 4×100 m Medley. At 24, he's certain to continue to Paris three years from now and then?
Murphy won his fourth career gold, Andrew his first and Apple his third (all on relays).
Italy won the bronze in 3:29.17, its first-ever medal in this event.
● Swimming: Women's 50 m Free-4×100 m Medley
Australia's Emma McKeon was in a fight with most of the field, then accelerated just in the last 15 m to touch the wall first in 23.81, an Olympic Record and now no. 5 on the all-time performer list.
World-record holder Sarah Sjostrom (SWE), who had been having a tough Games with a fifth in the 100 m Free and seventh in the 100 m Fly after suffering a broken elbow earlier this year, got up for second in 24.07. Defending champ Pernilla Blume was third (23.21); American Abbey Weitzeil was last in 24.41.
McKeon finished her individual swims with wins in the Freestyle sprints and a third in the 100 m Fly, plus three relays medals so far. That's six medals and equals the total for Kristin Otto (GDR: 6-0-0) and American Natalie Coughlan in 2008 (1-2-3). But there was one more event to come …
¶
The U.S. and Australia were favored and they had an epic struggle right to the touch.
On the Backstroke, Canada's Kylie Masse had the lead by just 0.11 over Kaylee McKeown (AUS) and 0.15 over Regan Smith of the U.S.
American Lydia Jacoby burst into the lead on the Breast leg, timing 1:05.03 – over Chelsea Hodges's 1:05.57 for Australia, while Canada fell out of contention.
Torri Huske was in the pool for the Fly, swimming strongly, but fading in the last 20 m of her leg to Emma McKeon, but still giving the U.S. a 25/100ths advantage into the final leg.
Australian star Cate Campbell almost false-started, starting just 0.04 after McKeon touched, while American anchor Abbey Weitzeil took 0.38 to get going. That turned out to be critical, because Campbell cut the deficit to 0.12 at the turn and then powered away in the final 15 m to touch first in 3:51.60, an Olympic Record and the no. 3 performance of all time.
Weitzeil finished in 52.49 vs. 52.11 for Campbell and brought the U.S. home with a medal in 3:51.73 – no. 4 all-time – 15th time in 16 Games; the U.S. has never failed to medal in this event except for the boycott year of 1980.
With Australia's win, McKeon won her seventh medal in Tokyo (4-0-3), the most ever for a female swimmer in a single Games. She joins Mark Spitz (1972) and Matt Biondi (1988) as swimmers who have won seven medals at one Games, while Michael Phelps won eight in 2004 and 2008.
● Tennis:
Germany's Alexander Zverev, the fourth seed, defeated Russia's Karen Khachanov, 6-3, 6-1 to win his biggest title since the 2018 Tour Finals. A finalist at the U.S. Open in 2020, he'll be using the Olympic title for inspiration there as Serbia's Novak Djokovic goes for a calendar-year Grand Slam.
Djokovic's Olympic experience ended on a down note, as he lost the bronze-medal match to Spain's Pablo Carreno Busta, 6-4, 6-7, 6-3.
In the Mixed Doubles final, Anastasiia Pavlyuchenkova and Andrey Rublev won in the all-Russian decider, defeating Elena Vesnina and Aslan Karatsev, 6-3, 6-7, 13-11.
However, Djokovic and Nina Stojanovic qualified for the bronze-medal match, but withdrew after Djokovic cited a left shoulder injury. That handed the bronze medal to Australians Ash Barty and John Peers.
In the women's Doubles final, top-seeded Barbora Krejcikova and Katerina Siniakova (CZE) defeated Swiss Singles winner Belinda Bencic and Viktorija Golubic, 7-5, 6-1. Brazil's Laura Pigossi and Luisa Stefani won the bronze over Veronika Kudermetova and Elena Vesnina, 4-6, 6-4, 11-9.
● Weightlifting: Women's 76 kg
Ecuador's Neisi Dajomes, the 2019 Worlds bronze medalist, took the lead immediately with 118 kg in the Snatch and went on to win easily, lifting 145 in the Clean & Jerk for a final total of 263 kg.
The fight for silver saw American Katie Nye, moving up from the 71 kg class where she was World Champion in 2019, standing third after the Snatch, behind Ukraine's Iryna Dekha. Nye made two of her Clean & Jerk lifts, including the second at 138 kg to get to 249 kg in total.
Dekha, meanwhile, missed all three of her Clean & Jerk attempts and did not place; Mexico's Aremi Fuentes, fourth after the Snatch, lifted 137 kg in the Clean & Jerk and ended at 245 kg, winning the bronze, with Nye getting silver.
Nye's silver is the best American performance since Tara Nott won at 48 kg in Sydney in 2000. Said the silver medalist:
"I think this last year is the most challenging year of my career, so far. I made it to the top in 2019 in my true weight class, which is 71kg, and then after that it was kind of, let's get into this Olympic weight class and figure things out. Between that, COVID, a coaching switch [to Spencer Arnold], lots of personal stuff with my mental health, it's been a really hard year, but I think all of those trials and tribulations make me the person I am today, and I don't think I'd be in this second-place spot without them."
Elsewhere:
● Athletics: In the morning qualifying for the women's hammer, Poland's world-record holder Anna Wlodarczyk led Group A, qualifying at 76.99 m (252-7) on her first throw, with American Brooke Andersen getting the auto-qualifier on her second try, at 74.00 m (242-9). Americans Gwen Berry and DeAnna Price – the reigning World Champion – qualified in the top 12 from the second group at 73.19 m (7th: 240-1) and 72.55 m (9th: 238-0)
In the women's 3,000 m Steeplechase, Winfred Yavi won the first heat in 9:10.80, with American Emma Coburn an auto-qualifier in third (9:16.91). U.S. record-holder Courtney Frerichs led at the bell in heat two and won in 9:19.34, with world-record holder Beatrice Chepkoech (KEN) an auto-qualified third. Rio silver medalist Hyvin Kiyeng won heat three in 9:23.17, with American Val Constein qualifying for the final in fourth (9:24.31).
In the women's long jump, American Tara Davis auto-qualified for the final with her first jump of 6.85 m (22-5 3/4) in the first group; 2012 Olympic champ Brittney Reese – who failed to qualify for the final at the 2019 Worlds – got to 6.86 m (22-6 1/4) to auto-qualify on her second try. Serbia's Ivana Spanovic was the qualifying leader at an impressive 7.00 m (22-11 3/4), ahead of German favorite Malaika Mihambo (6.98 m/22-10 3/4). The third American, Quanesha Burks, finished 13th (6.56 m/21-6 1/4) and missed the final spot by a couple of inches.
In the men's 400 m, the heat winners included Isaac Makwala (BOT: 44.86), Mazen Al Yassin (KSA: 45.16), American Michael Cherry (44.82, fastest of the day), Anthony Zambrano (COL: 44.87), Steven Gardiner (BAH: 45.05) and Liemarvin Bonevacia (NED: 44.95). Michael Norman of the U.S. (45.35) was second in heat six and qualified; defending Olympic champ Wayde van Niekerk (RSA) was third in heat four (45.25), but advanced. Randolph Ross of the U.S. was fourth in the second heat in 45.67 and did not advance as a time qualifier. "That was terrible," he said afterwards; he'll be needed later in the relay.
In the evening session, qualifying continued in the men's 800 m, with Ferguson Rotich again running hard to lead all finishers at 1:44.04, ahead of Amel Tuka (BIH: 1:44.53). Australia's Peter Bol won semi two in a national record 1:44.11, just ahead of American Clayton Murphy in 1:44.18. Poland's Patryk Dobek won semi one in 1:44.60, ahead of Kenyan Emmanuel Korir (1:44.74).
There was a bad crash in the third semi, with American Isaiah Jewett getting clipped from behind by Nigel Amos (BOT) with less than 200 m to go and sitting in third and fourth place, ready to make a push to qualify. They went down in a heap, but got to their feet and walked through the finish together. Good sportsmanship, but very bad luck.
Not qualifying were American Bryce Hoppel and Britain's Elliot Giles; it took 1:44.74 to get to the medal round.
In the 400 m hurdles semis, the four medal candidates qualified easily, Karsten Warholm (NOR) won semi one over Rai Benjamin (USA), 47.30-47.37, and Alison dos Santos (BRA) took semi two in 47.31 – another national record – over Abderrahman Samba (QAT: 47.47). Americans Kenny Selmon (48.58) and David Kendziera (48.67) ran well, but finished 10th and 12th. But Benjamin may have won this round, as he will be in lane five for the final, inside of Warholm in six, dos Santos in seven and Samba in eight!
● Team/Beach Volleyball: In the men's playoffs, American Nick Lucena and Phil Dalhausser lost to the hot Qatar pair of Cherif Younousse and Ahmed Tijan, 21-14, 19-21, 11-15 and were eliminated. The other U.S. pair, Jake Gibb and Tri Bourne, play on Monday.
In the women's playoffs, Kelly Claes and Sarah Sponcil were eliminated by Heather Bansley and Brandie Wilkerson (CAN) in a tight match by 24-22, 18-21, 13-15. The Canadians move on to the quarters; the top-ranked U.S. pair of April Ross and Alix Klineman play tomorrow.
● Team/Volleyball: The U.S. men's team was edged by Argentina in straight sets – 25-21, 25-23, 25-23 – and eliminated from the playoff round. The U.S. (2-3) ended up fifth in Pool B behind Russia (4-1), Brazil (4-1), Argentina (3-2) and France (2-3). The French advanced on a better sets won-lost total of 10-10 vs. 8-10 for the Americans.
● Team/Water Polo: The U.S. women ended up as the winners of Group B as Hungary lost to China, 11-9, in its final group game. The U.S. will play Canada in the quarterfinals on Tuesday.
= PREVIEWS: MONDAY, 2 AUGUST =
(22 events across nine sports)
● Athletics: Men's 3,000 m Steeple-Long Jump
Kenyans have won nine straight Olympic Steeple golds, but none of those runners will be on the line in Tokyo.
The favorites are Morocco's 2019 World Champion, Soufiane El Bakkali, no. 3 in the world this year at 8:08.54 and the only man in the field with a lifetime best under 8 :00 (7:58.15). He has speed, experience and is an excellent tactician.
Less experienced, but just as talented are Ethiopia's Lemecha Girma, the world leader at 8:07.75 and Getnet Wale, , who has run 8:09.47 this year. There are Kenyan possibilities: Abraham Kibiwot, no. 2 on the world list at 8:07.81 and Benjamin Kigen, who ran 8:10.80 in qualifying.
The wild card is Japan's Ryuji Miura, who went crazy in the heats and lowered his best from 8:15.99 to 8:09.92.. Does he have more left? American Benard Keter is in the final, but is not expected to be a factor.
¶
The long jump final is a confused mess, mostly because of Cuba's Juan Miguel Echevarria. At his best, he threatens the world record. Or he can be an also-ran.
The world leader is Greek Miltiadis Tentoglu, who jumped an amazing 8.60 m (28-2 3/4) in May. Echevarria, who has reached 8.68 m (28-5 3/4) in 2018, had been fairly quiet in 2021 until he erupted in qualifying at 8.50 m (27-10 3/4). Echevarria was the World Indoor Champion in 2018 and the Worlds bronze medalist in 2019.
Then comes American JuVaughn Harrison. The SEC, NCAA and Olympic Trials champs, he has jumps of 8.44 m (27-8 1/4) in May and 8.47 m (27-9 1/2) to win the Trials. He might be the most consistent jumper in the field and a favorite for a medal.
There are other contenders, especially World Champion Tajay Gayle of Jamaica, who jumped 8.69 m/28-6 1/4) to win in Doha in 2019; he's done 8.29 m (27-2 1/4) this year. Add to the list of contenders: Cuba's Maykel Masso (8.39 m/27-6 1/2) this year and Japan's Yuki Hashioka (8.36 m/27-5 1/4) this year.
● Athletics: Women's 5,000 m-100 m hurdles-Discus
Hassan or Obiri or an Ethiopian?
Dutch star Sifan Hassan is in the first leg of what might be an Olympic triple of the 1,500-5,000-10,000 m; she's the reigning World Champion at 1,500 and 10,000 m. But she has an enormous challenge in reigning two-time World Champion – and returning Rio silver medalist – Hellen Obiri of Kenya and the three Ethiopians at the top of the 2021 world list: Gudaf Tsegay (14:13.32), Ejgayehu Taye (14:14.09) and Senbere Teferi (14:15.24).
Add in Kenya's Agnes Tirop (14:20.68 lifetime best) and Hassan will need all her tactical skills to even get a medal. But she can do it, if her fitness is as advertised. She set a then-world record of 29:06.82 in the 10,000 m in June.
Americans Karissa Schweizer and Elise Cranny are in the final, but are not expected to be in the medal hunt.
¶
In the 100 m hurdles, the U.S. swept this event in 2016, but none of the medalists are back for Tokyo. The best all year has been Puerto Rico's Jasmine Camacho-Quinn, the world leader at 12.32 coming in and the semi-final leader at 12.26 – an Olympic Record – moving to equal-fourth on the all-time list.
Jamaica's Britney Anderson ran a lifetime best of 12.40 to win semi two ahead of world-record holder Keni Harrison (USA: 12.51) and Megan Tapper (JAM: 12.62). Tobi Amusan (NGR) won the first semi in 12.62. American Gabbi Cunningham (12.67) was the final time qualifier.
Camacho-Quinn looks unbeatable, but if Harrison is right and gets off to a good start, she can really press her for the gold. Anderson, Amusan and even Tapper are strong contenders for medals; who can keep their form under pressure?
¶
The women's discus should be about Croatia's Sandra Perkovic trying to become the first three-time winner of the event in Olympic history. But the 2012-16 gold medalist and two-time World Champion ranks only third on the year list for performers in the final.
American Valarie Allman, the American Record holder at 70.15 m (230-2) in 2020, won the Olympic Trials in 70.01 m (229-8) and has impressed all year. If she reaches that standard, she's an almost sure winner.
Cuba's Yaime Perez, the 2019 World Champion, has thrown 68.99 m (226-4) in 2021 and Perkovic, 68.31 m (224-1). Who can break up these three?
The best candidates are 2021 national-record-setters Shadae Lawrence (JAM: 67.05 m/219-11), Kamalpreet Kaur (IND: 66.59 m/218-5) and Liliana Ca (POR: 66.40 m/217-10).
● Badminton: Men's Singles
The men's Singles final will be a re-match of a 2016 Rio semifinal between China's defending gold medalist Long Chen and Dane Viktor Axelsen.
Chen won that match by 21-14, 21-15 and went on to a straight-set win to take the Olympic title, moving up from third in 2012. He's also the 2014-15 World Champion.
Axelsen defeated Guatemala's Kevin Cordon in the semifinals, 21-18, 21-11 and through his five matches in Tokyo, has not lost a set: 10-0. That includes an impressive, straight-set win over Yuqi Shi (CHN) in the quarters.
Chen had to get by Indonesia's Anthony Sinisuka Ginting in the semis, but has dropped a couple of sets during the Olympic tournament. He is trying to win China's fourth straight gold in this event.
Cordon and Ginting will play for the bronze; Guatemala has never won an Olympic medal in this sport.
● Badminton: Women's Doubles
China has won five of seven Olympic golds in the history of this event and will go for no. 6 as second-seeded Qingchen Chen and Yifan Jia face Greysia Polii and Apriyani Rahayu (INA).
Chen and Jia were the 2017 World Champions and the 2018 Asian Games winners; Polii and Rahayu have won two Worlds bronze medals as partners, in 2018 and 2019 and bronze at the 2018 Asian Games. The Chinese are clear favorites, but the Indonesians are clearly capable.
The bronze-medal match is an all-Korean match between Sohee Lee and Seungchan Shin and Soyeong Kim and Heeyong Kong (KOR).
● Cycling: Track Women's Team Sprint
The track cycling program in Tokyo gets going with the Team Sprint, being held for the third time.
China won in 2016 with Tianshi Zhong and Jinjie Gong, and Zhong is back with new partner Shanju Bao. The Russian runner-up pair of Daria Shmeleva and Anastasiia Voinova are back in force and were the 2019 Worlds silver-medal winners.
Germany won the Worlds bronze over Mexico in 2019 and Emma Hinze is back for the Germans, now teamed with Lea Sophie Friedrich. Half of the Mexican team is here: Yuli Verdugo, with new partner Luz Gaxiola.
Also in contention: Lithuania (Marozaite and Krupeckaite) and the Dutch (Braspennincx and van Riessen), from whom much will be heard at the velodrome.
● Equestrian: Team Eventing-Individual Eventing
These events are already tinged with sadness after an injury to Jet Set, ridden by Robin Godel (SUI). The horse pulled up lame after clearing a fence, and according to an FEI statement:
"The horse received immediate veterinary attention at the fence and, after an initial assessment, was transferred by horse ambulance to the onsite veterinary clinic.
"Sadly, ultrasound scans revealed an irreparable ligament rupture in the lower right limb, just above the hoof, and on humane grounds and with the agreement of the owners and athlete, the decision was taken to put the horse to sleep."
It's a shocker to the equestrian community and a post mortem will be conducted.
The Eventing program began on Sunday with Great Britain – the 2018 World Equestrian Games winners – leading at 78.30, followed by Australia (96.20), France (97.10) and New Zealand (140.00).
France is the defending Olympic champion, with Australia third; the French were third at the World Equestrian Games as well.
The top individuals after the Cross Country round were Britain's Oliver Townend (23.60), Germany's Julia Krajewski (25.60) and Laura Collett (GBR: 25,80). Seven riders scored sub-30.00.
German Michael Jung, the two-time Olympic champ from 2012-16 sits 10th (32.10), American Philip Dutton – the Rio bronze winner – is 17th (35.30).
● Gymnastics: Men's Rings-Vault
The second set of apparatus finals starts with the Rings, with defending champion Eleftherios Petrounias (GRE) – the "King of the Rings" – leading the qualifying. He scored 15.333, just better than the 15.300 from Yang Liu (CHN) and 15.066 from France's Samir Ait Said.
Petrounias won world titles in 2015, 2017 and 2018, but in 2019, he finished out of the medals and Turkey's Ibrahim Colak won (14.933) and Ait Said was third (14.800), ahead of Petrounias.
The 2012 gold medalist, Arthur Zanetti, 31, of Brazil is back in the final; he was fifth in the qualifying at 14.900, won a Worlds silver as recently as 2018 and was fifth in the 2019 Worlds. Russian Denis Ablyazin won the Rio bronze, won the 2017 Worlds silver on Rings and was sixth in 2019.
Liu was fourth in Rio and won the world title way back in 2014; he won bronzes in the event in 2015 and 2017.
It's going to be tight, but Petrounias can become only the third two-time Olympic champion in this event.
¶
The Vault leaders in qualifying were Korea's Jeah-Wan Shin and Armenian vet Artur Davtyan at 14.866, followed by Russia's Nikita Nagornyy at 14.783.
Shin is a relative unknown, with a couple of 2020 wins in the FIG World Cup series. Davtyan is in his third Olympics and was 11th in this event in Rio and seventh in the 2018 Worlds. They are both a surprise.
Nagornyy won this event at the 2019 World Championships and is a nominal favorite this time based on his experience. His teammate, Ablyazin, won Olympic silvers in this event in London and Rio, but scored only 14.733 in qualifying for fifth place.
Medals from Turkey's Adem Asil, Brazil's Caio Souza or Carlos Yulo of the Philippines would rate as surprises.
● Gymnastics: Women's Floor Exercise
Simone Biles opted out of this event, eliminating the reigning Olympic Champion and World Champion.
However, she did not lead the qualifying in Tokyo. That was Vanessa Ferrari (ITA) at 14.166, followed by Biles, the American Jade Carey (14.100) and Brazil's Rebeca Andrade (14.066). Russia's Angelina Melnikova qualified seventh, but was the 2019 Worlds bronze medalist in this event.
Because of Biles' exit, the British sisters Jessica and Jennifer Gadirova will be competing; they were fifth and ninth in the qualifying. And although only eighth in the qualifying, Japan's Mai Murakami was the 2018 Worlds bronze winner on Floor.
This is the fourth Olympic Games for Ferrari, 30, who finished fourth on Floor at both London and Rio. This is her chance for a medal, or even for an upset win as Carey, Andrade and Melnikova are probably the medal favorites. Italy has never won an Olympic Floor Exercise medal.
● Sailing: Men's 49er-Women's 49er FX
The medal race will be needed to untangle as many as seven candidates for the medals, spread out from 52 to 75 net points.
The leaders and real contenders for the gold medal are Peter Burling and Blair Tuke from New Zealand (52), Dylan Fletcher and Stuart Bithell (GBR: 56) and Diego Botin le Chever and Iago Lopez from Spain (52).
Burley and Tuke won silver in London and gold in Rio, and have six placements in the top three in the first 12 races. Fletcher and Bithell won the 2017 Worlds and Botin and Lopez were ninth in Rio. Any of the three could end up on top of the podium.
Further back at 66 net points are Germany's Erik Heil and Thomas Ploessel – the 2016 bronze medalists – and Danes Jonas Warrier and Jakob Jensen, with an outside chance to get to the medals if one of the three falters in the medal race.
¶
The women's 49er FX race is even closer than the men's! Defending Olympic champs Martine Grael and Kahena Kunze (BRA) are locked up with 2018 Worlds gold medalists Annemiek Bekkering and Annette Duetz of the Netherlands, at 70 points each.
Germany's Tina Lutz and Susann Beuke are third at 73, Tamara Echegoyen and Paula Barcelo (ESP: 77) are fourth and Charlotte Dobson and Saskia Tidey (GBR: 81) are fifth and there are five more under 100 net points.
Echegoyen was fourth in Rio with a different partner; Dobson was eighth, also with a different partner, so both have plenty of experience.
In Tokyo, both the Brazilians and Dutch have two wins apiece and three top-3 finishes. Lutz and Beucke have been very consistent: four third places, but no finish worse than 13th. Dobson and Tidey have six top-5 finishes, but had a bad patch in the middle, with finishes of 16-13-14-15 to put them outside the medals for now.
Too close to call.
● Shooting: Men's 25 m Rapid-Fire Pistol-50 m Rifle/3 Positions
The entire podium from Rio is back: Germany's Christian Reitz (gold), France's Jean Quiquampoix (silver) and China's Yuehong Li (bronze). And from the 2018 World Championships, gold medalist Junmin Lin and bronze-medal winner Quiquampoix.
Reitz will be going for his third Olympic medal, after winning a bronze in 2008. Add in 2012 Olympic gold winner Leuris Pupo of Cuba and it's a little surprising to find France's Clement Bessaguet at the top of the qualifying leaderboard after the first of two stages.
Quiquampoix and Reitz were 2-3 and are still the favorites; they went 1-2 at the ISSF World Cup in June, showing that they are still at the top of their game.
In the 50 m Rifle/3 Positions , Russian veteran Sergey Kamenskiy, 33, was the Rio silver-medal winner and already has a Tokyo bronze from the Mixed 10 m Air Rifle event. He was part of the Russian World Championships team winners in 2018 and won silver in the individual event in the 2014 Worlds and got a silver in the ISSF World Cup in June. Consistency counts in shooting, so make him the first among equals going in.
The 2018 World Champion, Poland's Tomasz Bartnik and silver medalist, Petar Gorsa (CRO) are also in and expect to contend for medals. But in Tokyo, the medal winners from this year's ISSF World Cups have done well and all six medal winners are on the starting line: Aishwary Tomar (IND), Istvan Peni (HUN) and Steffen Olsen (DEN) from the first competition in March, and Serhiy Kulish (UKR), Kamenskiy and Patrik Jany (SVK) from the event in Croatia in June. Will the medals come from three of those six?
● Weightlifting: Women's 87 kg-+87 kg
China's Zhouyu Wang enters as the 87 kg favorite after winning the 2019 World Championships at 278 kg, clear of the field by nine kg.
Worlds bronze medalist Tamara Salazar (ECU: 252 kg) is back as are fourth-place Maria Valdes (CHI), fifth-place Naryury Perez of Venezuela and eighth-place Elena Cilcic (MDA).
The wild card is American Mattie Rogers, who won Worlds silvers at 69 kg in 2017 and at 71 kg in 2019. She has moved up in weight and believes she can be a factor. But perhaps for silver or bronze; Wang is the clear favorite for gold.
At +87 kg, the showdown will also be for silver and bronze as China has world-record holder Wenwen Li, the 2019 World Champion.
The nos. 6-7-9 finishers from 2019 are also back: Laurel Hubbard (NZL), Rio bronze medalist Sarah Robles of the U.S. and Emily Campbell (GBR). Robles won her Rio bronze at +75 kg, the highest class then available and she was memorably the 2017 World Champion at +90 kg.
Hubbard is a transgender – a first for the Games – who has followed the relevant International Olympic Committee and International Weightlifting Federation rules on the reduction of testosterone levels. Hubbard won the Worlds silver behind Robles in 2017, the first year of international competition after transitioning in 2012.
Hubbard's presence has further heightened controversy over transgenders in the women's category and there will be more discussion concerning regulations in the coming year. None of this, however, will concern Li.
● Wrestling: Greco-Roman 60 kg-130 kg
The Bantamweight final pits Japan's two-time World Champion Kenichiro Fumita against surprise finalist, Cuban Luis Orta.
Fumita is the reigning Worlds winner from 2017 and 2019 and a two-time Asian Championships winner as well. Orta was 16th in the 2019 Worlds at this weight, but won Pan American Championships in 2019 and 2020. He's following Cuban star Ismael Borrero, who won this class in Rio; can he bring a second straight gold to Cuba? It would be an upset.
The bronze-medal match-ups will have Lenur Temirov (UKR) and Victor Ciobanu (ROU) facing opponents coming through the repechage process. One of those still wrestling is American Ildar Hafizov, matched against Russia's 2018 World Champion Sergey Emelin for the right to get to the bronze match.
At 130 kg, the heaviest class in all of wrestling, the amazing Mijain Lopez of Cuba will be trying for a fourth consecutive Olympic gold and Iakobi Kajaia of Georgia.
Lopez is in Al Oerter (discus) and Carl Lewis (long jump) territory, having defeated three different opponents in 2008-12-16 and now in 2020. Kajaia is no slouch, winning the 130 kg bronze at the 2019 Worlds and European Championships silvers in 2018-19.
Now 38, Lopez won his bouts by 9-0 and 8-0 in his first two rounds, then faced three-time defending World Champion Riza Kayaalp (TUR) in the semis and eked out a 2-0 victory.
Kayaalp and Yasmani Acosta of Chile will wrestle for bronzes, with Kayaalp looking for a third Olympic medal after bronze in 2012 and silver in 2016. Both will face wrestlers coming out of the repechage bracket.
● Wrestling: Women's Freestyle 76 kg
American Adeline Gray is one of the greatest women's wrestlers in history, winning World Championship golds in 2012-14-15-18-19, plus two more bronze medals. But she has been driven to return to the mat after her seventh-place finish at the 2016 Olympic Games in Rio.
She's into the final in Tokyo, assured of a medal, after pinning Zaineb Sghaier (TUN) in 2:11, out-pointing 2017 World Champion Yasemin Adar (TUR), 6-4, and then out-lasted Aiperi Medet Kyzy (KGZ), 3-2.
Gray will meet Aline Rotter Focken (GER) in the final. She won a 3-1 decision over Japan's Hiroe Minagawa and with that win, becomes Germany's first women's freestyle Olympic medalist.
The bronze-medal matches will have Minagawa and Medet Kyzy facing opponents coming through the repechage bracket.
= INTEL REPORT =
There has been a lot of attention to protests in Tokyo, but the U.S. men's Epee fencing team pulled off one of the strangest yet, against one of its own members.
In the opening match of the men's Team Epee event on the 30th (Friday), Jake Hoyle, Curtis McDowald and Yeisser Ramirez came out on the piste wearing pink masks as a protest against reserve fencer Alen Hadzic, who had a black mask.
Hadzic has been accused of sexual misconduct between 2013 and 2015 by three women, denied the allegations, but was suspended by the U.S. Center for SafeSport, set up by the U.S. Congress to police such matters in Olympic sports in the U.S. But Hadzic was reinstated in an arbitration hearing which is available as an appeal for those suspended.
NPR reported that USA Fencing, which disagreed with the arbitration result, made special arrangements:
"Hadzic was prohibited from staying in the Olympic Village. Instead, he's been staying at a hotel nearby. He also was forced to travel to Tokyo separately from his teammates and forbidden from practicing with female teammates."
Hadzic filed another arbitration appeal to these conditions, but was denied after a hearing on 22 July, the day before the Opening Ceremony. The U.S. lost in the opening match to Japan, 45-38.
¶
Contractor positives continue to plague the Tokyo 2020 organizers, who announced 18 positive tests for Covid-19 on 1 August, 11 of which were from contractor personnel.
The grand total of Olympic-related positives is up to 259, of which 135 (52%) are contractors, 77 are "Games-concerned personnel" (30%), 24 are athletes, 12 media and 11 Tokyo 2020 staff and volunteers.
The testing report by stakeholder group through 30 July:
● Athletes and team officials: 30 positives in 191,207 tests (0.02%).
● Media/Tokyo 2020 staff: 55 positives in 222,493 tests (0.02%).
The U.S. Olympic & Paralympic Committee reported no positives among 1,148 U.S. personnel in Tokyo on 31 July. Prior results: 1 in 1,038 athletes and officials on 24 July; 0 of 1,144 on 25 July, 0 of 1,172 delegates on 26 July, 0 of 1,175 on 27 July, 0 of 1,214 for 28 July, 1 in 1,174 on 29 July and 0 of 1,174 on 30 July.
¶
Outside of Tokyo, the UCI World Tour and UCI Women's World Tour have resumed, with American Neilson Powless winning the Donostia San Sebastian Klasikoa on the 31st in 5:34:41 over a hilly 23.5 km course. It's a breakthrough win for Powless, 24, who out-sprinted Slovenian star Matej Mohoric and two others for his first international win!
In the women's San Sebastian Klasikoa (139.8 km), Dutch star Annemiek van Vleuten kept on motoring – so to speak – racing away in the final 9 km to win over American Ruth Winder (+0:36) and Tatiana Guderzo (ITA: +1:35).
You can receive our exclusive TSX Report by e-mail by clicking here. You can also refer a friend by clicking here, and can donate here to keep this site going.
For our 649-event International Sports Calendar for 2021 and beyond, by date and by sport, click here!