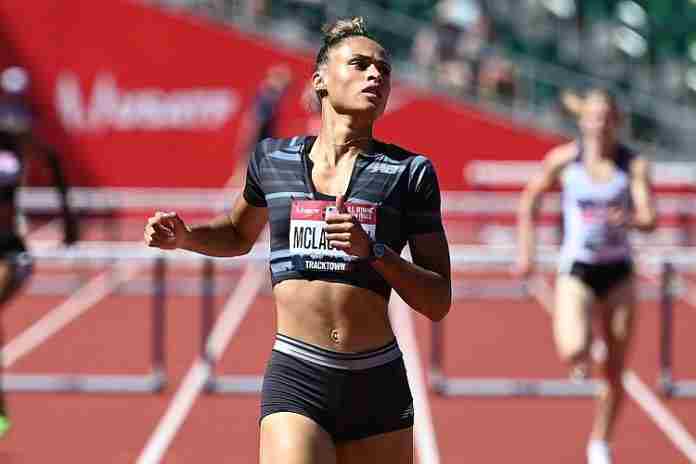 (★ Friends: Wow! Now 60 donors have stepped up to help cover our current tech support bill. If you would like to join, please donate here. So, so grateful for the support of our readers. Thank you. ★)
The latest news, notes and quotes from the worldwide Five-Ring Circus:
● Athletes and Mental Health ● A poignant, stunning, tear-filled video by double Olympic gold medalist Sydney McLaughlin has exploded on Instagram over the past two months, with more than 1.03 million views so far.
Recorded in her car on 30 June, three days after running a world record 51.90 in the women's 400 m hurdles at the U.S. Olympic Trials, the video runs 10:51 with McLaughlin expressing despair over the aftermath of her performance. Excerpts:
"A lot of the people around me did not respond the way I thought they would. … In a moment like that where – these are moments you remember for a lifetime, these are opportunities you don't get every single day – I felt like the people I thought would be the most excited for me literally almost didn't even care. …
"It hurts. I'm still hurt to this point, just not understanding like when it's going to be enough for a lot of people. I've worked really hard and been very cautious of how I carry myself, of the things that I post because I want to glorify God and I want to be a good example to people. But our world only accepts ignorance and it hurts my feelings and I find it really disrespectful that you can do everything right and it will never be enough. There's still always a problem with you. …
"People really think that I'm standing here today because of my followers or because of how I look. It blows my mind. People who have been my teammates, who watched me die every day at practice believe I'm standing here today because I have followers. Because I'm light-skinned.
"I can't control what color my skin is. I can't control who presses the follow button. But I can control what I do on that track and that's the thing that doesn't get the respect and it blows my mind."
McLaughlin has 1.075 million Instagram followers and more than 158,000 followers on Twitter. She has received many supporting comments on both sites from fans since the video was posted and she was brilliant in Tokyo, setting another world mark at 51.46 (!) and running the lead-off leg on the gold-medal-winning U.S. women's 4×400 m team.
As Shakespeare put it, "Uneasy lies the head that wears a crown." Said McLaughlin a little later in the video:
"Even in success, there can be pain. Even in triumph, there can be tribulations. But how you respond, and the lens in which you view those situations provides an opportunity for growth and change."
● XVI Paralympic Games: Tokyo 2020 ● The Tokyo Paralympic Games opened on Tuesday in a spectator-free Olympic Stadium. Kyodo News reported that "three Japanese athletes in wheelchairs – boccia player Shunsuke Uchida, powerlifter Karin Morisaki and wheelchair tennis player Yui Kamiji – carried the Paralympic flame on the final leg of the torch relay before igniting the sphere-shaped cauldron, fueled by hydrogen and using the sun as a motif, inside the stadium."
While two athletes from Afghanistan had been expected to compete in Tokyo, International Paralympic Committee chief Andrew Parsons (BRA) said "we don't have a way to bring the Afghani athletes to Tokyo in a safe way for them, in a way that will preserve their safety." They were reported to have left their home country and are now safe in Australia.
The International Paralympic Committee had the Afghanistan flag marched into the stadium as a show of "solidarity" with the Afghan people, and had asked a representative of the Office of the U.N. High Commissioner for Refugees to carry it. However, the agency declined, saying it was a "neutral organization" and a Tokyo 2020 volunteer carried it in instead.
The ceremony did well on television in Japan, with preliminary figures showing 23.8% viewership across the country. A record total of 4,403 athletes are expected to compete, fairly amazing amid the pandemic. The Games will continue through 5 September.
● XXIV Olympic Winter Games: Beijing 2022 ● The continuing impact of the coronavirus in China was underlined as the International Federation of Sport Climbing announced:
"The IFSC Lead and Speed World Cup in Xiamen from 15 to 17 October, and the IFSC Boulder and Speed World Cup in Wujiang from 22 to 24 October, will no longer take place."
All of this continues to point to a potentially spectator-free Games in Beijing, and perhaps even heavier anti-Covid protocols than seen in Tokyo.
● Pan American Games ● The Around The Rings site reported that Barranquilla in Colombia will be announced on Friday as the site for the 2027 Pan American Games. This will follow November's hosting of the first Junior Pan American Games in Cali, which will allow spectators at 50% capacities, provided they are vaccinated and wear masks.
This will be the second time for Colombia to host the PAG; Cali was the site of the Pan Ams in 1971.
● Athletics ● Last Saturday's Prefontaine Classic did quite well on NBC, with 1.177 million viewers tuning in for the 90-minute show starting at 4:30 p.m. Eastern time. It was behind ABC's broadcast of the Little League World Series (1.252 million) and the NFL Network's pre-season Jets vs. Packers game that drew an audience of 1.775 million.
¶
The Wanda Diamond League continues on Thursday in the Olympic capital of Lausanne, Switzerland with the annual Athletissima meet, with a full house of 12,200 fans expected.
Competitors with a combined 19 Tokyo golds are anticipated, headlined by 2021 world-record setters Karsten Warholm (NOR: men's 400 m hurdles), Mondo Duplantis (SWE: men's pole vault), Ryan Crouser of the U.S. (men's shot) and Yulimar Rojas (VEN: women's triple jump). Tokyo stars Elaine Thompson-Herah (JAM) and Jakob Ingebrigtsen (NOR) are also expected to compete; Thompson will be in the women's 100 m along with teammates and medalists Shelly-Ann Fraser-Pryce and Shericka Jackson.
NBCSN will televise the meet live in the U.S. beginning at 2 p.m. Eastern time.
¶
Is it the shoes? Maybe not. Legendary British statistician Richard Hymans compared the 100th-best time in the world as of 22 August in the latest issue of the Athletics International newsletter in the men's 800-1,500-Steeple-5,000-10,000 m and found only negligible improvements this year against the 100th-best marks from 2016-19.
Consider: the 100th-best 800 m in 2021 is just 0.30% faster than in 2017; the 1,500 is 0.47% faster (vs. 2017); the Steeple is 0.38% faster (2017), the 5,000 is 0.01% slower than 2016 and the 10,000 is 0.47% faster than 2016. AI Editor Peter Matthews suggests it's the effect of having the Olympic Games in 2021.
¶
The U.S. Women's Decathlon Association's "national championship" was held last weekend at the College of San Mateo in California, with Jordan Gray upping the American Record to 8,246 points, moving to no. 2 on the all-time list. She is only the third to top 8,000 points and the first American.
She ran the 100 m in 11.86w, and also cleared 12-10 in the vault and threw the discus 130-8. Second in the six-competitor field was Corinn Brewer of Greensburg (Pa.) Central Catholic H.S. at 5,698w, the highest-ever high school score.
The group continues to lobby for the decathlon to replace the women's heptathlon, currently contested worldwide.
● Cycling ● It appeared that about the only thing that was going to knock Slovenia's Primoz Roglic from the top of the Vuelta a Espana leaderboard was if he fell off his bike. He did.
Roglic attacked with about 13 km to go on Tuesday's 10th stage, then skidded out and fell while taking a corner with too much speed. He got back up right away, but finished 37th, 11:49 behind winner Michael Storer (AUS), who won his second stage with a solo attack 19 km out.
That gave the race lead to Denmark's Odd Christian Eiking, who was fifth, 22 seconds behind Storer. Roglic ended up third overall, 2:17 behind.
On Wednesday's hilly stage, Roglic punched back, winning a final sprint against Spanish rival Enric Mas, with Eiking only 11 seconds back. So Roglic's deficit is now 1:56 with 10 stages left and lots of climbing to go. France's Guillaume Martin is second, 0:58 back.
● Football ● Good news: the Afghanistan national women's team was evacuated on a flight from Kabul on Tuesday with help from Australia. The team was formed in 2007 as an act of political defiance against the Taliban.
¶
"The United States Department of Justice has awarded the sum of USD 201 million to the FIFA Foundation as compensation for the losses suffered by FIFA, Concacaf and CONMEBOL as victims of decades of football corruption schemes. This money was seized from the bank accounts of former officials who were involved in, and then prosecuted for, years of corruption schemes in football."
Announced by FIFA on Tuesday, the money will go to the new World Football Remission Fund, a unit of the FIFA Foundation, an independent entity. Community and youth programs are expected to be the focus of these funds, especially in the Americas, where much of the related criminal activity took place.
¶
A British government study of Covid infections from large events found that the Euro 2020 tournament games at Wembley Stadium led to 9,402 infections, with almost half from the England-Italy final.
Three group-stage games were played at Wembley on 13-18-22 June, all with limited attendance around 20,000. There were two Round of 16 games – with England-Germany drawing 41,973 – and then a semi with 57,811 and the final with 67,173 and thousands outside. The report stated:
"The Euro 2020 tournament and England's progress to the Euro final generated a significant risk to public health across the UK even when England played overseas. This risk arose not just from individuals attending the event itself, but included activities undertaken during travel and associated social activities."
By contrast, only 881 total cases were reported from more than 300,000 attendees at the Wimbledon Championships. The study noted: "Research teams present at each of these events have verbally reported stark differences in crowd and spectator behaviour." No kidding, really?
● Ice Hockey ● At the IIHF Women's World Championship in Calgary, Canada, the U.S. shut down the Russian Olympic Committee, 6-0, to move to 3-0 in group play with one more game left against equally-undefeated Canada on the 26th.
This was the third straight U.S. shutout, this time with Alex Cavallini in goal. Hillary Knight scored the second U.S. goal to give her a career total of 45, the most ever by a single player in the IIHF Worlds. She shared the mark of 44 with former teammate Cammi Granato (1990-2005).
● Modern Pentathlon ● "The Union Internationale de Pentathlon Moderne (UIPM) has formed a 10-strong Riding Working Group to urgently address concerns about horse welfare in Modern Pentathlon. …
"[T]he group will review the Riding competition at the Tokyo 2020 Olympic Games and discuss a range of measures designed to prevent any repeat of the distressing scenes that occurred."
Unlike Equestrian, pentathletes use horses provided by the organizing committee and Saint Boy refused to jump for 2017 World Champion Gulnaz Gubaydullina (RUS) or for Germany's Annika Schleu, the 2018 Worlds silver medalist. Schleu's coach, Kim Raisner, was disqualified from the Tokyo Games for hitting Saint Boy (reported after the Games to be fine); a UIPM disciplinary panel has been asked to review the incidents.
● Swimming ● FINA announced its 2021 World Cup schedule, consisting of four meets in 25 m (short-course) pools that will also act as time-qualification opportunities for December's World 25 m Championships.
The four legs will include Berlin (GER) and Budapest (HUN) on 1-3 October and 7-9 October, followed by Doha (QAT) and Kazan (RUS) 21-23 October and 28-30 October.
An impressive total of $1.452 million in prize money has been committed to athlete prize money, with $224,000 in individual meet payments and $556,000 for overall rankings at series end.
¶
The International Swimming League announced that CBS Sports will return as its U.S. television partner for its third season, which begins on Thursday (26th). Coverage will be provided on the CBS Sports Network and on CBS only for matches 2-3-5-9 in the regular season, match 12 in the playoffs and the ISL Final on 8 January 2022.
● Weightlifting ● The Olympic fate of the International Weightlifting Federation will be at stake during the IWF Constitutional Congress in Doha (QAT) from 28-31 August.
A draft constitution has been circulated, but the International Olympic Committee has repeatedly stated that the people who have been Board members while so many governance scandals have taken place must be replaced. USA Weightlifting chief Phil Andrews sent a letter to the Executive Board and all of IWF's national federations asking for the existing Board to resign and to add to the new Constitution measures which would eliminate them permanently from IWF elective roles. Wrote Andrews:
"Previously we have called upon leaders to voluntarily and publicly commit to not be part of the leadership going forward, [and] no leader has taken such an action.
"We believe these together with the proposed constitution significantly strengthen the case for our sport to be in the Olympic Games."
The outcome will be discussed by the IOC Executive Board on 8 September.
● The Last Word ● The Global Association of International Sports Federations (GAISF) announced Monday that it is accepting bids from potential hosts of the World Urban Games, World Combat Games and World Mind Games.
The first World Urban Games was held in Budapest (HUN) in 2019 and the second edition is expected for 2023. The third World Combat Games is scheduled to be held in Riyadh (KSA) in 2023; one version of the World Mind Games was held in 2008 (Beijing) and 2012 (Lille), but not since; a competing competition was held from 2011-14 in Beijing only.
You can receive our exclusive TSX Report by e-mail by clicking here. You can also refer a friend by clicking here, and can donate here to keep this site going.
For our 649-event International Sports Calendar for 2021 and beyond, by date and by sport, click here!