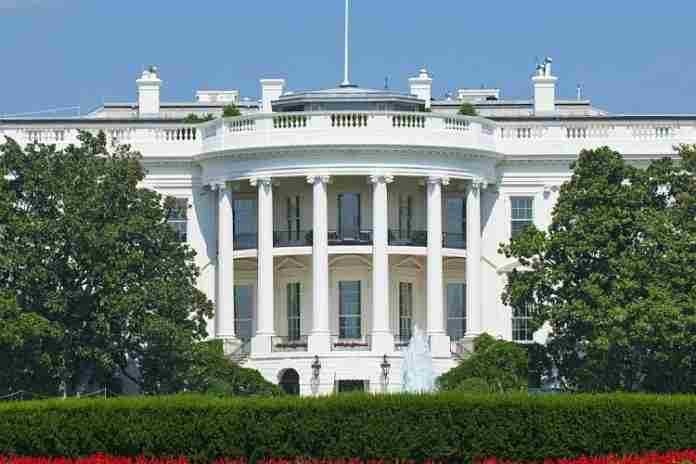 The latest news, notes and quotes from the worldwide Five-Ring Circus:
● U.S. Olympic & Paralympic Committee ● The "Empowering Olympic, Paralympic and Amateur Athletes Act of 2020″ – also known as S. 2330 – has been forwarded to the White House for signature, veto or inaction.
The bill was presented on Tuesday, 20 October, meaning it must be acted on within 10 days, excluding Sundays. That means the last day for action on the bill will be Saturday, 31 October.
If S. 2330 becomes law, the next action of note will be the appointment of a 16-person "Commission on the U.S. Olympics and Paralympics," which must complete a whirlwind effort and provide its findings and recommendations to the Congress by the end of July 2021.
The bill provides for four appointments each by the chair and ranking members of the:
House Energy and Commerce Committee:
● Frank Pallone (D-New Jersey)
● Greg Walden (R-Oregon)
Senate Commerce, Science & Transportation Committee:
● Roger Wicker (R-Mississippi)
● Maria Cantwell (D-Washington)
There is already considerable chatter among the Olympic intelligentsia in the U.S. about potential Commission members, possibly university presidents, corporate titans and all manner of political types. Half of the members must be "former Olympic or Paralympic athletes" and the others must be or have been an athlete, elite-level coach, professional advocate for minority participation in sports, public service related to sports, or sports administration and all are required to have "[e]xpertise in bullying prevention and the promotion of a healthy organizational culture."
This will be interesting.
● Wrestling ● "The health and safety of U.S. athletes, coaches and staff is always the No. 1 concern for USA Wrestling. After reviewing updated medical, scientific and government data, and providing an opportunity for athlete and stakeholder input, the Executive Committee concluded that it would not be in the best interest of all involved to organize a delegation to travel to and participate in the Senior World Championships in Serbia."
That statement, from USA Wrestling President (and four-time Olympic medalist) Bruce Baumgartner, was issued on Tuesday (20th) and concluded a multi-level discussion within the organization, described thus:
"USA Wrestling held a series of meetings with stakeholders and subject experts to fully discuss the issue of sending a U.S. team to the Senior Worlds and allow for input. Included were two meetings of the Executive Committee, as well as a USA Wrestling's Athlete Advisory Committee meeting. In addition, a survey was sent to 117 Senior athletes, including current National Team athletes and athletes who placed in the top eight at the 2020 Senior Nationals. The athlete survey collected data on whether athletes would attend or not attend the Senior Worlds under a variety of different possible conditions."
The statement also noted that some athletes asked to be able to compete individually and were willing to assume the risks. However, athletes can only enter the UWW Worlds with the permission of their national federation, and
"The Executive Committee carefully considered that sentiment, but decided that it was not in the best interest of USA Wrestling or any member of a World Championships delegation to put anyone's health and safety at risk under current conditions."
It's not clear that the World Championships – scheduled for 12-20 December in Serbia – will happen at all. Entries are due by 5 November and the United World Wrestling Board will meet on 6 November to confirm the event, or cancel it.
This is not the first time the U.S. has skipped the World Championships. In 2002, the U.S. did not participate as the event was held in Tehran, Iran and the safety of the U.S. team could not be assured.
A news conference was held via Zoom on Wednesday (21st) with Baumgartner, Dr. Bernard J. Feldman, Athlete Advisory Committee Chair Veronica Carlson and USAW Executive Director Rich Bender, which can be viewed here.
● Weightlifting ● The International Weightlifting Federation announced it has signed an agreement with the International Testing Agency to handle the federation's anti-doping activities through the end of 2024.
This was specifically requested by the International Olympic Committee's Executive Board and comes a day after the IWF was slammed by a report from the World Anti-Doping Agency for pro-doping actions during the last decade and more.
Interim IWF President Dr. Michael Irani (GBR) commented on the WADA report, saying
"The provisional outcomes of WADA's investigation into doping within weightlifting make for shocking reading. The IWF is firmly committed to empowering the ITA with the resources necessary for followup of any intelligence provided to it by WADA."
Irani may have been shocked, but he has also been a member of the IWF's Medical Committee since 1992, so he was hardly absent from the scene when the abuses noted in the WADA report were taking place.
¶
The WADA report raised an important issue regarding access to federation information, noting in its conclusion:
"While the I&I Department remains highly motivated to contribute to positive change to the sport of weightlifting, it is important to acknowledge the obvious impediments to detecting wrongdoing.
"More specifically, Professor McLaren's ability to access the IWF's internal records, correspondence and documents played a vital role. This kind of evidence would not have been otherwise accessible to WADA, including through its monitoring role of Anti-Doping Organizations' compliance.
"To this end, WADA has no legal power to compel the production of internal documents of the kind made accessible to Professor McLaren by the IWF's new leadership. WADA compliance audits, which enable WADA to identify an ADO's nonconformities with the World Anti-Doping Code and the International Standards and to require corrective actions, are not a vehicle by which WADA can discover entrenched and systemic wrongdoing as these audits are reliant upon the cooperation of the audited party. Only law enforcement or internally mandated investigations, like that conducted by Professor McLaren on behalf of the new IWF leadership, have the necessary power and means to discover such entrenched wrongdoing.
"To prevent a re-occurrence of the situation observed within the IWF, a discussion should be initiated whether WADA should be empowered to compel access to information of the kind uncovered by Professor McLaren under specific and strict conditions."
Translation: without the help of removed Interim President Ursula Papandrea (USA), who essentially forced the turnover of IWF physical and electronic records to the McLaren Sport Solutions team, the IWF cover-up could have continued in significant sections.
Watch for more regulations in these areas, already called for by WADA President Witold Banka (POL).
The International Olympic Committee's Executive Board posted a rare notice that acknowledged receipt of the WADA report, but no action. One of its next moves should be an award of the Olympic Order to Papandrea.
● Cycling ● The103rd Giro d'Italia is heading toward its final weekend, with a big shake-up at the top of the leader board.
Portugal's Joao Almeida maintained his lead through the 17th stage on Wednesday, a four-climb bruiser of 203 km that finished at the Madonna di Campiglio ski resort, with Australia's Ben O'Connor scoring his first career World Tour victory in a runaway.
But on Thursday's 18th stage, Almeida was broken on another four-climb meat grinder, this time up and over the Stelvio with an uphill finish at the Laghi di Cancano in the Italian Alps. The 207 kn stage was won by Australia's Jai Hindley, just ahead of Britain's Tao Geoghegan Hart, both of whom vaulted into overall contention.
By finishing fifth, even though he was 2:18 back, Dutch rider Wilco Kelderman took the overall lead and the famed Maglia Rosa jersey from Almeida, who had led for 15 straight stages, but finished seventh and 4:51 behind the leaders.
Kelderman edged ahead by just 12 seconds over Hindley and 15 seconds over Geoghegan Hart and those three are the contenders remaining. On Friday's flat 19th stage, Czech Josef Cerny was the winner over Victor Campenaerts (BEL) by 18 seconds, but with no change in the top three.
Saturday's 20th stage is another beast, with a triple climb in the last half of the 190 km route, finishing at the famed Sestriere ski resort. Normally that would be the decider, but the final stage into Milan on Sunday is a 15.7 km Individual Time Trial, which should favor Kelderman, but in this crazy year, who knows?
¶
The 75th Vuelta a Espana continues in its first week, with Marc Soler winning stage 2 from defending champion and race leader Primoz Roglic (SLO) and Ireland's Dan Martin and then Martin, Roglic and 2019 Giro d'Italia winner Richard Carapaz (ECU) taking top honors in stage 3.
On Friday, a sprinter's stage of 191.7 km finished downhill in Ejea de los Caballeros and was won by Ireland's Sam Bennett, just ahead of Belgium's Jasper Philipsen. The overall lead remains with Roglic, just five seconds ahead of Martin and 13 seconds up on Carapaz, with 17 stages left.
Saturday's stage is a hilly, triple climb from Huesca to Sabinanigo in northeast Spain of 184.4 km and then Sunday offers an uphill finish to Aramon Formigal in a short stage of 146.4 km.
¶
The 44th men's AG Driedaagse Brugge-DePanne was held on Wednesday over a flat, 188.6 km course, with a sweep for the home team, as Belgians Yves Lampaert, Tom Declercq and Tom Merlier took the medals. Lampaert won the race for the first time, finishing 21 seconds up on Declercq and 32 seconds ahead of Merlier.
● Athletics ● The newest ruckus in the sport came from a decision by the Athletics Integrity Unit's appeals forum, which voided the suspension of Bahraini 400 m star Salwa Eid Naser.
Naser had been suspended for four "whereabouts" failures between March 2019 and January 2020. The decision found that tests had been missed on 16 March 2019 (to be treated as if on 1 January 2019), on 12 March 2019 and on 24 January 2020. Because the 16 March 2019 test is considered to be as of 1 January of 2019, there are only two tests in a 12-month period and Naser's sanction was revoked.
What of the 12 April 2019 test, which the AIU also says Naser missed? This was the crux of the case, and the evidence showed that the Doping Control Officer went to the listed address for Naser in the doping-control system (ADAMS), but the address was incorrect. The Doping Control Officer looked around, tried to find Naser in another building (which was the correct one), but knocked on the wrong door, trying to find her. There was no telephone number provided.
The Doping Control Officer then tried to find Naser at the Bahraini National Stadium, but to no avail.
But despite all this, the arbitrators held that Naser should not be charged with a missed test, and therefore, avoids sanction. Amazing.
This decision can be appealed by the AIU to the Court of Arbitration for Sport. WADA chief – and former 400 m man himself – Banka tweeted:
"As it relates to Salwa Eid Naser and the World Athletics Disciplinary Tribunal decision on her case I am concerned. WADA will analyse it carefully and exercise its right to appeal if necessary."
Russian high jump superstar Mariya Laskitskene, in limbo while the Russian Federation is suspended, was furious, writing on Instagram:
"It turns out it is faster to break the rules by missing four doping tests and be freed than remain a hostage to being Russian for many years."
¶
Another formulation of the once-popular World Cup was announced by UK Athletics, to be held at the London Olympic Stadium on 14-15 July 2021.
It will feature a team competition with Great Britain, the United States, China, Germany, France, Jamaica, South Africa and Poland, with events up to 1,500 m only and a full schedule of field events.
● XXIV Olympic Winter Games: Beijing 2022 ● U.S. Senator Rick Scott (R-Florida) reiterated his request to remove the 2022 Winter Games from China in an essay that appeared in The Washington Post. Scott wrote in part:
"In a letter to IOC President Thomas Bach last October, I outlined the Chinese Communist Party's numerous human rights abuses, including attacks on free speech, detention of international journalists, the imprisonment of more than 1 million Uighurs (an ethnic and religious minority in Western China), the sinister surveillance of citizens and tyrannical actions against citizens of Hong Kong. Bach responded to me by saying the IOC must remain 'politically neutral.' Without referring specifically to Beijing, he doubled down on his stance against boycotts in a speech in July, criticizing the 'misuse of sport for political purposes.'
"Since I first wrote to the IOC, the human rights situation in China has only worsened. The Communist Party and Chinese President Xi Jinping have effectively eliminated the autonomy of Hong Kong, stripping the basic rights of free speech and free assembly from more than 7 million citizens. New reports confirm the Xi regime's forced abortions and forced sterilizations of Uighur women."
The issues cited are real enough, but the 2022 Winter Games will not be moved, especially since the only ready host is Salt Lake City, Utah; with the U.S. continuing to suffer through the coronavirus pandemic, moving the Games there is not a realistic possibility.
● Games of the XXXIII Olympiad: Paris 2024 ● While the IOC approved the request of the Paris 2024 organizers to hold the surfing competition in Tahiti, some of the locals there aren't so sure it's a good idea.
A Tuesday (20th) story on TheInteria.com noted the concerns of folks who now live in the Teahupo'o area that is designated to host the event:
"'We do not want our little piece of paradise to be devastated. We want to continue to live in harmony with Mother Nature,' says Tahurai Henry, a native of Teahupo'o and one of its longtime regular surfers. 'A part of me was proud when I heard Teahupo'o was selected for the Olympics Games but quickly, I was upset about the future [infrastructure] such an event requires.' …
"'We have a wonderful playground for our children and we don't want all of this to be touched. Our rivers are clean and we are afraid of a potential change because of these Olympics,' Henry says. 'It's us who live with it before and after for only a few days of competition.'"
Commented former IOC Marketing Director Michael Payne on Twitter:
"Now it begins. Still trying to understand how @Paris2024 bounced the IOC into making this decision. Surfing in Tahiti?"
¶
You can receive our exclusive TSX Report by e-mail by clicking here. You can also refer a friend by clicking here, and can donate here to keep this site going.
For our 526-event International Sports Calendar from October 2020 to June 2021, by date and by sport, click here!