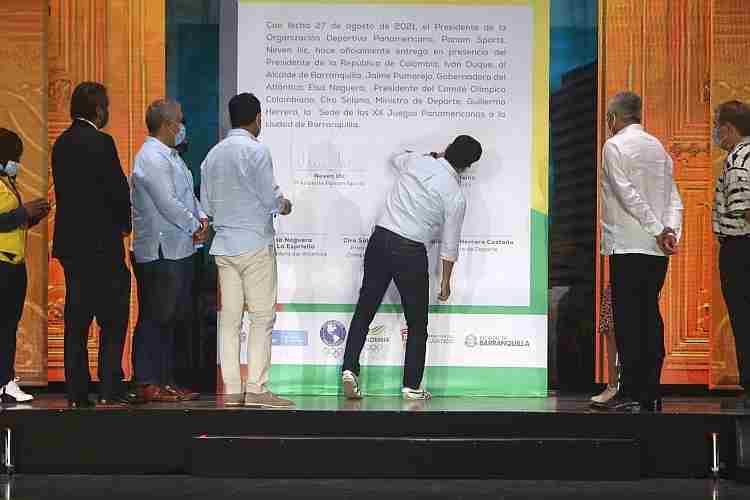 The latest news, notes and quotes from the worldwide Five-Ring Circus:
● XVI Paralympic Games: Tokyo 2020 ● The two Afghan athletes who finally made it to Tokyo to compete in the Paralympics have an offer to go Australia if they wish, but the choice is up to them.
They escaped from Afghanistan to Paris and remained there for about a week before being routed to Tokyo. Kyodo News reported that the Australian "Department of Home Affairs said by email on Tuesday that while the department cannot comment on individual cases, Australia has committed to take 3,000 Afghans initially under the country's humanitarian program."
Zakia Khudadadi competed in the women's Taekwondo K44-49 kg division on Thursday and lost both of her matches, by 17-12 in the round of 16 and 44-38 in the repechage quarterfinals. Hossain Rasouli was supposed to compete in the men's 100 m, but missed that event and was then allowed to enter the men's T47 long jump, where he finished 13th, jumping 4.46 m (14-7 3/4).
¶
If one of the measures of the growth of the Paralympics is social-media anger, then perhaps the Paralympic Movement is on the rise.
Malaysia's Muhammad Ziyad Zolkefli won the men's F20 shot put – he's the Paralympic record-holder in the event – but he, Australian Todd Hodgetts and Ecuador's Jordi Congo Villabia all showed up three minutes late for the event. They were allowed to compete under protest, but all three were disqualified after the meet referee determined that there was no justification for being late.
Ukraine's Maksym Koval and Oleksandr Yarovyi had finished 2-3, but were advanced to gold and silver, respectively. Then came what International Paralympic Committee spokesman Craig Spence (GBR) called "very abusive" comments "on all our social media posts that have nothing to do with the men's shot put F20 event." In specific, he noted that the Ukrainian Paralympic Committee "was getting a lot of abuse from Malaysians."
Spence added, "I'm sorry. Rules are rules. The decision was taken. It wasn't the Ukrainians fault that the Malaysian was late."
This is not the first time that the IPC has drawn anger from Malaysian fans. In 2019, the organization removed the World Para Swimming Championships from the country because it would not allow Israeli entrants. Said Spence, "The level of abuse that was directed at the IPC then was through the roof."
¶
The initially-positive television ratings report on NBC's first-ever primetime Paralympic Games program turned out to be premature.
Sunday's one-hour program at 7 p.m. Eastern was preliminarily reported as drawing 4.18 million viewers, competitive with CBS's "60 Minutes" (6.66 million) and an ABC re-run of "America's Funniest Home Videos" (4.69 million). But the final report showed that the Paralympics drew only 2,096,000 viewers compared to 6,754,000 for "60 Minutes" and 4,757,000 for ABC. NBC drew 5,063,000 for its Cleveland-Atlanta NFL football telecast that followed the Paralympics.
Further, the Paralympics coverage on NBCSN and Olympic Channel: Home of Team USA has drawn very little interest. SpoilerTV's daily listing of the top 150 shows on U.S. cable television during the Paralympic Games has not listed a single Games show, meaning audiences were likely less than 100,000 per program.
Has the general awareness level of the Paralympics been raised, through the postponement and a heightened sense of appreciation for the athletes? Yes, a case can be made for that. But as a commercial enterprise, it has not caught. (See below for more ratings news on Athletics and Swimming.)
● Games of the XXXII Olympiad: Tokyo 2020 ● Even the clean-up effort of the Tokyo Games is being scrutinized in Japan, where the Tokyo 2020 organizers apologized on Tuesday for having discarded "Hundreds of boxes full of unused coronavirus-related medical goods for the Tokyo Olympics, including gloves, gowns and masks, worth a total of 5 million yen ($45,000)."
Kyodo News reported that the supplies were thrown out for lack of storage space as four venues in the Tokyo area and five others in surrounding areas were closed down after the close of the Games. The organizers promised not to make the same error when closing down the Paralympics, which end on Sunday.
¶
Spicy comments on Twitter in the aftermath of the passing of former International Olympic Committee chief Dr. Jacques Rogge (BEL), who led the IOC from 2002-13.
One of his signature achievements was the introduction of the Youth Olympic Games, designed to appeal to a younger audience and first held in Singapore in 2010. Michael Payne (GBR), the IOC's first marketing director, worked with Rogge for four years, but left in 2004, wrote:
"The YOG was a failed strategy from outset & only kept going out of respect to Rogge – as his principal legacy. The objective get more kids engaged in sport correct – solution to problem totally wrong. YOG does not connect back to schools, expensive & does zero to grow youth sport"
Former Irish field hockey star Nikki Symmons replied:
"And the Olympics does what exactly except cost a country billions to host. At least YOG doesn't have to build hugely expensive stadia that turn into white elephants. If it is so wrong, what is your solution to get youth engaged in sport then?"
Payne:
"Ensure that sport is part of every school curriculum worldwide – learn to play / team spirit / values, as important as learning to read, write and count.
"YOG far more expensive than people realise & does nothing to grow youth interest in sport."
Former IOC Head of Youth Engagement, Learn and Share Philippe Furrer (SUI) shot back that "YOG more meaningful and life-changing than anyone can realise. Operated within 5 OG and 4 YOG and cannot count how many athletes and local kids could be inspowered [sic] by their YOG experience" but he acknowledged that more "work, education and passion" are needed.
To which Payne underscored his point:
"Fair points on YOG but I still stand by my original premise that the objective to re-engage the global youth community it is not delivering. Maybe solid impact in local host community & elite young athletes but there is a much bigger picture to play for here & global ROI"
Under current chief Thomas Bach (GER), the Youth Olympic Games has become a living laboratory, trying new concepts and sports such as a free, city-center Opening Ceremony in Buenos Aires in 2018 and break dancing, now to be an Olympic sport in 2024. The IOC will stage the 2026 YOG in Dakar, Senegal, the first large-scale IOC event to be held in Africa. Will Bach's successor feel as kind, now that Rogge has passed?
● Athletics ● The main session of Brussels' annual Memorial Van Damme – the penultimate stop on the Wanda Diamond League circuit for 2021 – will be held on Friday and televised live in the U.S. on NBCSN beginning at 2 p.m. Eastern time.
Tokyo winners expected to compete include Sifan Hassan (NED: women's 5000 m), Mondo Duplantis (SWE: men's vault) and Mariya Lasitskene (Russia: women's high jump). The sprints will include Americans Trayvon Bromell, Michael Norman and Tokyo silver winner Fred Kerley in the men's 100 m and Tokyo silver medalist Christine Mboma (NAM), 2019 World Champion Dina Asher-Smith, Tokyo 100 m bronze medalist Shericka Jackson (JAM) and American Sha'Carri Richardson, among others.
¶
The Diamond League stop in Paris on NBCSN (28th) drew an audience of 243,000 and a household rating of 0.12. That trailed Fox's MLS telecast of LAFC vs. the L.A. Galaxy at the same time, that drew 504,000 (0.28).
¶
The Court of Arbitration for Sport's 44-page opinion on the World Athletics vs. Shelby Houlihan (USA) doping case was released on Wednesday and confirmed her four-year suspension from 14 January 2021 to 13 January 2025.
Houlihan, now 28, was tested on 15 December 2020 and the sample came back positive for nandrolone, a prohibited steroid. She blamed the result on a contaminated burrito she bought from a food truck, containing pork offal instead of the beef she ordered.
The decision noted that even if true, Houlihan's test showed nandrolone levels of 6.9 and 7.8 ng/mL vs. normal levels of 2.4 ng/mL in prior urinalysis studies of pork offal consumption and steroid reporting. That was too high to accept her contention that the positive test was the result of contaminated meat, and "that the Athlete has not satisfied her burden of proof on the balance of probabilities that the ADRV was unintentional, and the ADRV must be deemed to be intentional."
¶
Former Belarusian sprinter Krystsina Tsimanouskaya – now in Poland with her husband – continued to support freedom in her former home by auctioning off her 200 m silver medal from the European Team Championships in 2019.
According to the Belarusian Sports Solidarity Foundation (BSSF), the medal was purchased on eBay by a U.S. buyer for $21,000 (€17,800). The expectation is that the Foundation will be able to use the money to help other Belarusian athletes who are being persecuted by the Lukashenko regime.
● Cycling ● It just seemed unlikely that Norway's unheralded Odd Christian Eiking was going to complete a perfect, error-free Vuelta a Espana, leading to an unlikely win in the final Grand Tour of 2021.
He didn't.
After an uneventful sprinter's stage 16, win by Dutch star Fabio Jakobsen on Tuesday, the brutal four-climb 17th stage ended with a vicious final ascent to the Lagos de Covadonga at 1,071 m. Despite rainy conditions, Roglic attacked at the base of the ascent – about 8 km out – and broke the race open, winning by 1:35 over American Sepp Kuss and seven others, with Eiking way back, 9:23 behind the winner after a crash on the second descent.
That put Roglic back in the lead, this time by 2:22 over Spain's Enric Mas.
Thursday's stage 18 was another misery-inducing, four-climb stage – perhaps the hardest of the race – with Australia's Michael Storer holding a breakaway position onto the final climb, but he was overtaken about 5.5 km from the uphill finish. Spain's Miguel Angel Lopez took the lead and behind him Roglic attacked to get clear of his other pursuers.
Lopez won, with Roglic 14 seconds back and Mas 20 second behind the leader. The strung-out finish saw Roglic extend his overall lead at 2:30 over Mas and 2:53 over Lopez. Stages 19 and 20 are hilly, but real challenges as the two just-completed mountain stages were. Roglic is in excellent position to claim a three-peat on Sunday, the first to do so since 2005.
● Football ● The U.S. Men's National Team starts its 2022 World Cup qualifying chase against El Salvador on the road, at the Estadio Cuscatlan in San Salvador, with kickoff at 10:05 p.m. Eastern time tonight (televised on the CBS Sports Network).
The U.S. has an all-time record against El Salvador of 18-1-5 and has been unbeaten in the last 17 matches.
Two more qualifiers will quickly follow on 5 September in Nashville vs. Canada and on 8 September at Honduras in San Pedro Sula.
● Swimming ● The International Swimming League's second match was shown on the CBS Sports Network last Saturday and drew no appreciable rating on day one, but the second day program – shown on CBS at noon Eastern – did well at 656,000 total audience and a 0.45 household rating.
Unfortunately, the remaining nine ISL telecasts for the 2021-22 season are all scheduled to air on CBSSN.
¶
"A report produced by the Omaha Convention and Visitors Bureau shows the Olympic Swim Trials generated $34.5 million in economic impact to the city and state over the two-week period in June. The financial impact comes primarily from out-of-state visitors paying for hotel rooms, tickets, meals, attractions, shopping and other expenses during their stay."
Most of the impact came during the second wave – the actual selection meet – with $30.4 million on the total, despite a 50% limit on spectators at the CHI Health Center.
Pretty impressive even with all the restrictions; it's hard to imagine that USA Swimming won't reward Omaha once again for 2024, given that the Trials was on its way to selling out completely before the pandemic hit in 2020.
● The Last Word ● OK, here's the newest wrinkle in the selection of a host city or country for a major Games or championship: public signing of the hosting agreement on a giant-sized contract!
That was done in the announcement of Barranquilla, Colombia as the host of the 2027 Pan American Games – pictured above – being signed by Barranquilla Mayor Jaime Pumarejo.
Future bidders, take note!
You can receive our exclusive TSX Report by e-mail by clicking here. You can also refer a friend by clicking here, and can donate here to keep this site going.
For our 649-event International Sports Calendar for 2021 and beyond, by date and by sport, click here!