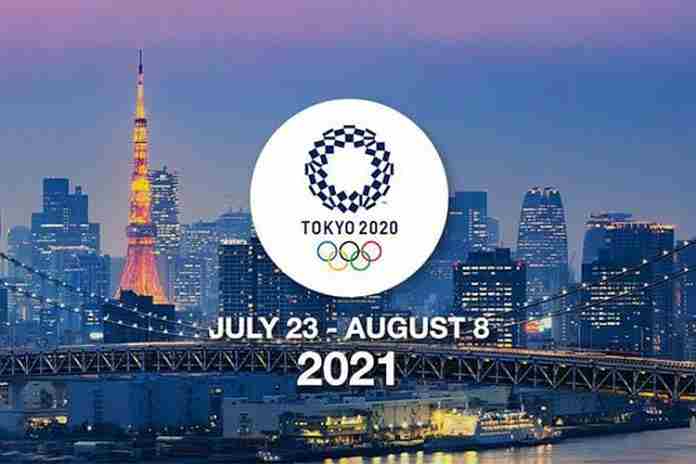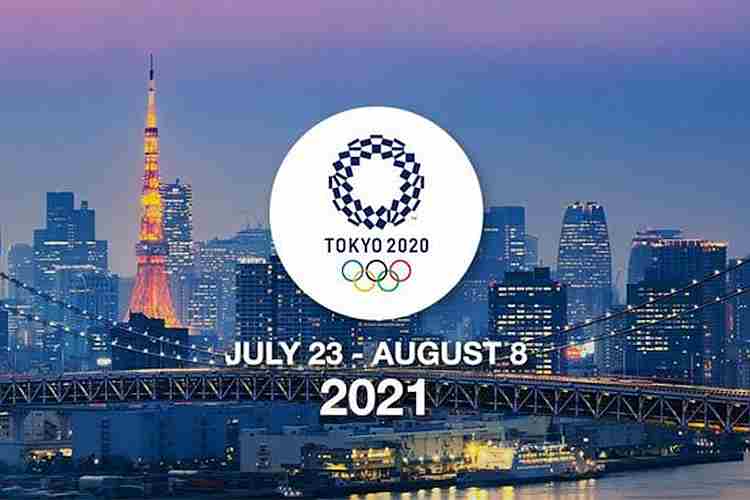 (★ Friends: Delighted to thank our – now – 35 donors toward our bill for server and support costs; we've reached 82% of our goal. If you would like to join in, please donate here. Your enthusiasm is the motivation for this site. ★)
The latest news, notes and quotes from the worldwide Five-Ring Circus:
● Games of the XXXII Olympiad: Tokyo 2020 ● In the aftermath of Thursday's report in The Times (London) that Japan's ruling coalition had internally decided that the Tokyo Games cannot be held, all of the stakeholders dismissed the report, more or less.
Kyodo News reported Deputy Chief Cabinet Secretary Manabu Sakai telling reporters:
"We would like to fully deny [The Times report] by saying there is no such fact.
"Of course we have to take into account the situation abroad, and we will decide on whether to actually hold the event at some point, but until then, the Japanese government will do what needs to be done."
While saying "we will decide on whether to actually hold the event at some point" is hardly a ringing assurance that the Games will be held, a further statement was released, with more vigorous language:
"Some news reports circulating today are claiming that the Government of Japan has privately concluded that the Tokyo Olympics will have to be cancelled because of the coronavirus. This is categorically untrue."
The IOC added that "Together with its Japanese partners and friends, the IOC is fully concentrated on and committed to the successful delivery of the Olympic and Paralympic Games Tokyo 2020 this year."
The International Paralympic Committee issued a lengthy statement, which added some interesting details:
"The IPC, IOC, Tokyo 2020 Organising Committee and all delivery partners are fully committed and focussed [sic] on delivering safe and secure Olympic and Paralympic Games this summer. This position has not changed and has been confirmed once again today by the IOC, Tokyo 2020 and the Japanese government. …
"In early February, the IOC, IPC and Tokyo 2020 will publish the first editions of Playbooks targeting Games stakeholders. These Playbooks will start to explain exactly how we aim to deliver this summer's event and outline the personal responsibilities each person attending the Games must follow to ensure safe and secure Games."
Also on Thursday, Kyodo posted comments from Dick Pound (CAN), the senior member of the IOC concerning spectators at the Games:
"The question is, is this a 'must-have' or 'nice-to-have.' It's nice to have spectators. But it's not a must-have.
"Nobody can guarantee (that the Olympics will go ahead as planned). But I think there's a very, very, good chance that they can, and that they will. …
"In the end, the decision will be based on risk. And the bottom line, they say, is that it's better to have the games, even if there are no spectators, than it would be to cancel them because there are no spectators.
"I think the IOC and the organizers are committed to going ahead with the Games, if at all possible. And so they're not going to cancel unless there's a consensus among the government, health authorities and the IOC that it would be too dangerous.
"But at the moment, the plans are in place. All the indications are that we should go ahead. There's no reason why the Games can't go on."
That's probably the best summary of where we are right now. Forgotten in the news cycle of the last 24 hours are the likely prophetic 12 January comments of Tokyo 2020 chair Yoshiro Mori – a former Prime Minister of Japan – regarding spectators, foreign spectators and even the Games:
"I think we will have to make a very difficult decision from February to March." It's still January; stay tuned.
¶
As if Thursday's frenzy over The Times story wasn't enough, Osaka Mayor Ichiro Matsui told reporters on Wednesday:
"The whole world is facing unprecedented times. Japan should assume the role of negotiating with the IOC while aiming for 2024.
"The worst-case scenario is to cancel the Olympics. I think that Paris is also facing extreme difficulties for preparations as the host of 2024, so the Games should be pushed back by four years each."
That would obviously also impact Los Angeles for 2028, and multiple countries with interests in a 2032 Games.
¶
The national Mainichi Shimbun carried a discussion with Japanese Olympic Committee Executive Board member Kaori Yamaguchi – a five-time World Judo Championships finalist at 52 kg – on Wednesday, which included:
"It's a matter of how you think the games should be. They could probably be held if you're willing to go through with them in whatever form is possible. I could say that (the games should be postponed) last year because it was just postponement. It was hard to extend contracts with sponsors and so on, to put the games off by a year. This time, the discussion is about whether to hold the games at all, instead of whether to suspend or postpone. Even if I said the games should be canceled, my statement would do nothing but confuse athletes. I think it should be clarified early who will decide this question by what process and by when."
She added, and this was prior to Thursday's story in The Times:
"In sports communities as well as in politics, Japanese organizations have a unique character. The prevailing atmosphere has it that talking about this (whether to hold the games) equals 'being defeatist' and people avoid the discussion because they don't want to be considered weak."
● U.S. Olympic & Paralympic Committee ● The Commission on the State of the U.S. Olympics and Paralympics remains with 10 named members out of the authorized 16, with four members yet to be named by Sen. Maria Cantwell (D-Washington) and two by Sen. Roger Wicker (R-Mississippi).
The Commission's report is due by the end of July, but indications are that the deadline will be pushed back to allow enough time for a thorough process to be concluded. No funding was included in the enabling legislation and this is being worked through now as well. Given the busy schedule of the current Congress, it may be some time before the details are confirmed.
¶
The USOPC tweeted a reply to The Times story about cancellation of the Tokyo Games:
"We have not received any information suggesting the Games will not happen as planned, and our focus remains on the health and preparedness of Team USA athletes ahead of the Games this summer."
● World Anti-Doping Agency ● Potentially good news for WADA, as the change of U.S. administrations has impacted the U.S. Office of National Drug Control Policy (ONDCP).
The director had been Jim Carroll, whose highly-critical report of WADA last year caused a highly-publicized split over the payment of dues by the United States of $2.71 million. But all mention of Carroll was deleted from the agency's Web site after Wednesday's inauguration.
Assuming better relations with a new director (and the U.S. dues), WADA will then be able to enter discussions about its concerns with the extra-territorial jurisdiction element of the Rodchenkov Anti-Doping Act of 2019.
● Fencing ● The return of Russian opposition leader Alexsei Navalny to Moscow last Sunday (17th) was met with a court order that he be jailed for 30 days.
Forbes reported comments from Kremlin critic Bill Browder, a U.S. hedge-fund manager:
"'Western governments, particularly the U.S., have realized that Putin holds his money through oligarchs,' Browder said over the phone on Monday. 'The best way of hitting Putin is to hit the oligarchs closest to him.'
"In a tweet Monday that quoted Vladimir Ashurkov, an ally of Navalny, Browder circulated the names of potential billionaire targets, including Roman Abramovich (net worth: $13.9 billion), who is the owner of the Chelsea Football Club, and former Arsenal stakeholder Alisher Usmanov (net worth: $16.2 billion)."
If Usmanov's name sounds familiar, it should. He's the President of the FIE, the international federation for fencing. He was also the buyer of the original, 1892 copy of Baron Pierre de Coubertin's Olympic manifesto last February for $8.8 million, which he donated to the Olympic Museum.
● Figure Skating ● A correction to Tuesday's Heard at Halftime post, which noted that Todd Eldredge won five U.S. national titles. He actually won six, in 1990-91-95-97-98-2002.
The most ever is seven, by Roger Turner (1928-34) and Dick Button (1946-52).
● Football ● The U.S. Women's National Team will be back in action tonight, playing Colombia in the second of two matches, once against at Exploria Stadium in Orlando, Florida. Game time is 7 p.m. Eastern time, to be shown on ESPN2.
The U.S. won Monday's match, 4-0, thanks to three goals from Sam Mewis and one by older sister Kristie Mewis.
¶
The first game of 2021 for the U.S. Men's National Team was announced, against Trinidad & Tobago on 31 January, also at Exploria Stadium in Orlando, at 7 p.m. Eastern time. A limited audience of 4,500 will be permitted in the stadium.
¶
"In light of recent media speculation about the creation of a closed European "Super League" by some European clubs, FIFA and the six confederations (AFC, CAF, Concacaf, CONMEBOL, OFC and UEFA) once again would like to reiterate and strongly emphasize that such a competition would not be recognised by either FIFA or the respective confederation. Any club or player involved in such a competition would as a consequence not be allowed to participate in any competition organised by FIFA or their respective confederation."
This statement was posted on the UEFA Web site yesterday, drawing a line in the sand vis-a-vis a proposed European "Super League" that would include 20 clubs, with 15 permanent members such as Real Madrid, Manchester United and Liverpool. This would be a multi-billion-dollar league, playing 18-23 games per year, compared to a minimum of six in the existing UEFA Champions League.
This is all about money, of course, and FIFA and the continental confederations are out to protect their own competitions – which benefit national federations rather than clubs – and the FIFA World Cup, a competition between national teams.
● Ice Hockey ● A member of the International Ice Hockey Federation (IIHF) Council indicated that Belarus would receive compensation for losing the co-hosting rights for the 2021 IIHF men's World Championship.
Petr Briza (CZE) told sport.cz: "These are not sanctions, but a compensation for the Belarusian organizers. This is clearly written down in the agreements. We are waiting for a report and analysis [of the decision to abandon Minsk as a site] from the office of the IIHF Secretary General, which will define the volume of expenses and [financial] consequences of this decision in the coming weeks."
An offer from Lithuania for co-hosting with Latvia will not be considered according to IIHF President Rene Fasel, who told the Russian TASS news agency, "We are already in discussions with Denmark, Latvia and Slovakia. We had experience in Denmark and Slovakia in 2018 and 2019."
Fasel said that the decision on the arrangements for the 2021 Worlds will be discussed by the IIHF Council on the 26th or 27th of January.
● Modern Pentathon ● The question of Belarus and world championships has reached modern pentathlon, which had scheduled its 2021 Worlds in Minsk. UIPM President Klaus Schormann (GER) said in a Friday statement that "the [Executive Board] voted to move the UIPM Pentathlon and Laser Run World Championships in Minsk to a future date because of a growing concern that the present instability in the host nation could jeopardise the success of UIPM's flagship competition."
The plan is to hold the 2021 on the same dates of 7-13 June, but at another site. The federation also committed itself to awarding a future Worlds to Minsk, when conditions are stabilized.
● Skiing ● After the December cancellation of the 2021 FIS Freestyle and Snowboard World Championships in China, new sites were needed. FIS announced this week that the Freestyle Ski Cross and Snowboard SnowCross Worlds will be held from 11-13 February in Idre Fjall, a favored spot for World Cup competitions.
On Wednesday, the planned replacement Worlds for the other Freestyle and Snowboard events in Calgary (CAN) was also cancelled. A replacement for the replacement – scheduled for 24 February to 11 March – has not yet been announced.
You can receive our exclusive TSX Report by e-mail by clicking here. You can also refer a friend by clicking here, and can donate here to keep this site going.
For our 709-event International Sports Calendar for 2021 and beyond, by date and by sport, click here!