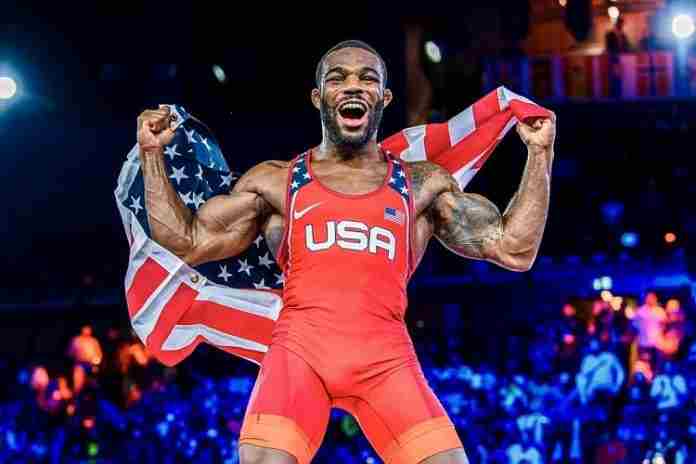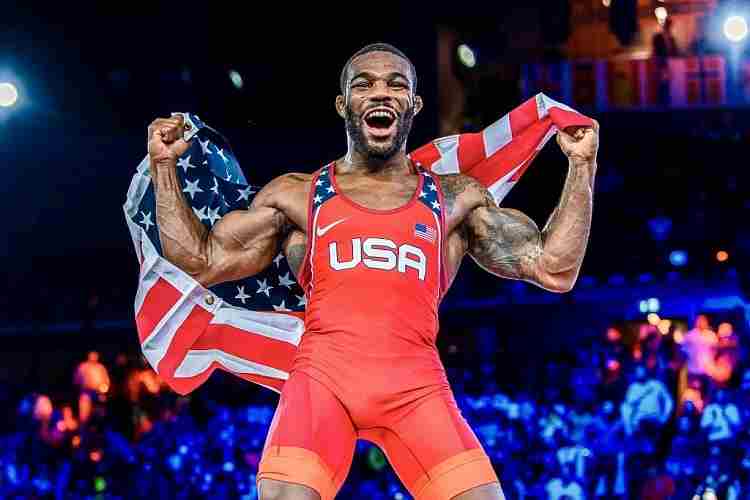 The latest news, notes and quotes from the worldwide Five-Ring Circus:
≡ SPOTLIGHT ≡
One of the strangest events of the Tokyo Games has morphed into continuing turmoil for USA Fencing, including the departure of Executive Director Kris Ekeren.
One of the causes was the drama surrounding Alen Hazdic as an alternate for the U.S. men's Epee team in Tokyo. He had been accused of sexual misconduct three times between 2013 and 2015 – all of which he vociferously denies – and filed and won an appeal in arbitration to be on the U.S. team. However, he was housed outside the Olympic Village and when the American team appeared for its one and only match in Tokyo – a 45-39 loss to Japan – Jake Hoyle, Curtis McDowald and Yeisser Ramirez appeared in pink-colored masks, while Hadzic was the object of an obvious protest, as he wore black.
Last week, the Business Insider reported that an August meeting called to discuss the Hazdic situation went awry, with athletes and parents attacking the Board and staff for the Hazdic affair and concerns over other allegations of assault and misconduct in the sport.
Ereken was accused of mishandling other instances of misconduct in addition to Hazdic and on 27 September, it was announced that she would leave after 10 years with the federation, including eight as the senior executive. It was noted that during her tenure, USA Fencing membership doubled to more than 40,000 at the end of 2019 and that the organization's finance were significantly better. She will serve through 5 November.
The Business Insider story reported that communications director Nicole Jomantas and general counsel Jim Neale have also left; Neale apparently for another job. Jomantas had also been with the federation since 2011 after stints with USA Judo and USA Weightlifting.
Fencing is among many sports to surface abuse issues in recent years; the USA Gymnastics and Larry Nassar saga has grabbed most of the headlines, but there have been allegations and/or documented abuse in other sports, such as the recent National Women's Soccer League incidents and with U.S. National Governing Bodies in swimming, taekwondo and water polo. Internationally, a horrifying report was filed in September concerning the abuse of female basketball players, especially young girls, in Mali.
There will be more revelations to come; this is only the latest.
≡ THE 5-RING CIRCUS ≡
● World Anti-Doping Agency ● The International Standard Prohibited List effective 1 January 2022 has been released, with hundreds of individual substances on the prohibited lists.
The 24-page document spells out prohibited substances that are banned all of the time, only in competition and for specific sports.
Anabolic agents, peptide hormones and other growth agents, beta-2 agonists, hormone and metabolic regulators and diuretics and masking agents are prohibited at all times. Specific stimulants, narcotics, cannabinoids and glucocorticoids are prohibited in-competition and beta-blockers are proscribed in archery, golf, shooting, ski jumping and some events in freestyle and snowboarding, and in some non-Olympic sports.
It's a long list and a challenge to all athletes to keep up with it. An unintentional or unknowing mistake can cost a month, a year, two years or more.
● Athletics ● Four-time U.S. Olympian and Beijing 10,000 m silver medalist Shalane Flanagan has completed one-third of her goal to complete five of the World Marathon Majors and a substitute marathon for the cancelled Tokyo race – six total – in just seven weeks.
Keen observer David Monti (USA), publisher of the influential Race Results Weekly, tweeted Sunday:
"In running #BerlinMarathon & #LondonMarathon on consecutive Sundays in 2:38:32 & 2:35:04, respectively, @ShalaneFlanagan demonstrated another advantage of super shoes: they are highly protective and allow for much quicker recovery."
Flanagan (and her shoes) will now be tested with three marathons in eight days: Chicago on 10 October, Boston on 11 October and the Portland (Ore.) Marathon on 18 October.
¶
Budapest Mayor Gergely Karacsony, who has threatened to refuse to allow the city to host the 2023 World Athletics Championships, advanced to the run-off from 10-16 October in the unique national opposition primary.
Karacsony (Green Party: 27.2%) finished second to Democratic Coalition (liberal) candidate Klara Dobrev (34.7%), both ahead of Peter Marki-Zay (Hungary For All/conservative: 20.4%) in the first round from 18-28 September. One of these three will now be elected to face the ruling Fidesz party, led by Prime Minister Viktor Orban, in 2022.
Karacsony's threat concerning the 2023 Athletics Worlds is centered around a Fidesz program to essentially allow China to build a Budapest campus of its Shanghai-based Fudan University. The site would replace a planning "student city" of housing and services to support existing universities. Karacsony got approval to collect signatures to place the Fudan University site-use question in September, but must now collect 200,000 signatures to create a national vote.
● Basketball ● Spanish icon Pau Gasol, 41, announced his retirement on Tuesday (5th) in Barcelona, ending a sensational career on the court and clearing the way for his ascent in the world of international sports management.
Gasol won two NBA title with the Los Angeles Lakers in 2009 and 2010 and averaged 17.2 points during his career with the Lakers, Memphis, Chicago, San Antonio and Milwaukee. He was a five-time Olympian for Spain and won silvers in Beijing 2008 and London 2012 and a bronze in Rio in 2016. He was a member of Spain's FIBA World Championship team in 2006.
He was elected as a member of the IOC Athletes Commission at the recent Tokyo Games and will serve through 2028. Smart, widely experienced and multi-lingual, Gasol will have every opportunity to become a major player in international sports administration.
● Boxing ● Stung by its commissioned report that showed years of cheating and cover-ups in governance and judging, the International Boxing Association (AIBA) announced a new "Fair Chance, Fair Fight" program being implemented for the forthcoming men's World Championships beginning 24 October in Belgrade (SRB), and the Women's World Championships in December in Istanbul (TUR). The new procedures include:
"[A] new rigorous selection criteria has been introduced for referees and judges. No part [of the] selection process is being left up to the discretion of a single person, [and] a random element has been added to safeguard the participants from attempts at competition manipulation.
"Additional candidate background checks will be carried out by the team of Professor Richard McLaren, an independent expert, appointed by AIBA earlier in the year to conduct an investigation into the organization's past sporting integrity issues. Beyond that, competition officials will be undergoing further training prior to [the] Belgrade Championships, including but not limited to a module on enhanced ethics and behavioural provisions."
Dogged by scandal for decades, AIBA is trying to return as the governing body of the sport for the Olympic Games, having been suspended by the IOC in 2019.
● Football ● New fall-out from the National Women's Soccer League abuse turmoil saw Steve Baldwin, the chief executive and managing partner of the Washington Spirit, resign on Tuesday.
The club has been under stress for some time, after a report of abuse from former coach Richie Burke (GBR), who was fired on 29 September. Charges of his abusive behavior has also led to calls for Baldwin to sell his 35% stake in the club, but he has not agreed to do so as yet.
¶
In Portland, three fan organizations supporting the NWSL Portland Thorns (Rose City Riveters) and MLS Portland Timbers (107 Independent Supporters Trust and Timbers Army) have issued a joint statement protesting:
"[T]he extent of abuse and suppression that has taken place in Portland. It is clear that the Portland Thorns organization is complicit in the NWSL's failures by actively sweeping incidents and complaints under the rug and passing issues off to others without holding offenders accountable. It is also abundantly evident that the PTFC leadership team knew about the incidents when they were reported in 2015. This is inexcusable."
It asks "our members to boycott all concessions inside Providence Park and PTFC official team merchandise across all platforms."
This is noteworthy because Portland is leading the NWSL in attendance by a long way, averaging 15,065 over four games thus far vs. second-best Racing Louisville (6,412). Behind these two, the remaining eight clubs average from 3,153 to 5,796 fans per game so far this season.
● Gymnastics ● An important hearing concerning the USA Gymnastics bankruptcy case and the proposed reorganization plan concluded on Monday with no resolution.
Judge Robin L. Moberly of the U.S. Bankruptcy Court for the Southern District of Indiana heard arguments on the proposed plan and eight objections. But the matter was continued to 19 October for further discussion.
This will move the matter back once again. The hoped-for date to circulate the proposed plan for a vote was 11 October and now will be near the end of the month at the earliest.
¶
Deputy U.S. Attorney General Lisa Monaco announced Tuesday during a Senate Judiciary Committee hearing that the U.S. Justice Department would be revisiting its decision against prosecution of two FBI agents who badly mishandled the agency's inquiry into abuse by former USA Gymnastics team physician Larry Nassar.
She indicated during the hearing that "new information" had emerged, but did not specify what it was. She added, "I do want the committee, and frankly, I want the survivors to understand how exceptionally seriously we take this issue and believe that this deserves a thorough and full review."
During a September hearing of the Judiciary Committee, FBI Director Christopher Wray and Department of Justice Inspector General Michael Horowitz testified concerning the Nassar affair and the Inspector General's report that the FBI's Indianapolis and Los Angeles offices both mishandled the Nassar inquiry. Asked about why no prosecutions were undertaken, they both referred that question to the Justice Department.
● XI World Games: Birmingham 2022 ● The 30-sport, 206-event World Games in Birmingham, Alabama next July is offering a way for fans to memorialize their interest with a commemorative brick offer. The announcement notes:
"The bricks will be ceremoniously placed at The World Games Plaza, located across from the stadium and next to many popular restaurants and attractions in Birmingham's Uptown District."
This is across the street from Protective Stadium, site of the Opening Ceremony, home of the University of Alabama-Birmingham football team. Per the release:
"Commemorative Bricks can be purchased online and cost $250 for the 4-by-8-inch brick and $500 for the 8-by-8-inch model. Each brick can be customized with three lines of text or a company logo."
Orders must be in by the end of the year, and will be installed in April. The Games will open on 7 July 2022.
≡ SCOREBOARD ≡
● Football ● After plenty of drama in the first CONCACAF World Cup qualifying window, the U.S. Men's National Team will get back on the pitch on Thursday evening against Jamaica in Austin, Texas at 7:30 p.m. Eastern time.
The game will be shown on ESPN2, Univision and TUDN.
The American men went 1-0-2 in the first group of matches and will now face Jamaica, will go to Panama on the 10th and play Costa Rica in Columbus, Ohio on the 13th.
● Wrestling ● The iconic career of U.S. star Jordan Burroughs, now 33, might be moving toward the end, but in grand style, with a fifth career World Championships gold medal.
Burroughs defeated Iran's Mohammed Ashghar Nokhodilarimi by 5-1 in the final, winning his five matches by a combined score of 34-6 plus a forfeit. He won four titles at 74 kg and now his fifth, at 79 kg. That ties Burroughs with Adeline Gray for the most Worlds golds ever by an American.
That was one of two U.S. men's Freestyle golds on Monday, as top-seeded and Olympic silver winner Tom Gilman won his first world title with a 5-3 win over Iran's Alireza Sarlak. Gilman's run in Oslo included a first-round pin and then wins by 11-1, 15-5 and 5-3.
The U.S. team also got a silver medal from Kyle Snyder, who lost to arch-rival Abdulrashid Sadulaev (RUS) by 6-0 in the final, and a bronze-medal performance from J'Den Cox at 92 kg, defeating Andril Vlasov (UKR), by 11-0.
The U.S. men won medals in seven of the 10 Freestyle classes and finished second to Russia (eight medals) in the team standings by 173-168.
The women's Freestyle division is underway, with Kayla Miracle winning silver at 62 kg, losing to Aisuluu Tynybekova (KGZ) in the final, 7-0. Jenna Burkert won a bronze at 55 kg, out-scoring India's Pinki Pinki, 5-2.
The Championships continue through Sunday with the women's Freestyle and men's Greco-Roman divisions.
You can receive our exclusive TSX Report by e-mail by clicking here. You can also refer a friend by clicking here, and can donate here to keep this site going.
For our 743-event International Sports Calendar for 2021 and beyond, by date and by sport, click here!