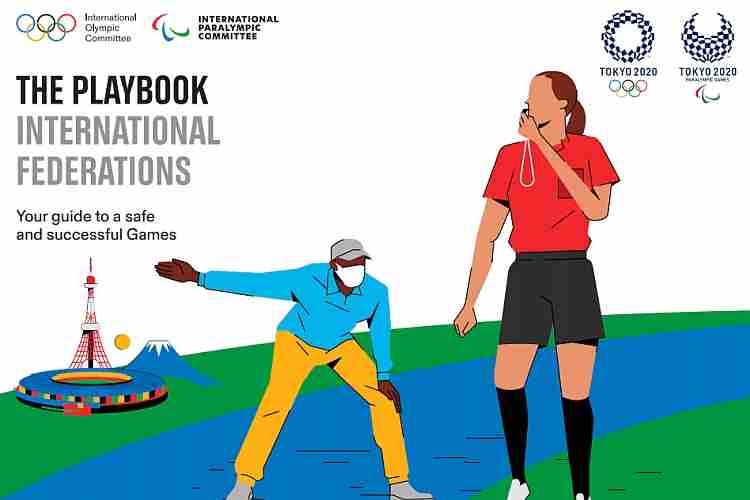 (★ Friends: Almost there! Thanks to our 42 generous donors toward our December bill for server and support costs; we're at 97% of our goal. If you would like to join in, please donate here. Your enthusiasm is what keeps this site going. ★)
The latest news, notes and quotes from the worldwide Five-Ring Circus:
● Games of the XXXII Olympiad: Tokyo 2020 ● The first "playbook" for participants in the Tokyo Games was released today (3rd) by the International Olympic Committee.
Aimed at the International Federations and its competition officials, the 33-page presentation walks through the varying stages of coming to Tokyo, getting ready for the Games and then working at the Games. This is the first of four editions, with much of the information to be the same in each; highlights:
● Principle: "[I]t is important to minimise social interaction, wear a mask, and avoid the 3Cs: spaces that are closed, crowded or involve close contact."
● Officials are to be tested within 72 hours of leaving their home country, follow specific restrictions for their first 14 days in Japan, then have regular screening if required, isolate if symptoms appear.
Temperature checks will be made when entering an Olympic venue; those showing 37.5 C or higher (99.5 F) will not be allowed to enter, after a second, confirming check.
● "During your stay in Japan, you will be expected to limit your activities to what is required in order to carry out your role."
● "You must only leave your accommodation to go to Official Games Venues and limited additional locations, as defined by the 'List of Destinations and Movement' (to be provided):
– "You must not visit Games venues as a spectator
– "You must not visit tourist areas, shops, restaurants or bars, gyms, etc.
"Do not use public transport, unless given permission."
● "Support athletes by clapping and not singing or chanting" and "Avoid unnecessary forms of physical contact such as hugs, high-fives and handshakes."
Each of the International Federations will have a designated Covid-19 liaison officer to coordinate with the Tokyo organizers. Each participant will be expected to complete an "Activity Plan" for at least 14 days in Japan, including all daily movements.
The Playbook on vaccines: "You will not be required to have received a vaccine in order to participate in the Games – and all of the rules outlined in this Playbook will apply, whether or not you have received the vaccine."
Even in the face of the pandemic, however, commercial and sponsorship branding rules still apply! Page 16 notes: "Please also be aware of guidelines related to face mask branding."
The requirements included were drawn not only from health experts inside and outside of Japan, but also from the experience of sports events successfully held in Japan and elsewhere over the past year. IOC President Thomas Bach has emphasized the success of the IHF men's World Championship held in Egypt from 13-31 January, with 32 teams involved, as an exceptional proof of the success of good preparation and cooperation.
The IOC will hold briefings for four stakeholder groups: IFs on 5 February; broadcasters on 8 February; athletes (via National Olympic Committees) on 9 February and press and photographers on 10 February. Two more editions of the playbooks are expected to be published in April and June.
¶
"No matter what situation would be with the coronavirus, we will hold the Games. We should pass on the discussion of whether we will hold the Games or not, but instead discuss how we should hold it."
That's from Tokyo 2020 organizing committee chief Yoshiro Mori, a former Prime Minister of Japan, in remarks to Liberal Democratic Party lawmakers on Tuesday (2nd).
"The biggest problem is the way Japanese people see the Olympics now, and secondly, how we should proceed with the preparations for the Games while combating the coronavirus. These two points are our primary focus."
The Olympic Torch, which has revved up flagging local interest in past editions of the Games, is scheduled to start on 25 March, using 10,000 runners in all to visit many parts of Japan.
¶
The IOC Athletes' Commission held a Monday (1 February) conference call with 150 athlete reps from International Federations, National Olympic Committees, the International Paralympic Committee and the World Anti-Doping Agency.
Chair Kirsty Coventry (ZIM) explained that 3,547 athletes from 185 NOCs and all 41 Olympic sports had participated in the Commission's survey on Rule 50 of the Olympic Charter, with analysis of the responses now ongoing.
The Director General of the International Testing Agency, Ben Cohen (SUI) explained the heavy pre-Games anti-doping program undertaken, including "33 sports reviewed and 26,000 recommendations for athletes to be tested made to the responsible testing authorities such as [National Anti-Doping Organizations] and International Federations (compared with seven sports reviewed and 1,500 recommendations for Rio 2016)." Importantly, he also stressed that the ITA will follow up on the implementation of the recommendations.
¶
International Paralympic Committee President Andrew Parsons (BRA) indicated he is also confident that the Paralympic Games will be held as scheduled in 2021. In an interview with Kyodo News, he noted:
"We know more about the virus compared to March last year, when we needed to make the decision to postpone. So we know more about how the virus behaves.
"As we have seen since the postponement, the health and safety of everyone is the number one priority here," he said, adding parties concerned are much more knowledgeable on how to organize safe sport events during the pandemic as well.
"We had the UEFA Champions League, we had the Japanese football league, the Japanese baseball league. We'll have (the NFL) Super Bowl now in a matter of days. So I think we are learning how to deliver sports under the current circumstance."
As to spectators, Parsons indicated those decisions are yet to come:
"It will be the decision of the Japanese government. If they decide to go ahead with less spectators, with a (certain) percentage of the spectators, with no spectators, (or) only Japanese spectators, we have to respect the decision that is going to be made by the Japanese authorities."
The Paralympic Games will kick off on 24 August and continue through 5 September.
● World Anti-Doping Agency ● WADA announced on Tuesday (2nd) that it has decided not to appeal the decision of the Court of Arbitration for Sport's decision in the WADA vs. Russian Anti-Doping Agency case.
"[T]he grounds of appeal to the Swiss Federal Tribunal are limited to procedural matters such as jurisdiction, the composition of the Panel and the right to be heard. The Swiss Federal Tribunal does not conduct a review of the merits and would therefore not interfere with the Panel's assessment of the proportionality of the consequences. As a result, and following unanimous advice from in-house and external legal counsels, WADA strongly believes an appeal would have served no useful purpose and decided to refrain from doing so."
Comment: This is a weak and unfortunate decision by WADA. It is true that the grounds for appeal are narrow, but there is an opportunity at a strike for proper application of WADA's own rules as ignored by the Court of Arbitration for Sport panel. It's now an opportunity missed.
● Athletics ● Great marks at the World Indoor Tour high jump meet in Banska Bystrica (SVK) as Yaroslava Mahuckikh (UKR) cleared a sensational 2.06 m (6-9) to move to equal-10th on all-time world combined list and equal-third on the all-time world indoor list.
It's the highest jump indoors since 2012 and a national record for Mahuchikh, still 19, who cleared 2.03 m (6-8) on her first try and 2.06 m, also on her first attempt. Fellow Ukrainian Yuliya Levchenko was second at 1.96 m (6-5).
Italy's Giancarlo Tamberi, the world leader in the men's high jump at 2.32 m (7-7 1/4) in a meet in Ancona (ITA) on 30 January, won at Banska Bystrica at 2.31 m (7-7) on his first attempt. That was enough to get past Luis Zayas (CUB), who cleared 2.31 m on his third try.
¶
USA Track & Field announced the results of its Board elections, with three new independent directors joining the group:
"Jerry Canning, Mori Taheripour and Rick Wade join as independent members. Canning has spent the last 20 years as a digital thought-leader, including long management stints at Google and Facebook. Taheripour is a globally recognized executive and an award-winning educator, while Wade is senior vice president of Strategic Alliances and Outreach at the U.S. Chamber of Commerce."
Canning was a key player in the Foot Locker Athletic Club from 1990-97 and has significant experience in sponsorship programs with the major U.S. professional leagues.
Jim Estes was elected as the new Board rep for long-distance running and was a long-time administrator in the USATF office during Craig Masback's term as chief executive. Norine Richardson is the new youth-athletics rep.
There are now seven current and former athlete representatives: Wallace Spearmon, Ryan Wilson, Kendall Spencer, Michelle Carter, Nicole Leach, Amy Begley and Allen Johnson.
Vin Lananna, the Director of Track & Field and Cross Country at the University of Virginia, was re-elected as President of the organization in December, but in a vote of the Board, was passed over as Chair for Mike Conley, also a former USATF staff member and Interim Chair from February 2019 to December 2019 when Lananna was suspended "to avoid any conflict of appearance of conflict of interest" with a U.S. Department of Justice investigation into the award of the 2021 (now 2022) World Championships to Eugene. He was reinstated only after an order following a hearing before the Court of Arbitration for Sport.
Under the recently-passed USATF Bylaws, Lananna now becomes Vice Chair. Make no mistake: after having been re-elected in December and not being made Chair by the Board, Lananna's demotion is a message of clear disrespect by the Board to the membership.
● Basketball ● The International Basketball Federation (FIBA) announced the groups for the men's and women's Olympic Tournament on Tuesday (2nd):
Men/Group A: France, Iran, United States, winner of Victoria (CAN) qualifier
Men/Group B: Australia, Nigeria, winners of Split (CRO) and Belgrade (SRB) qualifiers
Men/Group C: Argentina, Spain, Japan, winner of Kaunas (LTU) qualifier
The U.S. men will open with France on 25 July, followed by Iran on 28 July and the Victoria qualifier on 31 July, before the quarterfinals on 3 August.
Women/Group A: Canada, Spain, Serbia, Korea
Women/Group B: France, Japan, Nigeria, United States
Women/Group C: Australia, Belgium, China, Puerto Rico
The U.S. will play Nigeria on 27 July, then Japan on 30 July and France on 2 August, before heading to the quarterfinals on 4 August.
The Americans are the defending gold medalists in both divisions and overwhelming favorites to repeat. In fact, the U.S. women – along with the American women's water polo team – might be the most dominant teams in any sport at the Games.
● Gymnastics ● USA Gymnastics continues to be under siege by new claimants in its bankruptcy case and allegations of abuse.
On 19 January, suit was filed in Las Vegas, Nevada by eight plaintiffs against Brown's Gymnastics, a gym in Las Vegas, gym owner Dayna Waroe and USA Gymnastics, alleging:
"This action arises out of the disturbing pattern of grotesque child molestation, and sexual physical, psychological, and emotional abuse that TERRY GRAY inflicted on Plaintiffs while he was a registered gymnastics coach at BROWN'S GYMNASTICS LAS VEGAS, INC. d/b/a BROWN'S GYMNASTICS from approximately 2009 to 2015. He has been charged by way of indictment with fifteen (15) counts of Open and Gross Lewdness, twenty-five (25) counts of Lewdness With A Child Under the Age of 14, and five (5) counts of Sexual Assault."
The filing drew immediate attention from the attorneys representing USA Gymnastics, who filed a motion against the suit (vs. USA Gymnastics only) as a violation of the automatic stay from the Bankruptcy Court against all actions against it that could have been commenced prior to its bankruptcy filing.
The federation's filing notes "Plaintiff's disregard for the automatic stay is particularly egregious given that seven out of the right plaintiffs were served directly with notice of USAG's bankruptcy case and the bar date for filing abuse claims, and that USAG gave broad, nationwide public notice of its bankruptcy … Indeed, one of the Plaintiffs filed a claim (by different counsel) in the bankruptcy case."
The USAG attorneys asked for the matter to be dismissed, but was refused, so a hearing will now take place at the U.S. Bankruptcy Court for the Southern District of Indiana on 10 February.
● Ice Hockey ● The International Ice Hockey Federation (IIHF) announced on Tuesday (2nd) that all of the games in the 2021 men's World Championship will be held in Riga, Latvia.
After the decision to remove Belarus as a co-host due to the political consternation there, the IIHF looked at new co-hosts such as prior hosts Denmark or Slovakia, but chose to consolidate the tournament in the remaining host country.
To deal with this situation and the continuing pandemic, the tournament will now be held at the already-booked Arena Riga, with additional use of the Olympic Sports Centre, with a 6,000-seat rink being installed. All 16 teams will be housed at the same hotel, and
"With teams housed in one location and the Arena Riga and Olympic Sports Centre competition venues located approximately 150 metres away from each other, the IIHF would be able to implement a bubble concept if needed."
No spectators are expected for the games, but if allowed, could be accommodated if the Latvian government permits. The tournament dates are 21 May to 6 June.
● Skiing ● After the FIS World Freestyle Skiing Championships were cancelled in China due to the pandemic, the federation has been distributing pieces of the event to different hosts. It announced last Friday (29th) that the Aerials and Moguls Worlds will be held in Almaty (KAZ) from 8-11 March.
The same venue is already scheduled to host a World Cup for Aerials and Moguls a few days later, essentially just expanding the existing competition. Smart.
● Swimming ● Very interesting development in Australia, where Amazon.com has purchased the television rights with Swimming Australia, starting with the Olympic Trials in June:
Per SportBusiness: "The exclusive, two-year agreement allows Amazon to stream the various Australian Swimming Championships globally, including in Australia, on its Prime Video subscription service."
This is really interesting and portends the future of U.S. sports as well.
● Volleyball ● A potentially significant opportunity for volleyball was announced on Tuesday (2nd), with the creation of a commercial partnership between the International Volleyball Federation (FIVB) and CVC Capital Partners Fund VII to form Volleyball World:
"Volleyball World will become the commercial entity for the sport around the world, initially for FIVB and aiming at working later alongside other leagues and federations, with the goal of increasing the profile and popularity of the sport, through fresh investment for the benefit of fans, players and National Federations.
"Volleyball World will be responsible for the commercial operation of key volleyball and beach volleyball international events, including: the World Championships, Olympic Qualifiers and the Volleyball Nations League. The partnership will focus on event hosting, fan experience, media, data/digital opportunities, and sponsorship to grow commercial revenues for reinvestment, which will ensure the long-term success of the sport."
So here is an international federation teaming up with an experienced and capable capital fund to exploit volleyball's commercial possibilities. The initial chief executive will be Finn Taylor (CAN), recently in charge of Cirque du Soleil's Global Touring show business overseeing significant geographic expansion and growth. Reports indicate that CVC will put $300 million into the partnership.
This is a potential blockbuster for the business of volleyball, but it was noteworthy that the announcement mentioned Taylor and Board members including the current FIVB Director General and former FIVB Secretary General, but no athletes, whose future will be impacted – for good or bad – by this venture. Their buy-in will be needed to make this project work.
● Weightlifting ● More bad news on the doping front, as the International Testing Agency informed the federation of doping violations on Romanians Gabriel Sincraian (85 kg Olympic bronze medalist 2016) and Razvan Martin (77 kg Olympic bronze medalist 2012). Per the announcement:
"The ADRVs bring to four the number to have been asserted against Athletes from the Romanian Weightlifting Federation over a 12-month period. The Romanian Weightlifting Federation is therefore subject to disciplinary sanctions by IWF based on Article 12 of the IWF Anti-Doping Policy, which has previously resulted in the suspension of a number of IWF Member Federations."
The IWF needs to be exceptionally vigilant on this, as its place on the Olympic program for 2024 is on the razor's edge.
¶
The IWF also failed to publish the list of candidates who have filed for March's elections, claiming that "After the eligibility checks have been concluded the Member Federations will be duly notified and the list will be published on the IWF website."
This is a bad look, and the IWF should have published the candidates list as "provisional" and then announced the results of its vetting process afterwards.
● The Last Word ● Even in a pandemic, sports is still about achievement and excitement. Ask Olympic hurdler and bobsledder Lolo Jones:
"!Big news! I made the World Championships Team! I still can not believe the turnaround my season has had. From barely making USA Team [because] I was coming in from a reality tv show. Being an alternate for races to now being one of the final two that will rep USA at Worlds."
Jones teamed with driver Kaillie Humphries to win the final World Cup race of the season last weekend in Innsbruck, Austria. The IBSF World Championships start on Friday in Altenberg, Germany. Good luck, Lolo!
You can receive our exclusive TSX Report by e-mail by clicking here. You can also refer a friend by clicking here, and can donate here to keep this site going.
For our 709-event International Sports Calendar for 2021 and beyond, by date and by sport, click here!