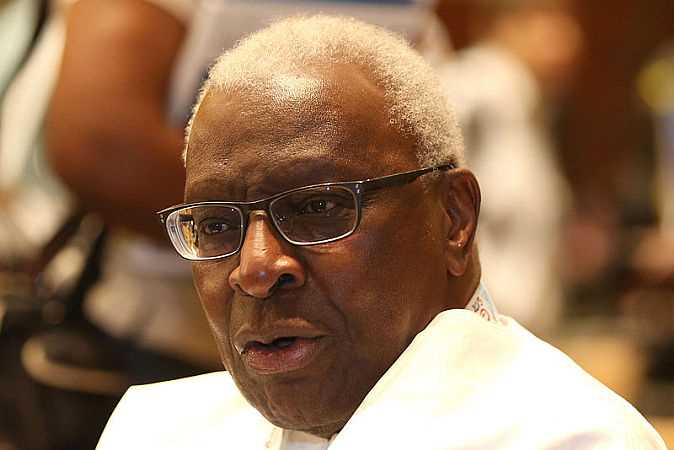 The latest news, notes and quotes from the worldwide Five-Ring Circus:
● Athletics ● The trial of ex-International Olympic Committee member and former IAAF chief Lamine Diack of Senegal finally started in a Paris courtroom on Monday, with the former head of the IAAF's anti-doping effort conceding pressure to cover up Russian positions.
According to Agence France Presse, Gabriel Dolle – the French ex-IAAF anti-doping head – explained that there were 23 possible Russian doping positives on list in early 2012, but that Diack had "asked me to consider… the critical financial situation" of the IAAF.
"With the list… it was going to cause a scandal which could have influenced negotiations with sponsors and put them in jeopardy."
According to the AFP report:
"Dolle said he was 'trying not to provoke a scandal' and the man who considered himself to be a 'hardliner' insisted he had never avoided handing down punishments for doping offenders.
"When the judge in the trial, Marie-Rose Hunault, pointed out that some of the names on the list who were allowed to continue competing not only went on to take part in the 2012 London Olympics, but won medals, Dolle said he had been 'betrayed'."
Dolle admitted he received €190,000 (~$215,362 today) in "bonuses" from Diack for, first, handling the Russian cases and then for his being fired "in a brutal and ungrateful way."
The trial continues this week.
¶
Russian doping is again in the news with the provisional suspension of 2010 European high jump champ Alexander Shustov. The Associated Press reported that the Court of Arbitration for Sport stated that "he was banned for the use or attempted use of a banned substance or method, without giving any further details."
Shustov's results are annulled from 2013-17, but told a Russian news agency he plans to appeal. Now 35, he has not competed since 2016.
● Boxing ● Time has claimed another champion, this time the 1956 Olympic gold medalist in boxing, American Pete Rademacher. He passed at age 91 in Sandusky, Ohio last Friday (5th).
Rademacher played football at Washington State, then became a boxer during his military service. He won the 1956 Olympic Games heavyweight tournament, defeating Russia's Lev Mukhim in the final.
After winning the gold medal, Rademacher opened his professional career in amazing fashion, facing Floyd Patterson for the world heavyweight title! He lost the match after being knocked down seven times and was counted out in the sixth round.
He was predeceased by his wife Margaret, but is survived by his three children.
● Equestrian ● The Federation Equestre Internationale (FEI) Disciplinary Tribunal imposed a stunning 20-year ban on UAE rider Sheikh Abdul Aziz bin Faisal al Qasimi for abuse of an Endurance horse in 2016.
He rode Castlebar Contraband in a 90 km event in Fontainebleu (FRA), who fractured his right leg during the race and had to be euthanized. A post-mortem exam found the horse had been receiving the prohibited substance Xylazine – typically used as a sedative or muscle relaxer – but not allowed in competition.
A fine of CHF 17,500 (~$18,230) and another CHF 15,000 towards court costs. The suspension will run to 27 May 2040.
● Football ● Brazil withdrew from the race to host the 2023 FIFA Women's World Cup, citing the costs of the event and that given the coronavirus's impact on national economics, that the national government would not sign the financial guarantees required.
That leaves Colombia, Japan and a joint bid from Australia and New Zealand as the possibilities for the expanded tournament that will have 32 teams. The decision is expected later this month.
● Softball ● One of the truly inspirational leaders in the Olympic Movement, long-time International Softball Federation chief Don Porter (USA) passed away at the age of 90 on Sunday (7th).
Porter was a lifetime proponent of softball, and was Executive Director of the U.S. Amateur Softball Association from 1963-98 and was the head of the International Softball Federation from 1987-2012.
He realized his lifelong dream to get women's softball into the Olympic Games, beginning with the 1996 tournament in Atlanta, followed by 2000-04-08, after which the sport was dropped. But working through the specially-formed World Baseball-Softball Confederation, he was able to return it to the program for the 2020 Tokyo Games.
Porter made Oklahoma City the softball capital of the U.S., championing the building of the USA Softball Hall of Fame Stadium, now the annual site of the NCAA Women's College World Series.
He will be remembered as kind, affable and charming, but in a way in which you knew clearly what his agenda was, and why it was beneficial. He was the driving force for softball in the Games and was rewarded for his efforts, but only after decades of work.
● Weightlifting ● The day after the damning McLaren Report on corruption in the sport was released, the International Weightlifting Federation announced that three Russian lifters had tested positive for anabolic agents in 2015:
● Nadezhda Evstyukhin won three World Championships golds in 2011-13-14 at 75kg. She was the 2008 Olympic silver medalist at 75 kg before being disqualified by the IOC for using the blood booster EPO.
● Oleg Chen won three World Championships silver medals at 69 kg in 2011-13-15, and
● David Bedzhanyan won Worlds medals at 105 kg in 2013 (silver), 2014 (bronze) and 2015 (silver).
All three are retired now. The disposition of their cases and any changes in their results are yet to be confirmed.
● Mixed Martial Arts ● One of the sports trying to move into the future Olympic sphere is Mixed Martial Arts. Its international federation is now circulating a petition to gain further recognition, and stated that it received more than 10,000 signatures in its first week in circulation.
According to the statement, "The International Mixed Martial Arts Federation (IMMAF) and MMA stakeholders assert that formal recognition would enable the implementation of governance and regulations to ensure health and safety for recreational participants, as well as amateur and professional athletes.
"It would help foster youth development in MMA, and afford same rights and protections for MMA athletes as students of other sports, such as access to medical services, insurance, anti-doping, safeguarding, etc. In addition, formal recognition of MMA as a sport by the Olympic Movement would pave the way for MMA to become an Olympic sport and allow MMA athletes to represent their country on the world's most prestigious sporting platform."
The IMMAF has been trying since 2016 to gain any recognition from the World Anti-Doping Agency and the Global Assembly of International Sports Federations (GAISF), but is a member or signatory of neither at present. It has undertaken legal action against WADA and is trying to pursue Observer status with GAISF.
Whatever its future with WADA or GAISF, it's hard to see much enthusiasm for Mixed Martial Arts at the Olympic level, given the IOC's push to be seen as an agent for peace and continuing questions about the compatibility of combat sports on the existing Olympic program.
● United States Olympic & Paralympic Committee ● Chief Executive Sarah Hirshland called for the formation of an "athlete-led group to challenge the rules and systems in our own organization that create barriers to progress, including your right to protest. We will also advocate for change globally. All Team USA athletes who are interested in participating are welcome."
The announcement did not specify a timeline, or the size of the group. Stay tuned.