The latest news, notes and quotes from the worldwide Five-Ring Circus:
≡ SPOTLIGHT ≡
"To be clear, the IIHF is not going to remove the Chinese team from the Olympic Games, the status of the men's national team as a host nation participant in the Olympic ice hockey tournament was confirmed by Congress and remains unchanged."
That's International Ice Hockey Federation President Luc Tardif (FRA) declaring that the Chinese men's hockey team will compete at the Beijing 2022 Winter Games in February. Tardif had raised the question of whether a non-competitive host-nation team should be allowed to compete in mismatches against Canada, Finland, Russia, the U.S. and others. Instead, the IIHF is trying an emergency development program:
"The IIHF and the Chinese Ice Hockey Association are working together to schedule two games with the Chinese national team in a joint effort to evaluate the status of the team's preparations for Beijing 2022. The eligible national team players will compete as part of Kunlun Red Star in the [Russian] KHL team's league games on 15 and 17 November. Following the games, the IIHF Council will reconvene to discuss the next steps forward."
The "next steps" will be interesting indeed.
≡ THE 5-RING CIRCUS ≡
● Games of the XXXII Olympiad: Tokyo 2020 ● U.S.-based Discovery, Inc., which owns EuroSport, reported third-quarter earnings on Wednesday which includes its broadcast for European audiences of the Tokyo Games.
The company's filing indicated that 372 million people across Europe (excluding Russia) watched some part of the Games and that advertising revenues rose $102 million over 2020 primarily due to the Games. EuroSport's primary income from the Games is sub-licensing to national broadcasters in the European footprint; these revenues rose to $290 million for the third quarter of 2021 vs. 2020, mostly due to the Games.
However, due to increased operating costs for the Games, Discovery's international networks showed a loss of $79 million for the third quarter of 2021.
● Games of the XXXIV Olympiad: Los Angeles 2028 ● The Los Angeles City Council had been expecting to at least see a draft of a several-times-delayed agreement between the City and the organizing committee of the 2028 Los Angeles Games by 1 November, but no such document has been publicly filed as yet.
The Unite Here Local 11 labor group asked for a court order on 22 October to make the agreement public before it is signed. An October 15 tweet from the group stated:
"Hoping to convince the city to learn from prior examples, Unite Here local 11 is pushing for the Olympics agreement to include a binding promise of more long-term, benefited, hospitality industry jobs; for an employment diversity commitment, in which the Olympics' organizers promise to hire and retain more African American workers; and for significant investments in housing as part of a larger effort to end the city's staggering homelessness crisis."
It is unlikely to get any housing help from LA28, whose entire premise is based on not building anything new at all, nor will the organizers be able to dictate the hiring practices of accommodations providers for events which will come and go in just over a month in 2028.
For the 1984 Games, the Los Angeles Olympic Organizing Committee – in a vastly different Los Angeles – had 1,629 employees at the time of Games operations, with 54% women and 23% of the staff from various minority groups (this does not include the 33,000-plus volunteers).
● International Olympic Committee ● While announced with great fanfare, the "Olympic Shop" authorized by the IOC and operated by American-based Fanatics, Inc. has opened with a modest showcase of products from past Games.
A lot of the items are aimed at children. The "Olympic Collection" has 30 items, including pencil cases in various designs; youth wallets; quiz-card sets; a folding, cardboard loudspeaker; foldable scooters and even a five-color nail polish set ($39.99).
The "Heritage Collection" has 29 items, with nine different styles of $89.99 scarves; coaster sets with logos of prior Games ($64.99), and pins and posters celebrating prior Games (not authentic reproductions). The "Home & Office" section has severely-discounted licensed Barbie products from the Tokyo 2020 Games and Hot Wheels toy cars, plus the re-appearance of some plush toys of past Olympic mascots.
The first Olympic mascot, "Waldi" – a dachsund from Munich '72 – re-appears after almost 50 years, as does the iconic "Misha" from Moscow 1980. Also: "Hodori" from Seoul '88 and bad versions of "Cobi" from Barcelona 1992 and the Vancouver 2010 mascots. All are priced at $44.99, with Misha almost sold out!
There are some T-shirts on sale, including an LA28 Paralympics heather gray Camo design reduced from $27.99 to $17.99 (while available).
● U.S. Olympic & Paralympic Committee ● Ralph Lauren, the USOPC official outfitter, announced its Beijing 2022 uniforms for the closing ceremony. The outerwear features a Buffalo Plaid theme, using recycled polyester and recycled down. Pants, leggings, gloves, boots, hats and a turtleneck sweater with the American flag are all included in the kit.
The items are available for sale on the Ralph Lauren site, with the Closing Ceremony jacket going for $1,798.00 and the sweater for $495.00.
● Utah Olympic Legacy Foundation ● The University of Utah became the permanent host of the 2002 Olympic and Paralympic Torch Cauldron in a new facility outside Rice-Eccles Stadium in a ceremony on 29 October. Per the announcement:
"The newly revitalized plaza, costing the U just over $2.4 million, retains and highlights the 2002 Winter Games' iconic fire and ice theme. The 72-foot-tall cauldron now sits on a pedestal that features a cascading water element. All 738 panes of glass have been replaced and the entire structure is wired with LED lights. The flame mechanisms have also been updated to improve efficiency and reduce emissions when lit."
The base of the cauldron has plaques which tell the story of the 2002 Games and the flags of each country which competed in the Games are shown on a special wall.
The new display brings the Cauldron from inside the stadium to an outside area where no admission is required. The ceremony was attended by the top two executives of the 2002 Winter Games organizing committee: U.S. Senator Mitt Romney (R-Utah; then SLOC chief executive) and former SLOC Chief Operating Officer Fraser Bullock, now the chief executive of the Salt Lake City-Utah Committee for the Games, trying to bring another Winter Games to the area, perhaps as soon as 2030.
● Athletics ● World Athletics announced the implementation of a change in its rules on lane-infringements, often the source of controversy in recent years.
The 2021 rule had been that a single step on an inside lane line, or one step inside the curb of a track was sufficient for disqualification and
"Lane infringement rule changes had been on the agenda of the World Athletics Technical Committee since January 2018. At that year's World Athletics Indoor Championships in Birmingham [GBR] … there were 21 disqualifications relating to lane violations, including four in two races, and since then there has been a heightened debate about these rules."
As of 1 November, the new rules in effect allow one touch of a foot on the inside lane line around a curve, but NOT inside another lane; a second touch of a lane line will result in disqualification. Same for a single step inside the curb in a non-lane race, with a second step bringing disqualification.
Another new rule allows world records to be set on indoor tracks larger than 201.2 m! So a world record could be set on a 300m indoor track!
¶
A further demonstration of the Covid-19 issues in China is the postponement of the World Half Marathon Championships in Yangzhou (CHN) from 27 March 2022 to 13 November 2022.
This is not a good sign for the Beijing 2022 Olympic Winter Games, already designated not to have foreign spectators. It may not have any spectators at all.
● Football ● Swiss federal prosecutors charged former FIFA President Sepp Blatter (SUI) and former UEFA President Michel Platini (FRA) with fraud, misappropriation, forgery and mismanagement as members of the FIFA Council.
Blatter is now 85 and Platini is 66 and they will be tried in Bellinzona (SUI); fraud and forgery charges in Switzerland could include jail sentences of up to five years each. The Associated Press reported that the case
"centers on Platini's written request to FIFA in January 2011 to be paid backdated additional salary for working as a presidential adviser in Blatter's first term, from 1998-2002. Blatter told FIFA to make the payment within weeks. He was preparing to campaign for re-election in a contest against Mohamed bin Hammam of Qatar, where Platini's influence with European voters was seen as a key factor."
Blatter resigned as FIFA President in 2015 under the shadow of widespread corruption within the federation and investigations into his conduct have been ongoing ever since.
¶
CONCACAF President (and FIFA Vice President) Victor Montagliani is under pressure from former players for the Vancouver Whitecaps women's team of the USL-W League, alleging he did not respond properly to misconduct against players in 2008 and 2011.
The Whitecaps women's team folded in 2012, but then-Whitecaps coach Bob Birada was accused of abuse in 2008. The Guardian (GBR) reported that "Birarda was arrested in December 2020 and faces six counts of sexual exploitation, two counts of sexual assault and one count of child luring, involving allegations spanning 20 years from 1988 to 2008."
Former coach Hubert Busby, Jr. (CAN), was also accused to soliciting sex with a potential player in 2011; he is currently the head coach of the Jamaican women's team.
Major League Soccer is organizing an investigation into the matter and the Canadian players' association is demanding an independent investigation in addition. The response of Canada Soccer – of which Montagliali was a board member at the time – is under question, as Birada was allowed to coach youth soccer for girls after leaving the Whitecaps.
● Handball ● In one of the least-surprising moves of 2021, the International Handball Federation approved the wearing of shorts by women in beach handball competitions in a rules change available on Tuesday (2nd).
The change stems from the ruckus over a fine levied on the Norwegian beach handball women's team at the 2021 European Championships for failing to wear bikini-style bottoms in their match against Bulgaria in mid-July. The fine for "improper clothing" – the team wore elastic shorts – was €1.500 from the European Handball Association's Disciplinary Commission.
Shorts are fine now.
● Mixed Martial Arts ● This came from the International Mixed Martial Arts Federation (IMMAF), which is campaigning to get MMA into the Olympic Games:
"Following the reported inter-sex MMA bout at the MMA-VIP event in Czestochowa, Poland on 29 October, IMMAF CEO Densign White [GBR] has issued the following statement on behalf of the world governing body for amateur MMA:
"'Media coverage has brought our attention to an inter-sex MMA bout that took place in Poland over the weekend. Although neither the promoter nor competitors have any association with IMMAF, as the international governing body for amateur mixed martial arts, I feel it is important that I state our position. IMMAF categorically disagrees with this intentionally scandalous form of entertainment, which does not represent the sport of MMA or its values and puts women at risk. It is unacceptable that women and men should compete against each other in combat sports, essentially for reasons of safety but also fair play, and we in no way endorse this.'"
Observed: Remember, this is a sport trying to get onto the Olympic program. Then again, gender equality is an IOC theme, isn't it? Isn't it?
● Modern Pentathlon ● A report is due tomorrow (4th) from the Union Internationale de Pentathlon Moderne (UIPM) on its Executive Board discussions about the possible replacement of equestrian in the sport with cycling.
The Guardian (GBR) broke this story on Tuesday, reporting
"Multiple sources have said the decision was taken by the Union Internationale de Pentathlon Moderne's executive board in recent days, and was hastened by the distressing scenes at the Tokyo Olympics when a horse was punched by a German coach after it refused to jump a fence."
The incident, which cost German Annika Schleu a shot at a medal, involved the horse Saint Boy, which was punched by German coach Kim Raisner, raising questions about horse safety. In the Modern Pentathlon, horses are provided by the organizers and the ability of the athlete to be able to work with a strange horse is part of the event.
The UIPM released a tweet noting only
"As part of UIPM's commitment to maintaining a strong, dynamic profile for modern pentathlon, a series of strategic meetings are being held. These meetings will include an upcoming call with national federations later this week. The outcome of these meetings will be detailed in a press release to be published on 4 November."
All of this comes as the UIPM prepares for an online Congress coming up on 26-28 November, which would have to approve such a major change to the event. Long rumored to be a possible cut from the Olympic program, any such change could only be undertaken with prior consultation with the IOC, which, incidentally, is expected to confirm the core sports for Los Angeles 2028 as soon as December. Boxing and weightlifting are already in trouble; maybe pentathlon as well?
≡ THE LAST WORD ≡
Fabulous Halloween costume saluting U.S. sprint star Sha'Carri Richardson: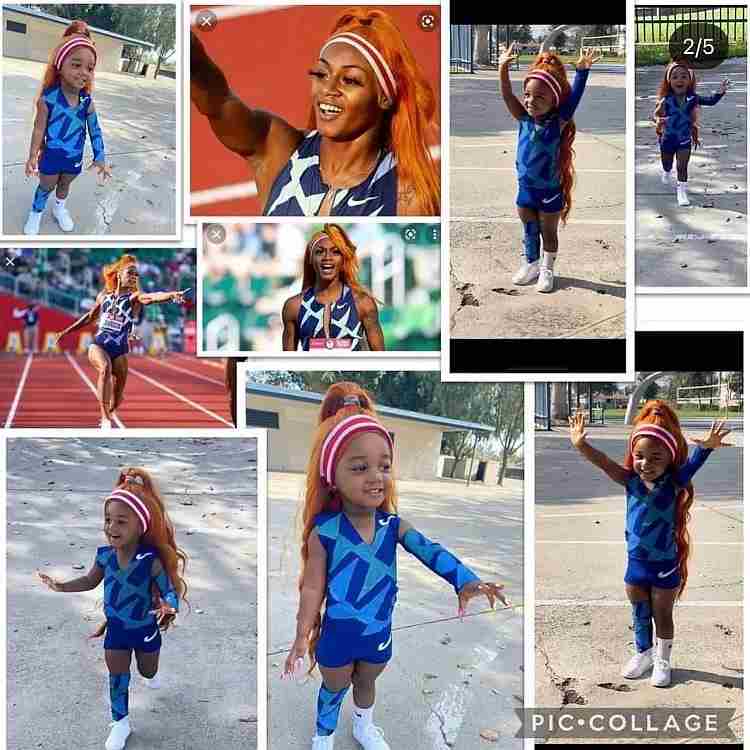 Shared the sprinter: "She won Halloween … She's THAT GIRL" with lots of emojis.
You can receive our exclusive TSX Report by e-mail by clicking here. You can also refer a friend by clicking here, and can donate here to keep this site going.
For our 743-event International Sports Calendar for 2021 and beyond, by date and by sport, click here!