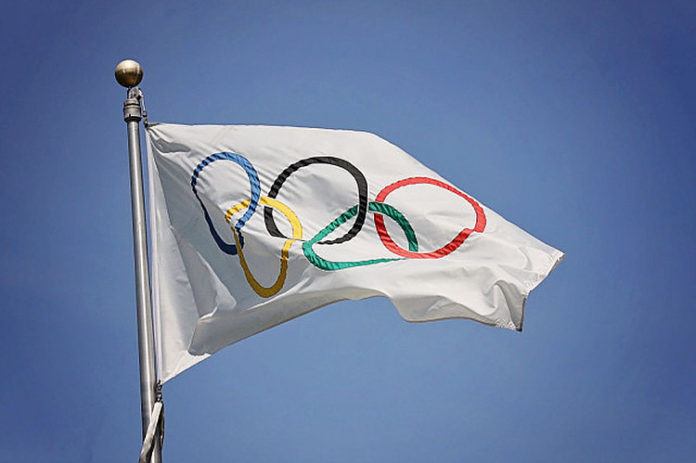 (★ THANK YOU to our 42 donors, who have covered 67% of our site costs for services for the first six months of 2022. Enjoying the coverage? Please donate here. ★)
● Plus: More details on Griner arrest in Russia = Winter Paralympics: China rockets ahead while U.S. scores two golds = Los Angeles 2028: Garcetti ambassadorship on hold = Athletics: Oregon22 to award team trophies; Tokyo failure driving Randolph Ross = Gymnastics: USA Gymnastics bankruptcy case legal fees rise = Wrestling: Dlagnev receives 2012 Olympic bronze = SCOREBOARD: Alpine Skiing: Vlhova and Shiffrin 1-3 in Are; = Cycling: Slovenians Roglic and Pogacar in charge in France and Italy = Football: U.S. and Mexico in CONCACAF women's U-20 final = Weightlifting: 42 American Records set at American Open in Ohio ●
The latest news, notes and quotes from the worldwide Five-Ring Circus:
≡ SPOTLIGHT ≡
The International Olympic Committee has taken a leading role in international sport, not just condemning the Russian invasion of Ukraine, but for the most part directing a shut-out of Russian participation.
Exactly how the IOC got there and where it goes from here was addressed in a lengthy post by its President, Thomas Bach (GER) on Friday, including this important excerpt:
"[W]e will continue to expose the people and organisations responsible for this war in breach of the Olympic Truce. Therefore, sports competitions or events should not take place in the territory of the Russian Federation or the Republic of Belarus. No national or state symbols of any kind of these countries should be displayed at any event organised by the Olympic Movement. We will not fall into the trap of the cheap argument that this would be a politicisation of sport, going against the Olympic Charter which requires political neutrality. Whoever so blatantly violates the Olympic Truce with political and even military means cannot denounce the consequences as being politically motivated.
"This clear exposure of the Russian government and its members as being responsible also recognises that this war has not been started by the Russian people, Russian athletes or Russian sports organisations. But we are facing an insoluble dilemma in this respect because we have at the same time the great responsibility to ensure the integrity, fairness and safety of our competitions. Under these unique circumstances we cannot fully uphold this responsibility, we cannot ensure the integrity of the competitions. With the recommendation of the IOC Executive Board, we have brought clarity to our stakeholders, avoided divisions and helped them to maintain unity. Without this, we would have to face the situation where Russian or Belarusian athletes would be competing for titles, while Ukrainian athletes could not, because of the war in their country. Without this, we would have had to experience the politicisation of sports competitions by athletes or teams, some of them being encouraged by third parties. We also had to consider the safety risks for Russian and Belarusian athletes taking part in international competitions, because of deep anti-Russian and anti-Belarusian feelings following the invasion.
"For all these reasons we urge every sports organisation in the world to protect the integrity, fairness and safety of their competitions by not allowing Russian and Belarusian athletes to take part or in special circumstances to at least prohibit any identification of their nationality. This protective approach is also shared by International Sports Federations chaired by Russian nationals. In this context, we will continue to monitor the attitude of Russian or Belarusian athletes and their sports organisations concerning their commitment to peace as enshrined in the Olympic Charter. In doing so we will have to take the situation within Russia into account where, by law, an engagement for peace has been put under the sanction of imprisonment for up to 15 years."
Titled "Give peace a chance," Bach also made clear that he wants to welcome back athletes from Russia and Belarus at the first opportunity:
"Olympic sport needs the participation of all the athletes who accept the rules, even and in particular if their countries in the "real" world are in confrontation or at war. A competition between athletes from only like-minded nations is not a credible symbol of peace, it is just another sports event."
The IOC has established a solidarity fund to assist Ukraine, especially its Olympic community.
Observed: Bach's statement is welcome, as it clarifies the IOC's approach to the Russian invasion. But his forward-looking concept of a reunified-as-soon-as-possible Olympic world will be validated or rejected only once the fighting has stopped and that may not be for a long time.
≡ THE 5-RING CIRCUS ≡
● Russia ● More details about the arrest and detainment of U.S. basketball star Britney Griner came to light on Thursday via Congressman Colin Allred (D-Texas).
He said that Griner, 31, was arrested on 17 February for carrying a vape pen that contained hashish oil, and told ESPN:
"I know the administration is working hard to try and get access to her and try to be helpful here. But obviously, it's also happening in the context of really strained relations. I do think that it's really unusual that we've not been granted access to her from our embassy and our consular services.
"The Russian criminal justice system is very different than ours, very opaque. We don't have a lot of insight into where she is in that process right now. But she's been held for three weeks now, and that's extremely concerning."
He added: "I'm sure her lawyer in Russia is working through the process. But every day for anyone being held, particularly being held overseas, is a lifetime."
¶
The Russian Olympic Committee filed an appeal with the Court of Arbitration for Sport against its ban from the Winter European Youth Olympic Festival in Finland beginning on 20 March.
The defendant is the European Olympic Committees, which has followed the IOC's lead with a ban on Russian and Belarusian athletes from its competitions.
● XIII Winter Paralympic Games ● With the Games to close on Sunday, China continues to enjoy a wide lead in the medal count. With 62 of 78 events completed, China has 47 medals (14-14-19), well ahead of the amazing Ukrainians (25: 9-10-6), Canada (21: 7-4-10) and the U.S. (17: 4-10-3).
American Oksana Masters won her second gold in Beijing in the women's Sitting Individual Biathlon, giving her five medals overall – in five races – and a career total of 15 Paralympic podiums, now equal-fifth all-time in U.S. history.
The U.S. got a gold from Brenna Huckaby in the Snowboard women's Banked Slalom (SB-LL2), she also won a bronze in Snowboard Cross. It's her third career Paralympic gold and fourth medal in total.
¶
The tight Covid controls in Beijing are continuing, with just 23 total cases reported during the Paralympic Games period. Of these, 16 have been flagged on entry and just seven within the closed loop from 23 February to 10 March.
● Games of the XXXIV Olympiad: Los Angeles 2028 ● The nomination of Los Angeles Mayor Eric Garcetti to be the U.S. Ambassador to India hit a speed bump on Thursday with Sen. Chuck Grassley (D-Iowa), the ranking member of the Senate Judiciary Committee placing a hold on it.
Grassley is now objecting to the nomination:
"I will object because I have received numerous credible allegations from multiple whistleblowers alleging that Mr. Garcetti, while mayor of Los Angeles, had knowledge of sexual harassment and assaults allegedly committed against multiple city employees and their associates by his close advisor, and that he ignored the misconduct."
An investigation had cleared Garcetti, but Grassley noted that "information provided by multiple whistleblowers strongly suggests that this investigation was incomplete at best." Garcetti is termed out as Mayor; a new Mayor will be elected in November.
● Athletics ● The World Athletics Council added sanctions on Belarus for its continuing role with Russia in the invasion of Ukraine, including no hosting of events or accreditation. Belarusian athletes had already been excluded from World Athletics events, along with Russians, on 1 March. Also:
"Our one-day meetings and tours are discussing the exclusion of Russian Authorised Neutral Athletes (ANA) and Belarusian athletes from their meetings ahead of their events beginning in the next couple of months. World Athletics is confident that these meetings will adopt the same approach that the World Athletics Council has taken."
The Council received a curious report from the Russian Task Force. Chair Rune Andersen (NOR) explained that "RusAF had made significant progress in many areas described in the roadmap, but that it was not yet fit for reinstatement." Moreover, payment for expenses incurred by the Task Force had not yet been paid for the last six months of 2021, which means
"if payment was not made as a matter of urgency, this would be regarded as a breach of the reinstatement conditions and would lead to action against RusAF, which could include a suspension of the reinstatement process."
As for the reinstatement process itself, Andersen noted the "shadow" cast by the Russian invasion of Ukraine, but recommended that the work continue in view of the "very real risk" that Russia would revert to doping as in the past if the process was suspended now:
"Such a loss and backsliding would undermine that cultural change that RusAF has been cultivating and ultimately be detrimental to the interests of clean Russian athletes, the athletes in other countries with whom they compete, and therefore the integrity of future international competitions."
¶
Just in time for the 2022 World Championships, being held in the U.S. for the first time, the Oregon22 organizers announced the presentation of team trophies for the top three nations in the combined men's and women's point total.
This is an excellent idea and a way to further drive U.S. interest in the event, as the American team will be an overwhelming favorite to win the title. Scoring will be 8-7-6-5-4-3-2-1 in all 49 events; at the 2019 Worlds in Doha, the U.S. piled up 310 total points to 122 for Kenya and 115 for Jamaica.
¶
Failure sometimes motivates more than success. Take North Carolina A&T's Randolph Ross Jr. He was the NCAA Champion and world leader in 2021 at 43.85, but barely made the U.S. Olympic Team and didn't qualify out of his heat in Tokyo. He did win a gold as a member of the U.S. team in the 4×400 m heats.
Said his father and North Carolina A&T coach, Duane Ross:
"He's been on fire since we got back from Tokyo. He wants to go above and beyond. Not making the 400-meter final lit a fire under him. Sometimes as an athlete, that disappointment burns the fire a little hotter than the successes. He realized he missed an opportunity."
Said Ross Jr., getting ready for the NCAA Indoor Championships this week:
"Last year going into nationals, my nerves were shaking. Every collegiate race used to make me a nervous wreck. Now going into it, everything seems a little calmer and relaxed. I'm more focused on what I need to do in the race and being technical than worrying about who's racing beside me."
● Gymnastics ● The operations report for January in the USA Gymnastics case – which is still ongoing – saw the total legal fees in the case reach $18.549 million, of which $10.917 million has been paid.
And it's still not done.
● Wrestling ● Tervel Dlagnev received his 2012 Olympic bronze medal in a special ceremony in Lincoln, Nebraska on Saturday, from Anita DeFrantz, the senior member of the International Olympic Committee in the United States, and herself an Olympic bronze medalist in rowing.
Dlagnev finished fifth on the mat in London in the 120 kg (heavyweight) category, but as the gold and silver medalists from Uzbekistan and Georgia were later disqualified for doping, Dlagnev moved up to the bronze position. It's his third international medal after bronzes at the 2009 and 2014 World Championships.
The ceremony took place just prior to the final session of the Big 10 Championships at Nebraska, where Dlagnev is an assistant coach, after an All-American career at Division II Nebraska-Kearney.
Gladnev was suitably attired in his 2012 parade uniform and was saluted with the playing of the Olympic Hymm and a raucous cheer from the crowd.
≡ SCOREBOARD ≡
● Alpine Skiing ● American star Mikaela Shiffrin continues to lead in the FIS World Cup standings after a bronze medal in the Giant Slalom race in Are (SWE) on Friday.
Her chief rival, Slovakia's Petra Vlhova, was the clear leader after the first of two runs, in 1:14.80, ahead of Marta Bassino (ITA: 1:14.83), with Shiffrin sixth.
Most of the field fell back on the second run, with Vlhova third to win easily at 2:32.59. Bassino was able to hold second despite being 18th on the second run (2:33.83 total) and Shiffrin moved from sixth to third even though she was only 14th-best on the final run (2:34.29).
That means Shiffrin still leads the World Cup overall standings with 1,216 points to 1,139 for Vlhova with a Slalom on Saturday and four races in Meribel (FRA) next week to close out the season.
● Cycling ● Both Paris-Nice and Tirreno-Adriatico saw major changes in the racing on Thursday, with Slovenian stars Primoz Roglic and Tadej Pogacar taking the leads, perhaps for good!
In France, Americans went 1-3 in the first climbing stage, a five-ascent ride over 188.8 km to Saint-Sauveur-de-Montagut, with Brandon McNulty winning in a runaway with an attack over the last 39 km. He finished a sensational 1:58 ahead of Franck Bonnamour (FRA) and Matteo Jorgenson of the U.S. and rose 66 places in the overall standings to 23rd.
However, Roglic took the overall lead, now 39 seconds up on Simon Yates (GBR) and 41 seconds ahead of Pierre Latour (FRA). Prior leader Wout van Aert (BEL) had a rough day, finishing 98th and dropping back to 62nd.
The hilly, 213.6 km stage 6 on Friday belonged to France's Mathieu Burgaudeau, who got his first pro win in a mass sprint to the line over Mads Pedersen (DEN) and van Aert in 5:33:06, with Roglic in the lead group, with no change at the top of the leaderboard.
In Italy, two-time defending Tour de France champ Pogacar took the overall lead by winning the hilly, 202 km third stage with a late surge in 4:48:39, just edging Jonas Vingegaard (DEN), Victor Lafay (FRA) and Belgian star Remco Evenepoel. From 14 seconds back starting the day, Pogacar carved out a nine-second lead over Evenepoel and Italy's Filippo Ganna.
Friday's 155 km ride from Sefro to Fermo was a breakaway win for French veteran Warren Barguil, who won by 10 seconds over Xandro Meurisse (BEL) and 14 seconds on Simone Velasco (ITA). Pogacar was sixth and remained nine seconds up on Evenepoel, but everyone else dropped. Now third is Thymen Arensman (NED), 43 seconds back.
Both races conclude on Sunday.
● Football ● At the CONCACAF women's U-20 Championship in the Dominican Republic, the U.S. will face Mexico in Saturday final in Santo Domingo.
The American women continued to dominate play, defeating Puerto Rico by 7-0, with a 4-0 lead at the half, plus three (!) second-half goals from Simone Jackson. In its six games in the tournament, the U.S. had outscored its opponents by 47-0!
The Canada-Mexico semi had lots more drama. The Canadians entered after five wins and a 30-0 scoreline and Mexico almost as dominant at 27-1. But only one goals was scored, by Mexico's Anette Vazquez in the 27th minute. The had 26 total fouls and shot were not easy to come by, with Mexico getting 10 to just four for Canada.
Both the final and the third-place game will be held Saturday, with the tournament winner automatically qualifying for the FIFA women's U-20 World Cup in Costa Rica in August.
● Weightlifting ● USA Weightlifting reported a fairly amazing North American Series Open competition in Columbus, Ohio last weekend, including a world-record number of lifters with 1,866 participants!
That improves the old mark of 1,561 from the 2018 American Open Series 3 in Las Vegas.
The meet required six lifting platforms to be used simultaneously at the Celeste Center on the state fairgrounds and a seventh for the sessions at the Greater Columbus Convention Center.
There were 42 American Records set or tied in the Youth (4), Junior (2), University (2), Open (1) and Masters (33) classes. The Open record came in the women's +87 kg category as Mary Theisen-Lappen raised the Clean & Jerk standard from 162 kg to 163 kg. Theisen-Lappen recorded a rare win over 2017 World Champion – and twice Olympic medal winner – Sarah Robles in the combined total.
The other U.S. medal winner in Tokyo, women's 76 kg silver medalist Katie Nye, won the 71 kg class with a combined total of 245 kg. Three-time World Championships silver medalist Mattie Rogers won the women's 81 kg class at 250 kg.
You can receive our exclusive TSX Report by e-mail by clicking here. You can also refer a friend by clicking here, and can donate here to keep this site going.
For our 832-event International Sports Calendar for 2022 and beyond, by date and by sport, click here!