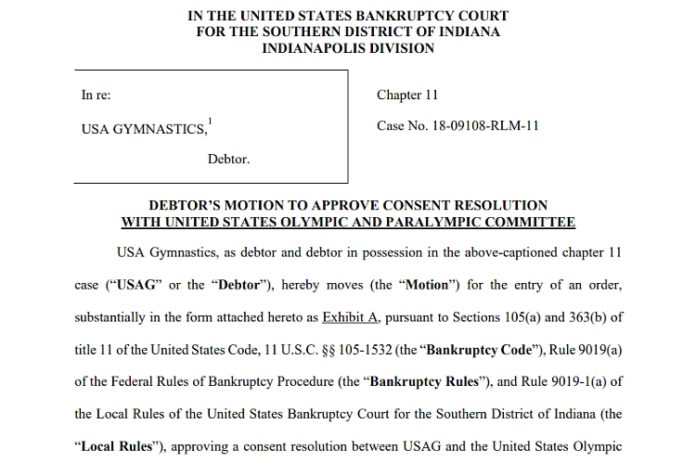 Even prior to Monday's settlement agreement approval in the USA Gymnastics bankruptcy case, the United States Olympic & Paralympic Committee agreed to end its de-certification procedure against USA Gymnastics.
Documents filed with the U.S. Bankruptcy Court for the Southern District of Indiana on Wednesday (15th) asked the Court to approve a consent resolution signed on the prior Friday – 11 December – to end the USOPC's de-certification case. Signed by USA Gymnastics President Li Li Leung and USOPC Chief Executive Sarah Hirshland, the resolution states:
"Due to the substantial progress that USAG has made in addressing the USOPC's concerns, the USOPC has agreed to withdraw the Section 8 Complaint and to enter into the USOPC Consent Resolution with USAG."
Following Monday's approval of the USA Gymnastics re-organization plan (and settlement with the insurers for abuse survivors and other debts), this is another major step forward for USA Gymnastics as it heads towards exiting bankruptcy and returns to normal operations, although it is not home-free yet. There are conditions:
● Continued implementation of the June 2017 Report to USA Gymnastics on Proposed Policy and Procedural Changes for the Protection of Young Athletes by former U.S. Attorney Deborah Daniels. A follow-up audit on this report was filed by Daniels in February 2021, and another review is required by 30 June 2022.
● Quarterly financial reports throughout 2022 and a quarterly report on "USAG's efforts to retain members of its Executive Leadership Team." That's a considerable compliment to Leung and her senior managers.
● A 2022 survey to be co-prepared by the USOPC and USA Gymnastics on athlete and public trust in the organization, with quarterly reports on its progress.
Of course, the re-organization plan must continue in place, with $339.46 million to be distributed to abuse victims and a total distribution expected to be about $380 million after legal fees, set-asides for future claims and other claims are included.
The normal USOPC audit process for its National Governing Bodies will now be applied to USA Gymnastics. The resolution includes:
"The USOPC Consent Resolution allows USAG to emerge from its chapter 11 case on a more secure financial footing having removed any uncertainty about its NGB status. In addition, approval of the USOPC Consent Resolution is in the best interest of all creditors because, as to the survivors, it provides additional assurance that USAG will have the financial wherewithal to satisfy the non-monetary commitments in the Plan and, as to other creditors, that USAG will make the payments due to such creditors when they come due."
As the Nassar abuse scandal exploded, the USOPC began the de-certification process against USA Gymnastics on 5 November 2018 by issuing a complaint under section 8.1 of the USOPC Bylaws (also 36 U.S. Code §220521(d)). On 5 December, USA Gymnastics declared voluntary bankruptcy under Chapter 11 of the U.S. Bankruptcy Code, freezing all actions against it, including the USOPC de-certification action.
This did not impress the U.S. Congress, with Representatives and Senators asking in hearings why the de-certification procedure against USA Gymnastics were not continued, despite the bankruptcy filing. But, in fact, the federation and the USOPC ended up on the same side, asking their insurers to reach a settlement with the Survivors' Committee, as was announced on Monday.
It is still possible that the Congress could de-certify USA Gymnastics, under its new-found power in the Empowering Olympic, Paralympic and Amateur Athletes Act of 2020 (S. 2330). The federation could be de-certified by a Joint Resolution of the Congress; such an act would cause consider chaos in the arrangements made in the re-organization plan for future payments by USA Gymnastics and would be a violation of the Olympic Charter, risking sanctions from the International Olympic Committee.
However, with the current turmoil in Washington, it's hard to see where there's the time or interest to further punish USA Gymnastics after substantial progress has been made, and acknowledged by all sides.
USA Gymnastics asked for a hearing on the motion for the consent resolution to be held on short notice, preferably next week.
You can receive our exclusive TSX Report by e-mail by clicking here. You can also refer a friend by clicking here, and can donate here to keep this site going.
For our 743-event International Sports Calendar for 2021 and beyond, by date and by sport, click here!