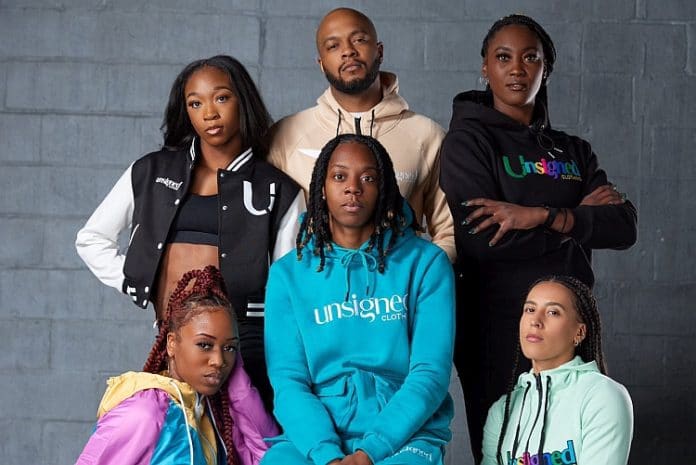 It did not start with Aaron Brown's 1,465-word essay, The track & field business model needs an overhaul, posted on CBC.ca on 1 May. But he has people talking.
If you don't recognize the name, Brown is a 29-year-old Canadian sprinter who won Olympic 4×100 m bronzes in Rio and Tokyo and World Championships 4×100 m bronzes in 2013 and 2015. He has run 9.96 for 100 m (2016) and 19.95 for 200 m in 2019 and has been in the top 12 in the world in the 200 m each of the last four seasons. He's a world-class talent, and wrote, in pertinent part:
"It is far too common for world-class track and field athletes to go unsponsored. Many athletes depend on 'Go Fund Me' campaigns to chase their dreams.
"Talented athletes who fall short of the podium believe they have accomplished nothing, that they don't deserve financial support. … Imagine a profession where you need to be a world top 10 just to begin earning a decent wage. That is the reality for many track and field athletes. …
"Reducing the sport to the absolute best of the best devalues and alienates an entire group of athletes who are one small tier below the extreme peak."
He goes on to note the interest in athlete speed in the National Football League, but:
"When TV deals increase for the NFL, the revenue increases for the league, which passes to the players in the form of bigger salary caps. When was the last time athletes in our sport saw a pay increase? In many leagues, an athlete union negotiates with the owners. Athletes in other professional sports understand that they are the asset, providing value to the sport, not the other way around. Pro leagues understand that the more valuable the athletes, the more valuable the product, and everyone stands to profit. This has always been missing from our sport.
"Change won't happen without a unified effort from the most influential athletes at the top of our profession. Our sport should find a way to partner with athletes, to leverage their value from a business perspective. If we can increase the overall value of our sport, it can be a viable choice for prospective athletes. …
"I believe that value remains hidden in our sport because we are reluctant to veer away from tradition. Track & field governing bodies have been slow to embrace change. We can't even post videos of ourselves at track and field's biggest events because billion-dollar conglomerates own the rights. But how can we grow the sport and attract casual viewership when those moments are hidden behind memberships and paywalls?"
Brown, to his credit, does not end with the all-too-often heard "woe is me" but encourages athletes to get engaged and find ways to make money beyond the shoe and apparel companies that have supported the sport for generations … but, of course, not everyone in the sport.
Robyn Stevens, 39, the U.S. Olympic Trials winner and only American woman to earn a place in the Tokyo Olympic 20 km Walk – she finished 33rd – was quoted by Brown from her 15 April tweet:
"I am the definition of financial poverty yet somehow I OWE a grand in taxes. I have no home of my own, I can't even rent, I can't afford to have kids because I can't even afford my own healthcare, I am #1 race walker ranked in the USA yet have ZERO income. #MakeThisMakeSense"
She added on 3 May:
"I have more to add to this because my post had a typo – I owe 10 grand not only a grand. If a grand, I could have scrapped by doing various side jobs. I worked for a financial firm before returning to Sport so I understand finance. I have a lot of skills. I am my own agent and more"
This is an all-too-familiar story. At the same time, British long jumper Lorraine Ugen, an Olympic finalist in 2016 and World Indoor bronze medalist in 2016 and 2022 (best of 7.05 m/23-1 3/4 from 2018) has been singing the same story most of this year.
Her story is important, documented on her Twitter feed:
● 6 February: "As an unsigned and unsponsored athlete this year I decided to create my own uniform and brand as a way to support myself. It's not perfect but I'm working on it! It's a statement. Follow on IG@unsignedsport"
● 1 March: "It's actually crazy that I'm making teams at the highest level in the sport, with no kit sponsor! The amount of extra time & work it takes creating my own brand (IG@unsignedsport) on top of all the training and traveling I have to do, because the other brands see no value in me."
● 9 May: "The fact that I won a whole medal at World Indoors and still don't have a kit sponsor or offer of one is actually quite sickening to me. When I really think about it.
"Like as much as I want to break the mold and create my own brand to fight against that & have my own it's, not easy getting sample after sample that just no right. Having vendors promise they can do something & not deliver on that. Having to do the marketing, advertising, design
"And still be focused on training & competing on top of that.
"A lot of people are messaging me saying I need to get an agent who will reach out to the kit companies and negotiate for me. I have an agent, he's spoken to them, and they don't want to sponsor me. Why? Not sure."
● 10 May: "I do interviews and people ask me all the time why I'm not sponsored and honestly I don't even know what the answer is myself. Because I'm competing at the highest level of the sport. Then they expect us to inspire the next generation."
Ugen wasn't kidding about starting her own brand, Unsigned (get it?). It's online now, with a stylish catalog of socks, sweats, tops and shorts, competition uniforms and even her own shoe line, at reasonable prices, especially the Colorblock jacket at $57.
Pretty remarkable, but, of course, no guarantee that she will succeed.
Rio Olympic long jump champion, two-time Olympic relay gold medalist and two-time long jump World Champion Tianna Madison (now using her maiden name again after divorce) – a gifted writer – got into the act this week as well, first quoting a tweet from the now-retired five-time Olympic medalist sprinter and 2004 Olympic 100 m champ Justin Gatlin: "Why are we operating like an amateur sport but on the highest level of sport itself?"
She replied:
● "That's the question. But what we needed was for the top 1% to make these moves BEFORE retirement. And so the 'cool kids' continue to get their lanes and cash their checks and everybody else is running for their lives. We need more top athletes to care WHILE AT THE TOP."
A reply stated: "So what you're saying is: get @GoSydGo [Sydney McLaughlin] and @fkerley99 [Fred Kerley] and @Flaamingoo_ [Grant Holloway] & everyone else who fills a stadium to make this stand. @allysonfelix, you have the gravitas & respect to change the sport for the people in it – care to lead the athletes into a new age of T&F for those in it?"
Madison responded:
● "The thing is…that's what @WeAreTheSport [The Athletics Association] attempted to do. And had a board of these 'top athletes' I'm no longer on the board so I'm not privy to the work they are currently doing – but this was part of their mission."
Brown made a key point without expanding on it when he wrote, "In many leagues, an athlete union negotiates with the owners."
That's fine when there's plenty of money to spread around. In track & field, there isn't much. The same complaint has been heard for years from players in Major League Soccer, the Women's National Basketball Association, now the National Women's Soccer League and many others.
Only recently have MLS, the WNBA and NWSL begun to generate enough money to raise player salaries. The MLS television agreement from 2015-22 was for $90 million for 42-plus games a year, and the WNBA gets $25 million a year from ESPN for 24-37 games a year with its agreement that will end this season, and more from a deal with CBS for about 40 games a year.
Keep those numbers in mind.
Track & field? The first-tier "Wanda Diamond League" was planned for 2022 as 14 meets – now 13 – spread unevenly over 17 weeks with a one-month hole in the middle of it where the most important meet – the World Championships – takes place; it is not attached to the Diamond League at all.
If athletes want to change the paradigm, how many meets are right? Where should they be held to make the most money, regardless of the legacy meets in Rome, Oslo, Stockholm, Eugene, Lausanne, Zurich and Brussels? One of the best-attended meets in the world, the ISTAF in Berlin, wants nothing to do with the Diamond League and is a third-tier Continental Tour Silver meet, so that it can do as it pleases.
What about private equity? U.S.-based Relevent Sports Group, which concentrates on football, spent a reported $1 billion for the media rights in the United States for UEFA men's club competitions, including the UEFA Champions League for the 2024-27 cycle. Chief executive Danny Sillman told SportBusiness:
● "We need more events. We need to create proximity to fans, which is really why Relevent finds events important. Look at what the NBA is doing in Europe and Asia, what the NFL is doing in Europe, expanding now from London into Germany, and it will continue to go into other countries. Spain will likely be after that. And then you look at grassroots initiatives."
● "Then you need brands like Nike and Adidas, the footwear brands and technical partners, to get involved in young athletes."
● "We have a 50:50 partnership with [Spain's] LaLiga. It's a 15-year joint venture with a five-year option to extend. So it's likely a 20-year relationship where we're actually building a market. We're investing in grassroots. We have a local content studio, where we have 20 people producing 30 weekly shows, both Spanish and English. We have a fantastic, talented team that day in, day out is telling stories about LaLiga clubs and players, engaging with that audience, creating top-of-funnel acquisition of new audiences and new fans. And then, ultimately, we are monetizing through the commercial rights with media and sponsorships."
More events? Weekly shows? Where is that in track? When the Diamond League premiered in 2010, it had 14 meets, the same number planned for 2022.
It's not just football. In 2021, CVC Capital Partners, headquartered in Luxembourg, invested $100 million with the International Volleyball Federation to restructure the federation's beach volleyball circuit in a co-owned venture called Volleyball World, now in its first season.
Even swimming got the money-losing International Swimming League, financed by Ukrainian billionaire Konstantin Grigorishin for three seasons at about $20 million per – including athlete salaries and meet bonuses – but with the fourth season postponed because of the Russian war on Ukraine.
There's a future out there for track & field, and Brown is right, the business model does need an overhaul. Who knows if he, Stevens, Ugen or Madison will be around to see it.
≡ SCOREBOARD ≡
● Cycling ● The 105th Giro d'Italia was back in Italy on Tuesday and immediately challenged the riders with a brutal uphill finish at Mt. Etna over a 172 km course that started at 46 m altitude and finished at 1,899 m!
Spain's Juan Pedro Lopez took control of the fourth stage with 11 km to go and only Germany's Lennard Kamna could get close, finally getting to the line first in a one-on-one sprint at the finish. It's Kamna's first stage win at the Giro; he won a Tour de France stage in 2020; both were timed in 4:32:11.
The two crushed the rest of the field, with Estonian Rein Taaramae third, 34 seconds behind, with fourth-placer Sylvain Moniquet (BEL) some 2:12 behind. Thus, Lopez took the overall lead by 39 seconds over Kamna and will wear the Maglia Rosa for Wednesday's mountain stage from Catania to Messina (174 km).
● Weightlifting ● The IWF World Junior Weightlifting Championships concluded in Heraklion (GRE) with the final six classes, featuring a second gold for Ukraine, in the men's 109 kg class.
Bohdan Hoza won the Snatch and the Clean & Jerk and claimed the overall gold at 410 kg, including a World Junior Record in the Snatch. Iran's Alireza Yousefi got a World Junior Record in the Clean & Jerk in the men's +109 kg class and won with a 416 kg total.
Turkey led the final medal count in the combined-lift totals with six medals (2-3-1) and was one of four countries to win two golds. Armenia (2-2-1), Mexico (1-3-1), the U.S. (1-2-2) and Egypt (1-1-3) each had five total medals.
You can receive our exclusive TSX Report by e-mail by clicking here. You can also refer a friend by clicking here, and can donate here to keep this site going.
For our updated, 620-event International Sports Calendar for 2022 and beyond, by date and by sport, click here!