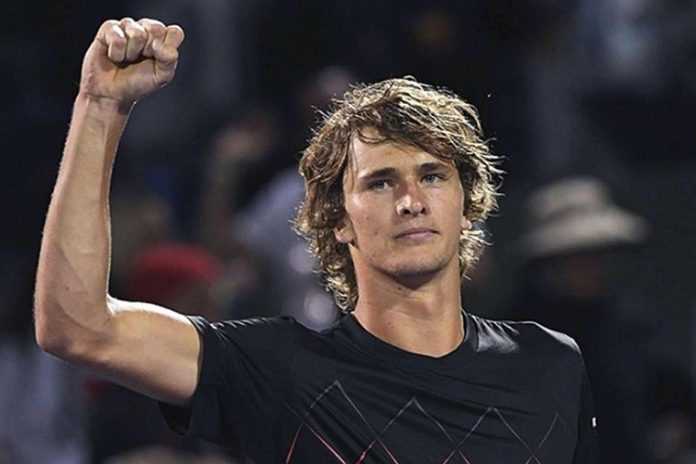 The ATP Finals at London's O2 Arena was going just as planned, with Serbian star Novak Djokovic and Swiss Roger Federer on a collision course for yet another championship meeting.
But it didn't turn out that way. Federer was upset by Germany's 21-year-old Alexander Zverev (pictured) in straight sets, while Djokovic sailed into the final with a 6-2, 6-2 win over South Africa's Kevin Anderson.
No problem for Djokovic, right? Yes, problem.
Djokovic was heavily favored to win his sixth title in this event, but it was Zverev who broke him for a 5-4 lead in the first set and then served out the next game to take a 6-4 set win. He then broke Djokovic twice in the second set for a 6-3 win and his first major international title.
"I'm unbelievably happy. Obviously it is the biggest title I have ever won," said Zverev. "How I played today, how I won it, for me it's just amazing."
Amazing is the word for beating Federer and Djokovic back-to-back, which no one had ever done at the ATP Finals before. The first German winner since Boris Becker in 1995, the shaggy-haired Zverev is also the first to ever beat the nos. 1-2 seeds to win the event since Andre Agassi did it in 1990.
While Djokovic won Wimbledon and the U.S. Open this year, Zverev only got as far as the French Open quarterfinals among the Grand Slam tournaments this season. But Zverev won the Madrid Open and two smaller tournaments and he will not be overlooked in 2019.
Americans Mike Bryan and Jack Sock won the Doubles title; it's the fifth ATP Finals win for Bryan, who teamed up with Sock this season because his brother Bob – with whom he had won four previous title – has been injured. Summaries:
ATP Finals
London (GBR) ~ 11-18 November 2018
(Full results here)
Men's Singles: 1. Alexander Zverev (GER); 2. Novak Djokovic (SRB); 3. Kevin Anderson (RSA) and Roger Federer (SUI). Semis: Djokovic d. Anderson, 6-2, 6-2; Zverev d. Federer, 7-5, 7-6 (7-5). Final: Zverev d. Djokovic, 6-4, 6-3.
Men's Doubles: 1. Mike Bryan/Jack Sock (USA); 2. Pierre-Hugues Herbert/Nicolas Mahut (FRA); 3. Juan Sebastian Cabal/Robert Farah (COL) and Jamie Murray (GBR)/Bruno Soares (BRA). Semis: Herbert/Mahut d. Cabal/Farah, 6-3, 5-7, 10-5; Bryan/Sock d. Murray/Soares, 6-3, 4-6, 10-4. Final: Bryan/Sock d. Herbert/Mahut, 5-7, 6-1, 13-11.