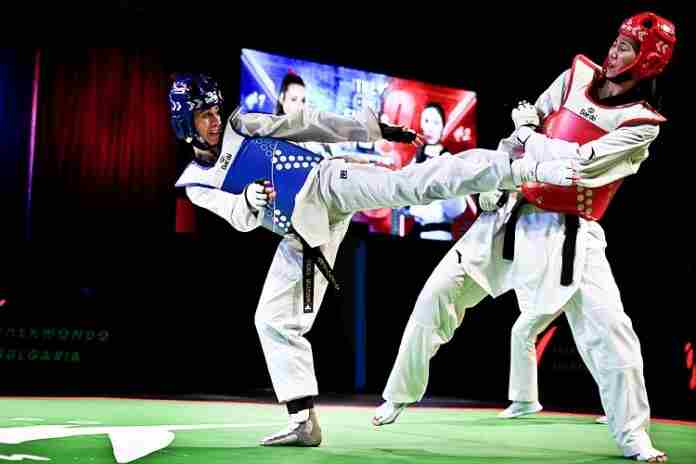 The first-ever World Taekwondo Grand Prix event held in Bulgaria turned out to be a showcase for China, with four wins in the eight classes.
The highlight was the women's +67 kg final, a World Championships re-match between Britain's Bianca Walkden and silver medalist Shuyin Zheng. This time Zheng was the winner in a tight, defensive match by 3-2.
China also got wins from Jingyu Wu at 49 kg and Lijun Zhou at 57 kg in the women's division and Shuai Zhao at 68 kg.
Zhao, along with Korea's Jun Jang (58 kg) were the two 2019 World Champions who won in Sofia; the 2017 World 62 kg Champion Ruth Gbagbi (CIV), won at 67 kg in Sofia. Summaries:
World Taekwondo Grand Prix
Sofia (BUL) ~ 18-20 October 2019
(Full results here)
Men
58 kg: 1. Jun Jang (KOR); 2. Tae-Hun Kim (KOR); 3. Armin Hadipour (IRI) and Vito Dell'Aquila (ITA). Final: Jang d. Kim, 12-1.
68 kg: 1. Shuai Zhao (CHN); 2. Dae-Hoon Lee (KOR); 3. Yu-Jen Huang (TPE) and Soroush Ahmadi (IRI). Final: Zhao d. Lee, 17-7.
80 kg: 1. Saleh Elsharabaty (JOR); 2. Seif Eissa (EGY); 3. Icaro Martins Soares (BRA) and Moises Hernandez (DOM). Final: Elsharabarty d. Eissa, 12-10.
+80 kg: 1. Maicon Siqueira (BRA); 2. Kyo-Don In (KOR); 3. Hongyi Sun (CHN) and Ivan Sapina (CRO). Final: Siqueira d. In, 4-3.
Women
49 kg: 1. Jingyu Wu (CHN); 2. So-Hui Kim (KOR); 3. Yuntao Wenren (CHN) and Tijana Bogdanovic (SRB). Final: Wu d. Kim, 24-8.
57 kg: 1. Lijun Zhou (CHN); 2. Ah-Reum Lee (KOR); 3. Tatiana Kudashova (RUS) and Hatice Ilgun (TUR). Final: Zhou d. Lee, 15-12.
67 kg: 1. Ruth Gbagbi (CIV); 2. Lauren Williams (GBR); 3. Julyana Al-Sadeq (JOR) and Nur Tatar Askari (TUR). Final: Gbagbi d. Williams, 25-20.
+67 kg: 1. Shuyin Zheng (CHN); 2. Bianca Walkden (GBR); 3. Mi-Na Myeong (KOR) and Milica Mandic (SRB). Final: Zheng d. Walkden, 3-2.