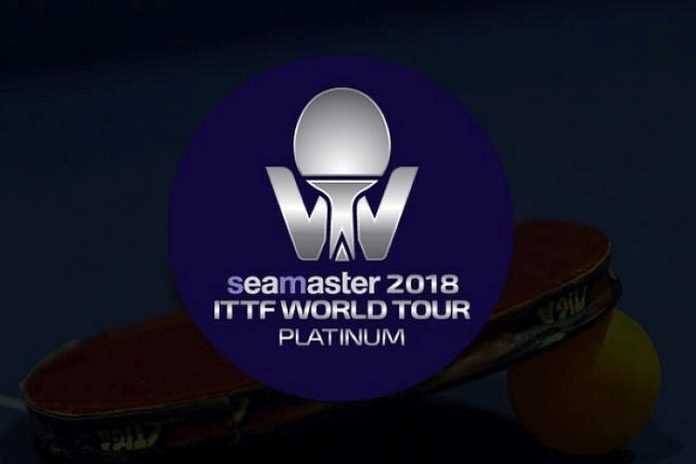 True, the Austrian Open was played in Linz, but the finals were all between Asian competitors, with China winning the men's and women's Singles and the Mixed Doubles, while Japanese teams won both Doubles events.
This was not totally unexpected, as Japan's Masataka Morizono and Yuya Oshima are ranked no. 1 in the world and Hina Hayata and Mima Ito are ranked no. 3. They both won clean victories by 3-1 (men) and 3-0 (women) scores. And China's Meng Chen is ranked no. 4 in the women's Singles and defeated no. 5 Manyu Wang (CHN), 4-3.
The surprise came in the all-China men's Singles final, where Jingkun Liang, 22, an outstanding player at the junior level, stepped up to the big time and defeated Asian Games and World Cup champ Zhendong Fan, 4-2, for his first World Cup title!
In the fairly new Mixed Doubles event, China's Xin Xu and Shiwen Liu won over no. 1-ranked Chien-An Chen and I-Ching Cheng of Chinese Taipei, 3-2. Summaries:
ITTF World Tour/Austrian Open
Linz (AUT) ~ 8-11 November 2018
(Full results here)
Men's Singles: 1. Jingkun Liang (CHN); 2. Zhendong Fan (CHN); 3. Koki Niwa (JPN) and Hugo Calderano (BRA). Semis: Liang d. Calderano, 4-0; Fan d. Niwa, 4-1. Final: Liang d. Fan, 4-2.
Men's Doubles: 1. Masataka Morizono/Yuya Oshima (JPN); 2. Youngsik Jeoung/Sangsu Lee (KOR); 3. Kwan Kit Ho/Chun Ting Wong (HKG) and Ovidiu Ionescu (ROU)/Alvaro Robles (ESP). Semis: Jeoung/Lee d. Ho/Wong, 3-0; Morizono/Oshima d. Ionescu/Robles, 3-1. Final: Morizono/Oshima d. Jeoung/Lee, 3-1.
Women's Singles: 1. Meng Chen (CHN); 2. Yuling Zhu (CHN); 3. Hoi Kem Doo (HKG) and Shiwen Liu (CHN). Semis: Chen d. Liu, 4-0; Zhu d. Doo, 4-1. Final: Chen d. Zhu, 4-3.
Women's Doubles: 1. Hina Hayata/Mima Ito (JPN); 2. Xingtong Chen/Yingsha Sun (CHN); 3. Gaoyang Liu/Rui Zhang (CHN) and Jihee Jeon/Haeun Yang (KOR). Semis: Hayata/Ito d. Liu/Zhang, 3-1; Chen/Sun d. Jeon/Yang, 3-2. Final: Hayata/Ito d. Chen/Sun, 3-0.
Mixed Doubles: 1. Xin Xu/Shiwen Liu (CHN); 2. Chien-An Chen/I-Ching Cheng (TPE); 3. Woojin Jang (KOR)/Hyo Sim Cha (PRK) and Chun Ting Wong/Hoi Kem Doo (HKG). Semis: Xu/Liu d. Jang/Cha, 3-0; Chen/Cheng d. Wong/Doo, 3-2. Final: Xu/Liu d. Chen/Cheng, 3-2.