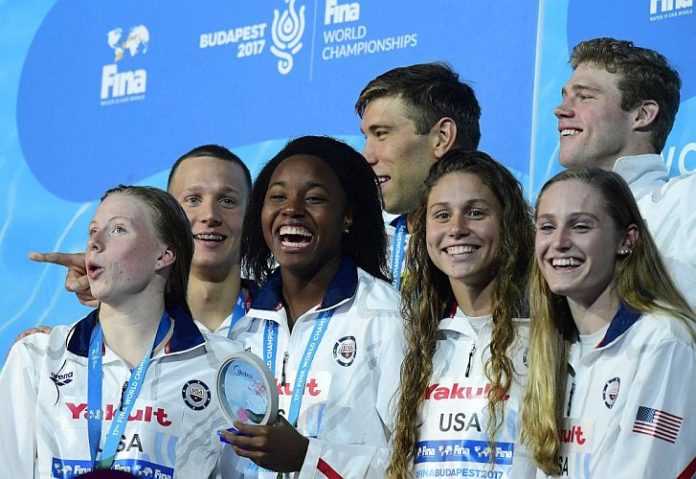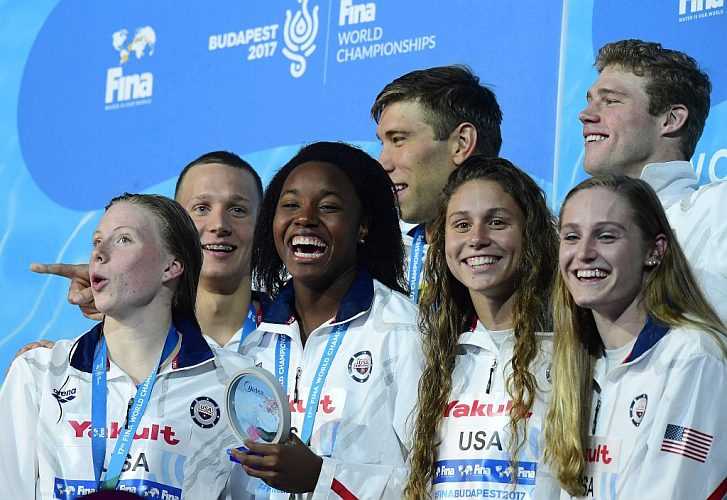 PALM DESERT, July 31, 2017 – A marvelous World Championships in the aquatic sports closed on Sunday with a historic performance by the United States swim team, which won more medals – 38 – than any team in history.
The next World Championships isn't until 2019, but FINA and the Olympic organizers in Tokyo for 2020 will starting thinking quite soon about the Games swimming schedule. Will it allow American stars Caeleb Dressel and Katie Ledecky to potentially pursue "unreachable" medal goals held by Olympic stars Michael Phelps and East Germany's Kristin Otto?
We consider the possibilities for history – based on what we saw from Budapest – and the politics in our Lane One commentary, plus a wrap-up of the World Championships and much more:
= p. 5/Swimming: Recap of the Worlds' final, frantic day and how the U.S. made history;
= p. 9/Water Polo: Undefeated U.S. women earn gold and extend an amazing win streak;
= p. 15/Cycling: U.S. stars Alise Post & Corbin Sharrah win BMX world titles!
= p. 17/Football: Wild comeback for U.S. women vs. Brazil: 3 goals in 9 minutes!
= p. 23/Triathlon: Mario Mola & Flora Duffy make history at Edmonton Sprint!
[wpdm_package id=2462 template="link-template-button.php"]