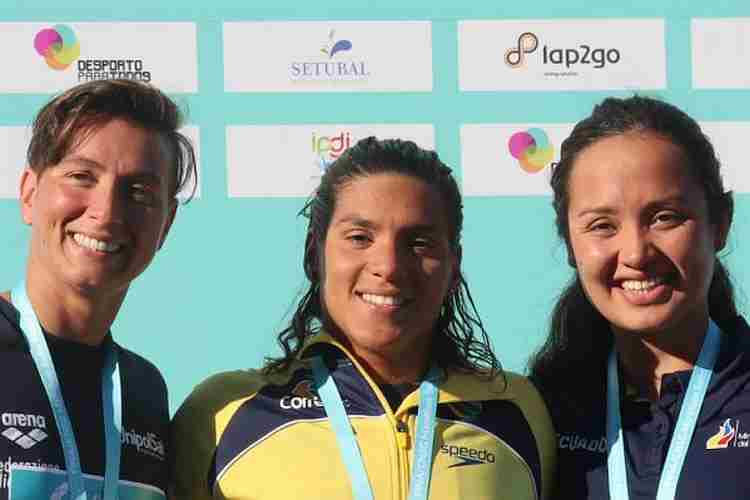 If there are any people on the planet more fit right now than Brazil's Ana Marcela Cunha and Italy's Rachele Bruni, they need to prove it.
Swimming against a small field in the third FINA Marathon Swim Series race in Setubal (POR), the two stars raced 10,000 meters in 19 C (66 F) water – wearing wetsuits – and were stroke for stroke over the final 200 m to the finish. It took a review of the phototimer to separate them and give Cunha the win, for the second time this season.
Said the winner, "This was the first time I felt that I raced well in a wetsuit. Today I tried to swim more in the front of the group, like I did in the Seychelles. I came here because I want to keep racing right up to the World Championships."
Bruni was also pleased: "I'm very happy with the race, the race was harder than normal with the wetsuit. It was a very fast finish, it was a good clean finish as we didn't clash at all when we were coming into the finish.
"I'm looking forward to the World Championships which are coming up in less than a month, the World Championships is also our qualification for the Olympic Games so I really want to win a medal at the Champs."
For Cunha, a four-time World Series winner, and Bruni, the 2015-16 winner, this was just another step toward the 2020 Games. For Japan's Yousuke Miyamoto, Setubal opened the door to a new level of competition.
Favored Andreas Waschburger (GER) was leading the front pack of six heading into the final lap of the five-circuit race. With just 100 m left, it looked like Waschburger would win, but Miyamoto's furious kick gave him his first-ever World Series victory.
"The water temperature was low for me and it was a very hard race," said the winner. "This was the first time for me to win a World Series event and I'm very happy." Summaries:
FINA Marathon World Series
Setubal (POR) ~ 8 June 2019
(Full results here)
Men/10 km: 1. Yousuke Miyamoto (JPN), 1:34:44.00; 2. Andreas Waschburger (GER), 1:34:45.00; 3. Joaquin Moreno (ARG), 1:34:48.00; 4. Guillermo Bertola (ARG), 1:34:51.01; 5. Logan Vanhuys (BEL), 1:34:52.00.
Women/10 km: 1. Ana Marcela Cunha (BRA), 1:41:12.01; 2. Rachele Bruni (ITA), 1:41:12.01; 3. Samantha Arevalo (ECU), 1:41:18.01; 4. Adrianna Bridi (ITA), 1:41:19.01; 5. Angelica Andre (POR), 1:41:19.01.