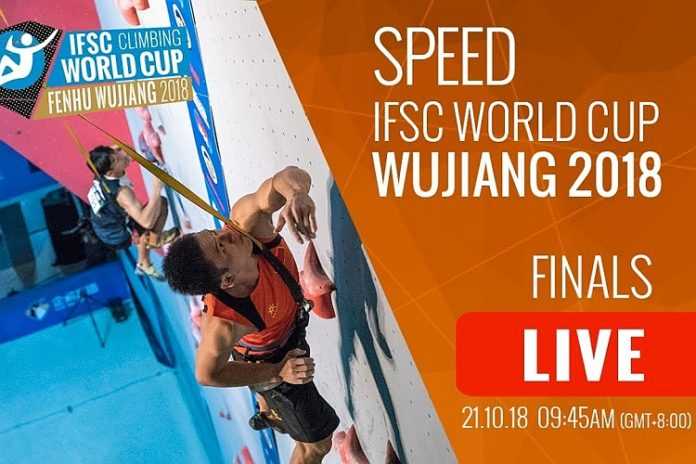 The first of two straight weeks of competitions in Lead and Speed in China will start in Wujiang on Friday and Saturday, as the Sport Climbing season closes out for 2018. The current standings:
Lead/Men:
1. 415 Jakob Schubert (AUT)
2. 386 Stefano Ghisolfi (ITA)
3. 256 Domen Skofic (SLO)
4. 230 Alexander Megos (GER)
5. 213 Romain Desgranges (FRA)
Lead/Women:
1. 460 Janja Garnbret (SLO)
2. 395 Jessica Pilz (AUT)
3. 230 Jain Kim (KOR)
4. 198 Manon Hily (FRA)
5. 181 Anak Verhoeven (BEL)
Schubert has been tremendous in the men's Lead category, winning two events and finishing second twice in five events. With scoring at 100-80-65-55-51 for the top five places, he might be able to clinch the seasonal title this weekend, but Ghisolfi – with two wins and a second – could close the gap. Besides the top two, only Megos has won a Lead competition this season.
Olympic favorite Garnbret is looking for her third straight World Cup title in Lead, despite still being just 19. She and Pilz have dominated the event this season, going 1-2 (or 2-1) in the first four events of the year. Garnbret has won three times, Pilz once and two-time World Cup champ Kim, once.
Speed/Men:
1. 373 Danyil Boldyrev (UKR)
2. 353 Dmitrii Timofeev (RUS)
3. 311 Bassa Mawem (FRA)
4. 285 Reza Alipour (IRI)
5. 277 Alexander Shilkov (RUS)
Speed/Women:
1. 436 Anouck Jaubert (FRA)
2. 341 Mariia Krasavina (RUS)
3. 289 Iullia Kaplina (RUS)
4. 247 Elena Timofeeva (RUS)
5. 225 Anna Tsyganova (RUS)
The men's competition is too close to call, as 2014 champ Boldyrev has been on fire, finishing 3-7-3-1-1 in his last five events to storm into the lead. Alipour, the runner-up in the last two seasons, won the season opener in Moscow; Timofeev and Mawem have each won once and Aleksandr Shikov (RUS) has won once. But Boldyrev's consistency is what will earn him another title if he can maintain his current pace.
Jaubert has essentially won the seasonal series, but hasn't mathematically clinched yet. She's won three of the six events held so far and was third in the last climb at Arco (ITA). Indonesia's Aries Susanti Rahayu, Poland's Aleksandra Rudzinska and Kaplina have won the other events on tour. Krasavina has medals in the last three events to move into second overall.
Look for results here.