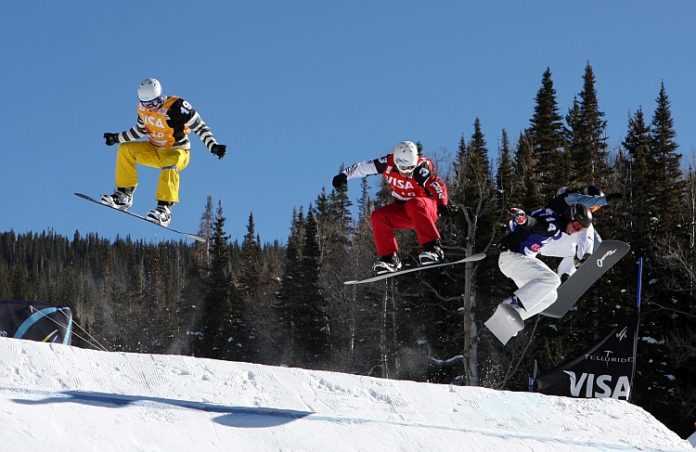 There's a lot of Snowboard World Cup action this weekend, with Halfpipe and Slopestyle in Secret Garden (CHN) and Snowboard Cross in Cervinia (ITA).
∙ Halfpipe & Slopestyle:
The Halfpipe season got underway at Copper Mountain, Colorado (USA), with Scotty James (AUS), Toby Miller (USA) and Chase Josey (USA) taking the medals for the men and Chloe Kim (USA), Maddie Mastro (USA) and Xuetong Cai (CHN) on the women's podium.
A lot of the international stars are skipping Saturday's event, but Cai was the leading qualifier on Wednesday (92.50!) and Swiss Jan Scherrer (89.75) had the top men's mark.
The defending champs at Secret Garden are Ayumu Hirano (JPN) for the men and Jiayu Liu (CHN) for the women. Look for results here.
In Slopestyle, this will be the season opener, with Chris Corning (USA) and Sofya Fyodorova (RUS) the defending champions. In the qualifying on Thursday, Niklas Mattson (SWE: 79.96) and Sebbe de Buck (BEL: 75.15) led the men's scoring and Miyabi Onitsuka (JPN: 79.68) and Reira Iwabuchi (JPN: 72.60) were 1-2 for the women.
∙ Snowboard Cross:
With an earlier competition canceled, Cervinia (ITA) will be the site of the season opener for Snowboard Cross. Competitions are scheduled for Friday and Saturday.
The fastest qualifiers were Martin Noerl (GER: 1:15.18), Hagen Kearney (USA: 1:16.95) and Konstantin Schad (GER: 1:17.00) among the men, and Nelly Moenne Loccoz (FRA: 1:22.46), Michela Moioli (ITA: 1:22.89) and Raffaella Brutto (ITA: 1:23.16) among the women.
Last season's top men's SnowCross riders were Pierre Vaultier (FRA), Alessandro Hammerle (AUT) and Alex Pulin (AUS) and they are all entered, as are American stars Kearney, Nick Baumgartner and Mick Dierdorff, among others.
The women's World Cup medalists for 2017-18 were Moioli, Chloe Trespauch (FRA: not entered) and Moenne Loccoz. American Lindsey Jacobellis, a two-time World Cup champion, who dominated the circuit until she stopped racing to prepare for the 2018 Winter Games, is also entered.
The defending champs in Cervinia are Italians Omar Visintin and Moioli. Look for results here.