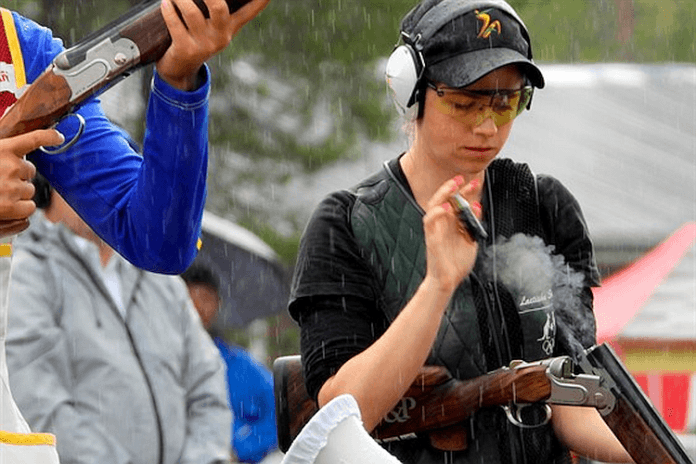 There was sunshine and rain in Lahti (FIN) for the ISSF World Cup in Shotgun, but the competition continued with veteran shooters showing they have lost nothing to time.
The men's Trap title match went to a shoot-off, with Russia's 2004 Olympic gold medalist Alexey Alipov, 44, winning the decision over his youthful counterpart, Portugal's Joao Azevedo. At "just" 35, this was Azevedo's first-ever World Cup medal.
The women's Trap final was held in a driving rain, but this time it was the youngster who won. Competing against Finland's 2008 Olympic gold medalist, Satu Makela-Nummela, Australia's Penny Smith was brilliant, scoring 45/60 in the difficult conditions for the win. Makela-Nummela, now 48, was second with 40 and Australia's 29-year-old Laetisha Scanlan captured the bronze medal – her first World Cup medal – with 33 points.
The Mixed Trap title went to San Marino's duo of Alessandra Perlli and Gian Marco Berti. The Skeet finals will be held on Wednesday and Thursday. Summaries so far:
ISSF Shotgun World Cup
Lahti (FIN) ~ 13-23 August 2019
(Full results here)
Men/Trap: 1. Alexey Alipov (RUS), 43; 2. Joao Azevedo (POR), 43 (shoot-off: Alipov 2, Azevedo 1); 3. Mauro de Filippis (ITA), 34.
Women/Trap: 1. Penny Smith (AUS), 45; 2. Satu Makela-Nummela (FIN), 40; 3. Laetisha Scanlan (AUS), 33.
Mixed Trap ~ Final: 1. Alessandra Perilli/Gian Marco Berti (SMR), 40; 2. Selin Ali/Marin Kirilov (BUL), 38. Third: 1. Silvana Stanco/Giovanni Pellielo (ITA), 40; 4. Safiye Sariturk/Murat Ilbigli (TUR), 39.