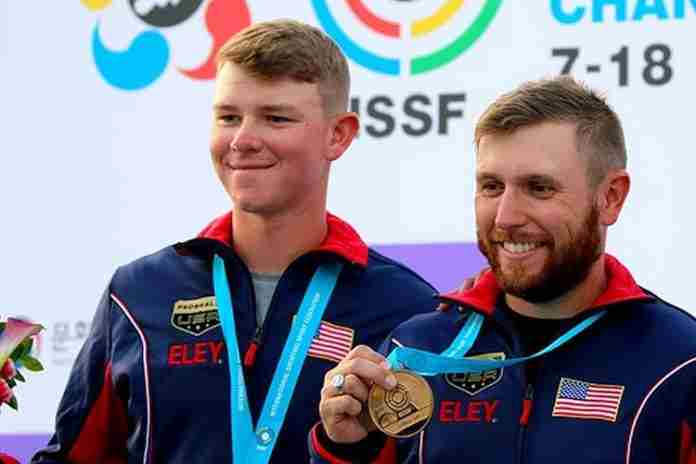 The first half of the ISSF Shotgun World Cup confirmed – once again – that the Skeet favorites for Tokyo are Americans Vincent Hancock and Kim Rhode.
And why not?
Hancock, 30, won the 2008 and 2012 Olympic Skeet events and the 2018-19 World Championships. Rhode, 39, is a living legend, having won six Olympic medals in the last six Games, including the 2008 Skeet silver, 2012 gold and 2016 bronze.
But neither is resting on their reputations. They each won another ISSF World Cup, this time in Changwon (KOR) at the third Shotgun World Cup of the season.
Rhode has dominated the 2019 World Cup season, now winning all three, in Acapulco (MEX), Ai Ain (UAE) and now at Changwon. She won the final with 57 hits out of 60, scoring on 22 of her first 23 shots, then missing two of the next six to stand at 26 of 29. Then she hit her last 31 in a row to finish at 57, three better than 2016 Olympic Champion Diana Bacosi (ITA).
It was Rhode's 21st World Cup victory in her brilliant career, stretching back to 1996, and a successful defense of her 2018 win at Changwon.
Hancock won his second World Cup of the season – also in Acapulco – by hitting 42 of his first 43 shots. He missed the 44th, then hit 12 in a row to get to 56 of 58 and he finished with 57, the same as Rhode.
A new U.S. star might be on the horizon in 21-year-old Christian Elliott, competing in his first World Cup final. He scored on 37 of his first 40 shots and 46 of 50 to make it to the final round with Hancock. He ended up winning the silver with 53 shots out of 60.
The Changwon World Cup continues next week with the Women's Trap on Wednesday, men's Trap on Thursday and the Mixed Trap on Friday. Summaries so far:
ISSF Shotgun World Cup
Changwon (KOR) ~ 7-18 May 2019
(Full results here)
Men/Skeet: 1. Vincent Hancock (USA), 57; 2. Christian Elliott (USA), 53; 3. Mansour Al Rashedi (KUW), 45; 4. Hyun Suk Kang (KOR), 32; 5. Lari Pesonen (FIN), 26.
Women/Skeet: 1. Kim Rhode (USA), 57; 2. Diana Bacosi (ITA), 54; 3. Chiara Cainero (ITA), 44; 4. Danka Bartekova (SVK), 33; 5. Assem Orynbay (KAZ), 24.