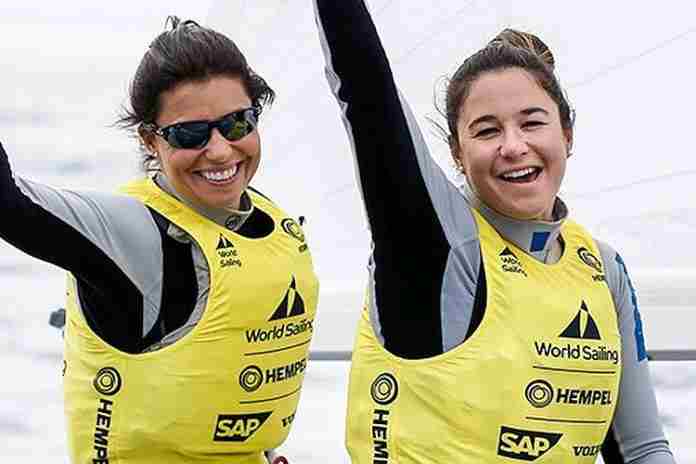 Maneuvering in light winds meant seamanship was at a premium all week in the third World Sailing World Cup off of Genoa (ITA), finishing on Sunday.
The racing was so close that seven of the eight classes came down to the medal race.
Both of the Laser events were cliff-hangers. Jonatan Vadnai (HUN) had to finish three places ahead of 2018 World Champion Pavlos Kontides (CYP) and he did just that, to tie at 50 net points each. But because Vadnai had a better finish in the medal race, he won the overall class title.
The women's Laser Radial class had China's Dongshuang Zhang leading into the medal race. But she was doomed by a seventh-place finish while Olympic and Worlds bronze medalist Anne-Marie Rindom (DEN) was second, and won the class by 19.0-22.0.
In Finn, Spain's Alex Muscat had a 16.0-18.0 lead on Brazil's Jorge Zarif entering the medal race, but Zarif finished sixth to Muscat's ninth. As the finish points in medal races are doubled, Zarif's 12-18 edge have him the win, 30.0-34.0.
Same in the men's 470. China's Zangjun Xu and Chao Wang led into the medal race, but Paul Snow-Hansen and Daniel Willcox (NZL) finished third to fifth for the Chinese. The result was a 56.0-57.0 win for the New Zealanders.
The women's 49erFX class saw another come-from-behind win in the medal race. Italy's Carlotta Omari and Matilda Distefano had the lead by 33.0-41.0 over Odile van Aanholt and Marieke Jongens (NED), but the Dutch sailed in first in the medal race, to seventh for the Italians. That's two points vs. 14, so the Dutch won the class, 43.0 vs. 47.0. The U.S. got a bronze medal from Stephanie Roble and Margaret Shea, who finished second in the medal race to move up to third overall.
The Nacra 17 class saw Spain and Britain exchange wins: Iker Martinez de Lizarduy and Olga Maslivets won races three and five while Ben Saxton and Nicole Boniface took races 1, 2 and 5 (tie). But in the medal race, the Brits could only manage sixth, their worst scoring race of the regatta, while the Spaniards were second to eke out a 23.0-24.0 victory.
Brazil was the only nation to record two wins, in Finn and the women's 470, where Fernanda Oliveira and Ana Luiza Barbachan ran away with the class title, winning three of the six races. Said Oliveira, "It was an incredible week. It was a very good week even though it was difficult with light winds and a lot of waiting. But if you have good results, you'll enjoy any wind." Summaries:
World Sailing World Cup 3
Genoa (ITA) ~ 15-21 April 2019
(Full results here)
Men
Laser: 1. Jonatan Vadnai (HUN), 50.0 net points; 2. Pavlos Kontides (CYP), 50.0 (tie broken by medal-race placeing: Vadnai 5, Kontides 8); 3. Andrew Lewis (TTO), 54.0
Finn: 1. Jorge Zarif (BRA), 30.0; 2. Alex Muscat (ESP), 34.0; 3. Joan Cardona Mendez (ESP), 40.0.
470: 1. Paul Snow-Hansen/Daniel Willcox (NZL), 56.0; 2. Zangjun Xu/Chao Wang (CHN), 57.0; 3. Kilian Wagen/Gregoire Siegwart (SUI), 61.0. Also in the top 10: 9. Stuart McNay/David Hughes (USA). 82.0.
49er: 1. David Gilmour/Lachy Gilmour (AUS), 64.0; 2. Isaac McHardie/William McKenzie (NZL), 68.0; 3. Peter Burling/Blair Tuke (NZL), 74.0.
Women
Laser Radial: 1. Anne-Marie Rindom (DEN), 19.0; 2. Dongshuang Zhang (CHN), 22.0; 3. Maud Jayet (SUI), 26.0.
470: 1. Fernanda Oliveira/Ana Luiza Barbachan (BRA), 14.0; 2. Mengxi Wei/Haiyan Gao (CHN), 45.0; 3. Benedetta de Salle/Alessandra Dubbini (ITA), 46.0.
49er FX: 1. Odile van Aanholt/Marieke Jongens (NED), 43.0; 2. Carlotta Omari/Matilda Distefano (ITA), 47.0; 3. Stephanie Roble/Margaret Shea (USA), 53.0.
Mixed
Nacra 17: 1. Iker Martinez de Lizarduy/Olga Maslivets (ESP), 23.0; 2. Ben Saxton/Nicola Boniface (GBR), 24.0; 3. Santiago Lange/Cecilia Carranza Saroli (ARG). Also in the top 10: 9. Ravi Parent/Caroline Atwood (USA), 49.0.