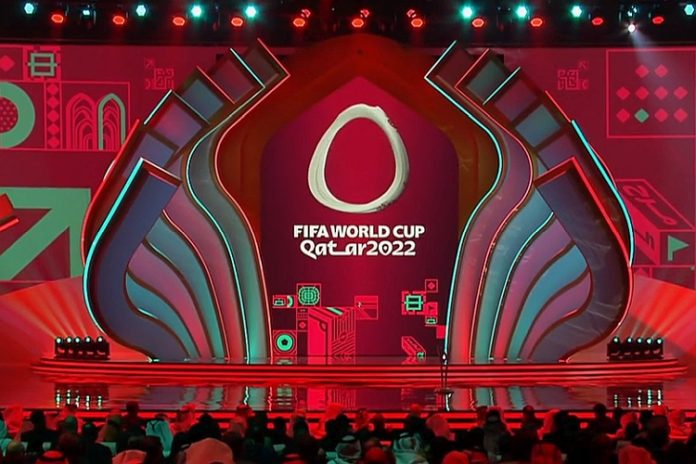 (★ Can you help? Now 46 donors have covered 81% of our costs for the first six months of 2022. If you wish to help us reach the goal, please donate here. ★)
● Plus: Paris 2024: Daily schedule announced; IOC to organize new qualifying series for four sports in 2024 = Los Angeles 2028: IOC announces added-sport criteria = L.A. Mayor Garcetti's nomination as Indian Ambassador slows = Rose Bowl celebrates its centennial = IOC: More than $2 million raised for Ukrainian sport relief = On Screen: over 1.0M watch USA-Panama and World Figure Skating = Athletics: World Athletics starts online store = Cycling: UCI bars undeclared British transgender Bridges from competing = Football: U.S. Soccer extends bargaining period with national teams = Gymnastics: USA Gymnastics bankruptcy case legal fees pass $19M = Modern Pentathlon: fifth discipline choices narrowing = Skiing: FIS chief Eliasch unopposed for election = Swimming: American open-water Olympic medalist Anderson retires ●
Key status updates on the urgent stories in Olympic sport:
≡ SPOTLIGHT ≡
The FIFA World Cup Draw was held Friday evening in Doha (QAT), determining which teams will play in the group stage. The groups, with each team's FIFA world rankings:
● Group A: Qatar (51), Netherlands (10), Senegal (20), Ecuador (46)
● Group B: England (5), United States (15), Iran (21), Wales (18) or Scotland (39) or Ukraine (27)
● Group C: Argentina (4), Mexico (9), Poland (26), Saudi Arabia (49)
● Group D: France (3), Denmark (11), Tunisia (35), UAE (68) or Australia (42)
● Group E: Spain (7), Germany (12), Japan (23), Costa Rica (31) or New Zealand (101)
● Group F: Belgium (2), Croatia (16), Morocco (24), Canada (38)
● Group G: Brazil (1), Switzerland (14), Serbia (25), Cameroon (37)
● Group H: Portugal (8), Uruguay (13), South Korea (29), Ghana (60)
The presenters included former English player Jermaine Jenas, British sports anchor Samantha Johnson and American women's soccer icon Carli Lloyd.
On to the matches, beginning 21 November. The draw program had its usual razzmatazz opening, followed by short remarks from FIFA President Gianni Infantino (SUI) and the Emir of Qatar, Sheikh Tamim bin Hamad Al Thani. Infantino made a plea for the war in Ukraine to stop, to be replaced with dialogue and understanding.
Russia, world-ranked 36th, was excluded from the tournament by FIFA.
The instant analysis: the U.S. got a difficult draw in Group B, especially if Wales qualifies in the continuing European playoffs, and hard games against England and Iran. Group C with Argentina, Mexico and Poland is also going to be rough and tough, and Group G will be a test for Brazil, as the Swiss and Serbia will both be difficult to score against.
The defending champion French got a favorable group, with Denmark, Tunisia and either Australia or the UAE. The wild card of the tournament might be Canada, the CONCACAF regional winner, matched up in Group F with Belgium, Croatia and Morocco.
≡ THE 5-RING CIRCUS ≡
● Games of the XXXII Olympiad: Paris 2024 ● The Paris organizers announced the day-by-day time schedule for the 2024 Games, maintaining the general pattern of the last 50 years.
Artistic gymnastics, diving and swimming will dominate the first week, followed by athletics in the second week, with 2-3 days of competitions in all three. The marathons will come at the end of the Games, as will weightlifting and wresting. Track cycling, often held in the first week, will be held during the second week.
All of the swimming and athletics finals are scheduled for the evening, placing them in the afternoon in the U.S. Eastern time zone and morning and early afternoon on the West Coast.
There will be 32 sports, 329 events and 762 competition sessions.
¶
Following up on its plan to introduce new qualifying events as part of its Agenda 2020+5, the International Olympic Committee announced a four-sport qualification series for the Paris Games, to include cycling BMX freestyle, break dancing, skateboarding, and sport climbing.
Three events of four days each will be held from March to June in 2024, expanding the visibility of breaking, skateboarding and sport climbing, each of which have small International Federations, none of which are supported by an IOC television rights distribution.
¶
The IOC also approved the qualification procedures for each sport for Paris 2024, with the details to be released over the next week.
The IOC Executive Board, following up on the Kamila Valieva (RUS) case at the Beijing Winter Games, "recommended to the International Federations (IFs) that they should address the question of minimum age in their sports and, if needed, make the appropriate adjustments to their regulations."
● Games of the XXXIV Olympiad: Los Angeles 2028 ● The IOC also announced its "program principles" for the 2028 Games, in order to evaluate the sport, discipline and events:
● Cost and complexity
● Best athletes and athlete safety
● Popularity and host country interest
● Uniqueness, universality, gender equality and relevance for youth
● Integrity and fairness
● Environmental sustainability
"The finalisation of the disciplines for each sport will be completed in 2023, along with the LA28 OCOG-proposed sports. The events and athlete quotas are expected to be confirmed in December 2024."
¶
The Los Angeles Times reported that the confirmation of Los Angeles Mayor Eric Garcetti to be the U.S. Ambassador to India has been significantly slowed.
At issue are concerns are about what Garcetti knew about the activities of a former aide who was accused of abuse; while the allegations were already well known, there are some added details which have drawn the interest of some Senators and will delay a vote on Garcetti's nomination at least until the end of April.
Garcetti, a Democrat, was elected Mayor twice and is heading toward the end of his second term and cannot run again. He was deeply involved in the Los Angeles bid for the 2024 Games and the ultimate agreement to host the 2028 Games.
¶
Pasadena's Rose Bowl Stadium will turn 100 in 2022, opening for the first time on 28 October 1922. The centennial is not going unnoticed, with a "Party of the Century" being staged on 30 July on the Rose Bowl floor, featuring a parade of stars and memories, hosted by NFL Network anchor Rich Eisen.
The Rose Bowl Legacy Foundation is the organizer and the event is planned to cap a multi-year campaign to raise $40 million for additional upgrades to the stadium, now the home to UCLA football home games as well as the iconic Rose Bowl Game on New Year's Day.
Attendees will be encouraged to dress in 1920s style, befitting the centennial, with tickets beginning at $750. An auction, a "speakeasy" and plenty of entertainment are on the program.
The Rose Bowl was the site of cycling at the 1932 Olympic Games and football in 1984, plus the finals of the 1994 FIFA World Cup and the memorable 1999 Women's World Cup final, won by the U.S. over China on penalty kicks before a then-record women's football crowd of 90,185 (just surpassed by the 91,553 at the UEFA Women's Champions League quarterfinal in Barcelona on Wednesday, where FC Barcelona defeated Real Madrid, 5-2).
It's planned to be used for football again in 2028.
A Rose Bowl centennial commemorative book has also been issued, celebrating the amazing history of the facility in photography, from the black-and-whites of the early days to the full-color imagery of today.
● International Olympic Committee ● The IOC reported that more than $2 million has been received for the fund established to aid the Ukrainian sports community.
The IOC put up $1 million to found the fund and $500,000 was contributed by the European Olympic Committees. Other donations have brought the total to more than $2 million; per the IOC:
"The main objective of the Fund is to maintain the level of Ukrainian sport by meeting the immediate humanitarian needs of the Ukrainian elite and high-level athletes, and to cover their participation in training camps at home and abroad, thus allowing them to prepare for competitions."
Support programs using the fund and assistance from other National Olympic Committees has been given to athletes and teams in archery, artistic swimming, fencing, freestyle skiing, handball, track & field, and International Federations in shooting and swimming.
The Ukrainian Paralympic Team was brought back from Beijing with help from the Polish NOC, and the NOCs of Poland, Italy, Finland and Austria made it possible for the Ukrainian team to compete at the European Youth Olympic Winter Festival in Finland, last week.
The IOC's statement noted that for the EYOF, support included not only "border crossings, accommodation and transport, but also to fully kit out the whole team, as sadly the warehouse in which the national team uniforms were stored had been destroyed a few days previously."
● On Screen ● The U.S. men's 5-1 thrashing of Panama in World Cup qualifying in Columbus drew a respectable audience of 1.036 million last Sunday, the best of the Olympic sports on U.S. television last week.
The other major event was the ISU World Figure Skating Championships, which had 1.001 million watching on NBC last Saturday evening. Saturday's earlier shows on USA Network drew only 265,000 for the men's Free Skate and 252,000 for the Ice Dancing Free Dance.
The biggest audience of the week was for the NCAA men's basketball tournament, with Sunday's North Carolina-St. Peter's East Regional final drawing 13.584 million on CBS. All 12 games had viewership of at least 2.364 million. The top women's NCAA tournament game was Connecticut's win over Indiana, which drew 1.437 million on ESPN.
● Athletics ● World Athletics announced its first online store, to be coordinated by Britain-based Cube Partnership, with apparel from official sponsor ASICS.
A "Belgrade Collection" of six items was available for the recent World Indoor Championships: T-shirts, a hooded sweatshirt, caps, a water bottle, a coffee mug and a collector's pin. An "Oregon Collection" is promised in advance of the 2022 Worlds in Eugene, as well as other items.
Unusually, no items featuring the World Athletics logo are yet available. The agreement with Cube runs through 2025.
● Cycling ● The Union Cycliste Internationale ruled that 21-year-old British rider Emily Bridges, who previously competed as a man, cannot compete in this weekend's National Omnium Championships as she has not changed her registration from male to female.
British Cycling was going to allow her to compete, but the UCI's rules – adopted in 2020 – require (1) that a formal declaration of a change of gender be filed, (2) that the transgender-to-female rider maintain a serum testosterone level of 5 nmol/l or less, (3) continuously for at least 12 months.
Bridges was reported to have begun hormone therapy in 2021; as a male rider, she set a national junior record for 25 miles in 2018.
UCI President David Lappartient (FRA) told the BBC on Wednesday, in part:
"The question is, is there a memory from your body from what you were before? Do you have an advantage for this? Do we have a breach of fair competition? ..
"I believe that maybe the situation we have now, of the rules of five nanomoles per litre, is probably not enough.
"Clearly this is something we have to put on the agenda of the Association of Summer International Olympic Federations because we can't solve this alone, we have to work together. We can't just close our eyes on what is happening and this is something we have to do within the next months."
World Athletics has adopted similar rules, as has World Rowing and the International Tennis Federation and FINA is in the process of doing so. World Triathlon is also working on new regulations.
● Football ● Although the U.S. Soccer Federation and the men's and women's national teams had hoped to wrap up new collective bargaining agreements by the end of March, the USSF announced that the discussions are continuing into April:
"Over the past two weeks, U.S. Soccer and representatives from the Players' Associations for our U.S. Men's and Women's senior National Teams have been in all-day collective bargaining sessions. … The discussions, which have included equalizing FIFA World Cup Prize money and a first-ever framework for revenue sharing as part of each respective labor agreement, are complex and require significant due diligence from all parties. Nevertheless, we feel we are closer to reaching agreements on these issues than ever before."
The women's team agreement terminated at year's end, but was mutually agreed to extend to 31 March, while the men have continued playing under the terms of an agreement which ended on 31 December 2018.
● Gymnastics ● U.S. Senators Richard Blumenthal (D-Connecticut) and Jerry Moran (R-Kansas) demanded Tuesday that the U.S. Justice Department revisit their decision not to prosecute two former FBI agents for their roles in botching the investigation into abuses by former USA Gymnastics team physician Larry Nassar. The letter included:
"We write to urge the Department to conduct a comprehensive review of all information in its possession to determine whether any additional investigations should be opened or widened, and if other individuals and institutions who enabled the cover up this egregious abuse should be charged and held accountable."
Beyond the review of the decision not to prosecute, Blumenthal and Moran also asked what the Justice Department has done concerning allegations referred to it by their subcommittee about possible filings against former USA Gymnastics head Steve Penny and former United States Olympic Committee chief executive Scott Blackmun. "To date, we do not know what, if anything, the Department did with this referral … it is not clear whether the Department has ever investigated these events."
Four of the survivors who testified before the subcommittee asked for this kind of follow-up to ensure transparency – in fact, a much broader investigation was requested – and accountability.
¶
Legal fees in the USA Gymnastics bankruptcy case continued to pile up in February – $586,514 in all – with the cumulative total in the case now $19,135,837. Of this amount, $11,016,090 has been paid: that's 57.6%.
The final approval of the plan agreed to between USA Gymnastics, the U.S. Olympic & Paralympic Committee and the Survivors' Committee has yet to be finally approved and declared effective by the U.S. Bankruptcy Court for the Southern District of Indiana. The next scheduled hearing date is 13 April.
● Modern Pentathlon ● The Union Internationale de Pentathlon Moderne announced Friday that it "received 61 discipline proposals, sent by 39 different stakeholders from 37 nations" on a new, fifth discipline and its working group will meet at the end of April "to make its final decision of the discipline to be tested, in order to start more detailed competition rules and format study within Q2."
The new discipline will be tested as soon as 3 May, although exactly how was not disclosed.
Riding will remain in the sport through the 2024 Paris Games.
● Skateboarding ● World Skate confirmed Friday "that it will not allow the participation of Russian and Belarusian athletes and officials in any of its international competitions, with immediate effect and until further notice.
"World Skate also clarifies that no events are scheduled to take place in Russia or Belarus in 2022."
This was the first comment from the federation in a month, when it agreed with the IOC's February request to not Russian or Belarusian entrants to compete under their country's name or flag. Almost every other international federation has adopted the IOC's further request not to permit Russian or Belarusian entries at all, and now World Skate has joined in.
● Skiing ● The Federation Internationale de Ski (FIS) announced the candidates for office for the 2022 elections at its 26 May Congress, with President Johan Eliasch (SWE) to run unopposed for a full term..
Eliasch won a heavily-contested election to replace long-time chief Gian Franco Kasper (SUI) in June 2021, but was the only candidate to file for the four-year term from 2022-26.
Two-year terms will be available for the FIS Council: 23 candidates are running for 18 positions, including influential American businessman Dexter Paine, already a member of the Council. Of the 23 running, 14 are existing FIS Council members, including Russian Elena Vyalbe, a three-time Olympic gold medalist in cross-country skiing in 1992-94-98.
American Freestyle star Hannah Kearney is one of the two athlete representatives on the FIS Council, elected in 2020 and will serve to 2023.
● Swimming ● Two-time World Champion and Olympic silver medalist Haley Anderson announced her retirement at age 30 after a brilliant career, especially as an open-water swimmer.
She posted a message of thanks on Instagram, and that she will now be working at the U.S. Olympic & Paralympic Committee in an unspecified capacity. She wrote, "The little girl that started swimming on her local summer league team could have never dreamed up this journey."
Anderson was a three-time Olympian and won a silver at the 10 km swim in London in 2012, then finished fifth at Rio and sixth in Tokyo. She won five World Championships medals, including golds in the 5 km races in 2013 and 2015, a silver in 2017 (Team event) and a silver (10 km) and bronze in 2019 (Team), making her one of the finest – if not the best – American women's open-water swimmer ever.
● Weightlifting ● Stunning announcement from USA Weightlifting that chief executive Phil Andrews (GBR), who had led a significant upsurge in the federation's competitive and financial situations, will resign as of 15 July 2022.
Andrews "leaves a legacy of great achievement," said Board Chair and President Paula Aranda, adding "We understand his desire to pursue other opportunities and wish him the very best."
Andrews came to USA Weightlifting in 2013 and began its chief executive in 2016. He has been a leader not only inside the American federation, but within the International Weightlifting Federation, pushing for change as the sport teeters on the edge of Olympic oblivion. He was so highly respected that he served for a time as the Deputy Secretary General of the IWF during the interim term of American Ursula Papandrea, later thrown out in a Board coup. Papandrea is expected to be a candidate for IWF President at elections this June.
Andrews tweeted: "After 10 years and the journey of a lifetime, I'm open to my next adventure. Thank you @USWeightlifting."
USA Weightlifting, under Andrews' direction, has offered to stage the 2022 Electoral Congress in Las Vegas and after China withdrew as the host of the 2022 World Championships in November, wrote to the IWF to present Atlanta as a new host for the event.
The federation stated that the USAW Board would begin a search for a replacement.
Observed: USA Weightlifting posted the announcement at 7:49 p.m. Eastern time on Thursday, not wanting to wait until Friday, when it would likely have been considered an April Fools' joke. Andrews was a star at the Congressional hearings on athlete abuse and the role of National Governing Bodies and will be missed in the weightlifting community.
It will not be a surprise to see him re-appear in a high-level appointment within the Olympic Movement. The United States Olympic & Paralympic Committee is advertising for a new International Relations director and he would be – with his British background – a sensitive and savvy choice for the position.
You can receive our exclusive TSX Report by e-mail by clicking here. You can also refer a friend by clicking here, and can donate here to keep this site going.
For our 832-event International Sports Calendar for 2022 and beyond, by date and by sport, click here!