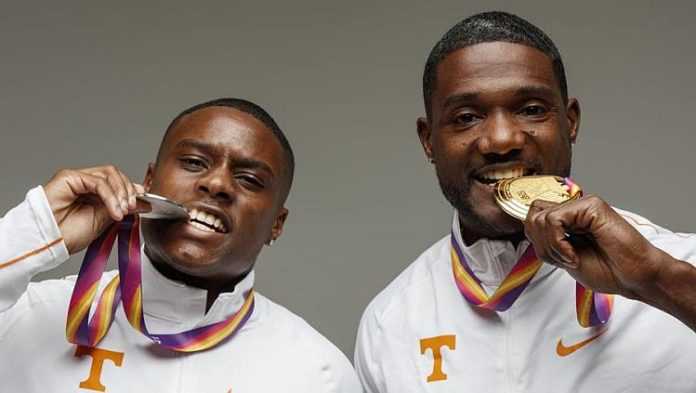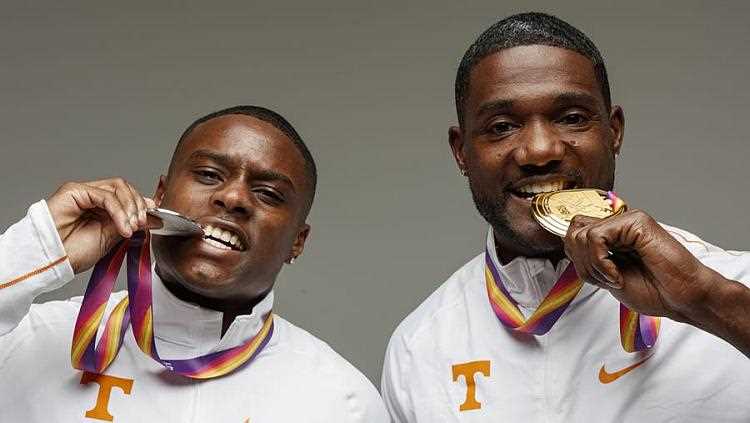 Christian Coleman and Justin Gatlin lead the U.S. relay attempt at the Tennessee Relays this weekend (University of Tennessee photo)
TSX HEADLINES – for Apr. 9, 2018: Keeping up with the Olympic Movement in 2018 means focusing on doping, finance, sexual abuse and a lot of other depressing issues.
This coming Saturday, the gold and silver medalists in the 2017 World Championships 100 meters are going to join with two other stars and try to break the American Record in the 4×100 m relay at the Tennessee Relays in Knoxville.
Now this is better.
Justin Gatlin and Christian Coleman, both of whom ran collegiately at Tennessee, are driving this, but what are the chances?
Add up the times of the proposed U.S. quartet and a record does not seem likely. But that's also true of the Jamaican foursomes – including Usain Bolt – who own the top seven times in history. But they ran a lot faster than their best times ever indicated; what does that say for the U.S.?
We get into the details – in detail – in our Lane One commentary, plus:
(1) THE BIG PICTURE: USA Basketball nominated 35 players to its National Team Pool for 2018-20, including Steph Curry, James Harden, LeBron James, Russell Westbrook and many more. Wow!
(2) COMMONWEALTH GAMES: South Africa's Chad le Clos is getting close to the all-time Games record for medals, but he'll be just short … this time. But the Games is a record-breaker and already one swimmer has six medals through the first four days of competition.
(3) FOOTBALL: Carli Lloyd scores her 100th goal for the U.S. and Megan Rapinoe scores once and assists on four more goals in a wild, 6-2 win over Mexico.
(4) WATER POLO: Both the U.S. men and U.S. women win the FINA Inter-Continental Cup in Auckland, New Zealand!
(5) WRESTLING: The United States wins its first UWW Freestyle World Cup since 2003, beating Azerbaijan in Iowa City, thanks to four men who all go 4-0 on the weekend!
This issue includes SCOREBOARD reports on the Commonwealth Games ~ Athletics ~ Curling ~ Cycling ~ Football ~ Golf ~ Judo ~ Rugby ~ Water Polo ~ Wrestling and AGENDA, our calendar of top-level international events.