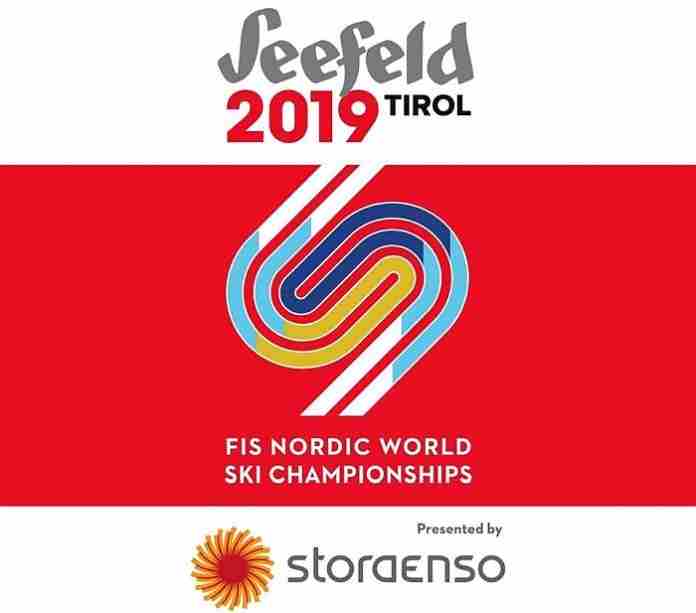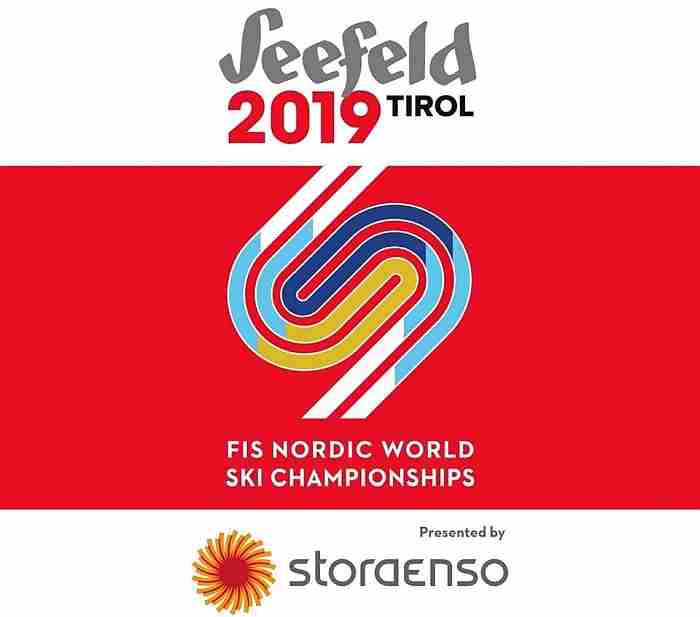 The worlds of Cross Country Skiing, Nordic Combined and Ski Jumping have come together in Seefeld (AUT) for the 41st FIS World Nordic Championships, with competition beginning on Wednesday (20th) and continuing through 3 March. The finals schedules:
Cross Country:
● 21 February: Men's and women's Sprint
● 23 February: Men's 2×15 km Skiathlon, Women's 2×7.5 km Skiathlon
● 24 February: Men's and women's Team Sprint
● 26 February: Women's 10 km Classical
● 27 February: Men's 15 km Classical
● 28 February: Women's 4×5 km Relay
● 1 March: Men's 4×10 km Relay
● 2 March: Women's 30 km Freestyle
● 3 March: Men's 50 km Freestyle
Nordic Combined:
● 22 February: Men's 130 m hill/10.0 km
● 24 February: Team Sprint ~ 130 m hill/2×7.5 km
● 28 February: Men's 109 m hill/10.0 km
● 2 March: Men's Team ~ 109 m hill/4×5 km
Ski Jumping:
● 23 February: Men's 130 m hill
● 24 February: Men's Team 130 m hill
● 26 February: Women's Team 109 m hill
● 27 February: Women's 109 m hill
● 2 March: Mixed Team 109 m hill
In each discipline are multiple seasonal stories that can be underscored by the results in Seefeld, or blown up, as so often happens in a one-and-done World Championships:
● Cross Country:
On the men's side, the man of the year has been Norway's Johannes Hoesflot Klaebo, who has won seven races, including five Sprints, but also two distance races. The top of the World Cup standings:
1. 1,134 Johannes Hoesflot Klaebo (NOR)
2. 1,058 Alexander Bolshunov (RUS)
3. 755 Sjur Roethe (NOR)
4. 670 Didrik Toenseth (NOR)
5. 657 Simen Hegstad Krueger (NOR)
Klaebo has skied to the front via the Sprint, but the emerging star of the season has been Russian Bolshunov, 22. He has three wins and eight medals this season and does not seem worn out by the long season. He won four medals in PyeongChang, including three silvers and a bronze; this could be a real break-out Worlds for him.
The women's standings:
1. 1,237 Ingvild Flugstad Oestberg (NOR)
2. 1,139 Natalia Nepryaeva (RUS)
3. 1,002 Krista Parmakoski (FIN)
4. 800 Therese Johaug (NOR)
5. 793 Jessica Diggins (USA)
Oestberg won four events in early January during the Tour de Ski, but hasn't won since 6 January. The two stories to watch on the women's side: Johaug (NOR) and Nepryaeva.
Johaug, coming back from a doping suspension because of a loaded lip balm (!), has won all seven of her races: six at 10 km in various formats and one 15 km race. She has tapered her season to point for the Worlds, where she already owns seven golds, one silver and three bronzes. In 2015, she won the 15 km and 30 km races and the relay; she could do this again.
Like Bolshunov, Nepyraeva has been a revelation this season at age 23. It's her first senior Worlds, but she has piled up seven World Cup medals this season (1-4-2).
Don't count out Diggins in the Sprint, or paired with Sophie Caldwell in the Team Sprint. Diggins and Kikkan Randall won the Olympic Team Sprint last year.
● Nordic Combined:
The season has been owned by Norway's Jarl Magnus Riiber, who has already clinched the seasonal World Cup title. Standings:
1. 1,258 Jarl Magbus Riiber (NOR)
2. 774 Akito Watabe (JPN)
3. 761 Johannes Rydzek (GER)
4. 755 Franz-Josef Rehrl (AUT)
5. 731 Vinzenz Geiger (GER)
Of the 18 events held so far, Riiber has won 10; teammate Joergen Graabak has won two and Rehrl and Mario Seidel (AUT) have won two. Germans Rydzek – the reigning World Champion from 2017 – and Geiger have won one each. That's it.
● Ski Jumping:
Another star from nowhere in the Ski Jumping World Cup, as Japan's Ryoyu Kobayashi emerged to win nine of the first 12 events and just about clinch the seasonal title. But he's not quite there yet; the standings:
1. 1,620 Ryoyu Kobayashi (JPN)
2. 1,145 Kamil Stoch (POL)
3. 1,017 Stefan Kraft (AUT)
4. 963 Piotr Zyla (POL)
5. 834 Dawid Kubacki (POL)
Since Kobayashi's sweep at the Four Hills to start the year, the results have been more balanced. Kobayashi has won thrice, Kraft has won three times, Stoch has won twice and Kubacki, Timi Zajc (SLO) and Karl Geiger have each won once. Stoch owns four Worlds medals (2-0-2) and Kraft has six (2-2-2).
The women's jumping was confused to start the season, but the defending World Cup champ is now in front, probably to stay:
1. 1,368 Maren Lundby (NOR)
2. 1,073 Katharina Alkthaus (GER)
3. 916 Sara Takanashi (JPN)
4. 866 Juliane Seyfarth (GER)
5. 596 Carina Vogt (GER)
Lundby won six in a row in January and has taken eight of the last nine events, with only Takanashi breaking up a long win streak. Watch for 35-year-old Daniela Iraschko-Stolz, who won the World Championships way back in 2011, for a surprise: she has two wins on tour this season.
USA Ski & Snowboard has the complete NBC broadcast schedule here. Look for results for Cross Country here; for Nordic Combined here and Ski Jumping, here.