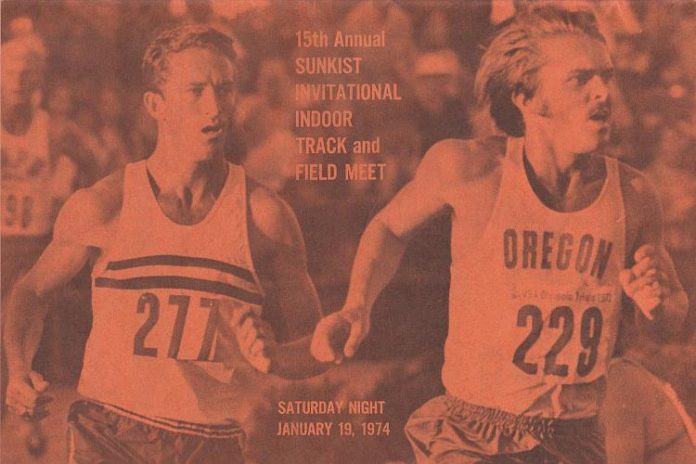 Historians and journalists talk about people who were "larger than life." The track and field community lost one of those on Wednesday with the passing of Al Franken, whose lifelong love affair with the sport created some of its most memorable meets and moments.
The creator, owner and operator of meets such as the Sunkist Invitational indoor, Pepsi Invitational outdoor, Jack in the Box Invitational indoor in San Diego and more passed away quietly in Los Angeles yesterday (8th) at age 96. He had been in declining health for some time.
Franken was a pure promoter. He came up with ideas and he made them happen. When the Los Angeles Memorial Sports Arena opened as a state-of-the-art facility in 1959, Franken, working with coach Herschel Smith, created the first major indoor meet on the West Coast, the Los Angeles Invitational, in 1960.
Best known as the Sunkist Invitational – named for the L.A.-based Sunkist Growers cooperative which sponsored the meet from 1970 through 1995 – the meet was a January fixture and showcased the athletes everyone wanted to see. Rome sprint sensation Wilma Rudolph? Yes, in 1961. Mile superstar Jim Ryun? Of course, at the very height of his fame, in 1967. Long jump record-setter Bob Beamon? Just three months after his Mexico City heroics, in 1969. Ryun's Mexico City conqueror, Kip Keino? In 1970, after having also run in the 1966 meet. And so many more: Dave Wottle, Steve Prefontaine, unforgettable mile duels with Eamonn Coghlan and Steve Scott, hurdle stars Greg Foster and Renaldo Nehemiah, women's stars like Evelyn Ashford, Gail Devers, Jackie Joyner-Kersee and Mary Decker; five-time high jump winner Dwight Stones, vault star Sergey Bubka, shot putters Randy Matson and Al Feuerbach and many, many more.
And dozens of world and American records.
Franken gathered the entire Southern California track intelligentsia to the meet, working with long-time associates like Art Hoffman, Stan Eales, Dick Bank and many others. Eales and Scott Davis were the signature voices of the meet, part of a day-long show that included give-away drawings for Sunkist juicers to fans, and cartons of oranges staged around the infield, from which athletes threw fruit to spectators in the seats.
Not to be overlooked was the high school portion, conducted for years by Bill Gill, which would start as early as noon and run for six hours before the elite-class program would begin. Franken sold a lot of tickets to friends and families of the high school participants. The meet lasted for 43 editions, with the February 2003 event the last staged.
During the '60s, Franken expanded his indoor empire to San Diego, with the Jack in the Box and later Michelob Invitational one of the best late-season meets at the end of February. A reported 41 world records were set during its 21 meets from 1967-87, including Coghlan's memorable mile world indoor records of 3:52.6 in 1979 and 3:50.6 in 1981. Franken somehow even got the USSR's 1972 double Olympic Champion Valery Borzov into the U.S. to run in the 1973 Jack in the Box.
Franken also put on indoor meets in the San Francisco area and did an outdoor meet with sponsorship from Foot Locker in the 1980s.
He was in the outdoor track business in Los Angeles too. He put on a "Champions Meet" in the Los Angeles Memorial Coliseum – just after the installation of a new, all-weather track – in 1972 (featuring Ryun), then sponsored by the Vons grocery chain in 1973. That meet failed, but Franken came back bigger and better with the Pepsi Invitational at UCLA's Drake Stadium in 1978. Some 10,009 attended the first meet in 1978, but the 1979 edition might have been the best, with Nehemiah beating Foster in a world-record 13.00, and Houston McTear winning the men's 100 m in 10.17. But in one of Franken's most unbelievable diplomatic feats, he had three of Cuba's greatest stars in the meet: Montreal double-gold medalist Alberto Juantorena, sprinter Silvio Leonard and former hurdles world-record holder Alejandro Casanas. How did he pull that off?
"Well, you just have to work at it, you know?" would be Franken's answer to the same question about foreign stars like Borzov, Juantorena, Bubka and so many others. Pepsi sponsored that meet through 1988 and then Jack in the Box came in for 1989 and 1990, its last edition.
Franken wasn't universally popular. The Amateur Athletic Union, then the governing body of the sport in the United States, suspended him in 1954 for helping an athlete get plane tickets to a meet, and again in 1966 for not including the AAU in discussions with Keino. Franken was not deterred.
What was amazing about Franken, whom I knew well, was how loud he was and yet so soft-spoken. A tall man with large hands, if there was a track meet of any importance in Southern California, he was there, with a ready smile and a firm handshake. He rarely snuck up on anybody, not owing just to his height, but to his outfits. Toned down over time, Franken was easy to spot for years in bright golf pants and a colorful polo shirt. And at the Sunkist meet, he usually wore a brilliant orange blazer – in honor of his sponsor – with one of favorite turtleneck shirts.
And he was at his best when a meet was over, chatting up coaches, writers, athletes of all kinds – including parents of top high schoolers – and anyone else who would listen. His devotion to the sport came through clearly and even if you weren't his biggest fan, he was endearing. Rather than boast about his meets, he was low-key. After an especially gripping Sunkist two-mile in 1978, where Tanzania's Suleiman Nyambui edged Kenyan Henry Rono, 8:18.0-8:18.3 – then the nos. 2-3 performances in indoor history – and had the crowd of 12,343 on its feet, Franken came through the press box to say hello to the writers, and mentioning, "Great two-mile, eh?"
To ensure that he and his meets remained in front of the press, he was the organizer – for many years – of a weekly Southern California track writer's luncheon during the spring season, usually at Taix French Restaurant in Los Angeles. Well attended (and dependable story producers for Franken and other local promoters and college coaches) for years, the luncheons faded away in the 1990s, as sport faded in Southern California. But what a way to promote the sport and his meets!
As he told Randy Harvey in a 1989 Los Angeles Times interview, "We've survived because we don't take ourselves too seriously. Anytime you can do something for 30 years, make a living and enjoy yourself, what else can you ask for?"
Franken is to be saluted because he put up his own money to do these meets. He came up with the idea, found the sponsors, invited the athletes, sold the tickets and put on the meet. Although he founded Franken Enterprises in 1952 and operated as the "Southern California Sports Association," it was really just him and a couple of folks in the office, notably Hoffman.
Born in 1925, Franken attended Fairfax High School and UCLA, where he was the sports editor for the Daily Bruin. Those who knew him only from his track & field exploits would be amazed to know that he worked for the old Los Angeles Mirror, then became the public relations director for the new-in-town Los Angeles Lakers in the early 1960s and in addition to track meets, had a busy public relations business that included the Los Angeles Open golf tournament, the Los Angeles and Long Beach Boat Shows and assignments for the Virginia Slims and Volvo Tennis Tours. He was also involved in the early stages of Evel Knievel's daredevil jumping career, which started as a promotion for Norton Motorcycles at the National Date Festival in Indio.
Franken is also a hall-of-famer, having been elected to the Los Angeles Coliseum-Sports Arena Hall of Fame, and in 1993, to the Southern California Jewish Sports Hall of Fame.
He is survived by son Don, daughter Jill and brother-in-law Arnold Fazekas. His wife Shirley predeceased him in 1995.
This is the end of an era, especially in Los Angeles and for everyone who met track & field's Al Franken. He would hope that in the years ahead, there will once again be many meets like his and many more people who will share his love of track & field. Thank you, Al.
Rich Perelman
Editor
You can receive our exclusive TSX Report by e-mail by clicking here. You can also refer a friend by clicking here, and can donate here to keep this site going.
For our 743-event International Sports Calendar for 2021 and beyond, by date and by sport, click here!