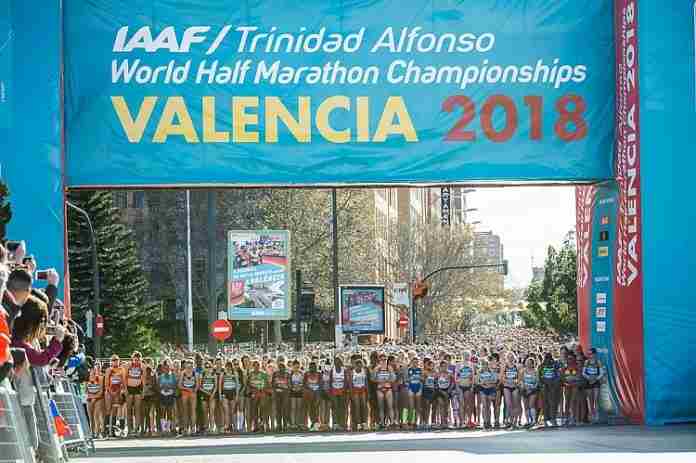 (★ Friends: Your 69 generous contributions have paid our semi-annual server and support costs, and started to help with December's bill. If you would like to join in, please donate here. Your interest and support are the reasons this site continues. ★)
(Concerning U.S. House action on S. 2330, the "Empowering Olympic, Paralympic, and Amateur Athletes Act of 2020," the bill is listed for consideration this week, but was not brought to the House floor on Tuesday or Wednesday. Stay tuned.)
Tuesday's announcement that World Athletics would create a "World Road Running Championships" for 2023 hardly sent ripples through the track & field world, but it should have.
For a federation which has a significant need for new sources of funding, a higher profile and desires a direct link to personal fitness in the 214 nations with member federations, this could be the start of something really good.
The posted notice was unfortunately short on details and vision, other than:
"The Road Running Championships will encompass the existing World Athletics Half Marathon Championships, but will also feature the world 5km championships as a new event, and could potentially include other distances such as a road mile in the future.
"It is also envisioned that mass races will be held alongside the elite championships to allow recreational runners to be part of a global festival of road running."
Yawn. For a look at what this event could be, one only need to check out the UCI World Road Championships, first held in 1921! For 2020, this event was supposed to be held in Switzerland from 20-27 September, but had to be canceled there due to the coronavirus on 12 August. It took the UCI all of 21 days to find a new venue, at Imola, Italy, where the Worlds were held last weekend (24-27 September).
The current bid guide for the UCI World Road Champs notes:
● Eight days of road racing and time trials, including public-participation events
● Television coverage by 250 million viewers in 100+ countries
● 220,000 unique spectators at Innsbruck (AUT) in 2018
● 2018 visitors accounted for €35.7 million (~$41.8 million U.S. today) in spending
● Current UCI fee for the host region is CHF 8 million (~$8.7 million U.S.)
A World Athletics World Road Running Championships has the same opportunities or more. One of the big costs for cycling road-race organizers is preparation of the course, which requires extensive infrastructure and security supervision over more than 100 miles of roads. For road racing on foot, the costs are only a fraction, especially when loop courses are used.
Consider this Sunday's London Marathon, which will be an elites-only race on a compacted course from the normal route. The 26.2-mile (42.2 km) course will be held on closed-loop course consisting of 19.6 clockwise laps of 2.15 km each around St. James's Park, ending on The Mall in central London. The same concept was used in Vienna (AUT) in 2019 for Kenyan Eliud Kipchoge's 1:59:41 marathon time-trial in The Prater, with the course consisting of 9.6 km loops, allowing easy spectator access.
So for a World Athletics World Road Running Championships, a full week of racing (maybe even nine days, with two weekends!) could be envisioned – all using the same course – including a ginormous raise in profile for the race walks:
● World Half Marathon Champs
● World 10 km Champs
● World 5 km Champs
● World Road Mile Champs
● World 20 km Walk Champs
● World 50 km Walk Champs
Among these events, World Athletics only holds stand-alone World Championships events in the Half Marathon (the next is coming up on 17 October in Gdynia, Poland), although there is a World Race Walking Team Championship event. The marathon is not included, as it is part of the World Athletics Championships.
Current road-racing world record distances include the 5 km, 10 km and Half Marathon, plus both walks.
Clearly, senior (men and women) and junior (U-20 men and women) divisions can be held, plus public-participation events before or after. And by using a park or similar facility – perhaps an auto raceway, as was used for the UCI Road Worlds this year in Imola – any impact on civic traffic would be minimized, so any city of a significant size (with good hotel stock) could be a quality venue.
There are many ancillary events which can be added to this program, including – but not limited to – a runner's expo, fitness and wellness conference, "hall of fame" events honoring past stars, concerts, exhibitions and many more. All of these add to the attractiveness of the event for potential visitors, whether spectators or public-participation competitors, or both.
Happily, World Athletics has an innovative, fearless Director of Competitions in Dane Jakob Larsen, who organized the memorable 2019 World Cross Country Championships in Aarhus. Complexity relative to size and scope will not stop him.
Interested cities are being asked to signal interest in the event. Hopefully, many will. The potential for this event is almost unlimited and the costs should be manageable, especially in Europe or the U.S., for any city with significant parks and recreation facilities (or, as noted above, a big auto racing facility) and an appetite for increased tourism.
Only the 2023 event has been announced and the usual format for World Athletics is to hold such major events every other year. Let's hope that this new program is annual and becomes the most important annual demonstration of the benefits from the oldest form of exercise: walking and running. Everyone will benefit from that.
Rich Perelman
Editor
You can receive our exclusive TSX Report by e-mail by clicking here. You can also refer a friend by clicking here.