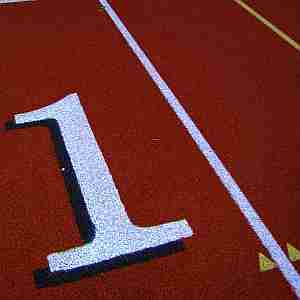 American jumping star Keturah Orji won eight NCAA championships in her four years at Georgia, seven in the triple jump, where she also won the 2016 U.S. Olympic Trials and finished an unexpected fourth at Rio in her first Olympic Games.
Now she's moved on from her collegiate career and is in the brave new world of being a professional track & field athlete. That means she is going to be making her living in a few meets in the U.S. and many more in Europe, where she sport remains popular and most of the better-paying IAAF Diamond League and World Challenge meets are held.
So before she heads off to the Old Continent for the first time, she took to Twitter to try to enlist some held from her fellow athletes:
@ ALL professional track & field athletes – when traveling to Europe what are things I should bring? Mistakes you made? Advice you have?? — Sincerely, a newbie tryna make it out here

— Keturah Orji (@Keturahorji) May 27, 2019
Well, she got a lot of responses. Some of the better ones:
● From U.S. sprint superstar Noah Lyles:
"Bring Normatec or Stem [recovery] Machine for after the track meet. Medical [support] stops right after the track meet [closes] and you will want to recover after you run. Also bring a change of clothes and uniform+spikes in carry-on just in case the airport loses your bag."
● Noah's younger brother Josephus Lyles added:
"Bring snacks!"
There were lots of folks who had suggestions about food.
● From veteran 400 m star Jessica Beard:
"Bring filling snacks, especially if you're a picky eater. Even would go as far to say, bring peanut butter and jelly + plastic bags. You can grab bread from breakfast and put it in the bags or bring your own bread. Bring a favorite seasoning. Bring a pillow case. Correct [electrical] adapter."
Others had ideas about how to adjust the body clock from the U.S. to Europe:
● Florida senior Yanis David – also a women's jumper, and from France – added:
"Get an universal adapter kit. Try to stay awake until it's time to go to bed (you going to be super tired), or take a small nap, if not, your sleep schedule is going to be messed up. Get compression socks.
"Bring vitamins and your own medication so you don't get sick in case it takes you a while to adapt to the weather. oh yeah… bring euros LOL"
● Veteran traveler and Orji's 2016 Rio teammate Nia Ali (100 m hurdles):
"When checking a luggage leave a bit of space for when in Europe airports vary in how many kilos you can have and you could easily end up paying hundreds in baggage fees.
"Also, sleep when you're tired instead of doing the most to create a sleep pattern that will eventually screw you in the end. Most meets are late evening."
● From Race Results Weekly founder David Monti:
"Make sure you have a wi-fi enabled USA phone that allows regular phone calls over Wi-Fi like @TMobile"
● Retired NCAA 800 m champ Phoebe Wright:
"Pack:
Eye mask and ear plugs!
Peanut butter.
Adapter for your [phone] charger.
A bag to keep your dirty clothes.
Traveling pen.
Download your shows.
!!!Stay awake the first day!!!"
What about mistakes? Beard had these:
"Mistakes: pack for the days, don't overpack anything but underwear and sports bras. For long trips (month+) I pack up to two weeks of training clothes and Tide packets. Many times I thought I was going to explore the city, go here and there, and I was exhausted and took a nap LOL."
At 23, Orji is at the start of what should be a long and successful career. One list she might want to check is Trinidadian Olympic sprint medalist and NBC analyst Ato Boldon's famous advice from his presentation at The Business of Sport Conference in Jamaica in 2011. The Jamaica Gleaner's story on the list was headlined "The 10 Commandments, according to the gospel of Ato Boldon":
(10) Save some of all that free gear that you constantly give away — it will end.
(9) No one ever remembers the pain but medals are forever. Push. No pro-track athlete has ever died from a workout. Post-career regret sucks.
(8) No one from that shoe company you love so much loves you. The romance with no finance is a nuisance. The more you love them and the more in love you are, the less you make.
(7) The competitors you think you hate will be your friends when you are retired. Don't take it that seriously. Compete without hate.
(6) Figure out what job you will do next in early or mid-career not post-career. Few get to decide when they retire. Most get forced out.
(5) One day you'll awaken and you won't be fast anymore. Does a career define your whole life or existence? It shouldn't. Have a life so you don't have to go get one after.
(4) Make use of the best things about being a track athlete — the travel. Years in exotic locales and all you know are hotels and McDonalds, (that) is pointless. Get outside. Take pictures. Learn something. Experience other lands.
(3) Your career is infinitely more fun with a good training group. Choose your training group wisely. Chances are if you hate your career after, it's because you either hated your training partners, bounced around several camps or had no training partners.
(2) Europe can be wild and crazy and fun and it can also shorten your career drastically if you are incapable of not acting a damn fool there. European wine and men/women have prematurely ended many a promising career.
(1) Save your money like your life depends on it — it does. Make your money earn more while you are earning a lot of it and yes, get a pro to do this. Your cousin who is good with money does not count.
All of this is good advice from people who have been there. Good luck, Keturah!
Rich Perelman
Editor