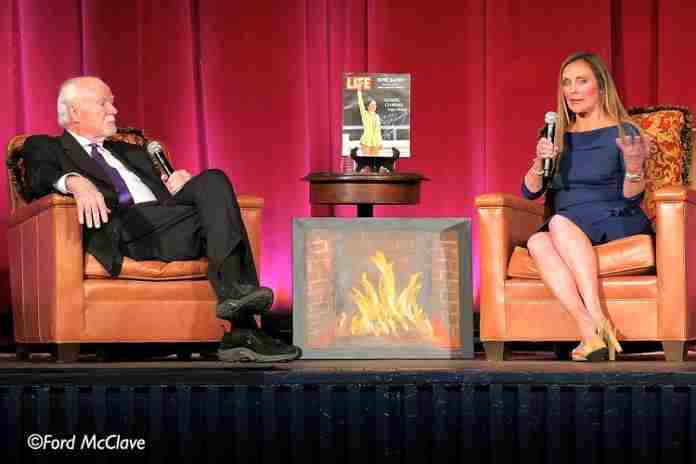 (Friends: As you know, TheSportsExaminer.com is a free site, but we still have expenses, for hosting and technical support. Our semi-annual bill has arrived, and if you value what you read here, perhaps you can donate to help with the costs. Thank you.)
It's always sad to lose a friend.
It's worse when a giant in his field leaves too early.
That was Mike Moran, the tall, elegant and ultra-professional spokesman for the United States Olympic Committee from 1979 to 2003, who passed away from complications related to pneumonia at 1:25 p.m. on Wednesday (7th) at Penrose Hospital in Colorado Springs, Colorado.
He was, in many ways, a living link between the USOC as it had been prior to the passage of the Amateur Sports Act of 1978 (now the Ted Stevens Olympic & Amateur Sports Act), and the U.S. Olympic & Paralympic Committee of today, headquartered in Colorado Springs.
Moran was the highly-respected sports information director at the University of Colorado in Boulder, having come from his alma mater, the University of Nebraska-Omaha in 1968. At that time, the USOC was rarely in the public eye except during Olympic years, occupying a slender, six-story building from 1910 at 57 Park Avenue in New York, now the United Nations Mission for the Republic of Guatemala. The USOC's quadrennial budget was about $4 million.
Public relations was hardly a priority at the old USOC, which hired its first Director of Public Information only in 1967 in Bob Paul, who had been the Sports Information Director at the University of Pennsylvania and came to the USOC from the Amateur Athletic Union, which governed almost a dozen sports.
Paul was one of just 10 USOC staff members who came west to Colorado in mid-1978 as the organization re-located to a former Air Force base, thanks to the efforts of retired Col. F. Don Miller, since 1969 the USOC's Executive Director.
That summer, Moran was helping the USOC at the inaugural National Sports Festival in Colorado Springs and as one thing led to another, he was offered the opportunity to join the USOC and eventually succeed Paul as the organization's spokesman.
It was almost a comical pairing. By 1979, the short, bespectacled Paul was 62, with a growly Eastern accent and an ever-present cigar. Moran, 6-4, handsome and in his mid-30s, towered over him and preferred the best wine he could find.
But the Olympic world was changing, especially in the U.S.
Not only was the USOC now firmly planted in the West, the 1984 Olympic Games had finally been awarded to Los Angeles and with the passage of the Amateur Sports Act, the future of the U.S. Olympic Movement was firmly in Colorado Springs.
As spokesperson, Moran was in the thick of some of the most electrifying years in U.S. Olympic history. Less than a year into his tenure as spokesperson came the Olympic Winter Games in Lake Placid, New York, and the "Miracle on Ice" performance of the U.S. hockey team.
Of the immortal win over the USSR, he remembered, "I had watched the game using a seat in the press area, and in the dizzying final moments was repeatedly whacked on my back by famed Detroit News sports columnist Joe Falls.
"I woke up the next morning, Feb.23, and I was black and blue from my neck to the middle of my back from Joe's whacking me with his metal note pad holder."
Less than two months later, Moran was in the center of another media maelstrom as the USOC's House of Delegates – under enormous pressure from Carter Administration – voted 1,704-697 not to attend the 1980 Olympic Games in Moscow. He later called it the worst day in U.S. Olympic history.
Things calmed down, as the next Games would not be held until 1984 – the Winter and Olympic Games were celebrated in the same year back then – and Moran had time to consider the opportunities ahead. And what he did changed the Olympic Movement.
The USOC held its third National Sports Festival in Syracuse, New York in 1981, and Moran wanted to take advantage of the opportunity to begin showcasing American stars who had missed out on Moscow and would be looking forward to Los Angeles. But he and Paul couldn't hope to support hundreds of reporters covering all of the sports. Most of the U.S. National Governing Bodies had little or no public relations help at all, so Moran reached out to his friends in collegiate sports information.
Experienced, nationally-known SIDs like Bill Hancock of the Big Eight Conference – now the Executive Director of the College Football Playoff – and Bob Condron at Southern Methodist, Don Bryant from Nebraska, Don Kopriva from Wisconsin-Parkside and Debby Jennings from Tennessee all came to help; in fact, 22 in all. At a time when few women were in this trade, Moran had five on his team in Syracuse. At least one SID was posted at each venue to help the media meet with the athletes. Coverage expanded as media awareness of the athletes exploded.
Moran's team grew in experience and expertise as the 1984 Olympic Games came closer, and while Paul remained in charge of assigning U.S. media credentials for the Games, the previously-unheard-of concept of placing a press officer with each U.S. team was successfully tested for the 1984 Winter Games in Sarajevo, Yugoslavia, and then more than two dozen came aboard for the summer Games in Los Angeles.
There were only handful of nations which had even one press attache from their National Olympic Committee in Los Angeles, and NOC leaders from around the world were astonished (horrified?) to learn of the idea of having a dedicated press officer for each sport at the Olympic Games. But Moran and his team pulled it off brilliantly.
As the head of press operations for the Los Angeles Olympic Organizing Committee, I was delighted. Now my Venue Press Chiefs didn't have to hunt down American athletes for U.S. reporters: the USOC press officers would take care of it.
And when Paul exercised his authority a little too strongly in accreditation matters, Moran asked politely for an extra credential here and there to even things out … and we were only too happy to oblige (as long as he didn't tell anyone).
Today, many NOCs have sophisticated media support operations at the Games to work with the athletes, coaches and media. That's a legacy you can trace directly to Mike Moran.
Mike continued as the head of the USOC's media program through 2003. Condron actually joined the USOC as the head of the media services program in January of 1984 and continued into January 2012, when he retired.
There were lots more highlights and some lowlights: the Tonya Harding-Nancy Kerrigan circus prior to and during the 1994 Winter Games, the joys and sorrows of the return of the summer Games to the U.S. in 1996 in Atlanta, the Salt Lake City bid scandal in 1999 and then a brilliant execution of the 2002 Winter Games there.
Miller passed away in 1996; Paul died in 2011 at age 93 and Moran wrote an extraordinarily warm remembrance for the College Sports Information Directors of America Web site.
Moran's longtime friend Christine Brennan of USA Today tweeted after the news of his passing broke:
"He knew more about the U.S. Olympic movement than anyone. A class act always, he answered every question, including at 1 am in Lillehammer in 1994 when Tonya was allowed to compete."
Moran retired in 2003 and later became the Senior Media Consultant for the Colorado Springs Sports Corporation. He was an excellent Master of Ceremonies at many awards and discussion events, equally at home quizzing politicians and performers as well as athletes (as with Peggy Fleming on the 50-year anniversary of her 1968 figure skating gold in 2018, above).
But he had surprises ahead, as in the summer of 2017:
"I underwent open-heart, triple bypass surgery on August 18, a total surprise. I was in good shape prior to the surgery, and my recovery is just beyond the standard. They sent me home after just three days and I have completed a rigorous cardio therapy exercise class three times a week at the Audubon complex. I upped my results each and every time. I weigh 204 after losing 25 pounds and plan to stay right there for the future."
Earlier this year, he wrote dramatic, 40-year remembrances of two of his most vivid experiences in the Olympic world: the Miracle on Ice in Lake Placid, and the USOC vote to skip the Moscow Games.
As the coronavirus stopped life everywhere in the spring, he began sending a daily summary of top-line Olympic news to his friends in the U.S. and around the world. He suffered a fall earlier this year and had to be hospitalized, but recovered. And now we have lost him.
Rest in peace, Mike. You've earned it. We will carry on.
Rich Perelman
Editor
You can receive our exclusive TSX Report by e-mail by clicking here. You can also refer a friend by clicking here.