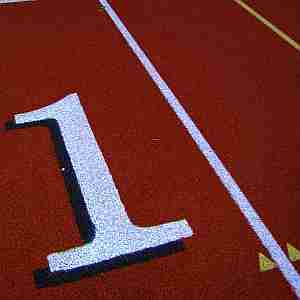 The greatest weekend in the history of marathon running came and went with two astonishing and historic performances in two completely different settings:
● The Ineos 1:59 Challenge in Vienna, Austria saw Kenya's Olympic Champion Eliud Kipchoge become the first person to ever run the 26.2-mile distance in less than two hours, finishing in 1:59:40.2.
This was not a competition, but a time trial, as was his prior attempt in 2017 at the Monza auto-racing track in Italy. He was the only one running this time – there were three in 2017 – and he both paced and shielded from the wind by rotating teams of seven pacesetters, with five in front of him and two behind. The pacers ran in "lanes" shown in front of them by a specially-prepared truck which projected laser gridlines on the road.
Kipchoge, 34, ran in a specially-prepared lane, measured to ensure that he would run the correct distance and no more. Instead of having to pick up fluids at the side of the road, teams of cyclists provided bottles and nutrition to him, as well as the pacesetters.
The situation was perfect, with temperatures from 50-52 degrees (F) and a light fog for the start at 8:15 a.m. and a growing crowd at the Prater Hauptallee to see the event, run on a loop course of 4.3 km that allowed spectators to see much of the attempt.
And Kipchoge came through in style, breaking the two-hour barrier with almost 20 seconds to spare, and then having enough energy to celebrate with the crowd and his family afterwards.
A brilliant run, but not eligible to be considered as a world record, thanks to all of the extra assistance on the course.
● While Kipchoge's assault on the two-hour barrier was planned, no one was thinking that British star Paula Radcliffe's women's marathon record of 2:15:25, run at the 2003 London Marathon, could be touched.
Except Kenya's Brigid Kosgei, 25, getting ready to run in the 2019 Bank of America Chicago Marathon.
Since Radcliffe lowered her own record from 2:17:18 at Chicago in 2002, no one had run faster than Kenya's Mary Keitany, who won the 2017 London Marathon in 2:17:01. In fact, only four women had ever run the marathon under 2:18 since 2005!
Kosgei was not one of them; her best was an impressive 2:18:20, run to win in London in April of this year. But it wasn't close to 2:15:25.
But running in a World Marathon Majors race, with 44,000-plus other participants, she took off from the start. She broke away from the rest of the women's field quickly and passed 5 km in a seemingly suicidal 15:28 … which if continued, would yield a record time of 2:10:30!
She slowed, but running through the streets of Chicago and helped by two male pacesetters and with the early-morning winds dying to just a zephyr, she plowed on, passing the halfway point in 66:59 and a lead of 1:23 over second-place Ababel Yeshaneh of Ethiopia.
Consider this: 66:59 ranks 20th on the 2019 world list for the Half Marathon! And then Kosgei kept going and put together another Half – coming home – in 67:05!
As with Kipchoge, she didn't break the record, she shattered it – and with Radcliffe in attendance – by finishing in 2:14:04.
Two days, the two fastest marathons ever run: one a world record, the other a historic time-barrier breaker. One in a real race against other people, one in a race against the clock.
Which was the better performance?
The easiest reference is the IAAF Scoring Tables, a scientific statistical comparison which assigned points to performances in all events as away to compare their quality. The 2017 edition was based on the work of the late Hungarian statistician Dr. Bojidar Spiriev, who passed away in 2010, and updated by his son, Attila.
According to the 2017 edition, the comparison is simple. Looking up the value of each race:
● 1,354 points for Kipchoge's 1:59:40;
● 1,295 points for Kosgei's 2:14:04.
But it's not that simple, since the conditions were so vastly different. Let's look at this another way:
● Kipchoge owns the ratified world record in the Marathon at 2:01:39, set in winning the Berlin Marathon in 2018.
His performance in Vienna, a year later, improved on that time by 1.90%.
● Kosgei shattered Radcliffe's 2003 mark 16 years later by a remarkable 81 seconds (1:21) or 1.04%.
So we can confirm Kipchoge's mark as superior, yes?
Hold on.
● Let's do one more comparison, because we have the data. Kipchoge ran 1.90% better in Vienna in comparison to his Berlin time, which took place in an actual race. Because he tried previously to break two hours under conditions similar to the Ineos 1:59 Challenge at the Nike Breaking2 in Monza two years prior, we can compare Saturday's time to that.
And he improved on his Monza performance by 0.99%, slightly less than Kosgei's 1.04% lowering of Radcliffe's mark. So that points to Kosgei's race as a slightly better performance.
For me, add in that Kosgei's record effort in Chicago was not the product of a pre-planned effort with heavy logistical support, but a decision on race day to go hard fast and see how long she could continue, makes hers a slightly more impressive achievement … not to mention that no one had really touched Radcliffe's mark in 16 years.
In fact, it's worth going back to the IAAF Scoring Tables to check the value of the two in-race bests to compare more equal conditions:
● 1,295 points for Kosgei's 2:14:04;
● 1,316 points for Kipchoge's 2:01:39.
Spiriev still likes Kipchoge. The Kenyan star was magnificent in Vienna, but I'll still take Kosgei in Chicago. Hey, who wants to sponsor a chance for her to break 2:10?
Rich Perelman
Editor
If you enjoyed this commentary, sign up to receive our exclusive TSX Report by e-mail by clicking here. You can also refer a friend by clicking here.