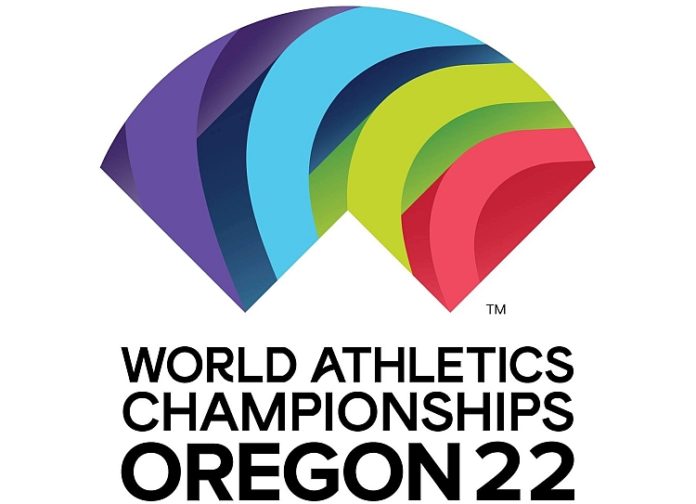 ★ The Sports Examiner: Surveying, monitoring and explaining the key competitive, economic and political forces shaping elite sport and the Olympic Movement. This site is free to view, with donations gratefully accepted to support our operating costs.
Comments? Click here. ★
★ Get The Sports Examiner's session-by-session Worlds e-mails; sign up here! ★
Yes, the 2022 World Athletics Championships in Eugene, Oregon has drawn more interest from U.S. television viewers. That's the good news.
The bad news is that it's not even the Olympic Trials.
Television ratings figures released by Nielsen this morning show that the four Saturday and Sunday showings of the first weekend of the Worlds on NBC drew an average of 1.966 million viewers, very good by track & field standards:
World Champs on NBC:
● Jul. 16 (Sat.): 2,129,000 (3:00 p.m. Eastern)
● Jul. 16 (Sat.): 1,575,000 (9:00 p.m.)
● Jul. 17 (Sun.): 2,235,000 (2:00 p.m.)
● Jul. 17 (Sun.): 1,925,000 (10:00 p.m.)
The afternoon shows did better than the evening finals, but the average is nearly double of NBC-aired track meets from the late spring and early summer:
● May 28 (Sat.): 977,000 for Prefontaine Classic on NBC
● Jun. 12 (Sun.): 835,000 for NYC Grand Prix on NBC
● Jun. 25 (Sat.): 1,050,000 for USATF Champs on NBC
● Jun. 26 (Sun.): 1,052,000 for USATF Champs on NBC
However, 1.966 million viewers on average is well short of the ratings for the Tokyo Olympic Track & Field Trials, also held in Eugene, in 2021. The eight hours of coverage on NBC last year averaged 3.183 million viewers average across eight hours, so the 2022 Worlds – so far – is down 38%.
The Worlds on cable is a mixed picture:
● Jul. 15 (Fri.): 430,000 on USA Network (8:00 p.m. Eastern)
● Jul. 16 (Sat.): 160,000 on CNBC (1:30 p.m.)
● Jul. 16 (Sat.): 247,000 on CNBC (8:00 p.m.)
● Jul. 17 (Sun.): no data (<200,000) on CNBC (9:00 a.m.)
● Jul. 17 (Sun.): 368,000 on CNBC (8:00 p.m.)
So, the opening program on USA Network did well, drawing almost double what the USATF Championships drew last month:
● Jun. 24 (Fri.): 214,000 for USATF Champs on CNBC
● Jun. 26 (Sun.): 208,000 for USATF Champs on USA Network
But the three CNBC shows that drew a rating – the men's marathon on Sunday had less than 200,000 viewers and was not shown in the data release – averaged 258,333, just marginally better than the USATF Championships and not as good as the last two days of the NCAA Championships in June, which drew 263,000 (Friday: ESPN2) and 603,000 (Saturday: ESPN).
And these early cable figures, averaging 301,000 across four shows, are down 47% to the 2021 Olympic Trials cable average of 573,500 across six hours on the now-defunct NBCSN.
How did the NBC viewership compare with other sports on television? Fifth for the week, behind the British Open (4.55 million on Sunday and 3.31 million on Saturday), The NASCAR Cup in New Hampshire (2.40 million on Sunday) and FOX Saturday Baseball, which drew 2.38 million on Saturday. Two of the NBC Worlds broadcasts beat the WWE Friday Night Smackdown on FOX (2.08 million).
There are things to cheer about in these numbers and you can make the case that track & field is a slumbering giant, waiting – for decades now – to be awakened. But let's wait; we'll know more when the figures for the rest of the Worlds come in, seven days from now.
Rich Perelman
Editor
≡ PANORAMA ≡
● Olympic Games 2028: Los Angeles ● The dates of the LA28 Games were officially announced as 14-30 July, with the Paralympic Games from 15-27 August.
This is earlier than the prior Los Angeles Games, held from 30 July to 14 August in 1932 and 28 July-12 August in 1984. The earlier dates will be a help for the conversion back to normal use of the student residences and venues at UCLA and USC, especially, as well as for football venues such as the Los Angeles Memorial Coliseum and the Rose Bowl.
● World Games 2022: Birmingham ● Lionel Ritchie capped a musical serenade for about 1,000 athletes and staff of the 2022 World Games with "Dancing on the Ceiling," "You Are" and "All Night Long" at Birmingham's Protective Stadium on Sunday evening at the closing of the 2022 World Games.
Birmingham Mayor Randall Woodfin told the athletes, volunteers and the audience of about 20,000, "The past 11 days have brought us all a little closer. Tonight may be the closing of a historic event, but it's far from the finale. Know that like every good Southerner, we don't see strangers, we only see family. You are family now."
International World Games Association President Jose Perurena (ESP) celebrated the return of the event – the 11th World Games – after a year's postponement:
"The athletes all got Back on Stage, after such a long wait in the wings, and performed brilliantly. Well done, Birmingham!
"The World Games 2022 was a great festival of sport and also a demonstration of the ability of human beings to compete hard, while still living together in peace and harmony."
Jefferson County Commission and organizing committee Board member Joe Knight told reporters during the closing news conference, "The athletes have put on a first-class show. … The athletes tell us this is the best city in which they have participated."
World Games chief executive Nick Sellers:
"The World Games 2022 will go down in history as a big gold medal success. The athletes went for gold in this moment, and so did our city, our county, our region, all of our people. And we won. We won, y'all, by any measure.
"I believe we've helped to change the trajectory of this area forever, and for the better, because we built some new confidence in who we are.
He reported that 375,000 tickets were sold or distributed through sponsors, and that a half-dozen venues were sold out, with others near capacity, noting especially the crowds at Mixed Ultimate Flying Disc, Gymnastics and Breaking. The organizing committee had 3,300 volunteers involved in supporting the Games. Sellers remembered a special moment at the Games:
"When I walked into that Breaking competition, and I saw venue that was overflowing its capacity, in a sport that many of us had never seen before – so many of these sports we've never seen before – and it gave us a new way of seeing the world.
"And in that moment, in Sloss Furnaces, when I looked around at an incredibly diverse crowd of people, and that music was playing and everyone was together, I think it was a moment where we started to see each other differently, too, in the community. And that's what this was all about: making it a once-in-a-lifetime moment for these athletes, but also a moment where we start to realize that it is from our diversity that our strength comes from in this community. And I think it's going to set us up for many big things in the future."
Perurena also offered a special thanks and commendation for the repair and rearrangement of the venues after a bad storm hit the Birmingham area on the third day. "The storm destroyed the majority of the venues. … When we arrive the [next] day in the morning, the venues [were] ready. This is my congratulations … the Plan B went perfect, all the venues [ready] in time."
On the field, Italy collected the most medals with 49 (13-24-12), followed by Germany (47: 24-7-16), Ukraine (45:16-12-17), the United States (44:16-18-10) and France (42: 11-15-16). Three athletes won four golds: Johana Viveros (COL: road and track speed skating), Nina Holt (GER: Life Saving) and Belgian Bart Swings in road and track speed skating (to go along with his Winter Olympic speed skating gold in February!). Those three all won a fifth medal and two others won five total medals: Petra Senanszky (HUN: 3-2-0 in Finswimming and Life Saving) and Italy's Duccio Marsili (3-1-1) in road and track speed skating.
In the much-anticipated finals in Tug of War, Great Britain won the Mixed 580 kg final by 3:0 over Germany, and the U.S. won a tightly-contested Flying Disc final against Australia by 13-11, with Jack Williams throwing for four goals and catching two.
● Cycling ● The 109th Tour de France has moved from the Alps to the Pyrenees, with Stage 16 the first of three mountain stages that will likely determine the overall winner. On Tuesday, the leaderboard remained the same as Canadian Hugo Houle attacked with 45 km remaining on the 178.5 km, twin-peak stage from Carcassonne to Foix, to win in 4:23:47. That was 1:10 better than Valentin Madouas (FRA) and Michael Woods (CAN) and 1:12 up on American Matteo Jorgenson in fourth (+1:12).
Denmark's Jonas Vingegaard continues to lead defending champ Tadej Pogacar (SLO) by 2:22 and 2018 winner Geraint Thomas (GBR) by 2:43.
● Fencing ● The FIE World Championships are ongoing in Cairo (EGY), with the men's Sabre and women's Epee decided on Monday, with a three-time Olympic champion getting his first Worlds gold.
Hungary's Aron Szilagyi, 32, defeated surprise finalist Maxime Pianfetti (FRA) in a tight, 15-14 final to win his first-ever World Championship title, itself a surprise since he is the 2012-16-20 Olympic Champion. He had won a bronze in 2013, but had to earn his first Worlds in a difficult battle with a fencer who won his first career international medal!
Both semis ended in 15-11 scores: Pianfetti won his semifinal against another first-time international medalist in Iulian Teodosiu (ROU), while Szilagyi overcame Sandro Bazadze (GEO), a four-time medalist in World Cup action; they shared the bronze.
Korea's Sera Song, 28, won her first World Championships medal with an 11-10 victory over Alexandra Ndolo (GER), 35, in the women's Epee final.
Neither had any prior major medals; Song had won a couple of World Cup and Grand Prix medals previously and Ndolo had a World Cup silver from 2017. But Song got past Hong Kong's 2019 Worlds bronze winner Man Wai Vivian Kong, 14-9, and Ndolo dispatched Italy's two-time World Champion Rossella Fiamingo, 15-10.
● Football ● The final of the CONCACAF W Championship in Guadalupe (MEX) saw another taut battle between the U.S. and Canada, with plenty of chances for the Americans, but neither side able to score until the 78th minute.
American midfielder Rose Lavelle was fouled by Allysha Chapman in the box, resulting in a penalty that was converted by Alex Morgan for a 1-0 lead, and that's how it ended.
As usual, the U.S. had the edge in possession (55%) and shots (17-10), but defense prevailed and Alyssa Naeher got another shutout in goal. With the victory, the U.S. won its third straight CONCACAF W title and, with it, a place in the Paris 2024 women's football tournament. The U.S. out-scored its five opponents by 13-0 in the tournament.
Canada will get another shot at Paris 2024 and will play third-place Jamaica – a 1-0 winner over Costa Rica – for an Olympic slot.
Fans can be forgiven for missing the game; it was shown only on steaming channels Paramount+ and the Spanish-language ViX.
You can receive our exclusive TSX Report by e-mail by clicking here. You can also refer a friend by clicking here, and can donate here to keep this site going.
For our updated, 620-event International Sports Calendar for 2022 and beyond, by date and by sport, click here!