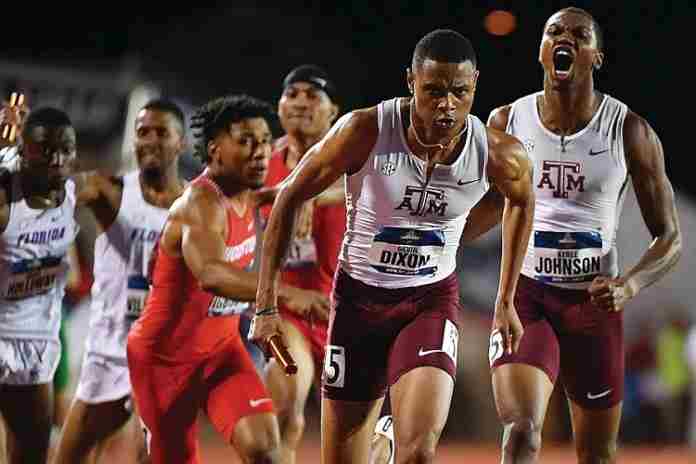 (Friends: As you know, TheSportsExaminer.com is a free site, but we still have expenses, for hosting and technical support. Our semi-annual bill has arrived, and if you value what you read here, perhaps you can donate to help with the costs. Thank you.)
Speak to a track & field fan from another country, especially from Europe, and you'll eventually get around to the question of "why is the U.S. always so good?"
It's a worthwhile question. The U.S. has been the sport's dominant force since Olympic medals were first handed out in 1896, where Americans won 17 of the 37 medals awarded in the first modern Games. And with few exceptions (1976, 1988 and the 1980 boycott), the U.S. has won the most medals in the sport in each Olympics since.
The American prowess in the sport is even more amazing considering that (a) the sport is not especially popular as a spectator event and (b) American athletes receive no government funding for training, as is the norm elsewhere.
It comes down to schooling.
Track & field, in all of its forms – indoor, outdoor and cross country – is the leading sport in U.S. high schools, with more than 1.58 million participants combined in 2018-19.
But the truly unique aspect of the U.S. system is in collegiate programs, where a new study has – for the first time – compiled a macro analysis of the astonishing support provided to the sport.
Texan coach George Perry, who writes the NALathletics.com blog, dug deeply into the numbers in a sensational post earlier this month and came out with some amazing analysis:
● Collegiate programs at all levels – NCAA, NAIA and community colleges – spent a combined total of $974.98 million on cross country and track (indoor and out) in the 2017-18 academic year.
That's almost a billion dollars!
These figures are not made up; he crunched the enormous volume of data annually reported by schools for the U.S. Department of Education's Equity in Athletics database.
● NCAA institutions accounted for $838.08 million in spending, with $364.78 million spent by NCAA Football Bowl Subdivision schools, more than any other group. NCAA schools in the Football Championship Subdivision spent $147.20 million and Division I non-football schools spent $95.90 million. The lower divisions spent a lot: $149.18 million for Division II and $81.03 million in Division III.
NAIA schools spent $103.24 million!
● Perry pointedly compares this to the annual budgets of World Athletics ($68.1 million in 2018) and USA Track & Field ($36.71 million in 2018).
And he further notes that USATF's landmark sponsorship deal with Nike – covering 2017-40 and reportedly worth as much as $500 million in all – is less than half of what U.S. colleges and universities spend on the sport in a single year!
● From the ScholarshipStats.com Web site, the total available scholarships in the sport at the collegiate level now stands at 16,026 for track, with 6,690 for men and 9,336 for women, and 8,169 for cross country (3,512 + 4,657). The combined total of 24,195 ranks third among all sports, behind only football (30,423 scholarships) and basketball (28,819).
Some 1,277 schools fielded track & field teams, with 37,046 men and 36,526 women and 73,572 total.
● There is also some revenue in track & field and Perry's research showed a total of $812.93 million from donations, sponsorships and ticket sales across all schools (remember, this is data provided to the U.S. government by the schools).
But where NCAA Division II and III schools both showed combined results just above break-even – +$2.20 million for Division II and +$2.52 million for Division III – the bigger the schools, the bigger the losses.
In NCAA Division I – all sections combined – the schools collected $443.78 in revenue and lost a collective $164.10 million. Almost all of that was with the big schools in the Football Bowl Subdivision, which had a combined loss of $165.16 million. Ouch!
Perry noted:
"At the 2018/19 NCAA Division I Outdoor Track & Field National Championships, 18 schools were represented in the top 13 for either men's or women's team scores. Five of those schools – Brigham Young University, Florida State University, Mississippi State University, University of Houston and University of New Mexico – had a balanced budget for the year. All the rest operated at a loss – a combined loss of $46.7 million."
That loss total is more than the USATF budget for 2018 and almost as much as World Athletics collected in revenue ($47.51 million)!
Congratulations to Perry for doing a lot of work on a lot of data across hundreds of schools. But it shows that the unduplicated advantage of the U.S. in track & field – and likely as well in swimming – is the collegiate system that provides coaching, facilities and equipment to more than 73,000 athletes and scholarships – counting partial support – to likely more than 25,000 individuals in track and cross country.
It's true that the U.S. does not provide training stipends to its elite, post-collegiate athletes and many groups – including World Athletics and USA Track & Field and many others – are trying to provide more opportunities for the sport's professionals. But for its collegiate athletes, individual schools provide a remarkable degree of support at the time when those men and women must take the step from junior star to national class and to world class.
On Wednesday, the University of Connecticut announced that it would cut men's cross country, men's swimming and driving, men's tennis and women's rowing to deal with the budget crisis caused by the coronavirus pandemic, along with 15% cuts (including the loss of some scholarships) in its 18 other sports. They are only the latest to make such moves.
No one knows what the impact of the virus will eventually be on U.S. college sports altogether and the entire sports program at some of the larger schools could implode completely if the college football season fails to materialize.
If so, the amazing edge the U.S. has enjoyed in worldwide track & field could be reduced … or start down the road of even being eliminated.
Rich Perelman
Editor
You can receive our exclusive TSX Report by e-mail by clicking here. You can also refer a friend by clicking here.