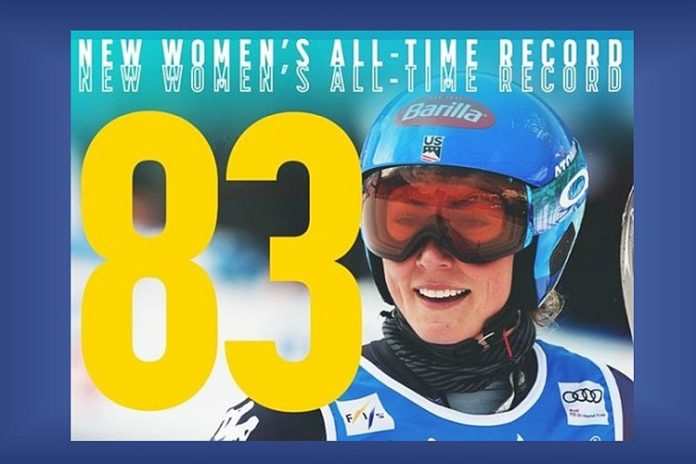 ★ The Sports Examiner: Chronicling the key competitive, economic and political forces shaping elite sport and the Olympic Movement.★
★ Can you help? Our 21 donors have covered 49% of our technical expenses for the first half of 2023. Please consider a donation. Thank you in advance. ★
★ To get The Sports Examiner by e-mail: sign up here! ★
The amazing Mikaela Shiffrin won her 83rd FIS Alpine World Cup race on Tuesday in the first of two Giant Slalom races at Kronplatz (ITA), and moving to no. 2 all-time, with the most wins ever by a woman.
Only Sweden's Ingemar Stenmark has more, with 86, and Shiffrin could tie that mark as early as Sunday, as the next three races are either Giant Slaloms or Slaloms:
● 25 January: Giant Slalom at Kronplatz
● 28 January: Slalom at Spindleruv Mlyn (CZE)
● 29 January: Slalom at Spindleruv Mlyn (CZE)
Shiffrin's triumph on Tuesday wasn't easy. She led after the first run, 58.72 to 58.85 over Beijing Olympic Giant Slalom bronze winner Lara Gut-Behrami (SUI), then Gut-Behrami produced a sensational second run of 1:02.21, meaning Shiffrin had to ski the second run in 1:02.23 or faster to win. She was up to the challenge, zooming to the fastest second run in the field of 1:01.89 to finish in 2:00.1 to 2:01.06 for Gut-Behrami. Italy's Federica Brignone (2:02.04) was third.
Afterwards, Shiffrin spoke about her nerves watching Gut-Behrami – herself a former World Cup overall champ – start her second run:
"I saw her from the start and then I was thinking, 'Why did I watch? I can't go that fast.'
"I was a bit nervous for the second run but mostly I hate waiting. Finally when it was time to go, everything went quiet and I just pushed as hard as I could every turn. I was a little bit wild in some spots but it felt so clean. I thought I wouldn't be faster, but I thought I could maybe be close and then somehow I got to the finish.
"It was pretty amazing to come to the finish and see that I was quite fast.
"I could hear that the other athletes were skiing well… I was like I could lose this, so I'm going to try to ski a very good run, and it was. It's still hard for me to believe that I have the mental focus again to be strong on the second run. It's something I don't take for granted."
Fellow American Lindsey Vonn, who was tied with Shrffrin at 82 wins, said:
"Reaching this milestone is an incredible accomplishment, one that I hope Mikaela is able to savor.
"Picabo Street inspired me to become an Olympian and I remember vividly how much of an impact she made on me. Throughout my career I always tried to be the role model for kids that Picabo was for me, and now it is Mikaela's turn to carry that torch. As Americans, we have been able to produce incredible athletes, and I am excited to see who Mikaela will inspire to continue to push the limits of our sport.  Congratulations on raising the bar for all skiers to come."
And Shiffrin now has Stenmark in her sights and barring a freak injury, will pass him sometime this season. But Shiffrin has compiled her records in a much shorter time frame:
Ingemar Stenmark (SWE):
● 86 career World Cup wins: 1973-89
● Retired at age 33
● Won 46 Giant Slaloms, 40 Slaloms
Mikaela Shiffrin (USA):
● 83 career World Cup wins: 2012-present
● Age 27
● Won 51 Slaloms, 18 Giant Slaloms, 5 Super-Gs, 3 Downhills and six others
Lindsey Vonn (USA):
● 82 career World Cup wins: 2001-19
● Retired at age 34
● Won 43 Downhills, 28 Super-Gs, 5 Combineds, 4 Giant Slaloms, 2 Slaloms
Shiffrin is in her 12th season on tour and has averaged almost seven wins a season and nine in her last seven (including this season). If she continues on the World Cup circuit through age 35 in 2030 – when the Winter Olympic Games might be in Salt Lake City – she could be at 140 or more wins!
As for chasing Stenmark, Shiffrin won her second race at Kronplatz on Tuesday, having also won there in 2019. She also has won before at Spindleruv Mlyn, also in 2019 in a Slalom.
So far this season, Shiffrin has nine wins in 25 World Cup races held so far – she has skipped a few – and has seven wins in the last 38 days, including five in a row from 18 December to 4 January.
This is not new for Shiffrin; in the 2017-18 season, she won eight races in 22 days, on the way to 12 victories that season, and 17 the next.
She is also rising quickly toward passing Vonn for the most World Cup medals by a woman, which would make her no. 3 all-time:
● 1. 155, Stenmark
● 2. 138, Marcel Hirscher (AUT: 2007-19)
● 3. 137, Vonn
● 4. 131, Shiffrin
As for the 2022-23 World Cup, Shiffrin now has a 1,417-861 lead over Gut-Behrami after 25 of 39 races, which would be her fifth World Cup overall title, which would move her to no. 2 on the women's all-time list behind Austrian star Annemarie Moser-Proell (1969-80), who won six. The all-time mark is eight for Hirscher, trailed by Marc Giradelli (LUX: 1980-96), who won five.
Shiffrin is one of the all-time greats and on her way to – perhaps – being the best ever.
Rich Perelman
Editor
You can receive our exclusive TSX Report by e-mail by clicking here. You can also refer a friend by clicking here, and can donate here to keep this site going.
For our updated, 929-event International Sports Calendar for 2023 and beyond, by date and by sport, click here!