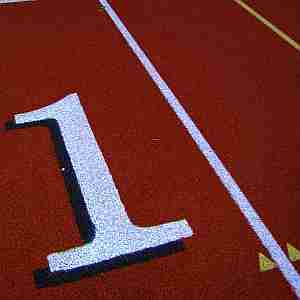 Sunday was a great day for track & field fans, who got to watch two hours of brilliant competition at the Prefontaine Classic, including six world-leading marks, led by a powerful 9.81 100 m by American Christian Coleman over reigning World Champion Justin Gatlin.
Moreover, in a meet which was transferred – due to construction – from Oregon's Hayward Field to the modest, 2,158-seat Cobb Track & Angell Field at Stanford, temporary bleachers with a terrible view around the second turn were added and the meet sold out at 8,128 spectators.
And there was a live, national television broadcast on NBC.
This was an IAAF Diamond League meet, the highest level of non-championship competition in the world, with $30,000 paid in prize money for each event: $10,000-6,000-4,000-3,000-2,500-2,000-1,500-1,000 for the top eight places. There were 13 Diamond League events, which paid a total of $390,000 in prize money, and three non-Diamond League events in which the promoters paid less to the participants.
On Saturday, there was a much smaller event held at the BB&T Center in Sunrise, Florida (outside of Miami) called "40 Yards of Gold" in which 16 "speedy" players from the National Football Players competed against each other on artificial turf in an elimination format, with San Francisco 49ers wide receiver Marquise Goodwin defeating Carolina Panthers cornerback Donte Jackson by 0.05 seconds to win the title … and $1 million!
Now, let's not rag on Goodwin. He was a 2012 Olympian in the long jump, finishing 10th in the final, twice NCAA long jump champ at Texas, with a best of 8.45 m (27-8 3/4) from 2016, and a 100 m best of 10.38 from way back in 2008. He's legitimately fast … for a football player. His best indoor 60 m time – comparable in format to the 40 Yards of Gold program – was 6.67 back in 2016. For comparison, Coleman is the world-record holder at 60 m at 6.34 from 2018.
The other finalist, Jackson, ran for LSU and had bests of 6.63 for 60 m (2016) and 10.22 for the 100 m (2017).
Big difference, and so was the paycheck.
David Furones of the South Florida Sun-Sentinel reported, "Hosted by former All-Pro Cincinnati Bengals wideout Chad Johnson, along with ex-NFL 2,000-yard rusher Chris Johnson and DJ Irie and with a performance by rapper Rick Ross that preceded the final, a crowd of about 2,000 to 3,000 fans provided an electric atmosphere given the numbers."
Here's the race:
Marquise Goodwin tops Donte Jackson by .05 seconds to win inaugural 40 Yards of Gold title. Absolutely electric. He wins the $1 million prize. pic.twitter.com/FPJWcGOGAO

— David Furones (@DavidFurones_) June 30, 2019
Don't think the guys running at Pre weren't paying attention. Coleman was:
Lock me in for next year @40YardsofGold !! 1Million for 1 race my goodness lol

— Christian Coleman (@__coleman) June 30, 2019
And the event, which was conceived by New Orleans Saints received Ted Ginn, Jr. and fronted by former Cincinnati star Chad Johnson – "Ochocinco" – had plenty of entertainment attached, and even drew significant interest from betters (check this in-depth preview). The pay-per-view price was $39.95.
Jackson, as runner-up, reportedly got $50,000, still 66% more than the entire men's 100 m field made at the Pre Classic.
There were a lot of unhappy folks in the track world commenting on this on Twitter, none more fired up than Houston's head coach (and former world 100 m record holder) Leroy Burrell and assistant coach Carl Lewis (nine Olympic golds):
Meanwhile the guys who run for a living are not invited to the party and are running for $10,000 in prize money tomorrow. There's something fundamentally wrong with that.

— LeroyBurrell OLY (@BurrellLeroy) June 30, 2019
It is time we define what professional track and field is going to be. Arguing over $10,000 or running for a million! It will take work and sacrifice. What are you going to do @iaaforg and @usatf? As a college coach I'm forced to tell a false story about a professional sport.

— Carl Lewis (@Carl_Lewis) June 30, 2019
To the athletes who dream of being an Olympian and a professional track athlete. Without major change, there will be no @Diamond_League or any league. Europe can't carry the sport, Look at the stands. Let's have a real conversation about how to move forward and keep Track alive

— Carl Lewis (@Carl_Lewis) June 30, 2019
Part of the problem is the USATF and IAAF is not making T&F lucrative. Look at @ochocinco who promote and market @40YardsofGold and it manifest. There are great track athletes who can do the same thing like Chad Johnson did.

— Demetrius Clark (@CoachClarkTF) June 30, 2019
I'm in Oregon. Nike could market and promote track and speed. Instead, they generally promote football. Nike promotes distance running as some leisure sport and a way of life. Steve Pre is Jesus here. Most serious track fans are weak distance coaches who run 10k and marathons.

— Brian McElroy (@coachmactrack) June 30, 2019
4.22 is blazing but 10.85 won't get you in the finals at a TX HS state meet. I care about track as a whole. Just like anything else, advertising and events bring in the money. More meets needed!

— Steve Crenshaw (@crenshaw817) June 30, 2019
You get the idea. There is something fundamentally embarrassing in having a made-up sideshow award $1 million to Goodwin while the best sprinters in the world run for a few thousand dollars.
Is this easy to fix? NOOOO!
I have tried, twice trying to put together enough money for a domestic circuit that would pay at least what the Diamond League does today. But I couldn't get companies to buy in, in part because I wasn't the "governing body" that could sanction such events.
There are those who might be able to make such a program happen, but there are dramatic issues to be solved, such as track & field's 42 individual World Championships events and how far the money goes to cover them all. And that's just the start.
But on a weekend when one of the year's most dramatic meets was held in front of a sell-out crowd and the total payout was a fraction of what one former Olympian earned for four seconds of running, something is very, very wrong indeed.
Rich Perelman
Editor