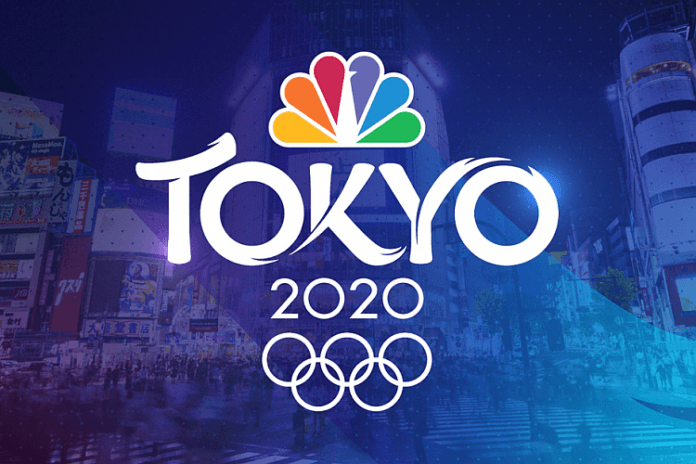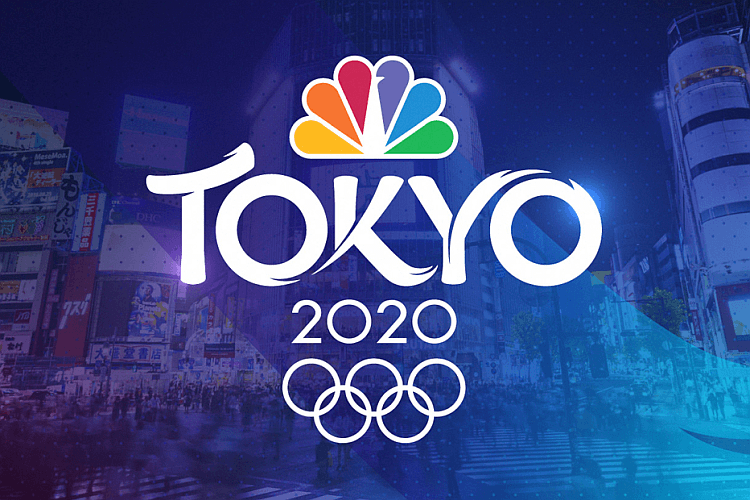 (★ Friends: With the wonderful generosity of 54 donors, 96% of our current server & support bill has been covered. If you enjoy this coverage, please donate here. Your help is so very much appreciated. Thank you. ★)
Monday's NBC Sports Group news release was headlined:
NBC's Tokyo Olympics presentation
– the largest media event ever –
delivers massive audiences & dominates media landscape
Mark Lazarus, the NBCUniversal Television and Streaming chair, enthused:
"The power of the NBC flagship broadcast again led the way with the most-watched night of TV across all networks every night for 17 days, cable records on USA Network, extensive Spanish-language coverage by Telemundo Deportes, and unprecedented streaming consumption – including sharply increasing signups, usage and awareness of Peacock. We were dominant across every platform. Our Olympic presentation has also provided unmatched promotion for the rest of the company, including TODAY and Nightly News, local newscasts on owned stations and affiliates, and for our Parks, including Universal Orlando Resort – the home base of the tremendous friends and family watch party that we created with the USOPC."
All of that was true. NBC dominated U.S. primetime television night after night, piling up an average primetime audience of 15.1 million on that network alone, at a time when the most-watched show of the week might be 5-6 million for CBS's "60 Minutes" on Sunday evenings.
And reports are that the network made money, which is crucial not only for its health, but for its continued enthusiasm for its $7.75 billion contract for the Olympic and Winter Games from 2022 to 2032.
But the total U.S. primetime audience numbers – across NBC, USA, NBCSN, CNBC and the Golf Channel – are down considerably from the Rio Games of 2016, London 2012, Beijing 2008 and the Athens 2004 Games:
● 2021/Tokyo: 150 million U.S. viewers ~ 15.6 million avg. primetime audience
● 2016/Rio: 198 million U.S. TV viewers ~ 27.5 million avg. primetime audience
● 2012/London: 217 million U.S. TV viewers ~ 31.1 million avg. primetime audience
● 2008/Beijing: 215 million U.S. TV viewers ~ 27.7 million avg. primetime audience
● 2004/Athens: 203 million U.S. TV viewers ~ 24.9 million avg. primetime audience
Even the PyeongChang Winter Games in 2018 had a bigger primetime audience than Tokyo at 19.8 million (average) per night, and that was down 7% from Sochi in 2014.
Perhaps most vexing, the reach of the Games is down significantly; consider:
● 2021: 45.3% of the U.S. viewed any Tokyo coverage
● 2016: 61.3% of the U.S. viewed any Rio coverage
● 2012: 69.1% of the U.S. viewed any London coverage
● 2008: 70.7% of the U.S. viewed any Beijing coverage
● 2004: 69.3% of the U.S. viewed any Athens coverage
Contrary to what you might think, this is not a major problem for NBC. In a time of fractured attention across all media, the Olympic programming still delivers a massive audience unavailable anywhere else over a multi-day period. So it's still quite valuable to advertisers and will remain so.
But it should cause considerable concern in Colorado Springs at the U.S. Olympic & Paralympic Committee. The nationwide appreciation, interest and devotion to the Games is ebbing.
Furthermore, the primetime audience figures show that only one sport appeared to really matter to U.S. viewers above and beyond the general Olympic coverage: women's gymnastics. Checking NBC's announced primetime viewers day by day and cross-checking with the event schedule:
(1) 19.5 million on 25 July (Sun): Women's Gymnastics qualifying
(2) 18.9 million on 29 July (Thu): Women's Gymnastics All-Around
(3) 16.9 million on 03 Aug: (Tue): Women's Gymnastics Beam final
(4) 16.2 million on 27 July (Tue): Women's Gymnastics Team final
(5) 16.1 million on 26 July (Mon): Women's swimming 400 m Freestyle
(6) 15.6 million on 01 Aug. (Sun)
(7) 15.3 million on 02 Aug. (Mon)
(8) 15.2 million on 24 July (Sat)
(9) 15.0 million on 30 July (Fri)
(10) 14.5 million on 28 July (Wed)
(11) 14.4 million on 31 July (Sat)
(12) 14.2 million on 04 Aug. (Wed)
(13) 12.9 million on 05 Aug. (Thu)
(14) 12.0 million on 06 Aug. (Fri)
(15) 10.5 million on 08 Aug. (Sun): estimated
(16) 10.1 million on 07 Aug. (Sat): estimated
The common theme in the top four-rated programs, of course, was American superstar Simone Biles, her dramatic exit from the competition during the Team final and what happened to her teammates. After gymnastics, only the first Katie Ledecky vs. Ariarne Titmus (AUS) duel in the pool seemed to draw special attention from viewers.
The estimated primetime audience average for the final week of the Games – Sunday to Sunday – was 13.4 million vs. 16.2 million for the first eight days of competition, indicating only a modest level of interest in the featured track & field events. It is also worth noting that because of the schedule in Tokyo, many of the events were over long before they aired in U.S. primetime. That will be an issue once again in Paris in 2024.
However, when track & field was available live, it did well on cable.
There were 28 hours of Olympic programming on cable which drew audiences of one million or more, all on either USA Network or NBCSN. The top 10 (with programming where known; * indicates a guess on the sports shown):
(1) 2.531 million on USA ~ 25 July: Men's Triathlon (live)
(2) 2.108 million on USA ~ 04 Aug.: Track & Field finals (live)
(3) 1.978 million on USA ~ 31 July: Track & Field qualifying (live)
(4) 1.977 million on USA ~ 01 Aug.: Boxing and weightlifting*
(5) 1.812 million on USA ~ 30 July: Track & Field qualifying (live)
(6) 1.749 million on USA ~ 25 July: Women's Triathlon (live)
(7) 1.694 million on USA ~ 03 Aug.: Track & Field qualifying (live)
(8) 1.617 million on USA ~ 07 Aug.: Men's marathon (live)
(9) 1.559 million on NBCSN ~ 24 July: USA vs. France men's volleyball*
(10) 1.504 million on USA ~ 29 July: Track & Field qualifying (live)
These are good numbers, but during the same period, audiences of more than two million daily watched individual cable news programs and on 1 August, the combined English and Spanish-language broadcasts of the CONCACAF Gold Cup final (U.S. vs. Mexico on FS1 and TUDN) had 2.796 million viewers, more than any single Olympic hour on cable.
The Beijing 2022 Winter Games are only six months away, once again in the Asian time zones and will be another measuring stick for U.S. interest in Olympic programming. The U.S. will win medals, but look for Norway to lead the medal table again, with a surge from the host Chinese. Will Americans be more interested than for Tokyo, or care even less?
The worst thing that can happen to the U.S. Olympic & Paralympic Committee – now getting ready for the Paralympic Games in Tokyo – is that Americans stop caring about the Games. It's yet another issue that the 16-member Commission on the State of U.S. Olympics and Paralympics – slated to begin meeting in October – is going to have to consider.
Rich Perelman
Editor
You can receive our exclusive TSX Report by e-mail by clicking here. You can also refer a friend by clicking here, and can donate here to keep this site going.
For our 649-event International Sports Calendar for 2021 and beyond, by date and by sport, click here!