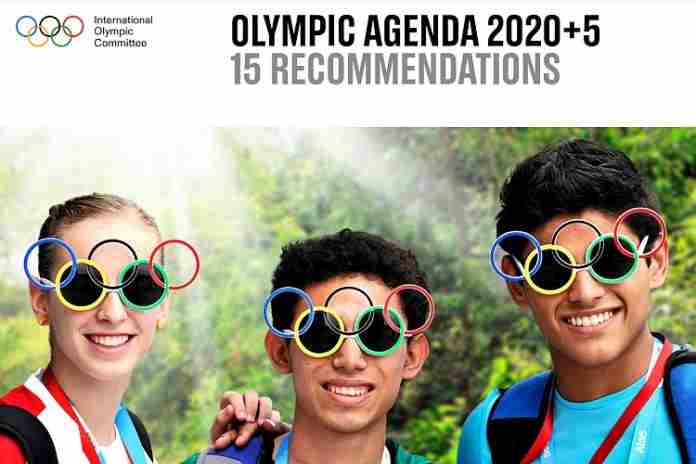 (★ Friends: THANK YOU to our 44 donors who have pitched in to cover our bill for server and support costs! If you would like to join in, please donate here. Your enthusiasm is the reason this site keeps going. ★)
For most of its 127-year history, the International Olympic Committee has mostly been about the staging of two events, the Olympic and Olympic Winter Games, now occurring for two weeks, every two years.
That's about to change, big time.
The enormously ambitious Olympic Agenda 2020+5, released on Monday (15th), is nothing less than a declaration by the IOC to take charge – if not take over – the international sports calendar for much of every year, not just those years in which an Olympic or Winter Games will take place.
The release of this document in 2021, stating a plan through to 2025, is no accident. It comes 12 weeks after the IOC announced that German Thomas Bach would run unopposed for a second term as IOC President, which will run from 2021-25. So this new program is in effect Bach's vision of his final term.
If read seriously, and with an appreciation of the ability of Bach and his executive team in Lausanne to create change – as it has done already during his eight-year first term – then Agenda 2020+5 is nothing less than the start of an IOC-led makeover of the quadrennial world sports calendar, as well as the Olympic event program. The centerpieces are Recommendations 6 and 9:
(1) Recommendation 6 is titled "Enhance and promote the Road to the Olympic Games":
● "Elevate the profile of thousands of qualifying events by authorising the use of Olympic branding (e.g. OCOG marks) in a flexible manner"
● "Streamline calendars through new multi-sports Olympic qualifying events in the lead up to the Olympic Games Paris 2024″
● "The Olympic and OCOG brands effectively have no visibility and therefore the Road to the Olympic Games is not as visible as it should be.
"Beyond the individual stand-alone events, some multi-sports qualification events could be developed by the IOC in collaboration with [International Federations], which would help streamline the qualification calendar and also potentially add value for the Hosts, IFs and athletes involved. These events, grouping sports by type or by culture (e.g. combat sports, urban sports), could also serve to build excitement for the Olympic Games."
Forget the cautious language. After 127 years, the IOC will now take charge of some (or all) of the Olympic qualification events for some sports, creating new, multi-sport events which will extend the Olympic brand to two years prior to each Games. This effectively makes the IOC a major event producer on its own, perhaps in collaboration with some of the IFs, perhaps with a continental association of National Olympic Committees, or perhaps by itself.
This is a major expansion – takeover? – of what has been the province of the IFs and groups like the Olympic Council of Asia and PanAm Sports. The proof comes in Recommendation 7 concerning the annual sports calendar: "Coordinate the harmonisation of multi-sports event planning across the Olympic Movement to ensure sustainability for all stakeholders," which now includes the IOC.
What is the future of the Asian Games and Pan American Games if the IOC takes for itself all of the Olympic qualification aspects of these events? Or perhaps it will help to shore up these events and create a source of revenue for these continental associations? Those decisions will likely be for Bach's successor.
The IOC got a taste of what will be involved in its close cooperation with the development and staging of the Youth Olympic Games in Buenos Aires (ARG) in 2018 and the Winter Youth Olympic Games in Lausanne (SUI) in 2020. Add in the IOC-managed qualifying events for boxing for Tokyo, in the midst of the coronavirus pandemic, and there is obvious confidence that the team at Olympic House can handle the workload.
The International Federations will still have their own world championships as primary qualifiers for the Olympic Games, but look for the IOC to consider taking over the rest.
(2) Recommendation 9 is "Encourage the development of virtual sports and further engage with video gaming communities":
● "Strengthen the roles and responsibilities of IFs in establishing virtual and simulated forms of sports as a discipline within their regulations and strategies"
● "Consider the addition of physical virtual sports in the Olympic Programme in cooperation with the respective IFs"
The concept of "physical virtual sports" refers to activities like the virtual Tour de France one does on a connected home bike, or virtual golf using specially-programmed "clubs" that must be actually swung to create a shot.
Agenda 2020+5 is clear that these styles of electronic gaming, which include a significant physical component, are going to be included on the Olympic program, as early as the Los Angeles Games in 2028 (whose event program will be finalized in 2025), as long as they are under the control and supervision of the applicable International Federation.
How well that will sit with an existing game maker is unclear, but the question is now not whether electronic games will be included as Olympic events, but which ones and when.
The aggressive elements of Agenda 2020+5 do not stop there. The IOC's desire to become an impact player in sport on a daily basis – not for two weeks every two years, but every day – are decisively declared in Recommendations 1 and 8.
In Recommendation 1:
● "Offer opportunities for people to get active through programmes such as initiation to Olympic sports or participation in events connected to the Olympic Games, both before and during the Olympic Games"
● "Develop 'phygital' experiences with both physical and digital components, such as for example an online platform during the Olympic Games for fans and stakeholders to access exclusive experiences, regardless of their location (e.g. chat with athletes, behind the scenes tour, etc.)"
● "Introduce innovative ways to facilitate direct and interactive relationships of fans around the world with Olympic Games events."
In Recommendation 8, titled "Grow digital engagement with people":
● "Use Olympic digital and social media channels to deliver engagement during and between the Olympic Games" leading to the construction of "a single people-centric digital platform, Olympics.com" that will incorporate "the Olympic Channel as the sports video section" and "[m]erging the websites and apps of Olympic Games into the single Olympic platform," including the Web presence of Olympic organizing committees (here's looking at you, LA28).
● "[T]he IOC Digital Strategy was approved and initiated, to reinforce IOC's people-centric approach, aiming at creating one single digital platform that allows data capture for the
benefit of the IOC and of the Olympic Movement." (Emphasis added)
The IOC's stated goal now is to create an owned, addressable database in the millions to which it can promote its goals for physical fitness, worldwide solidarity and its other goals. Oh yes, there is a vision for how to turn this to the IOC's financial advantage.
The final recommendation, no. 15, concerns new sources of revenue. It specifically includes "Further involving TOP Partners' expertise and resources in the programmes and activities of the Olympic Movement" with revealing additional comments:
● "Purpose-led marketing has become one of the most impactful tools for companies, institutions and rights-holders to position themselves to target audiences, with a focus on the ambitions, purpose and values of the company, rather than solely putting their products or services at the heart of their marketing strategy. In the Olympic context, this means developing mutually beneficial projects and programmes with Partners that support the role of sport as an important enabler for Sustainable Development Goals. As a values-based organisation, this is what we offer to our partners."
● "The IOC will continue to explore ways in which commercial partners can support [athletes] and how we can bring the athlete community into the value proposition that we provide for our partners – both in terms of how athletes can contribute, but also how they can benefit from the possibilities that we offer through our Partners."
This future vision has the IOC offering global companies the opportunity for direct, digital access to millions – or tens of million or hundreds of millions? – of individuals spread across 206 countries, drawn to the popularity of the Olympic Games. Sponsorship, rather than broadcast rights, has the greatest growth potential for the IOC going forward and having a continuous roll of events and addressable access to consumers around the world makes for a compelling sales argument … even at Olympic prices.
The comments on Recommendation 15 also note further expansion by the IOC "by creating a global licensing programme and developing a marketing alliance with the [International Paralympic Committee], which began on 1 January 2021" and "[t]o continue maximising benefits for all Olympic stakeholders, we will extend this centralised approach to the
business model of the Hospitality sector."
This is a massive expansion of the vision of the role that the IOC can make for sport, and for itself, and shows that Bach continues to push the boundaries of what has been considered possible for an organization which has become a billion-dollar business off of just four weeks of programming every four years.
There are numerous smaller impact items in the recommendations, including:
● From Recommendation 1: "Preserve the principle of universality through guaranteed continental representation within the Olympic qualification systems." Translation: individuals and teams that don't – competitively – belong at the Games will still be there, as in "This is the opportunity for us to contribute to a more inclusive society and to peace."
● From Recommendation 2: "Work with stakeholders to streamline numbers of on-site participants and actively promote opportunities to perform Olympic Games-related tasks remotely."
● From Recommendation 5: "Encourage Olympic Movement constituents to establish a Safeguarding Officer position within their organisations and to fill such positions with an Officer certified through the International Safeguarding Officer In Sport Certificate." This is a new project on safe sports, complementing the long-time anti-doping effort that has been led by the IOC.
● From Recommendation 14: "The IOC to make compliance with the 'Basic Universal Principles of Good Governance' conditional for recognition and inclusion in the Olympic Programme and granting of patronage." This will include auditing of more National Olympic Committees and International Federations to assure money provided to them by the IOC is being spent as expected.
The IOC also took some pains to underline its commitment to corporate citizenship, currently an expanding issue with calls by some governments for boycotts and demonstrations related to the 2022 Olympic Winter Games in China. Recommendation 13 asks to "Adopt an overarching IOC human rights strategic framework with specific action plans for each of the IOC's three different spheres of responsibility (the IOC as an organisation, the IOC as owner of the Olympic Games and the IOC as leader of the Olympic Movement)."
Its goal "to embed in a more systematic and comprehensive way human rights due diligence in its operations so as to reduce and mitigate risks of negative impacts on people, as well as ensure remediation in a proactive way" is, as always, couched within the context of mattes "that fall within its remit," which is limited to sport. That won't play well for 2022, but has better prospects for the Games to be held afterwards.
The recommendations do not include any comments guiding the selection of sports or events for the Games, other than the obvious interest in specific eSports related to existing Olympic sports. It does reiterate the IOC's now-firm desire to avoid building facilities except where needed as part of a host city's existing or long-term plan.
While some of the continental confederations of National Olympic Committees can be concerned about the future of their regional Games, the obvious losers in the document are the writing press and photographers. The only media entities even mentioned in the document are rights-holding broadcasters – who are Olympic "stakeholders" – and the comment that sustainability concerns should "actively promote opportunities to perform Olympic Games-related tasks remotely" could very well include press and non-rights-holding broadcasters. The IOC's future vision is communicating to the public through its rights-holding broadcasters, its sponsors and its own database; all others are superfluous.
There is little doubt that the IOC members will confirm the document in March as the plan for the next four years. But that does not mean that all of it will be implemented, or be successful if implemented. The scope – and the stakes – are vast.
Are these good ideas, or is the IOC simply trying to vacuum up every possible opportunity for control and funding it can see in front of it? You can make a compelling case for both, but the IOC's Agenda 2020+5 program is a reaction to the world it sees – where "unity and peace are at risk because of increasing social, political and economic polarisation" – and it is adopting many of the strategies and tactics for growth and impact already underway by other global marketers, including many of its own sponsorship partners.
Rich Perelman
Editor
You can receive our exclusive TSX Report by e-mail by clicking here. You can also refer a friend by clicking here, and can donate here to keep this site going.
For our 649-event International Sports Calendar for 2021 and beyond, by date and by sport, click here!