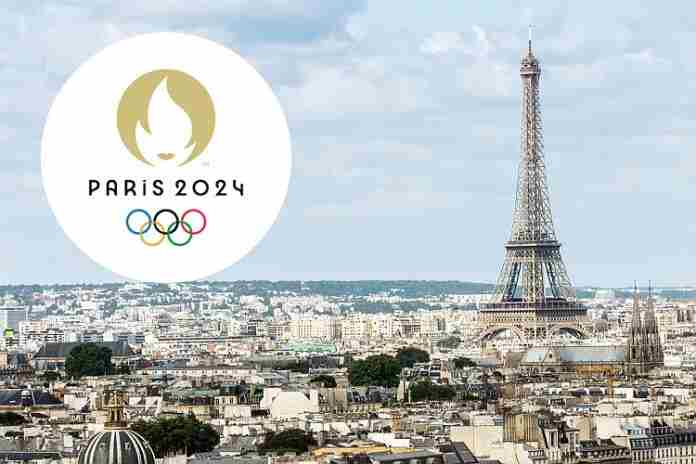 (★ Friends: A big new bill for server and support costs has arrived. Your generosity has helped with prior charges – and while there is never a good time to ask – if you would like to support our coverage, please donate here. Your enthusiasm (and support) is the reason this site continues. Thank you. ★)
"Paris is on track. Paris is where we expected it to be and Paris is confirming all its commitments."
So said a highly-satisfied Pierre-Olivier Beckers, member of the International Olympic Committee from Belgium and someone who knows about big projects, having been for 14 years the chief executive of the multinational supermarket chain Delhaize (€21.1 billion in revenue when he retired in 2013).
But in a session with reporters following the IOC's latest Paris 2024 Coordination Commission meeting on 1 June, Beckers was even more enthusiastic about what the Paris organizers foresee for the 2024 Games beyond the simple staging of the largest sporting event in the world:
"What has impressed us today, I would say, more than anything else, is that what we are facing here is not a project about the organization of Olympic and Paralympic Games. This is much more than that.
"It is a project which started, basically, when Paris received the Games [in 2017] and which will last long after the Closing Ceremonies of the Olympic and Paralympic Games. Because the project is really about contributing to transform society in all these aspects: through sports, of course, and trying to make the population in France and inspire other populations to move, to be more healthy – physically, mentally – but it is also about, I would say, incredibly strongly about using the Olympic values to help to contribute to rebuild a world that is beginning to show more friendship, more solidarity.
"And it is so needed now. I mean, I don't have to describe to you the last 16 months have been more about fears between populations, between countries, between neighbors and with feeling that everyone else is susceptible of creating a danger for you and your family. So we need the Games now, in Tokyo more than ever, and we need the Games of 2024."
For those who have observed the Olympic Movement – and the Olympic Games – even recently, this is change on a mind-boggling scale. It was not long ago that the Sochi 2014 Winter Games in Russia cost a reported $51 billion to stage the Games as the catalyst to upgrade the area to a year-round conference and resort center. A couple of years later, Brazil's Rio de Janeiro looked like it might not be able to stage the 2016 Games, either because of a lack of funds – its Olympic organizing committee was so poor that it was the first ever not to publish an "Official Report" of any kind – or due to the Zika virus (remember that?).
Now the question is not whether Paris 2024 will happen, but how large will be the impact on society?
Paris 2024 chief executive Tony Estanguet, a three-time Olympic gold medalist in Canoe Slalom, was asked what would constitute success for this Games:
"One century after the last edition of the Games [in Paris], to position France as a country able to organize an event by keeping the plans and the bests of the Games, but also by proposing a new model.
"A new model of the Games with making sure that we will innovate in a way, and for the first time in history, those Games will be inclusive and we will have the 50% of participation, men and women, for the first time in history we will also have some events open to [public] participation and this is really important for us.
"We wanted also to open those Games to the different territories all over the country. You know that we had it also in our concept to demonstrate also all the variety and the richness of this country of France to, in a way, showcase what France has to offer in its best version. And for us, it's a combination of spectacular Games, but also meaningful Games, making the demonstration that there will be more sustainable, more inclusive, offer opportunities for this country also in terms of employment and demonstrate that the benefits of such a big event is real, for a country such as France.
"So for us, the success relies on these three main objectives: celebration of really a spectacular event, a legacy where sport and the Games demonstrates what the benefits are for the society, and definitely, our ability to engage all the country and all the French people in living a special moment in regards with Paris 2024, whether it is with Terre de Jeux [community activities related to sport of the Games] or the Club [for individuals], it's important for us to maximize and develop opportunities for people to be active during this experience of Paris 2024."
Beckers followed up with:
"The messages and the behaviors of Paris 2024 along the now three years that remain will impact and touch the people to behave themselves differently, with more respect, more solidarity, willingness to win and to be open to the world, more inclusive to one another. That is really what excites us."
And he explained further:
"Even though [there] are structural priorities to make the Games happen, what is very important for us at the IOC is that Paris demonstrates that the Olympic Games can have a role far beyond the organization of three weeks of sports feast. And that is the commitment from Paris, it is the commitment from the IOC with the Agenda 2020, now Agenda 2020+5 – five years – and we are therefore extremely active in our conversations with Paris to make sure that their commitments around sustainability, legacy, gender equality, climate impact are true and will give a lasting legacy to the world not only in France, but [all] around.
"So, I think we are different in that sense from most previous editions of the Games in that we are putting a lot of emphasis, a big amount of our time in the Coordination Commission and other meetings are put on those elements, where potentially several editions ago, the focus was on, 'are you ready to organize the Games themselves?' …
"[The Games] in the context of Paris become powerful means to reach social union, economic and [other] goals that are important to the eyes of the entire society. Because times have changed, we live in a different world."
Beckers, elected in 2012, represents a much different IOC than was seen during the presidencies of American Avery Brundage and Ireland's Lord Killanin, where the success or failure of the Movement was totally dependent on the Games organizing committees. Spain's Juan Antonio Samaranch shepherded the IOC into financial independence following the revolutionary Los Angeles Games in 1984 and his successor, Belgian Jacques Rogge, saw the Games go to China and South America for the first time.
Current president Thomas Bach of Germany has re-engineered the IOC to require less of organizers in construction and spending, has guaranteed by contract – for the first time – the exact financial support that the IOC will provide, in cash and services, and is demanding attention to never-before-important elements such as sustainability and carbon reduction.
What is demanded in return is new ways to make the Games not just relevant, but an instrument of societal change. This is not only true for Paris 2024, but especially for Los Angeles in 2028, where no new venues need to be built. LA28 chair Casey Wasserman (USA) told World Athletics chief Sebastian Coe (GBR) during a December 2020 interview:
"The way I tell our staff every day is 'if all we do is deliver the Games well and financially responsibly, we will have missed our opportunity.' We should be able to do that, and a lot more, and that's the bar we're holding ourselves to."
Estanguet's Paris 2024 may have found its signature element in its plan to create mass-participation events, such as perhaps a 10K or half-marathon on part of the Olympic Marathon course or cycling or swimming events. And those can be continued into the future as annual ties back to the Games … not for elite athletes, but for everyone as a portal to personal fitness and better health.
That's a move in the right direction, but surely there are more opportunities than this. France and food, France and design, France and agriculture are all historic ties which could be exploited if Estanguet and his team have the (1) time, (2) funds and (3) imagination. Unlike the past, the IOC will now support these initiatives, and can not only contribute some start-up funds, but can bring its multi-national sponsor base in as power amplifiers and enablers.
Perhaps LA28 holds more potential, watching quietly while Tokyo 2020 strains to reach the finish line and Paris 2024 thirsts for the reins. It is right now looking to hire a Vice President/Non-Games Programming, focusing on "Ceremonies, Torch Relay, Live Sites, Music & Entertainment, Cultural Olympiad, Paralympic/Adaptive Sport activities, and other opportunities."
Already in motion at the same time:
● The legacy of the Los Angeles Olympic Organizing Committee, the LA84 Foundation, is running full steam ahead on its "Play Equity Fund" movement, raising awareness and funding – guided by continuing, proprietary research – for more physical education and activity opportunities for all children in the greater L.A. area, and
● The Southern California Committee for the Olympic Games – which brought the 1984 Games to Los Angeles – continues to expand its 15-year-old, first-in-the-nation Ready, Set, Gold! program which brings Olympic and Paralympic athletes into direct, continuing contact with students in elementary and middle schools in five Southern California school districts, with marked, measured success in developing and maintaining positive attitudes and higher performance in fitness, schooling and self-belief.
Access to sport, returning physical education as a basic educational element for youth, creating lifetime fitness opportunities and tying them all back to the continuously  inspirational engine of the Olympic Games is a worthwhile goal for any city, region or nation anywhere in the world. Paris 2024 will take the first steps on this road; perhaps LA28 should re-name its position as Vice President for "Permanent Legacy."
As Beckers noted, this is much more than putting on the Games, and also, much harder. To Estanguet, let's say "Bonne chance"!
Rich Perelman
Editor
You can receive our exclusive TSX Report by e-mail by clicking here. You can also refer a friend by clicking here, and can donate here to keep this site going.
For our updated – as of 1 May – 506-event International Sports Calendar for 2021 and beyond, by date and by sport, click here!