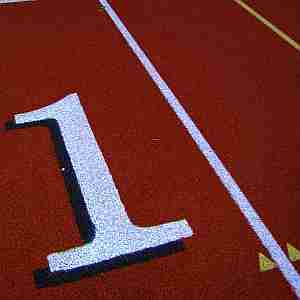 To produce this site, with coverage of 41 different sports, there's a lot of reading involved.
One of the best newsletters I see is the monthly news summary provided by the Track & Field Writers of America (TAFWA). The new April issue included a disturbing Tweet and reply concerning the recent NCAA Indoor Championships in Birmingham, Alabama.
The initial comment came from former 100 m world-record holder Leroy Burrell, now the head coach at the University of Houston:
"Day 1 of the NCAA Indoor Track & Field Champs starts today in Birmingham. One local morning newscast covered a gymnastics tourney, AAF football game, a local soccer team but ZERO coverage of the National Champs meet. Our sport MUST demand more or it will keep getting less."
This from the coach of powerful teams which finished second (men) and 15th (women) at the NCAA meet. Burrell didn't have to wait long for a response, which came from Tom Lewis of the U.S. Track & Field & Cross Country Coaches Association (USTFCCCA):
"Sad to say, but these days, it matters completely who's hosting – a campus or a building.
"A campus and home SIDs, have way more influence on local media than a building with folks that put up a few banners while collecting tourism dollars.
"Ground hustle matters."
At exactly the same time, an amazing example of what promotion can do is playing out in Los Angeles, as the UCLA women's gymnastics team is nearing the end of their stunning 2019 season.
Already the reigning national champions after getting a 10.0 on their final routine of last year's NCAA Championship from Christine Peng Peng Lee to win the title, the buzz about the Bruins had been building into 2019 when long-time coach Valorie Kondos Field announced that the 2019 season – her 29th – would be her last.
But those elements didn't bring more than modest media attention in Los Angeles. But then the area media – especially the Los Angeles Times – suddenly began covering the Bruin women this spring as if they were the storied UCLA men's basketball team: full previews of upcoming meets, lengthy game stories and in-depth features.
What happened?
The reality is that Kondos Field – better known as Miss Val on campus – has worked for years to get the program to the level of notoriety that it enjoys today. Her effort, aided immeasurably by the quality of her championship-level team, produced sensational crowds at 13,000-seat Pauley Pavilion for their five home meets this season:
● Jan. 04: 5,440 vs. Nebraska (Season opener)
● Jan. 21: 10,270 vs. Arizona State (Miss Val mint tin giveaway)
● Feb. 16: 10,232 vs. Arizona (NCAA Championships pin giveaway)
● Mar. 10: 12,927 vs. Stanford (UCLA Gymnastics bracelet giveaway)
● Mar. 15: 12,270 vs. Utah State (Miss Val tote bag giveaway)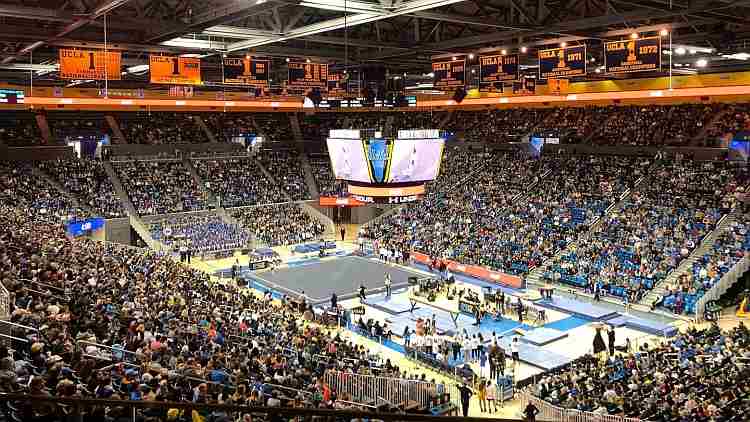 That's an average of 10,228, compared with the men's basketball average, over 18 games, of 8,269.
Let's be clear: that didn't happen because of the coverage in The Times. Instead, the enhanced coverage came because people were interested and it was a story that had to be covered.
How did Kondos Field do it?
First and foremost, it was a lot of work. Second, Kondos Field assembled an outstanding team whose performances last season – including some that earned 10.00 scores that went viral – began to generate significant buzz through their posting on social media, especially Facebook, Twitter and Pinterest, plus lots and lots of video.
And then there was the groundwork. Kondos Field and her team made sure that within the greater Los Angeles area, there wasn't a gym club that hadn't been invited to come to a meet, that hadn't received ticket offers or opportunities to meet the Bruins.
At the meets, in addition to the giveaways – which were limited to keep costs down – there were also autograph sessions and chances to meet the Bruins after the meet was over. True, this is also a fabulous recruiting tool, but is also how a fan base is expanded. Kondos Field created a fast, frenzied, fun atmosphere and then kept adding to it.
This is difficult, time-consuming and numbing, year after year. But Kondos Field believed in it, believed in her team and believed in the show – and gymnastics under Miss Val is a show – that she was putting on.
Moreover, because the Bruin gymnastics team had a schedule of scored meets, it was clear to the spectators whether they did well or did poorly. They won or they lost, and the situation was posted on the scoreboard for everyone to see, as the meet progressed. And when the Bruins started scoring 10.00s again and again – 21 so far this season – the ohh-and-ahh factor exploded … as did the attendance.
Contrast that with track & field, which has so few scholarships at the college level that dual meets – the central focus in gymnastics – are almost impossible except for a few schools with large walk-on programs. And at the NCAA Championships, most fans have no clue what the team scoring situation is at any time during the meet.
Marketing experts talk endlessly about brand equity and why there are multiple variations of Cheerios and Crest, so that consumers will grab a trusted brand before trying a new one. With Kondos Field retiring, UCLA's gymnastics program will be hard-pressed to retain its high profile, including in area news media next season. But that won't be because the Bruins won't be trying.
Track & field can once again receive more interest, raise its profile and enjoy more coverage. But it will come – and this is true for any sport, anywhere – because fans are already starting to pay attention, not because the mass media says so. That's so 20th Century.
Burrell is right that T&F – along with other sports – need more attention. But it starts at each school, at each team and within the U.S. Olympic community, with each of the National Governing Bodies.
After the NCAA women's Gymnastics Championships end in a couple of weeks, maybe Miss Val will have some time to help?
Rich Perelman
Editor