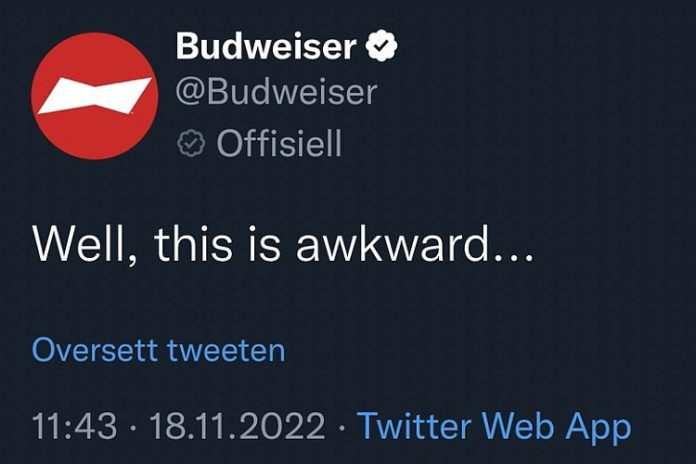 ★ The Sports Examiner: Surveying, monitoring and explaining the key competitive, economic and political forces shaping elite sport and the Olympic Movement.★
★ Want TheSportsExaminer.com insights for your team? Yes! Click here for info on speaking, research and consulting from editor Rich Perelman. ★
★ To get The Sports Examiner by e-mail: sign up here! ★
Li Li Leung, the USA Gymnastics chief executive hired to lead the federation out of its sexual abuse mess, told 300 people in early November at the "Safe Sport Journey Symposium" co-sponsored by the International Gymnastics Federation, that "Culture eats strategy for breakfast."
She turned out to be a prophet … for the FIFA World Cup.
The football world, and Qatar's Supreme Committee for Delivery and Legacy of the 2022 FIFA World Cup found that out on Friday with the stunning announcement that although planned and promised, beer would not be sold to spectators at any of the eight World Cup stadiums for the tournament which starts on Sunday (20th).
FIFA's announcement was, appropriately, sober:
"Following discussions between host country authorities and FIFA, a decision has been made to focus the sale of alcoholic beverages on the FIFA Fan Festival, other fan destinations and licensed venues, removing sales points of beer from Qatar's FIFA World Cup 2022 stadium perimeters.
"There is no impact to the sale of [non-alcoholic] Bud Zero which will remain available at all Qatar's World Cup stadiums.
"Host country authorities and FIFA will continue to ensure that the stadiums and surrounding areas provide an enjoyable, respectful and pleasant experience for all fans.
"The tournament organisers appreciate AB InBev's understanding and continuous support to our joint commitment to cater for everyone during the FIFA World Cup Qatar 2022."
Belgian-based AB InBev told Agence France Presse:
"[W]e look forward to our activations of FIFA World Cup campaigns around the world to celebrate football with our consumers. Some of the planned stadium activations cannot move forward due to circumstances beyond our control."
A quickly-deleted tweet from Budweiser simply said, "Well, this is awkward …"
In late October, Budweiser – which first became a FIFA sponsor in 1985 – proudly outlined its FIFA World Cup programming, with "its biggest campaign yet, with activations taking place in more than 70 markets and at 1.2 million pubs, restaurants and retail outlets worldwide" and emphasizing:
"Because this is the first time the tournament is being held in the Middle East and in a country that restricts public consumption of alcohol, AB InBev and Budweiser teams have been working closely with FIFA to ensure that local customs are respected while fans of legal drinking age enjoy their beers. …
"Our largest Smart Drinking initiative is 'social norms' marketing, where we tap into the emotional connections people have with our brands to help influence positive behaviors and reduce harmful drinking. For the FIFA World Cup, we are launching 'Drink Wiser, Cheer Better', a marketing campaign that encourages fans to alternate regular beers with no-alcohol ones or water, eat before and while drinking, and plan for a safe ride home."
It appears that the beer ban came in stages, as it was reported on Monday (14th) that the dozens of Budweiser sale tents inside the eight World Cup stadiums had been ordered to be re-located to less prominent locations.
Then came Friday's ban on sales to spectators at all eight stadia, although beer, wine and spirits will still be available within stadium hospitality suites and at fan festival areas, as well as hotels and other normally-licensed premises in Qatar. The British newspaper The Sun reported:
"It is understood that Qatar's ruling Royal Family has demanded the U-turn, with growing resentment against attempts to force through a more cosmopolitan approach to the tournament."
A statement from the English Football Supporters' Association included:
"Some fans like a beer at a game and some don't. But the real issue is the last minute U-turn which speaks to a wider problem – the total lack of communication and clarity from the organising committee towards supporters.
"If they can change their minds on this at a moment's notice, with no explanation, supporters will have understandable concerns about whether they will fulfil other promises relating to accommodation, transport or cultural issues."
And promises broken is the issue, although the Supporters' angst is misdirected: it appears clear that the Qatar government that banned beer and not the World Cup organizers, the Supreme Committee for Delivery and Legacy.
In an interview with Sky News in October, Supreme Committee chief executive Nasser Al Khater asked for fans coming to the tournament "to be respectful of the culture" and regarding beer:
"Alcohol is available in Qatar. It's more limited than perhaps in other countries in the world, whether it's in Europe or the U.S. or other countries in eastern Europe and the East, but it will be more available in designated zones in Qatar, and here we are today, we have it in designated zones as we promised from day one."
Not quite as promised now.
Having worked in and with organizing committees at more than a dozen events, including Olympic Games, Pan American Games, World University Games, two FIFA World Cups and many other events, I feel badly for Al Khater and his colleagues. They organized the tournament as they have promised, assured everyone that visitors would find a warm welcome in Qatar and the facilities and services they are used to at international mega-events.
The beer ban, along with the harassment of the TV2 Denmark crew while reporting live next to a public street on Tuesday, threatens to undo a decade of hard work and billions of Qatari Rials spent on construction, organization and preparation as the smallest country – about 2.9 million – to ever host an event of the scale of the FIFA World Cup.
TV2 Denmark correspondent Rasmus Tantholdt said after his incident, "Maybe it's a kind of misunderstanding, but to me, also shows how Qatar is when there's not a World Cup going on. Because, obviously, that is what those security guards has been told to do under normal circumstances. Now we have a World Cup going on, and maybe they have been told to behave in another way, and maybe not."
The organizing committee apparently did not instigate the beer ban, and it did not ask the Danish TV crew to stop filming, but it said repeatedly that such issues would not arise. But they have.
What will hurt the most in the long term is not that beer is not being sold in stadiums, but that it was promised and not delivered. Qatar's credibility as a business partner – an issue with implications well beyond sports – is what is now on the line.
There will eventually be discussions between FIFA and AB InBev about how the beer ban and its associated publicity will impact the brewer's sponsorship. Al Khater and the organizers are no doubt trying to determine if there are other surprises coming their way from their own government.
And FIFA, like the International Olympic Committee and other mega-event owners, know that as events get closer, they have less and less control over what happens on the ground, because it's too late to go anywhere else.
Qatar got the FIFA World Cup to advance its worldwide standing. That strategy, on the eve of the tournament, may be swallowed by the cultural edicts of its government. Let's hope the tournament's 64 matches are not somehow similarly impacted.
Rich Perelman
Editor
You can receive our exclusive TSX Report by e-mail by clicking here. You can also refer a friend by clicking here, and can donate here to keep this site going.
For our updated, 951-event International Sports Calendar for 2022-23 and beyond, by date and by sport, click here!