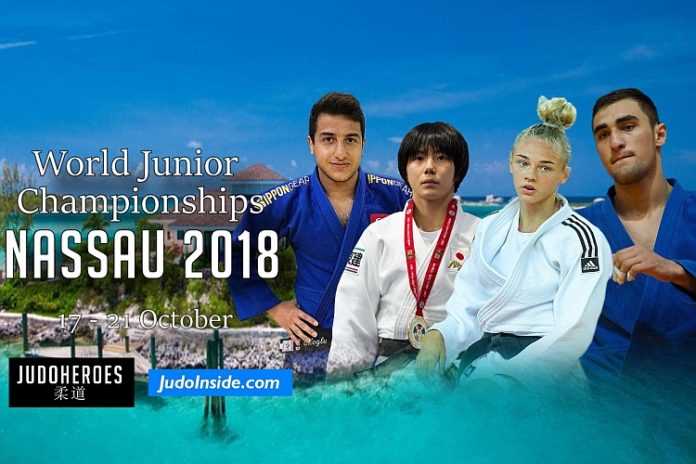 Just as it dominates the senior division, Japanese judoka were the class of the IJF World Junior Championships, held in The Bahamas last week. The event drew 425 competitors from 66 countries, but one was clearly the best.
Japan's total of 20 medals – seven gold, six silvers and five bronzes – was well clear of second-place Georgia's five (2-0-3) and four (0-2-2) by Brazil. Italy had three wins and Georgia scored two; no other country has more than one.
There was one repeat champion from 2017, in the women's -57 kg class, where Haruka Funakubo (JPN) won again.
In the Mixed Team event last Sunday, Japan won (of course), beating Brazil in the final, with Kazakhstan and Russia third. Summaries:
IJF World Junior Championships
Nassau (BAH) ~ 17-21 October 2018
(Full results here)
Men
-55 kg: 1. Rovshan Aliyev (AZE); 2. Balabay Aghayev (AZE); 3. Imam Ibragimov (RUS) and Hayate Handa (JPN).
-60 kg: 1. Genki Koga (JPN); 2. Seishiro Konishi (JPN); 3. Renan Torres (BRA) and Jaba Papinashvili (GEO).
-66 kg: 1. Manuel Lombardo (ITA); 2. Michael Marcelino (BRA); 3. Murad Chopanov (RUS) and Yuji Aida (JPN).
-73 kg: 1. Bilal Ciloglu (TUR); 2. Ryo Tsukamoto (JPN); 3. Georgios Markarian (GRE) and Zhanbolat Bagtbergenov (KAZ).
-81 kg: 1. Christian Parlati (ITA); 2. Hiromasa Kasahara (JPN); 3. Luka Maisuradze (GEO) and Alexandre Arencibia (CAN).
-90 kg: 1. Lasha Bekauri (GEO); 2. Sanshiro Murao (JPN); 3. Kosuke Mashiyama (JPN) and Mert Sismanlar (TUR).
-100 kg: 1. Kiyotaka Sekine (JPN); 2. Simeon Catharina (NED); 3. Onise Saneblidze (GEO) and Iwo Baraniewski (POL).
+100 kg: 1. Gela Zaalishvili (GEO); 2. Stephen Hegyi (AUT); 3. Erik Abramov (GER) and Dzhamal Gamzatkhanov (RUS).
Women
-44 kg: 1. Chihiro Todokoro (JPN); 2. Oumaima Bedioui (TUN); 3. Amanda Arraes (BRA) and Lois Petit (BEL).
-48 kg: 1. Daria Bilodid (UKR); 2. Sana Yoshida (JPN); 3. Andrea Stojadinov (SRB) and Laura Martinez (ESP).
-52 kg: 1. Ryoko Takeda (JPN); 2. Gefen Primo (ISR); 3. Cleonia Riciu (ROU) and Aleksandra Kaketa (POL).
-57 kg: 1. Haruka Funakubo (JPN); 2. Sarah Leonie Cysique (FRA); 3. Kaja Kajzer (SLO) and Kana Tomizawa (JPN).
-63 kg: 1. Sanne Vermeer (NED); 2. Laerke Olsen (DEN); 3. Asumi Ura (JPN) and Anja Obradovic (SRB).
-70 kg: 1. Alice Bellandi (ITA); 2. Ryo Shimmori (JPN); 3. Margit de Voogd (NED) and Candice Lebreton (FRA).
-78 kg: 1. Rinoko Wada (JPN); 2. Karla Prodan (CRO); 3. Patricia Sampaio (POR) and Shelley Ludford (GBR).
+78 kg: 1. Hikaru Kodama (JPN); 2. Beatriz Souza (BRA); 3. Laura Fuseau (FRA) and Renee Lucht (GER).