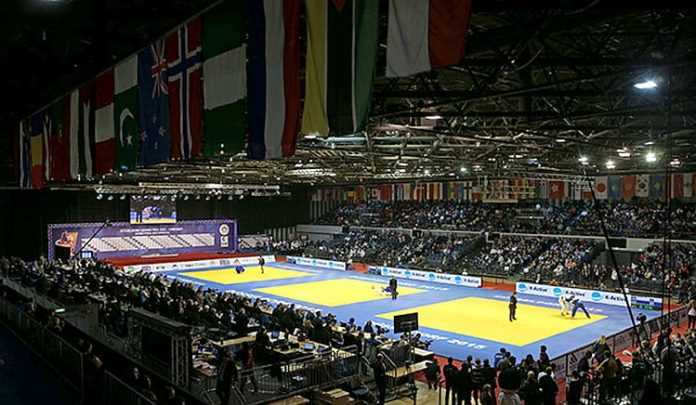 There is winning and there is domination. With 14 weight classes in the Osaka (JPN) Grand Slam, the host Japanese piled up an astonishing 35 medals, including wins in 11 classes!
In fact, Japanese judoka won 62.5% of all of the available medals: 11 gold, eight silvers and 16 bronzes. This included wins in every weight class except +100 kg in the men (won by Dutch star Henk Grol) and the women's -57 kg (Jessica Klimkait of Canada) and +78 kg (Idalys Ortiz of Cuba). The next-biggest medal winner was Russia, with three (0-1-2). Wow!
Among Japan's winners were 2018 World Champions Uta Abe (women: 52 kg) and Shori Hamada (women: 78 kg).
The prize money was $5,000-3,000-1,500 for the top three placers, with 20% allocated to the coach. Summaries from Osaka:
IJF World Tour/Osaka Grand Slam
Osaka (JPN) ~ 23-25 November 2018
(Full results here)
Men
-60 kg: 1. Ryuju Nagayama (JPN); 2. Yago Abuladze (RUS); 3. Won Jin Kim (KOR) and Yuma Oshima (JPN).
-66 kg: 1. Joshiro Maruyama (JPN); 2. Hifumi Abe (JPN); 3. Aram Grigoryan (RUS) and Baskhuu Yondonperenlei (MGL).
-73 kg: 1. Shohei Ono (JPN); 2. Masashi Ebinuma (JPN); 3. Arata Tatsukawa (JPN) and Tommy Macias (SWE).
-81 kg: 1. Takeshi Sasaki (JPN); 2. Kenya Kohara (JPN); 3. Takanori Nagase (JPN) and Vedat Albayrak (TUR).
-90 kg: 1. Shoichiro Mukai (JPN); 2. Noel Van't End (NED); 3. Sanshiro Murao (JPN) and Eduard Trippel (GER).
-100 kg: 1. Aaron Wolf (JPN); 2. Shady Elnahas (CAN); 3. Kentaro Iida (JPN) and Jorge Fonseca (POR).
+100 kg: 1. Henk Grol (NED); 2. Lukas Krpalek (CZE); 3. Kokoro Kageura (JPN) and Tamerlan Bashaev (RUS).
Women
-48 kg: 1. Funa Tonaki (JPN); 2. Urantsetseg Munkhbat (MGL); 3. Ami Kondo (JPN) and Hiromi Endo (JPN).
-52 kg: 1. Uta Abe (JPN); 2. Natsumi Tsunoda (JPN); 3. Amandine Buchard (FRA) and Ai Shishime (JPN).
-57 kg: 1. Jessica Klimkait (CAN); 2. Momo Takaomi (JPN); 3. Haruka Funakubo (JPN) and Youjeong Kwon (KOR).
-63 kg: 1. Masako Doi (JPN); 2. Nami Nabekura (JPN); 3. Miku Tashiro (JPN) and Aimi Nouchi (JPN).
-70 kg: 1. Chizuru Arai (JPN); 2. Anna Bernholm (SWE); 3. Margaux Pinot (FRA) and Saki Niizoe (JPN).
-78 kg: 1. Ruika Sato (JPN); 2. Mami Umeki (JPN); 3. Kaliema Antomarchi (CUB) and Shori Hamada (JPN).
+78 kg: 1. Idalys Ortiz (CUB); 2. Akira Sone (JPN); 3. Nami Inamori (JPN) and Sarah Asahina (JPN).