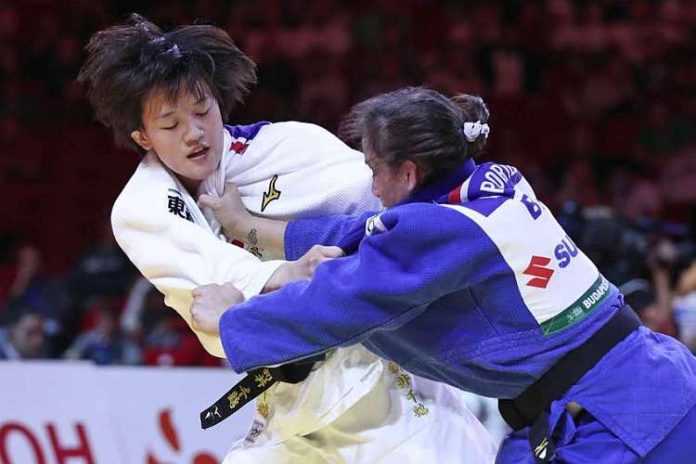 Japan continued to overpower all others at the 2018 World Championships in Baku (AZE).
Of the 12 weight classes that have been completed, Japan has won medals in 11 of them, missing only in the men's -100 kg class, where defending champ Aaron Wolf got fifth. Otherwise, Japan has won one medal in eight classes and two medals in three weights: the men's -60 kg class and the women's -52 kg and -70 kg.
Chizuru Arai (pictured; courtesy IJF) won her second consecutive World Championships title in the women's -70 kg class, only the second 2017 women's Worlds winner to defend her title in 2018, and fourth overall.
With just the unlimited classes remaining on Wednesday, Japan now has 14 medals (6-5-3) and no one else has more than four – France (1-1-2) – with Korea (2-0-1) at three as are Russia and Netherlands (0-1-2).
Look for results here. Summaries so far:
IJF World Championships
Baku (AZE) ~ 20-27 September 2018
(Full results here)
Men
-60 kg: 1. Naohisa Takato (JPN); 2. Robert Mshvidobadze (RUS); 3. Amiran Papinashvili (GEO) and Ryuju Nagayama (JPN); 5. Karamat Huseynov (AZE) and Harim Lee (KOP); 7. Yong Gwon Kim (PRK) and Eric Takabatake (BRA).
-66 kg: 1. Hifumi Abe (JPN); 2. Yerlan Serikzhanov (KAZ); 3. Georgii Zantaria (UKR) and Baul An (KOR); 5. Tal Flicker (ISR) and Daniel Cargnin (BRA); 7. Mikhail Puliaev (RUS) and Kherlen Ganbold (MGL).
-73 kg: 1. Changrim An (KOR); 2. Soichi Hashimoto (JPN); 3. Mohammad Mohammadi (IRI) and Hidayat Heydarov (AZE); 5. Odbayar Ganbaatar (MGL) and Tsogbaatar Tsend-Ochir (MGL); 7. Zhansay Smagulov (KAZ) and Lasha Shavdatuashvili (GEO).
-81 kg: 1. Saeid Mollaei (IRI); 2. Sotaro Fujiwara (JPN); 3. Vedat Albayrak (TUR) and Alexander Wieczerzak (GER); 5. Dominic Ressel (GER) and Damian Szwarnowiecki (POL); 7. Mattias Case (GER) and Khasan Khalmurzaev (RUS).
-90 kg: 1. Nikoloz Sherazadishvili (ESP); 2. Ivan Felipe Silva (CUB); 3. Kenya Nagasawa (JPN) and Axel Clerget (FRA); 5. Krisztian Toth (HUN) and Eduard Trippel (GER); 7. Komronshokh Ustopiriyon (TJK) and Asley Gonzalez (CUB).
-100 kg: 1. Guham Cho (KOR); 2. Varlam Liparteliani (GEO); 3. Otgonbaatar Lkhagvasuren (MGL) and Niyaz Ilyasov (RUS); 5. Aaron Wolf (JPN) and Ramadan Darwish (EGY); 7. Michael Korrel (NED) and Jorge Fonseca (POR).
Women
-48 kg: 1. Daria Bilodid (UKR); 2. Funa Tonaki (JPN); 3. Paula Pareto (ARG) and Otgonsetseg Galbadrakh (KAZ); 5. Catarina Costa (POR) and Urantsetseg Munkhbat (MGL); 7. Julia Figueroa (ESP) and Marusa Stangar (SLO).
-52 kg: 1. Uta Abe (JPN); 2. Ai Shishime (JPN); 3. Amandine Buchard (FRA) and Erika Miranda (BRA); 5. Jessica Pereira (BRA) and Charline van Snick (BEL); 7. Natalia Kuziutina (RUS) and Gefen Primo (ISR).
-57 kg: 1. Tsukasa Yoshida (JPN); 2. Nekoda Smythe-Davis (GBR); 3. Christa Deguchi (CAN) and Syriya Dorjsuren (MGL); 5. You-jeong Kwon (KOR) and Theresa Stoll (GER); 7. Nora Gjakova (KOS) and Helene Receveaux (FRA).
-63 kg: 1. Clarisse Agbegnenou (FRA); 2. Miku Tashiro (JPN); 3. Juul Franssen (NED) and Tina Trstenjak (SLO); 5. Martyna Trajdos (GER) and Maylin del Toro Carvajal (CUB), 7. Kathrin Unterwurzacher (AUT) and Katharina Haecker (AUS).
-70 kg: 1. Chizuru Arai (JPN); 2. Marie Eve Gahie (FRA); 3. Yuri Alvear (COL) and Yoko Ono (JPN); 5. Assmaa Niang (MAR) and Maria Perez (PUR); 7. Kelita Zupancic (CAN) and Sally Conway (GBR).
-78 kg: 1. Shori Hamada (JPN); 2. Guusje Steenhuis (NED); 3. Aleksandra Babintseva (RUS) and Marhinde Verkerk (NED); 5. Zhenzhao Ma (CHN) and Katie Yeats Brown (GBR); 7. Klara Apotekar (SLO) and Madeleine Malonga (FRA).